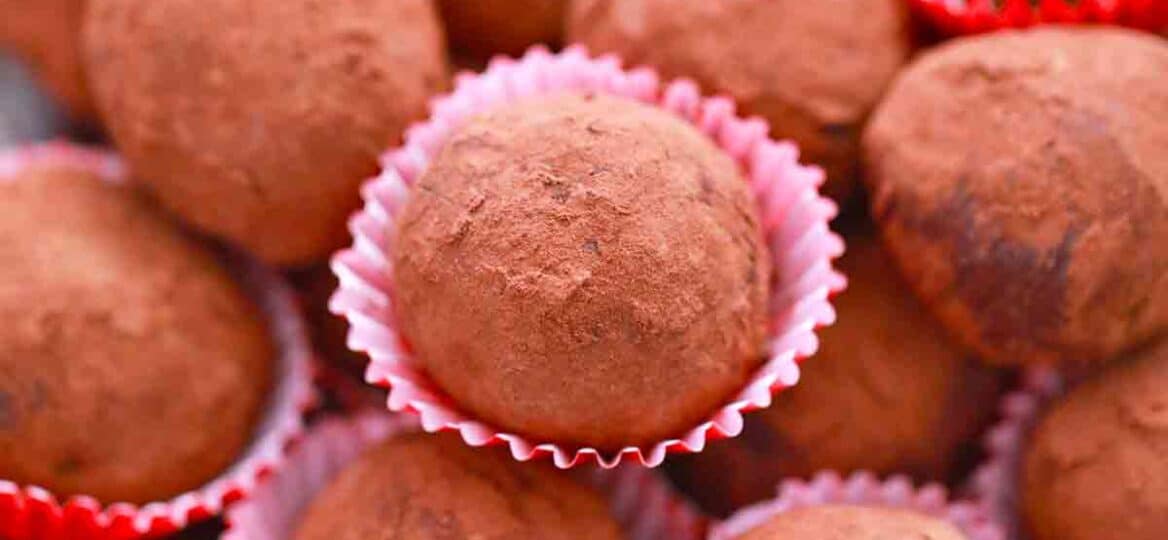 Baileys Chocolate Truffles [Video]
Baileys Chocolate Truffles are rich and delicious with just a touch of whiskey to give you that warm and creamy feeling. They are not for the kids though and should only be eaten if you are not driving. Or you can use extra heavy cream instead of the whiskey and they can be for the whole family.
For a different way to enjoy Baileys, try these Chocolate Cherry Baileys Cookies with Baileys cherry Irish cream. If you are looking for a more substantial treat, make our Best Chocolate Banana Bread made with brown sugar and cocoa powder.
Perfect for St. Patrick's Day, as Christmas gifts, or any day you feel like having a bit of liquor in your desserts, these homemade chocolate truffles with Baileys are sinfully amazing.
Baileys Irish cream chocolate truffles are a decadent adult treat you can enjoy while chilling out at home.
If you like these truffles, try some of our other truffle recipes like these no-bake cake batter, watermelon, and vegan peanut butter truffles that are sugar and gluten-free.
This Lemon Mousse recipe with lemon curd and cream cheese is the perfect treat for a light dessert.
Ingredients needed:
Here are the main ingredients for this chocolate truffle recipe. But you can scroll down to our recipe card for the exact measurements and instructions.
Irish whiskey: We used Baileys Irish Cream Whiskey.
Dark chocolate: Finely chopped.
Heavy cream: Heavy whipping cream or half and half will also work.

Butter: Room temperature for best results.
Salt: We used sea salt.
Unsweetened cocoa powder: For the coating.
How to make Baileys chocolate truffles recipe?
Prepare: First, line a baking sheet or cookie sheet with parchment paper.

Melt: Then, using a shallow bowl, melt the chocolate in the heavy cream and butter in the microwave using intervals of 30 seconds, stirring in between.

Mix: Next, add in the salt and whiskey and mix until it is completely combined.

Chill: For the chilling process, cover with cling film and put the mix in the refrigerator for about three hours.

Scoop and form: After, scoop about a tablespoon of ganache Add whiskey and sea salt. Mix until combined.
Topping: After they are all formed, roll the ganache balls in cocoa powder for a chocolate coating and then place on the baking sheet. Repeat until they are all done.
Serve: Finally, serve and eat these tasty treats right away!
Recipe variations:
White: Alternatively, you could use white chocolate instead of dark for a milder taste.

Milk: For a smoother flavor, use milk chocolate.
For the kids: Make these alcohol-free by double cream instead of the Irish cream.

Sweet milk: Try condensed milk instead of heavy cream for a sweeter flavor.
Sweeter: Another way to add more sweetness is to mix confectioners' sugar with the cocoa powder.
How to serve:
These homemade Baileys truffles are perfect to snack on any time of day as long as you are not planning to drive or go to work. The alcohol in them does not burn off so you have to remember to eat them in moderation even though they are so delicious. Here are some other neat ideas:
These truffles are wonderful with this blackberry ice cream.

Serve these little balls of delight at a party or for a decadent adult dessert anytime.
For a bit more of a boozy treat, enjoy a few of these with a mug of Irish coffee.
Make these more festive by rolling them in rainbow sprinkles or some colored sugar.
Dip these in homemade whipped cream for a creamier dessert.
Frequently asked questions
What is a truffle?
Although a truffle may seem just like any chocolate you eat, the truffle has very distinct differences.
The ingredients of these sweet treats include creamy cocoa with chocolate ganache centers.
Baileys chocolate truffle or Irish cream truffles are made with Baileys Irish cream or some other brand of Irish cream liqueur.
They are homemade truffles you make into chocolate balls using dark chocolate melts, chocolate chips, or chopped chocolate.
What are the nutrition facts for this recipe?
Each of these scrumptious truffle balls without any toppings includes 45 calories, three grams of fat, two grams of saturated fat as well as four grams of carbohydrates, four grams of sugar, and two milligrams of cholesterol.
Are these truffles vegetarian?
Yes, there are no meat products at all in this truffle recipe. However, they are not vegan due to the milk and cream.
If you need them to be vegan, use almond milk and cream instead.
How to store leftovers:
Store: Place leftover truffles in an airtight container where they will stay good at room temperature for about a week. For longer storage, put them in the fridge for up to two weeks.
Freeze: Once they have set and cooled to room temperature, layer them between parchment paper in a freezer-save container for up to two months.

Thaw: Remember to thaw these overnight in the fridge before serving.
More Irish recipes:
Cooking tips:
Use a cookie scoop or melon baller to scoop up the melted mixture to form the balls easier.

Make sure the chocolate is chopped into small pieces so the hot cream can melt it properly.

If you still have a small piece of unmelted chocolate or two, just put it in a shallow dish and microwave for 15 seconds, and stir.

Use room temperature butter so it will melt quicker.
If the ganache is sticking because of the warmth of your palms, wash your hands in ice-cold water after every few truffles.
You can also melt the chocolate in a small pot over medium heat, whisking with a wire whisk often.

If you are in an area of high altitude, you may have to adjust the cooking time.
Baileys Chocolate Truffles
Ingredients
1/3

cup

Bailey's Irish Cream

1

lb

dark chocolate

or semi-sweet chocolate - finely chopped

1/3

cup

heavy cream

2

tablespoons

butter

1/2

teaspoon

sea salt

1

cup

unsweetened cocoa powder

for rolling the truffles
Instructions
In a microwave-safe large bowl, add chocolate, heavy cream, and butter.

Microwave in 30-second intervals, stirring very well in between until the chocolate is completely melted and the mixture is smooth.

Stir in the Bailey's and sea salt until combined.

Chill the mixture in the fridge for 2-3 hours.

Remove from the fridge and using a small ice-cream scoop, scoop out even portions of the mixture and shape into balls.

Roll the balls into cocoa powder and place each one into small cupcake liners.

Repeat with the rest of the mixture.

For best results, keep refrigerated in an airtight container and serve chilled.
Deliciousness to your inbox
Enjoy weekly hand picked recipes and recommendations