Best Mint Chocolate Chip Cake [video]
Mint Chocolate Chip Cake is made of tender mint and chocolate cake layers, with chocolate buttercream, chocolate ganache and chocolate whipped cream. It has a sweet and refreshing flavor, it looks festive and is easy to assemble.
If you are looking for more fun recipes to make to St. Patrick Day that have a pop of color, we would like to suggest you take a look at these Mint Cake Truffles, this Fudge and also these Rainbow Cheesecakes.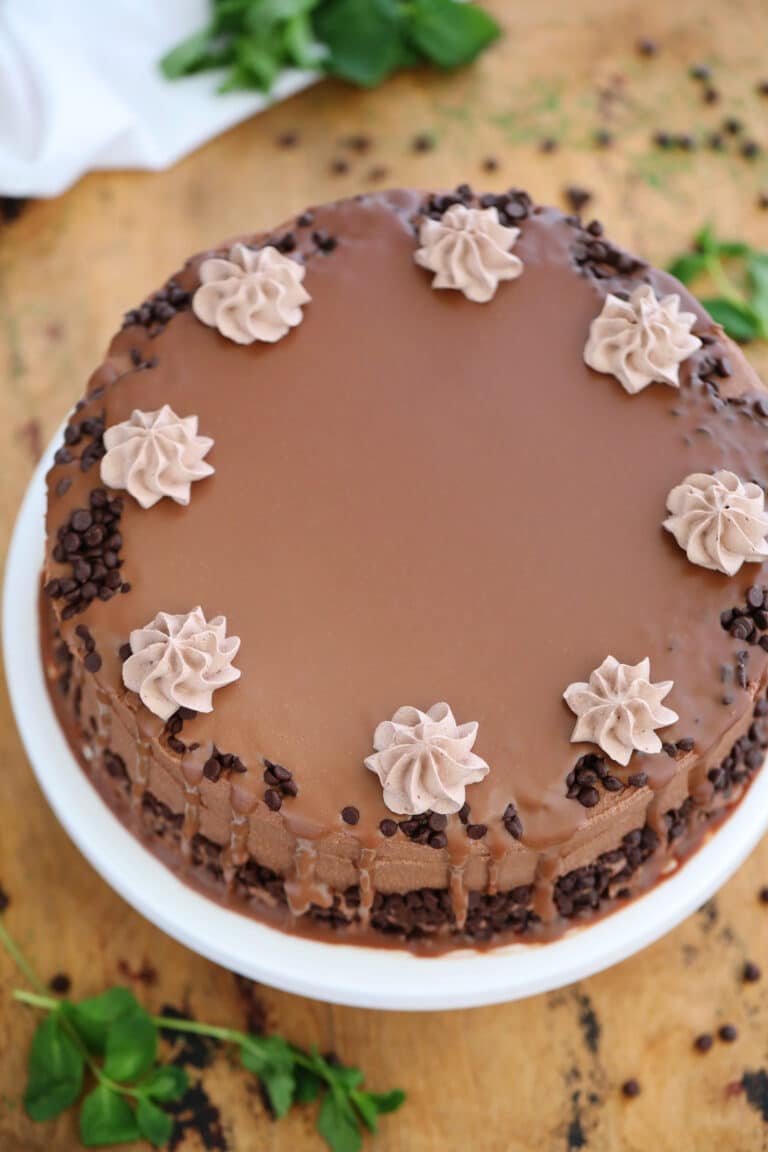 Mint Chocolate Chip Cake
Mint Chocolate Chip Cake is one of my favorites desserts to make. While making it involves a few steps, they are all super easy, just make sure you plan in advance. This dessert is absolutely delightful, made with gorgeous green cake layers that have mini chocolate chips through them. Indulgent and refreshing!
After you this masterpiece with chocolate buttercream you can just decorate it with more mini chocolate chips and you are done. To take it over the top add another layer of chocolate ganache and some chocolate whipped cream.
USEFUL TIPS:
Makes sure all the ingredients are of room temperature. Measure precisely the dry and wet ingredients.
Using buttermilk will make a huge difference in the texture. If you don't have any on hand, just squeeze half a lemon into a cup of milk and let it sit for 5-10 minutes.
The addition of oil will result in a very moist and fluffy cake, we recommend you don't skip this ingredient.
Use 8-inch pans, as it is the ideal size for this recipe (not too big and not too small). The 9-inch pans also work great.
To save time you can make two thicker layers, instead of three thinner layers. The cooking time will be slightly longer in this case.
You can use mint or peppermint extract. We like both, but I would prefer peppermint if I should cheese, as it has a sweeter flavor.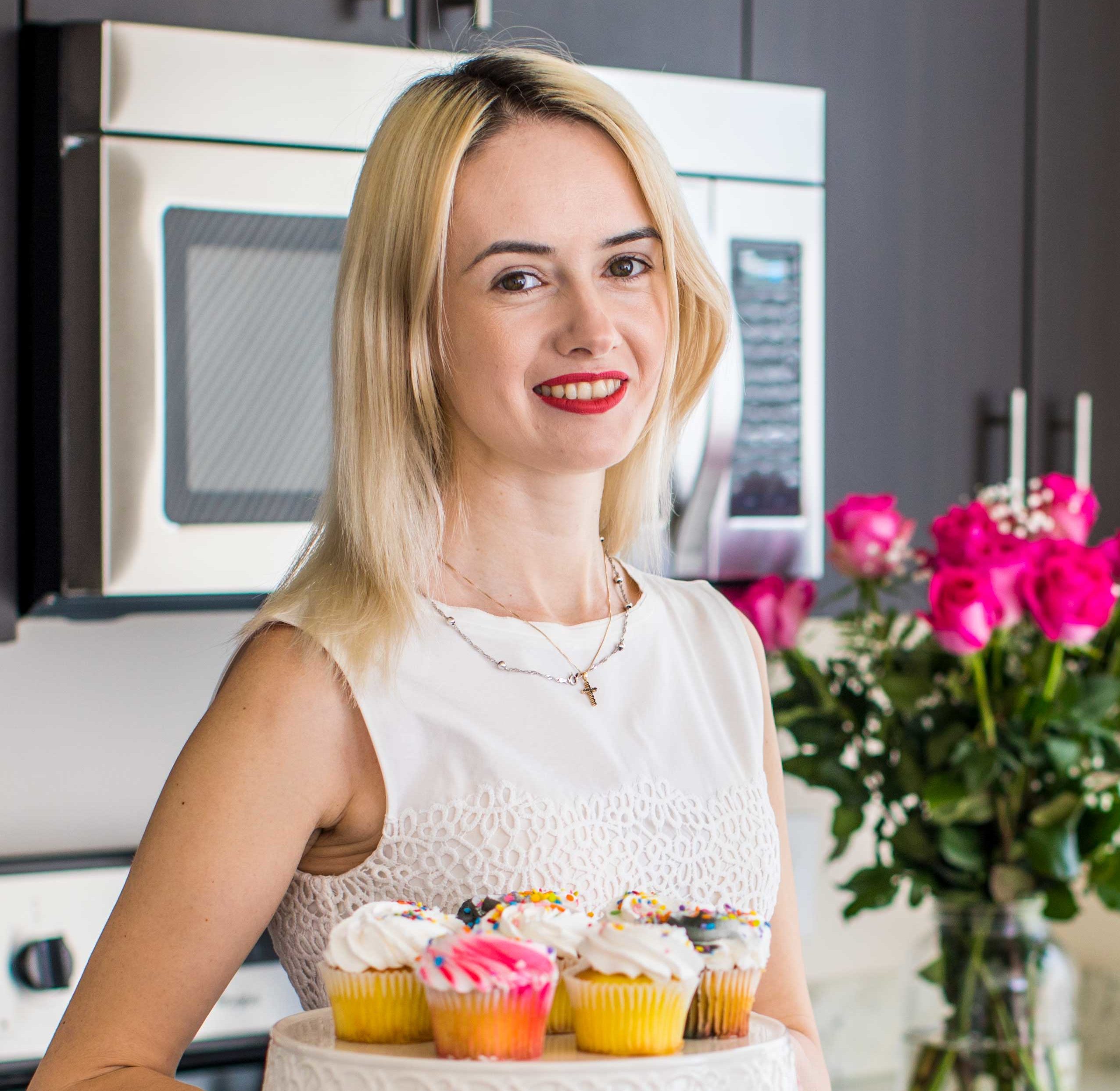 Follow us on Pinterest for more delicious recipes!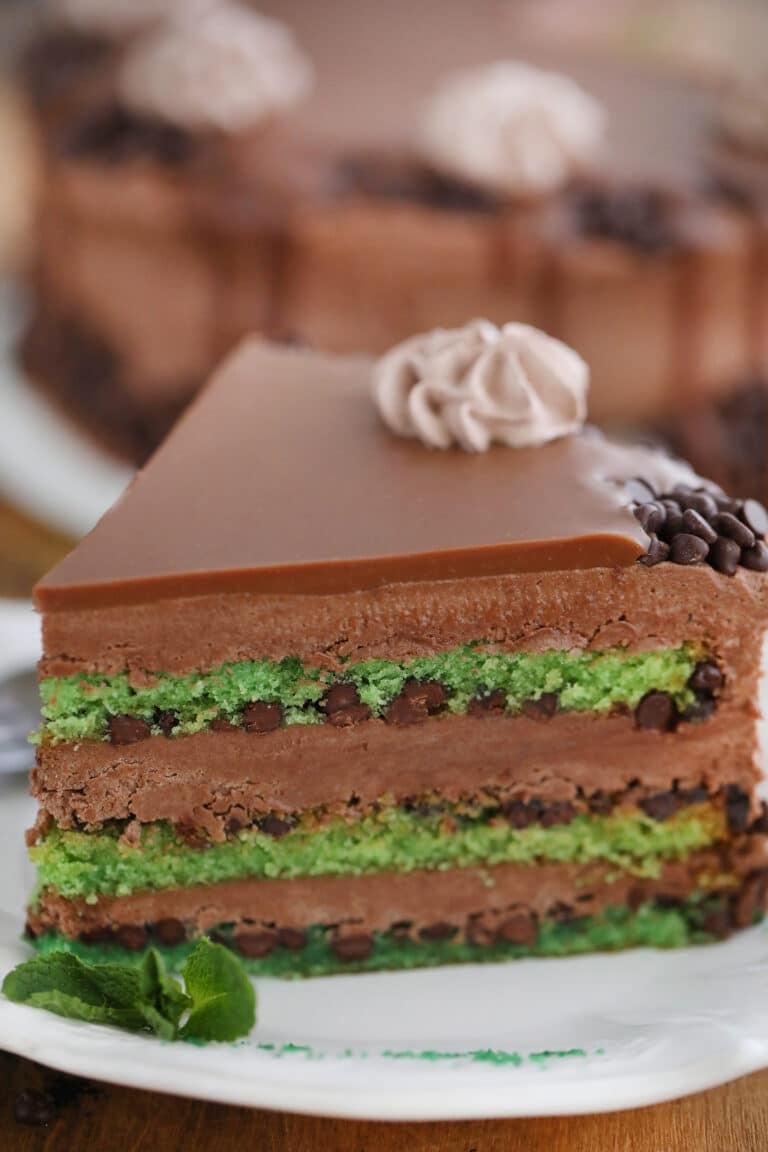 How to freeze this Mint Chocolate Chip Cake:
Many believe that only un-frosted cakes can be frozen. However, depending on the frosting that you have used, you can freeze a frosted one as well.
There are several ways how you can freeze this dessert, keep on reading to see which method is best for you.
Freeze un-frosted cake layers:
First, let them fully cool.
Then, cover in clear wrap well and after that add to a large freezer bag or cover well in foil.
Freeze for up to 3 months.
Thaw overnight in the fridge before using.
Freeze a frosted cake:
First, make sure you refrigerate it, so the frosting is not soft.
Next, add it to an airtight container and freeze for up to 3 months.
Or, cover in clear wrap well and after then add to a large freezer bag or cover well in foil.
Freeze for up to 3 months.
Thaw overnight in the fridge before using.
Freeze individual slices:
Wrap each slice in clear wrap well and after then add to a large freezer bag or cover well in foil.
Freeze for up to 3 months.
Thaw overnight in the fridge before using.
Freeze the frosting for later:
Add the frosting to an airtight container and freeze for up t0 3 months.
Before using let it thaw in the fridge overnight.
Add it to the bowl of a high-speed mixer and beat until creamy and fluffy.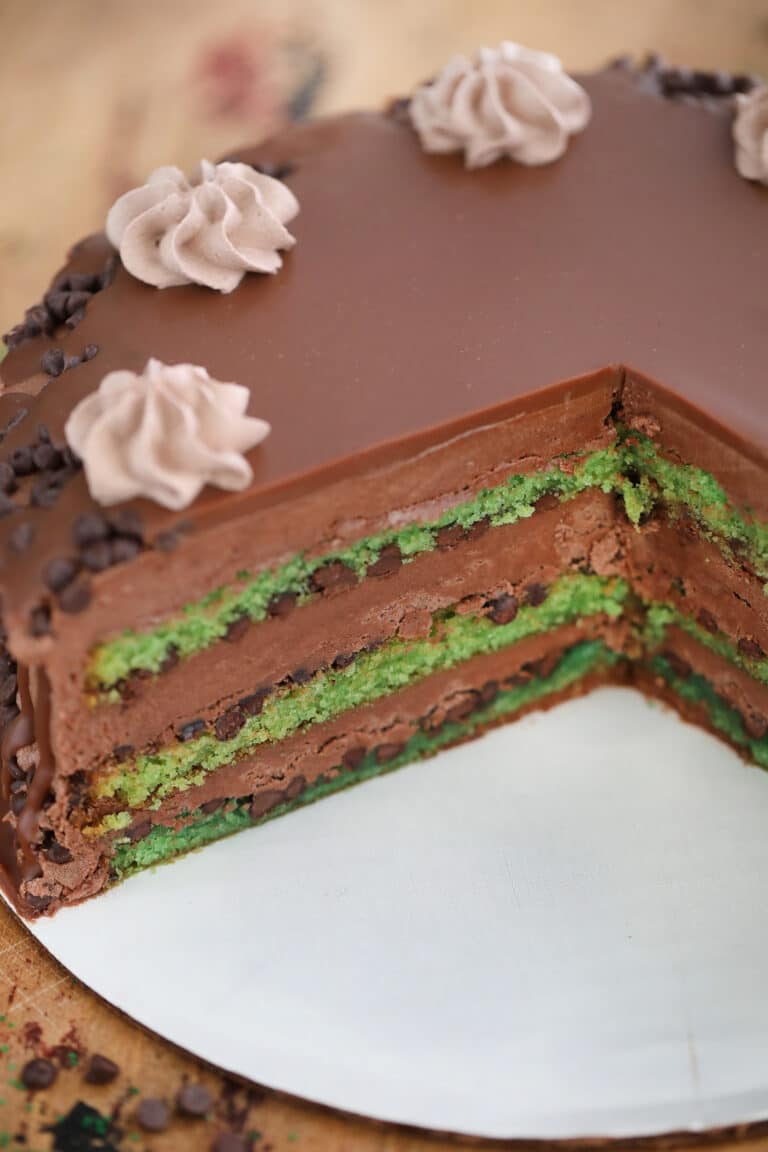 WHAT KIND OF FROSTING DO YOU USE?
We love topping this cake with chocolate frosting, that is super easy to make and it tastes delicious. We make our frosting with a combination of cocoa powder and melted chocolate for extra flavor
How to make this into a Mint Chocolate Chip Ice Cream Cake:
Bake the cake layers as per recipe directions.
Next, let them fully cool.
Make sure the ice cream is soft enough to work with, but not melted.
Assemble the cake by using ice cream instead of the chocolate frosting.
If needed, take breaks to place it in the freezer for the ice cream not to melt.
Top it with the chocolate ganache or use the frosting recipe.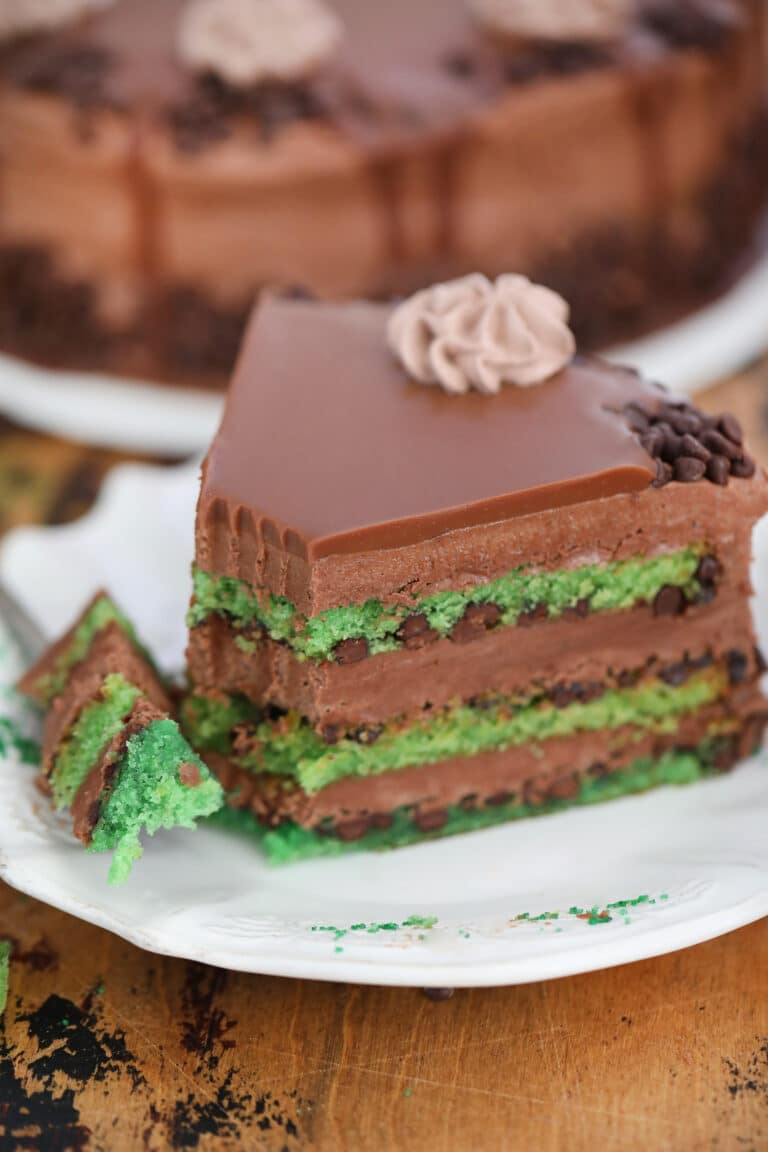 Watch recipe video:
Save Recipe
Author: Catalina Castravet
Serves: 12 slices
Prep time:

1

hour
Cook time:

30

minutes
Total time:

1

hr

30

mins
Ingredients
Cake Layers:
Baking Spray for the pans
2 1/2 cups all-purpose flour
1 1/2 cups sugar
1 teaspoon baking soda
1 teaspoon baking powder
1/2 teaspoon salt
2 large eggs (at room temperature)
1 1/2 cups vegetable oil
1 cup buttermilk (room temperature)
1 teaspoon white distilled vinegar
1 teaspoon mint extract
A few drops mint green gel food coloring
1 1/2 cups mini chocolate chips
Frosting:
12 oz semi-sweet chocolate (chopped)
3 sticks unsalted butter (room temperature)
8 cups confectioners sugar
1/2 cup unsweetened cocoa powder sifted
1 teaspoon mint extract
1 cup mini chocolate chips
Chocolate Ganache
1/2 cup whipping cream (hot)
6 ounces semi-sweet chocolate (chopped)
Chocolate Whipped Cream:
1 1/2 cups heavy whipping cream (cold)
3 tablespoons sugar
3 tablespoons cocoa powder
1 teaspoon vanilla extract
Instructions
Cake Layers:
Preheat oven to 350 degrees F.
Spray 2 or 3 8-inch cake pans with baking spray, cover the bottom to fit with parchment paper and spray again with baking spray. Use 3 pans for thinner layers and 2 for thicker layers. Set aside.
In a medium bowl combine dry ingredients: flour, sugar, baking powder, baking soda, and salt. Whisk to combine. Set aside.
Add wet ingredients to a large bowl: eggs, oil, buttermilk, vinegar, mint extract, and green gel food coloring. Using a hand mixer (or stand mixer), whisk on medium speed until fully combined.
Reduce mixer speed to low, and slowly add the dry ingredients mix. Stop from time to time to scrape the sides and bottom of the bowl. Whisk just until fully combined.
Stir in mini chocolate chips with a spatula.
Divide the batter equally into the prepared pans.
Bake:
Bake, rotating the pans halfway through the cooking process until a toothpick inserted into the center of the cakes comes out clean. About 30 minutes for 2 layers and about 20 minutes if the batter is divided into 3 layers.
Remove the cakes from the oven and run a knife around the edges to loosen them from the pans. Let it cool in the pans for about 20-30 minutes. Invert the cakes onto a plate and then re-invert them onto a cooling rack. Round side up. Cool completely before frosting.
Frosting:
Add chopped chocolate to a microwave safe bowl and melt it in the microwave in 30 seconds increments, stirring after each one to make sure it doesn't burn. Cool to room temperature.
Add butter and half of the confectioner's sugar to the bowl of a high-speed stand mixer. Beat, starting on low speed, then increasing the speed gradually to medium-high.
Turn the mixer off and add in cooled chocolate and mint extract, beat on medium speed until combined, for about 30 seconds.
In a medium bowl combine remaining confectioners sugar and cocoa powder.
Turn mixer on to the lowest setting and add in confectioners sugar and cocoa mixture, 1 cup at a time. Once incorporated, turn mixer on high for 1-2 minutes.
If the mixture is too thick add 1 tablespoon of whole milk at a time. If the mixture is too runny, and won't hold its shape, add more confectioners sugar, ½ cup at a time.
Frost the Cake:
Using a serrated knife or cake leveler, slice the layer's top to make them flat.
Add 1/4 cup of frosting onto the bottom of a cake stand.
Place the first layer onto the cake stand. Add about 1 cup (or more if needed) of frosting onto it and using an offset spatula, spread the frosting evenly, to create a 1/2-inch layer.
Add another layer on top and repeat. Add the third layer if using and cover the entire cake with the remaining frosting.
Use the mini chocolate to garnish the sides and top edges of the cake.
Refrigerate for at least 2-3 hours, or until somewhat stiff before serving.
Chocolate Ganache:
Heat whipping cream in the microwave for 40-60 seconds until hot.
Place chopped chocolate into a bowl and pour hot whipping cream on top. Let it sit for two minutes and then stir until smooth and shiny.
Let the ganache come to room temperature (very important) for about 10 minutes before drizzling over the cake. Start in the center and let the ganache drizzle over the sides of the cake.
Refrigerate for at least 30 minutes, until ganache is settled.
Chocolate Whipped Cream:
Add heavy whipping cream to a cold bowl (I usually refrigerate it for 15 minutes), add sugar, cocoa and vanilla extract and whisk on slow-medium speed, gradually increasing to high speed. Whisk until stiff peaks form and the whipped cream holds its shape.
Add the whipped cream to a piping bag fitted with a star tip and frost the cake.
Chill before serving.
Calories: 941 Carbohydrates: 177 Protein: 9 Fat: 34 Saturated Fat: 20 Cholesterol: 53 Sodium: 269 Potassium: 445 Fiber: 6 Sugar: 147 Vitamin A: 440 Vitamin C: 0.2 Calcium: 189 Iron: 5.3
Save Recipe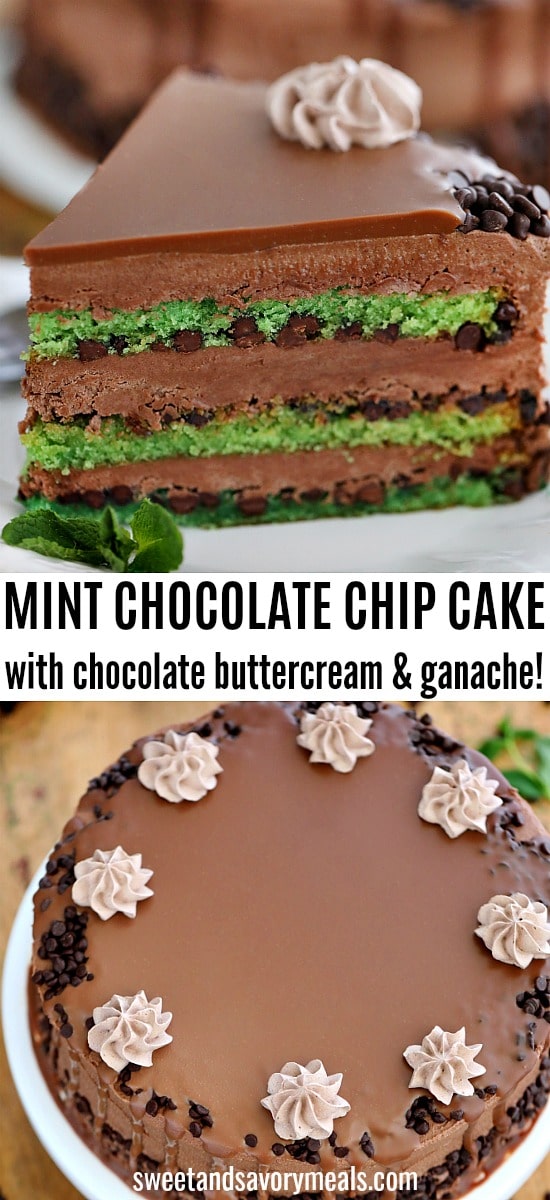 More recipes you might love