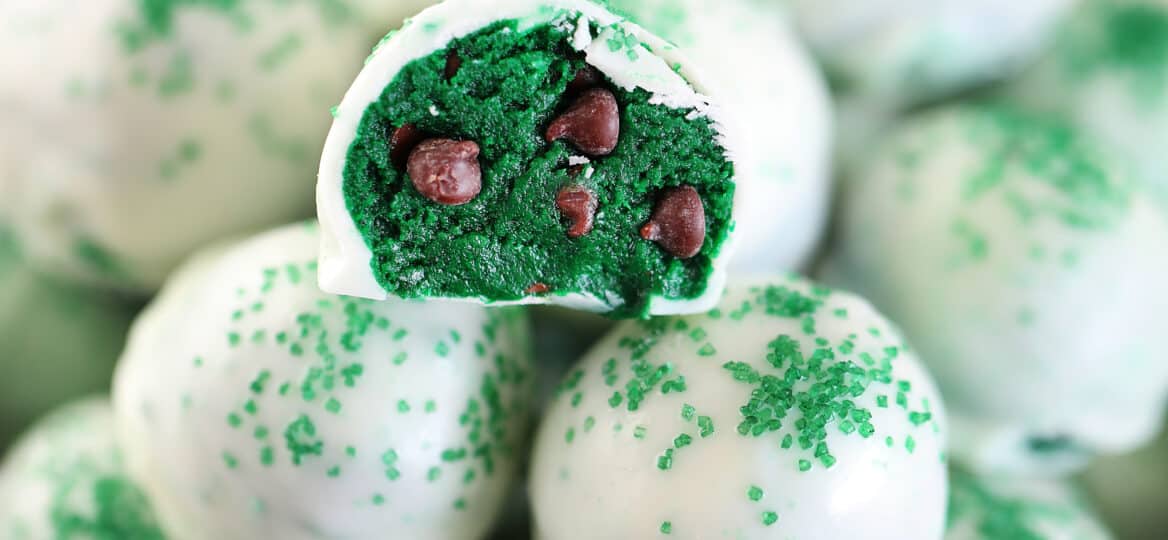 Mint Chocolate Chip Truffles [Video]
Mint Chocolate Chip Truffles are the perfect treat for mint chocolate lovers. They are easy to make and are super soft, creamy, and very delicious. You can make them for any occasion, but our favorite way to use them is for St. Patricks Day!
We love how easy these are to make. They require a few simple ingredients and a white cake mix. If you love truffles, this is definitely one of the best desserts to make. Not only do they look festive, but they taste amazing! You can also try No Bake Cake Batter Truffles, White Chocolate Raspberry Truffles, and Peppermint Pattie Cupcakes.
The Best Mint Chocolate Chip Truffles
Mint Chocolate Chip Truffles are easy to make and festive enough to impress. They might look too delicate and intimidating to make, but we can assure you that they are not. You only need a few ingredients, and the best part is that you don't have to bake them.
The filling in this recipe consists of cake mix, flour, butter, and sugar with some mini chocolate chips. Mint flavor is added and also some green gel food coloring for vibrant green color and look.
They are then dipped in white chocolate and sprinkled with some green sanding sugar. Then, refrigerate for 30 minutes, and you end up with the most beautiful and delicious cake truffles ever. The cake truffles are perfect party food and are usually the first to disappear. They are guaranteed to satisfy your sugary sweet dreams!
HOW TO MAKE MINT CHOCOLATE CHIP TRUFFLES?
Start with softened butter. If it's too cold, it doesn't get as smooth and creamy as you need it for the filling mixture.
Make sure when it's time to add the extract you use Peppermint and not mint. Because the mint extract might taste like toothpaste, you want to avoid it and use Peppermint instead.
You don't need a mixer to combine the ingredients. Using a fork, work the butter into the flour and cake mix until fully combined and it resembles smooth cookie dough.
When using gel food coloring, make sure to use only a few drops. For best results, go with Americolor gels, they usually work well when mixing with butter.
Similarly, for uniformly shaped truffles, we recommend using a scoop. This way you know you have the same size portions and a similar look to them.
RECIPE TIPS:
Because this recipe only calls for a few ingredients, we recommend using the best quality ones you can find.
Also, for a less sweet treat, dark chocolate may be used in place of the semi-sweet chocolate.
Similarly, if you are not a fan of white chocolate, you can coat them with dark chocolate instead, or simply roll them in cocoa powder.
The unsalted butter must be room temperature, not greasy and oily, at that point the butter is way too melted.
As stated above, make sure you're using PEPPERMINT extract, and not mint extract. Because while the bottles may look similar, the flavors are quite different.
Once the filling has been assembled, it needs to be chilled for at least 30 minutes. So while this is an easy recipe, plan some extra time for chilling to take place.
When ready to roll and dip the truffles, you'll want to line a large baking sheet with waxed paper. You'll also want to keep a wet dish towel or some paper towels nearby since it can get messy.
Be careful when melting the white chocolate as it tends to separate. So when melting stir well.
HOW LONG WILL Mint Chocolate Chip Truffles STAY FRESH?
They are best to eat fresh within a day or so, as they tend to be moist and puffy. However, if you have some left, they can be stored wrapped in plastic wrap at room temperature for about 3-4 days. Similarly, you can use an airtight container and store them in the refrigerator for about 5-7 days.
CAN YOU FREEZE them?
Absolutely! Make sure to completely cool them before freezing. Then, transfer into an airtight container or wrap in aluminum foil and freeze for up to 2-3 months. Defrost before serving.
More St. Patrick's Day recipes to try:
Slow Cooker Corned Beef with Cabbage