No Bake Cake Batter Truffles
This post may contain affiliate links. Please read my disclosure policy.
No Bake Cake Batter Truffles are very easy to make using funfetti cake mix. Loaded with lots of sprinkles and dipped in white chocolate, these are fun and delicious.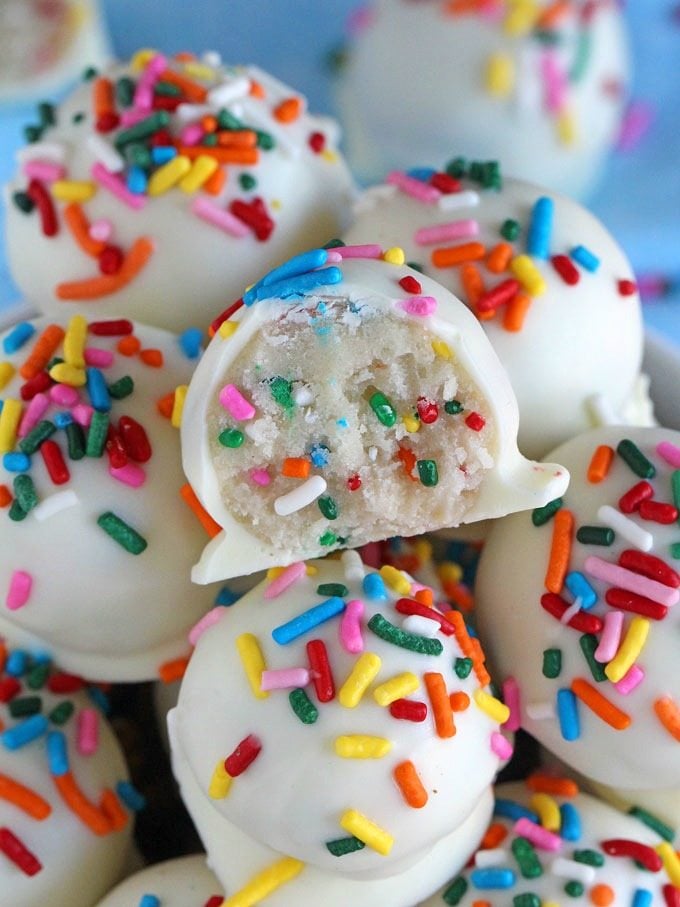 No Bake Cake Batter Truffles are so easy to make that they should be classified as dangerous. They are ready in a little over 30 minutes, and you only need 5 minutes to eat them, cause they are that good. I like easy, no bake desserts that taste amazing and this is one of those. The No Bake Cake Batter Truffles are made with funfetti cake mix, which has such a nice flavor. The truffles are soft and buttery, with lots of sprinkles and coated in white chocolate. They are absolutely a must try!
Why You'll Love These No Bake Cake Batter Truffles:
Very easy to make and no bake
No equipment of any sorts needed, can be entirely made by hand
Tender and buttery, they remind me of cake batter cookie dough
Would make for some pretty darn cute hostess gifts
Great to make together with kids!
Tips and tricks for the perfect No Bake Cake Batter Truffles Recipe:
Using funfetti cake mix is best as it ads a lot of flavor, you can also use yellow cake mix if you don't have funfetti cake mix on hand, just add more sprinkles to the batter.
The unsalted butter must be room temperature, not greasy and oily, at that point the butter is way too melted.
Adding extra sprinkles to the batter is optional, but why not load it with sprinkles.
Be careful when melting the white chocolate as it tends to separate, start by melting for 30 secs and stir well, and after that melt in 15 secs increments and stir well as the residual heat will melt the remaining chocolate chunks.
Can I eat raw flour / cake mix?
Yes, you can, BUT it is NOT recommended and you do it at your own risk, as some of the flour it involves the risk of E.Coli contamination. To kill the bacteria, you can heat-treat the flour prior to adding it to no-bake desserts.
How do I Heat-Treat Raw Flour?
Preheat oven to 350F degrees. Line a cookie sheet with parchment paper and spread flour or cake mix in an even layer.
Bake for 5-7 minutes, use a thermometer to check that the flour reached 160F (72C) immediately after removing from oven. Make sure the thermometer is inserted in the flour and isn't touching/reading the temperature of the hot pan.
Once flour has reached 160F (72C) allow it to cool and run it through a sifter to break up any clumps that may have formed while baking.  Set aside.
Make sure you don't burn the flour. Remember, we are heating it, not baking, don't expect much color change, it should NOT turn golden-brown.
Make sure you sift it after the heat treatment and let it fully cook before adding it to no-bake desserts.
You should also check the No Bake Watermelon Truffles: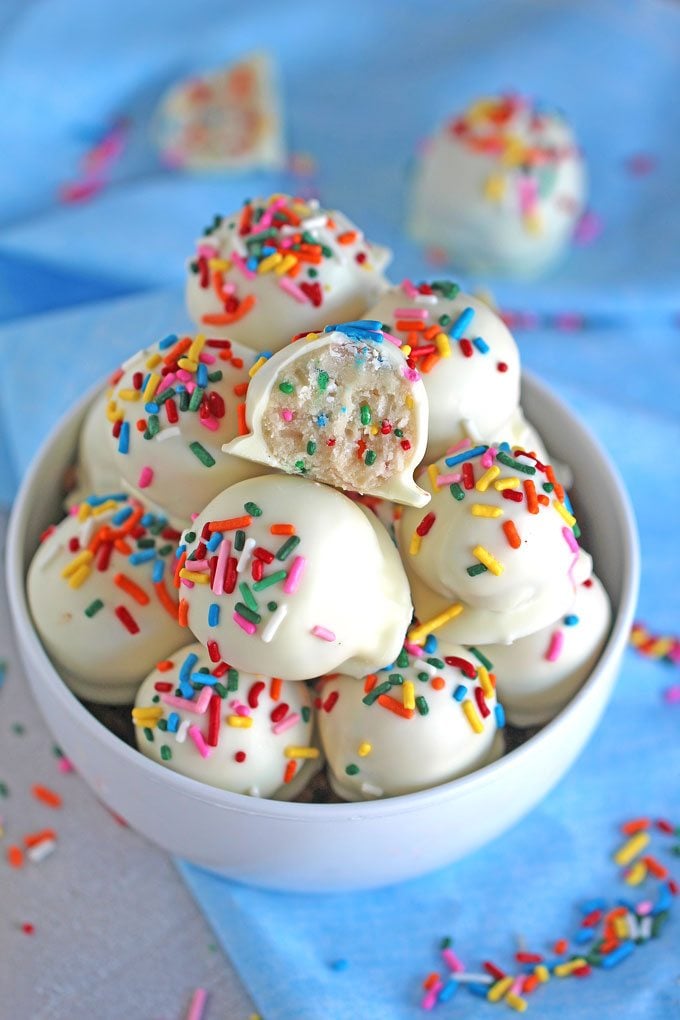 Tools/Ingredients I used to make these No Bake Cake Batter Truffles Recipe:
Disclaimer: Please understand that I can't guarantee you that heat-treating the flour will eliminate all the bacteria. I am very comfortable with eating raw flour, but please understand that if you choose to do so it's solely your decision and at your own risk.
WP Recipe Maker #6437

remove

NO BAKE CAKE BATTER TRUFFLES

No Bake Cake Batter Truffles are very easy to make using funfetti cake mix. Loaded with lots of sprinkles and dipped in white chocolate, these are delicious.

Course: Dessert

Cuisine: American

Prep Time: 15m

Servings: 16

No Bake Cake Batter Truffles:

– 8 tablespoons (1/2 cup, 1 stick, 113 grams) unsalted butter, softened at room temperature

– 1½ cups Funfetti cake mix

– 1/4 cup cane sugar

– ½ cup all-purpose flour

– 1/2 tablespoon vanilla extract

– ¼ cup rainbow sprinkles

White Chocolate Coating:

– 10 oz white chocolate wafers

or chopped white chocolate

– 3 tablespoon sprinkles

1) Cover a large, flat plate with waxed paper and set aside.

No Bake Cake Batter Truffles:

1) Slice butter into 8-10 pieces and add it to a large bowl, add funfetti cake mix, sugar, flour and vanilla extract. Using a fork, work the butter into the flour and cake mix until fully combined and it resembles smooth cookie dough. To make the process easier, mix with the fork and after that use your hands to combine all the ingredients.

2) Mix in rainbow sprinkles.

3) Measuring 1 tablespoon of truffle batter or using a 1 tablespoon scoop, scoop dough and using your palms roll it into a ball. Place truffle balls onto the prepared baking sheet. Place in freezer for 10 minutes before coating with white chocolate.

4) The amount of truffles you will get depends on how large or small you make them.

White Chocolate Coating:

1) Add white chocolate to a microwave safe bowl and melt for 30 seconds. Stir well and microwave for another 20 or 30 seconds, stir well with a spatula and if there is still chocolate that did not melt, microwave for another 15 seconds and stir well.

2) Using a fork, dip each dough ball into the melted white chocolate and place on the prepared plate, top with sprinkles immediately.

3) Place truffles in the fridge for at least 20 – 30 minutes or until the white chocolate coating hardens.

4) Store truffles in the fridge for up to 7-10 days.

5) Serve and enjoy!

calories 249

carbohydrates 32

protein 1

fat 12

saturated_fat 7

cholesterol 18

sodium 138

potassium 54

sugar 26

vitamin_a 3.6

vitamin_c 0.1

calcium 4.1

iron 2.3

 

If you like no bake truffles, you should try these naturally pink White Chocolate Raspberry Truffles:
and these No Bake Oreo Devil's Food Cake Truffles:
Peas and Peonies, LLC. owns the copyright on all images and text and does not allow for its original recipes and pictures to be reproduced anywhere other than at this site unless authorization is given. If you enjoyed the recipe and would like to publish it on your own site, please re-write it in your own words, and link back to my site and recipe page. Copying and/or pasting full recipes to social media or personal blogs is strictly prohibited. Sharing this recipe is very much appreciated and encouraged. Read my disclosure and privacy policy. This post may contain affiliate links.