This easy and fun no bake almond joy roll is dense, chocolaty and has a creamy, sweet and smooth coconut filling. A perfect kitchen project for kids and adults.
This post contains affiliate links at NO extra cost to you, I just like sharing the stuff I love and works for me.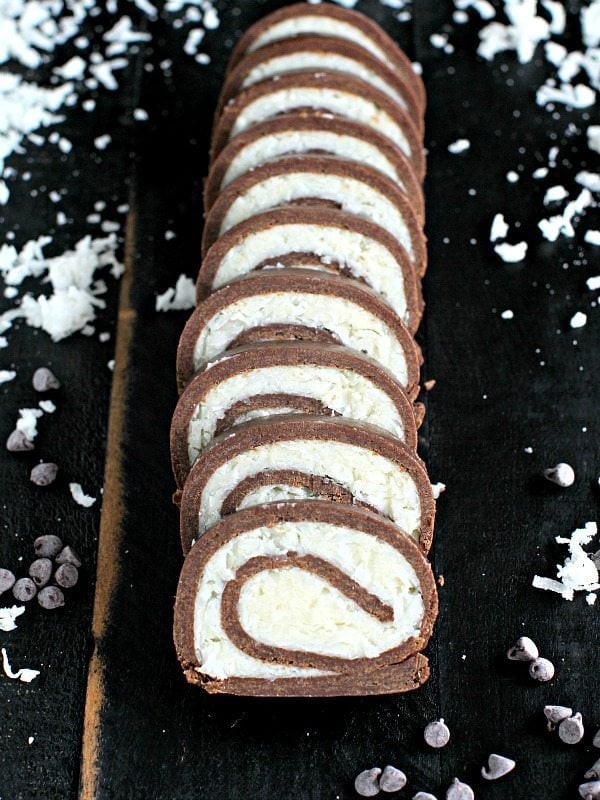 No Bake Almond Joy Roll that takes minutes to make! Chocolaty, filled with creamy coconut, it tastes like almond joy bars and it was a hit with my boys and my friends. This No Bake Almond Joy Roll  is incredibly easy to make, and it will be such a fun kitchen project with kids, they can participate and have fun. The "dough" is made from crushed cookies or graham cracker crumbs, cocoa powder and a little water. Filled with a creamy and smooth mixture of coconut mixed with butter (because butter makes EVERYTHING better), powdered sugar and a little condensed milk.
Well, since this is a No Bake Almond Joy Roll  the idea was to top it with almonds, but I completely forgot about that little detail. Well, excuse me I was in a hurry to eat it asap! BUT if you love almonds, you should definitely add them and enjoy the crunch.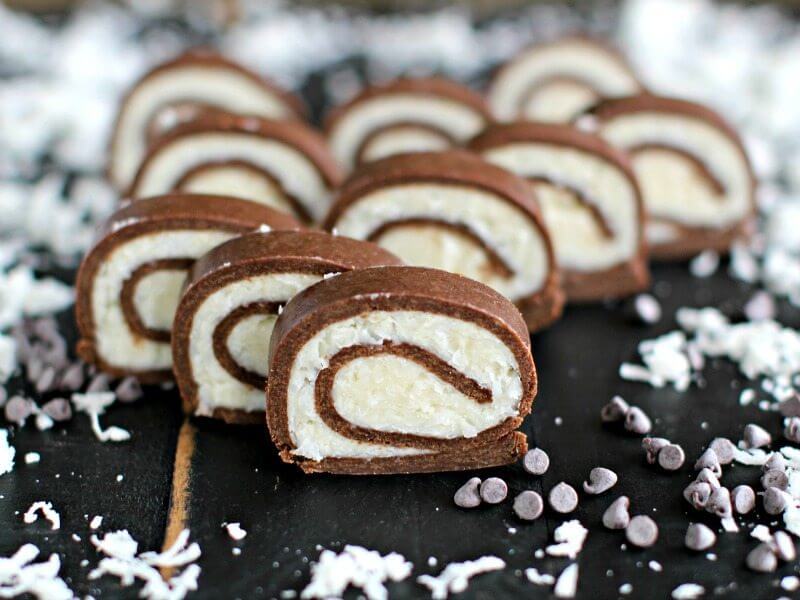 The roll must be stored in the fridge, and OMG each slice is like a bite of heaven. I know, sounds so over the top, but for a dessert as simple and as easy as this one, I am telling you this No Bake Almond Joy Roll  is crazy good. I would go ahead and actually say that I like it more than the almond joy bars, because the chocolaty cookie dough in this roll is so good. So it's not just melted chocolate over coconut, the chocolate cookie layer is dense, rich and incredibly delicious.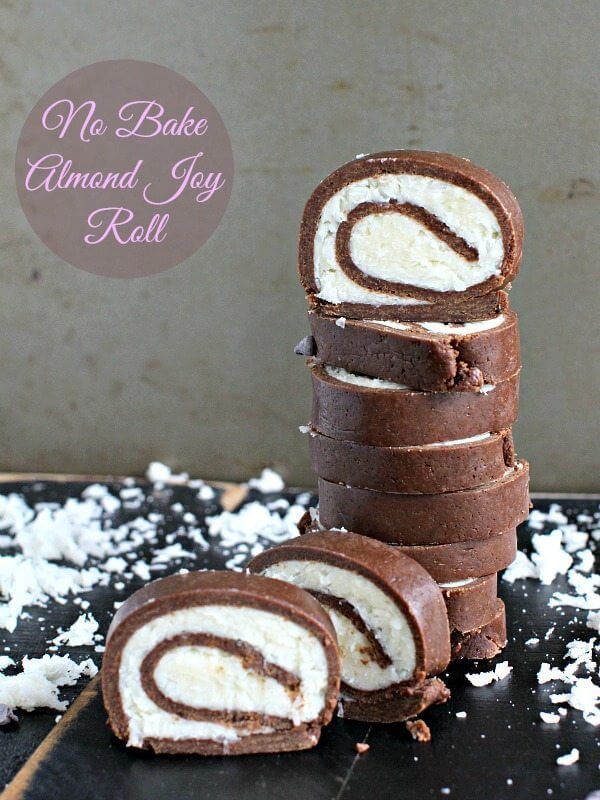 Tools/Ingredients I used to make the No Bake Almond Joy Roll:
No Bake Almond Joy Roll
This easy and fun no bake almond joy roll is dense, chocolaty and has a creamy, sweet and smooth coconut filling. A perfect kitchen project for kids.
Author:
Katalina Kastravet
Ingredients
9 ounces graham cracker crumbs
1 tablespoon sugar
3 tablespoons unsweetened cocoa powder
3.5 ounces water, warm
6 ounces sweetened coconut flakes
1 stick / 4 ounces unsalted butter, room temperature
⅓ cup / 2 ounces powdered sugar
3 tablespoons sweetened condensed milk
Instructions
Add graham cracker crumbs to a large mixing bowl, add the cocoa powder and mix.
In a small bowl mix water and sugar and microwave for 1 minute to create a syrup. Add the syrup to the crumb mixture and using a fork start mixing until combined. Using your hands combine all the ingredients until they form a non-sticky easy to work dough, if needed add more warm water little by little, the texture of the dough should resemble play dough. Roll it into a ball.
Lay plastic wrap on the counter, it should be roughly 16 inches long, place the cookie dough ball in the middle and using a rolling pin, roll in into a thin rectangle. Mine was 10x12. Don't worry if the rectangle breaks into some spots, just take the broken pieces and press them into place with your fingers. The dough will have a play dough texture, so it's really easy to work with. Using a knife trim the edges.
In the bowl of an electric mixer, or in a medium bowl using a hand mixer, beat together butter and powdered sugar until fluffy, for 1-2 minutes. Scrape the sides of the bowl, add the condensed milk and mix until combined. Using a spatula stir in the coconut flakes.
Transfer the coconut mixture onto the cookie dough sheet, distribute in an even layer, ½ inch from the edges. Starting from the edge that is facing you, using the plastic wrap, start rolling the cookie dough sheet with the coconut mixture into a roll. Press well to form a nice semicircle, cover in plastic wrap and refrigerate for at least 1 hour before serving.
Do not remove the plastic wrap, store the roll in it, unwrap and slice only as much as you need.
More of a peanut butter fan? Check this version for No Bake Peanut Butter Roll that tastes like a huge Reese's Bar: