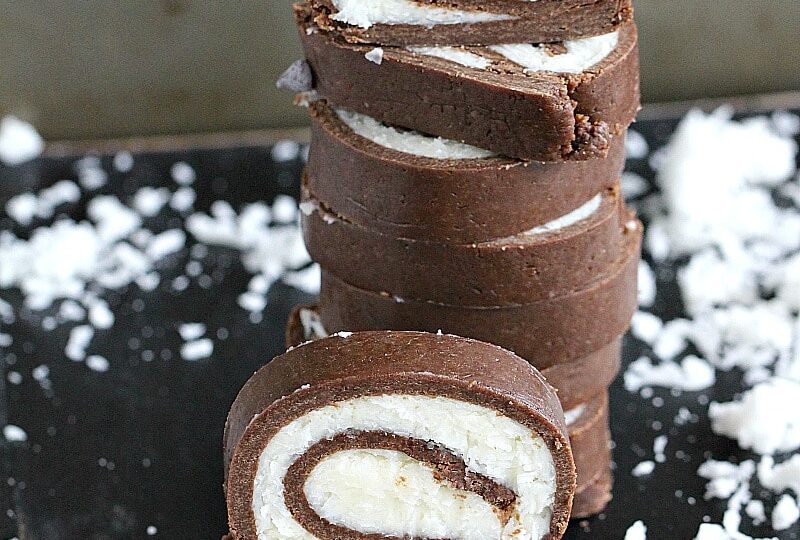 No Bake Almond Joy Roll [VIDEO]
No-Bake Almond Joy Roll is dense, chocolaty and has a creamy, sweet and smooth coconut filling. Made with just a few ingredients in under 30 minutes. Watch the recipe video tutorial below and see how simple it is!
I love making no-bake desserts since they are quick and easy to make. My other favorite once are No Bake Cake Batter Truffles, No Bake Chocolate Peanut Butter Cheesecake, and No Bake Nutella Fudge.
No-Bake Almond Joy Roll
No Bake Almond Joy Roll that takes minutes to make! Chocolaty, filled with creamy coconut, and tastes like almond joy bars made easily in your kitchen. These almond rolls are incredibly easy to make, and it will be such a fun kitchen project with kids.
The "dough" is made from crushed cookies or graham cracker crumbs, cocoa powder, and a little water. Filled with a creamy and smooth mixture of coconut mixed with butter, powdered sugar and a little condensed milk. Also, you can make them in advance and store them for later. They can be enjoyed during the whole week when refrigerated. So, go ahead and try them as they are super delicious!
No Bake Almond Joy Roll Recipe Tips:
You can use cookie crumbs or graham cracker crumbs. However, my first choice is cookie crumbs.
If you decide to use graham cracker crumbs, I recommend adding them to the food processor. Make sure you pulse until you get a very fine "corn flour like" texture.
For the chocolate "dough" you are looking for a very smooth and easy to work with texture. It should resemble play-dough. Add the water a little at a time, because you don't want to make it too watery. Hence, add a little at a time, mix, knead, until you get to a smooth texture you can easily knead and roll.
The coconut mixture should be made with sweetened or unsweetened coconut flakes. Just don't use the dried, shredded coconut, that one is not intended for this recipe.
Add enough coconut mixture, but not too much, because it will be hard to roll.
The roll must be stored in the fridge because you don't want the chocolate to melt. Pure and simple, this No-Bake Almond Joy Roll is deliciously good. I like it more than the almond joy bars because this roll is richer and tastes just a lot better. So it's not just melted chocolate over coconut, the chocolate cookie layer is dense, rich and incredibly delicious.
How long will No Bake Almond Joy Roll stay fresh?
Best to store the role in the fridge. To do so, wrap tightly and refrigerate, the roll is good refrigerated for one week.
Tools/Ingredients I used to make the No-Bake Almond Joy Roll: