Chocolate Peanut Butter Cheesecake [VIDEO]
Chocolate Peanut Butter Cheesecake with no cracks or cooking time, because this delicious cheesecake is no-bake with an amazing creamy texture. Watch the recipe video tutorial below and see how yummy this dessert is!
We love making delicious and puffy no-bake cheesecakes like our popular No Bake Tiramisu Cheesecake, Samoa Cheesecake, and No Bake Lemon Cheesecake.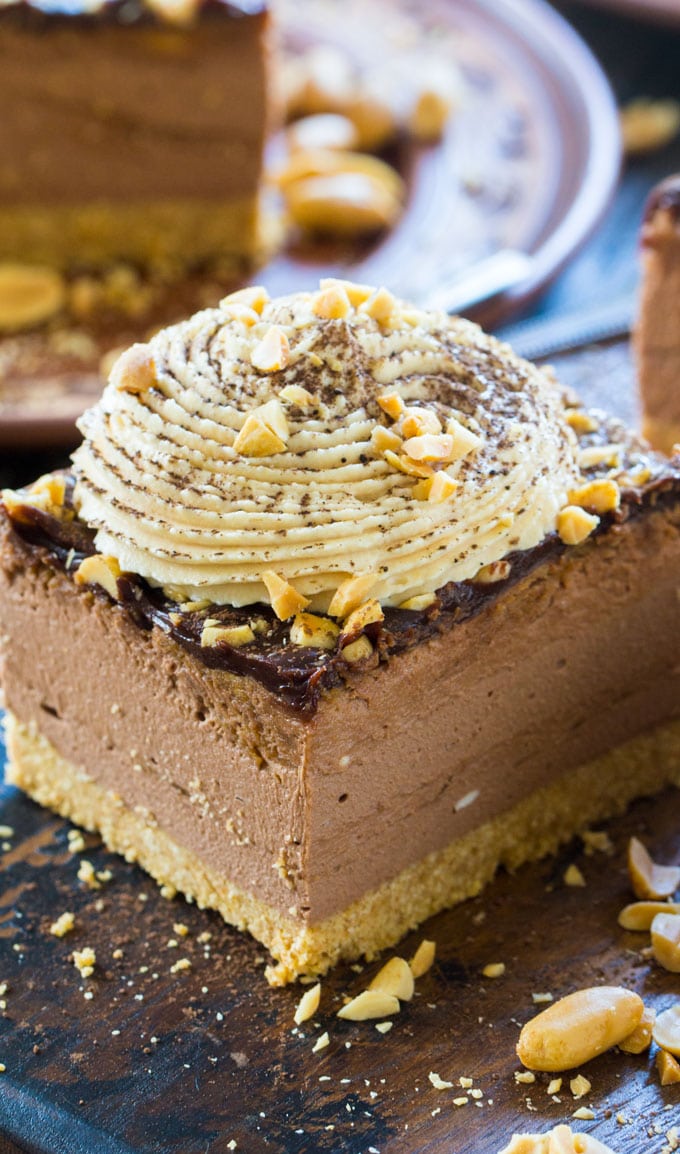 Homemade Peanut Butter Cheesecake
Chocolate Peanut Butter Cheesecake is so delicious, that it's worth every single calorie. I love a good no-bake cheesecake, mostly because I hate when I intend to bake the perfect cheesecake and it comes out with cracks. This Chocolate Peanut Butter Cheesecake is easy to make and has the most fabulous creamy texture.
Made with lots of chocolate and peanut butter, every bite is a party for your taste buds. The cheesecake is topped with semi-sweet chocolate ganache and salty peanuts. Cloudy peanut butter whipped cream tops each cheesecake bar for the ultimate peanut butter experience!
Chocolate Peanut Butter Cheesecake Recipe Tips:
The cream cheese should be at room temperature.
For the melted chocolate I prefer NOT to use chocolate chips, sometimes they don't melt well. Use high-quality chocolate bars or baking chocolate bars, and chop them finely.
You can use milk or dark chocolate, depends on which one you prefer more.
You can make the cheesecake and layer it in parfait glasses as individual desserts.
Before adding the graham cracker crust to the springform pan, make sure you spray it with baking spray.
Don't skip the gelatin, it will make the cheesecake hold its shape better, and it will resemble a baked cheesecake.
Chilling the cheesecake enough is very important if you want to get perfect slices. I recommend chilling for at least 6 hours or better, overnight.
The heavy whipping cream should be very cold, straight from the fridge. It would be good to chill the mixing bowl for 10 minutes, before whipping the cream.
Do NOT try to bake this cheesecake batter, it does not contain any eggs, therefore it's not intended to be baked.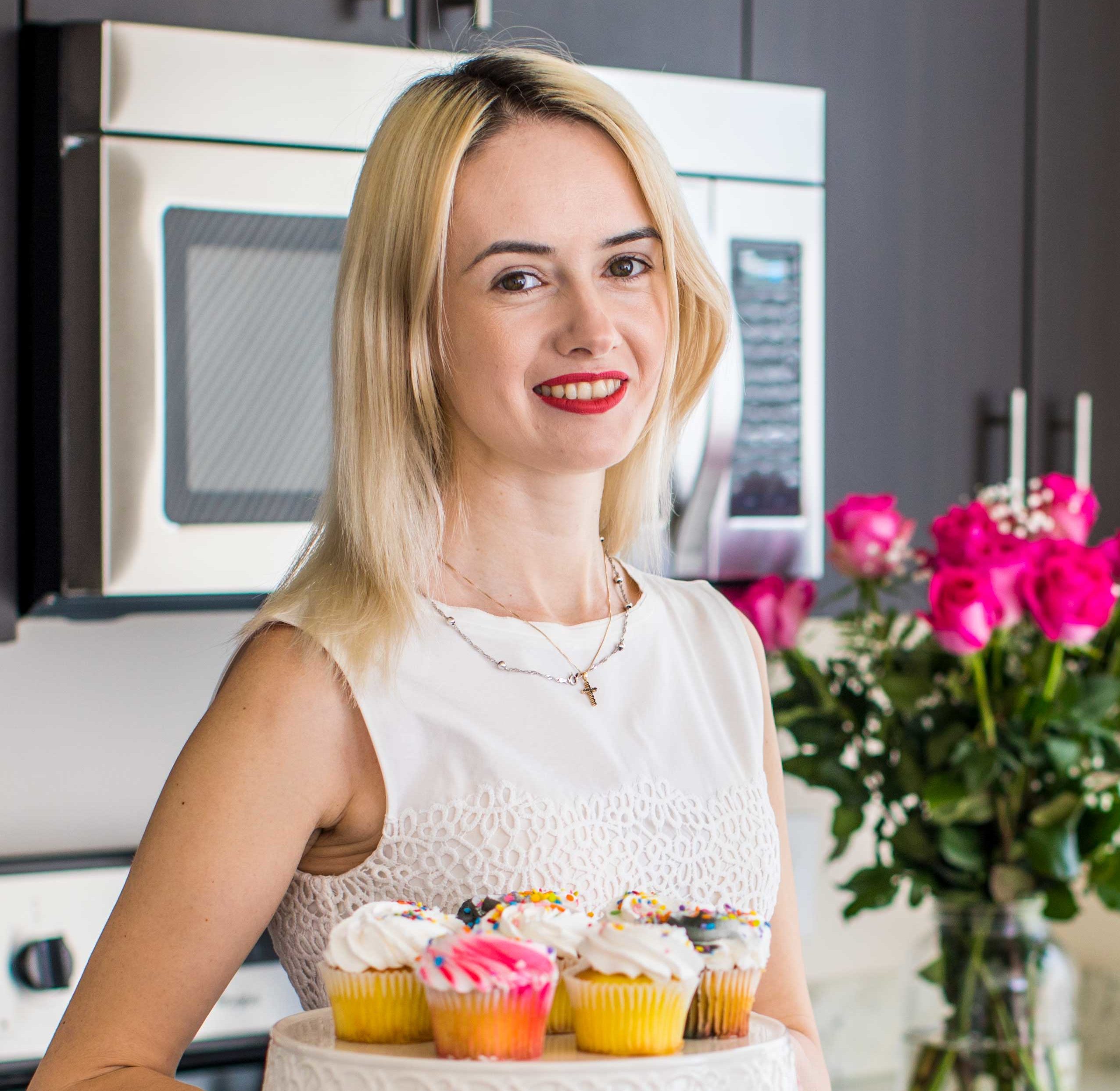 Follow us on Pinterest for more delicious recipes!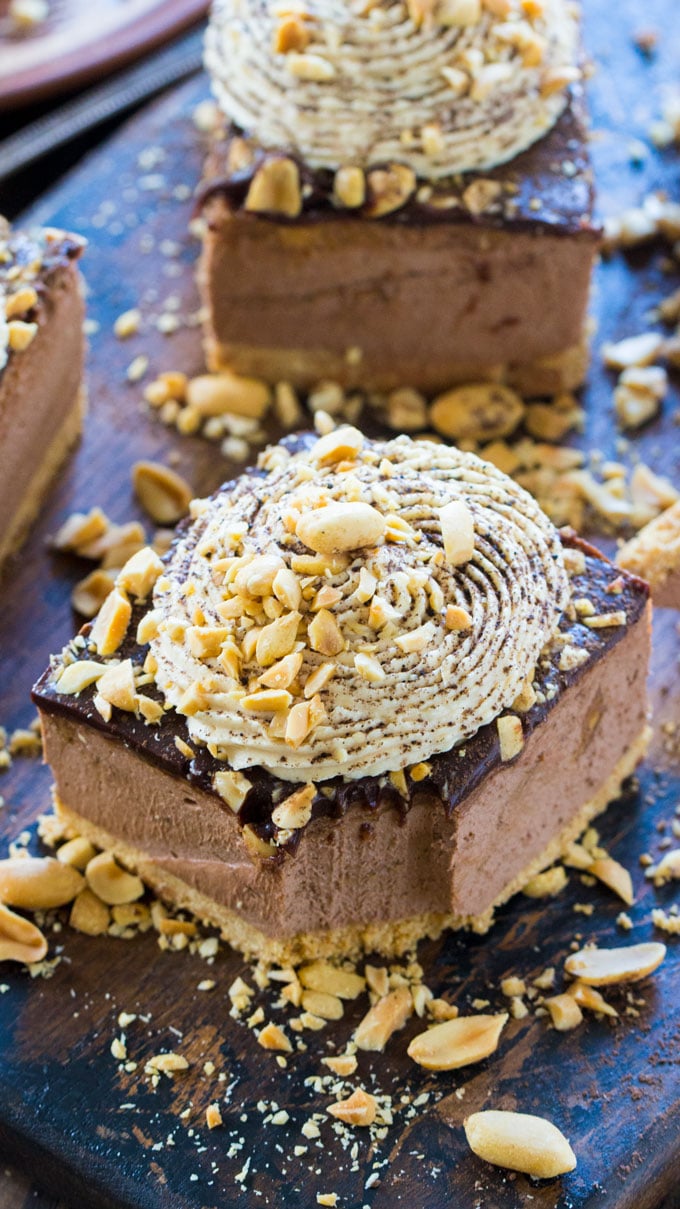 How to slice the Chocolate Peanut Butter Cheesecake?
Run along, sharp thin-bladed slicing knife under hot tap water or dip it into a glass of hot water prior to slicing the cheesecake. Wipe the knife clean and run it under hot water before making another cut.
An easy, mess-free way to cut even slices is to use cheese wire or unflavored dental floss. Clean the bits that stuck to the wire/floss before every cut.
Can you freeze the Chocolate Peanut Butter Cheesecake?
Yes, you can freeze it BEFORE you top it with the ganache. Wrap cheesecake tightly with aluminum foil or plastic freezer wrap, or place in a heavy-duty freezer bag. Properly stored, it will maintain the best quality for about 2 to 3 months.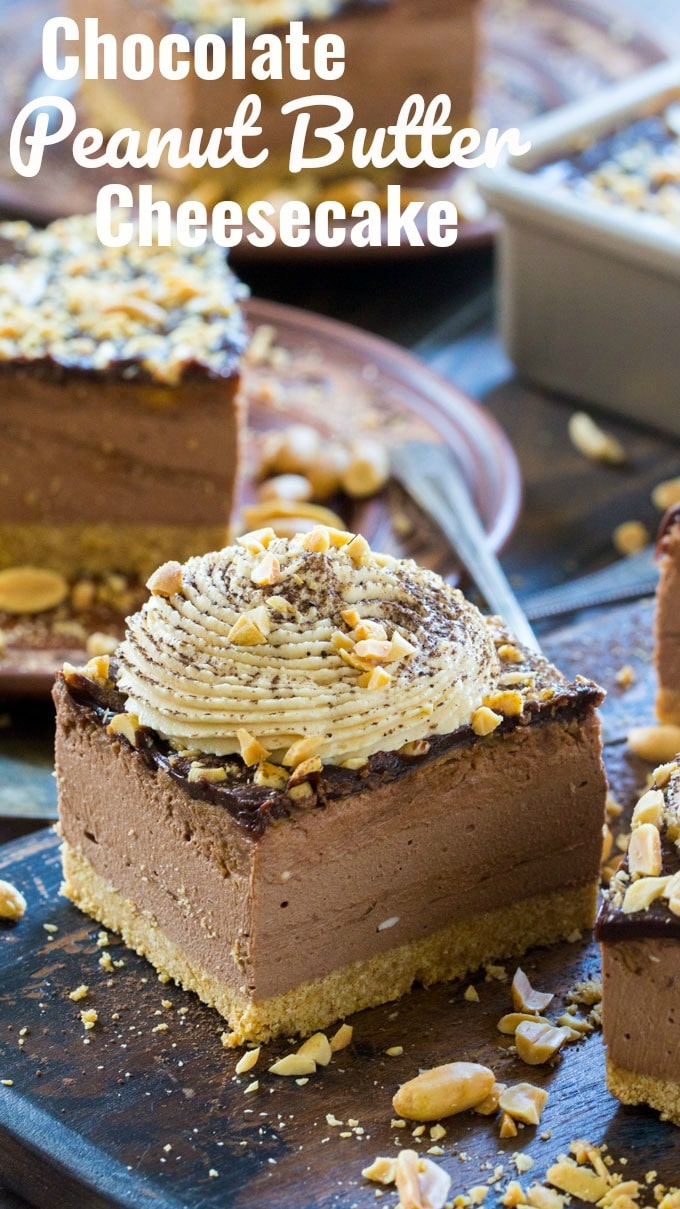 Tools I used in the making of Chocolate Peanut Butter Cheesecake Recipe:
Springform Pan – love the quality of this one and it is leakproof.
9×13 inch pan – I used this one, I like to cut the cheesecake into bars, and this pan is perfect.
Save Recipe
Chocolate Peanut Butter Cheesecake
Author: Catalina Castravet
Serves: 16 slices
Prep time:

1

hour
Total time:

1

hr
Ingredients
Crust:
1 package Graham cracker crumbs
2 sticks unsalted butter (melted)
Cheesecake:
1 package unflavored gelatin ((4 envelopes))
2/3 cup water (cold)
5 packages original cream cheese (8oz packs)
2 cups powdered sugar
1 tablespoon vanilla extract
2 1/2 cups heavy whipping cream cold
20 ounces milk chocolate
1 cup creamy peanut butter
Chocolate Ganache:
2 cups finely chopped semi-sweet chocolate
1 tablespoon light corn syrup
1 cup heavy whipping cream hot
Garnish:
1/2 cup salted peanut (chopped)
Instructions
Crust:
Add Graham cracker crumbs to a medium bowl and mix with melted butter until fully combined. Press the mixture onto the bottom and sides of a spring form pan or a 9x13 inches cake pan. Use a measuring cup to press the mixture, it makes the process very easy. Refrigerate for 20-30 minutes.
Gelatin Mixture:
Add 2/3 cup of cold water to a small bowl, sprinkle the gelatin on top. Let it bloom for 1-2 minutes. Whisk to combine, microwave for 30 seconds and whisk until fully combine and a gelatin mixture is formed. Set aside.
Cheesecake Filling:
In a large bowl, using an electric hand mixer or stand mixer, beat cream cheese, add sugar on medium-low speed until combined. Stop a few times to scrape the sides and bottom of the bowl.
Add the 20 ounces of chopped chocolate to a medium bowl, heat 1/2 cup of heavy whipping cream until hot and pour over the chocolate. Let it stand for 1 minute, stir to combine. If needed microwave for 30 seconds and stir until the chocolate is fully melted. The mixture should be smooth and shiny. Set aside to cool.
In a chilled mixing bowl, add the cold heavy whipping cream. Whip on high speed until stiff peaks form. Manually, using a spatula, fold the whipped cream into the cream cheese mixture. Make sure it's all combined, mix on low speed for 1-2 minutes.
Add vanilla and gelatin mixture to the bowl, mix on low-medium speed to combine.
Add the melted chocolate to the batter, mix on low-medium speed to combine. Using a spatula stir well to combine.
Add the peanut butter to a small bowl and microwave for 40 seconds, stir.
Spread half of the cheesecake filling evenly onto the prepared pan. Spread half of the peanut butter onto the cheesecake and swirl with a spatula. Add the rest of the cheesecake and top with the remaining peanut butter, swirl.
Set the cheesecake in the refrigerator to chill and firm, 5-6 hours or better, overnight.
Chocolate Ganache:
Add chocolate and corn syrup to a medium bowl.
Heat heavy cream in the microwave for 1 minute, until hot.
Pour hot heavy cream over the chocolate, let stand for 1 minute and using a spatula stir to combine. Stir well until all the chocolate melts and the mixture is shiny and smooth. If needed, microwave for 30 seconds to melt any remaining small lumps.
Let cool to room temperature, but not to harden.
Pour chocolate ganache over the cheesecake and distribute evenly using a spatula.
Sprinkle chopped peanuts over the cheesecake.
Chill for one more hour and serve.
Always serve chilled and store in the fridge.
Store in the fridge for up to 4 days.
0 Calories: 814 Carbohydrates: 60 Protein: 14 Fat: 60 Saturated Fat: 32 Cholesterol: 110 Sodium: 455 Potassium: 580 Fiber: 5 Sugar: 47 Vitamin A: 1165 Vitamin C: 0.3 Calcium: 172 Iron: 2.9
Save Recipe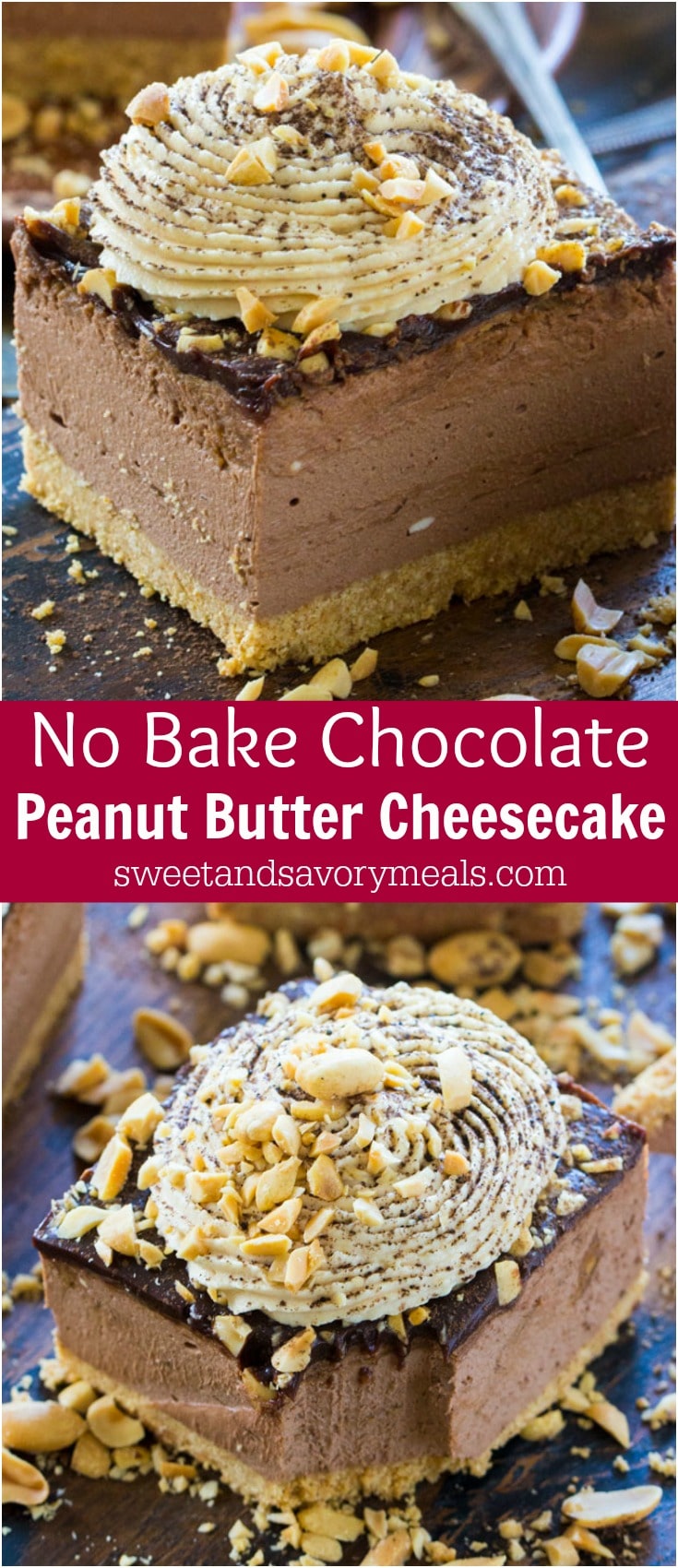 More recipes you might love