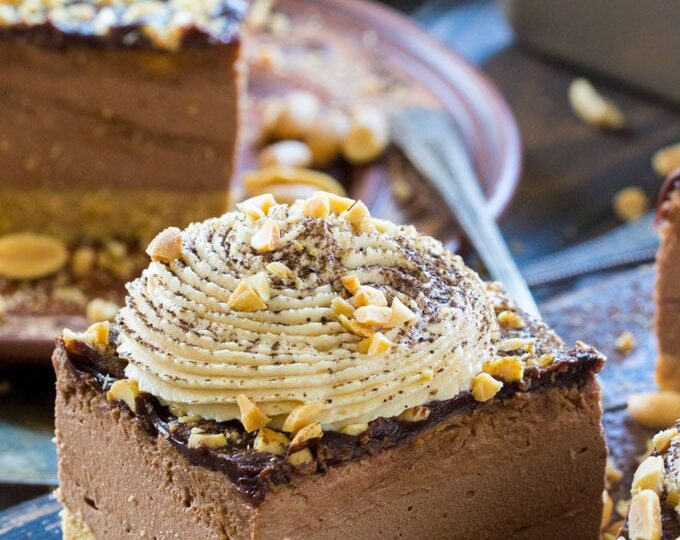 Chocolate Peanut Butter Cheesecake [VIDEO]
Chocolate Peanut Butter Cheesecake with no cracks or cooking time, because this delicious cheesecake is no-bake with an amazing creamy texture. Watch the recipe video tutorial below and see how yummy this dessert is!
We love making delicious and puffy no-bake cheesecakes like our popular No Bake Tiramisu Cheesecake, Samoa Cheesecake, and No Bake Lemon Cheesecake.
Homemade Peanut Butter Cheesecake
Chocolate Peanut Butter Cheesecake is so delicious, that it's worth every single calorie. I love a good no-bake cheesecake, mostly because I hate when I intend to bake the perfect cheesecake and it comes out with cracks. This Chocolate Peanut Butter Cheesecake is easy to make and has the most fabulous creamy texture.
Made with lots of chocolate and peanut butter, every bite is a party for your taste buds. The cheesecake is topped with semi-sweet chocolate ganache and salty peanuts. Cloudy peanut butter whipped cream tops each cheesecake bar for the ultimate peanut butter experience!
Chocolate Peanut Butter Cheesecake Recipe Tips:
The cream cheese should be at room temperature.
For the melted chocolate I prefer NOT to use chocolate chips, sometimes they don't melt well. Use high-quality chocolate bars or baking chocolate bars, and chop them finely.
You can use milk or dark chocolate, depends on which one you prefer more.
You can make the cheesecake and layer it in parfait glasses as individual desserts.
Before adding the graham cracker crust to the springform pan, make sure you spray it with baking spray.
Don't skip the gelatin, it will make the cheesecake hold its shape better, and it will resemble a baked cheesecake.
Chilling the cheesecake enough is very important if you want to get perfect slices. I recommend chilling for at least 6 hours or better, overnight.
The heavy whipping cream should be very cold, straight from the fridge. It would be good to chill the mixing bowl for 10 minutes, before whipping the cream.
Do NOT try to bake this cheesecake batter, it does not contain any eggs, therefore it's not intended to be baked.
How to slice the Chocolate Peanut Butter Cheesecake?
Run along, sharp thin-bladed slicing knife under hot tap water or dip it into a glass of hot water prior to slicing the cheesecake. Wipe the knife clean and run it under hot water before making another cut.
An easy, mess-free way to cut even slices is to use cheese wire or unflavored dental floss. Clean the bits that stuck to the wire/floss before every cut.
Can you freeze the Chocolate Peanut Butter Cheesecake?
Yes, you can freeze it BEFORE you top it with the ganache. Wrap cheesecake tightly with aluminum foil or plastic freezer wrap, or place in a heavy-duty freezer bag. Properly stored, it will maintain the best quality for about 2 to 3 months.
Pin This Chocolate Peanut Butter Cheesecake Recipe to your Favorite Board
Tools I used in the making of Chocolate Peanut Butter Cheesecake Recipe:
Springform Pan – love the quality of this one and it is leakproof.
9×13 inch pan – I used this one, I like to cut the cheesecake into bars, and this pan is perfect.