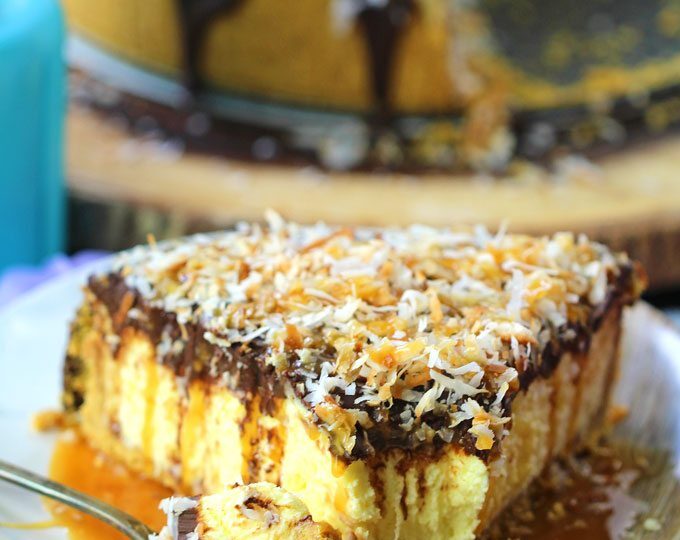 Samoa Cheesecake – No Bake [VIDEO]
No Bake Samoa Cheesecake is so creamy and indulgent. Topped with chocolate ganache, lots of toasted coconuts and finished with caramel sauce.
We love making delicious and beautiful cheesecakes like Best Instant Pot Cheesecake, Cheesecake Factory Original Cheesecake, and No Bake Tiramisu Cheesecake.
Samoa Cheesecake
No Bake Samoa Cheesecake is one the best cheesecakes I have ever made. If you love Girl Scout Samoa cookies, you will go crazy for this cheesecake! It is so heavenly creamy and indulgent that everyone will ask for seconds. The No Bake Samoa Cheesecake is made with a mix of cream cheese and mascarpone cheese, for extra creaminess.
Instant coconut pudding mix is added into the whipped cream for an irresistible coconut flavor. Desiccated coconut is stirred into the cheesecake batter for an amazing texture.
Topped with chocolate ganache and lots of toasted coconuts and finished with a sweet caramel sauce, just like your favorite cookie. You have to try this cheesecake, bonus points for being no bake and so easy to make!
Samoa Cheesecake Recipe Tips:
The mascarpone and cream cheese should be at room temperature.
Don't replace the mascarpone with cream cheese. The mascarpone has a richer and creamier texture, it will make a huge difference in this cake.
Don't over mix or whisk the cheeses on high speed. The mascarpone tends to separate if over mixed, so best to mix on medium speed.
You can make the cheesecake and layer it in parfait glasses as individual desserts.
Before adding the graham cracker crust to the springform pan, make sure you spray it with baking spray.
Chilling the cheesecake enough is very important, if you want to get perfect slices. I recommend chilling for at least 6 hours or better, overnight.
The heavy whipping cream should be very cold, straight from the fridge. It would be good to chill the mixing bowl for 10 minutes, before whipping the cream.
Do NOT try to bake this cheesecake batter, it does not contain any eggs, therefore its not intended to be baked.
How to slice a cheesecake:
Run a long, sharp thin-bladed slicing knife under hot tap water or dip it into a glass of hot water prior to slicing the cheesecake. Wipe the knife clean and run it under hot water before making another cut.
An easy, mess-free way to cut even slices is to use cheese wire or unflavored dental floss. Clean the bits that stuck to the wire/floss before every cut.
HOW TO PREVENT CRACKS IN THE EGGNOG CHEESECAKE?
First, make sure that all the ingredients are at room temperature and well combined after being mixed.
Also, avoid opening the door oven while baking the cheesecake.
In addition, cooling the cheesecake in the oven, with the door slightly will prevent cracks.
Similarly, of you bake the cheesecake in a water bath, you will avoid cracks.
HOW TO FIX A CRACKED CHEESECAKE?
There are a few easy ways to hide or fix a cracked cheesecake top. Check my detailed Cheesecake post for all the details.
Can you freeze the Cheesecake:
Yes, you can freeze it BEFORE you top it with the ganache. Wrap cheesecake tightly with aluminum foil or plastic freezer wrap, or place in heavy-duty freezer bag. Properly stored, it will maintain the best quality for about 2 to 3 months.
Tools I used in the making of the No Bake Samoa Cheesecake :
Here is a step by step video for you:
Deliciousness to your inbox
Enjoy weekly hand picked recipes and recommendations