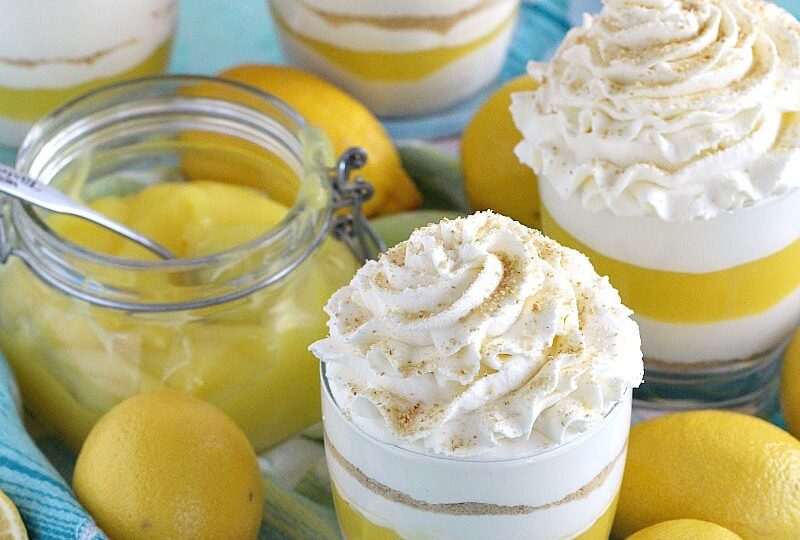 No Bake Lemon Cheesecake [Video]
No Bake Lemon Cheesecake is creamy and easy to make. Layered with Graham Cracker crumbs, sweet and tangy lemon curd and topped with softly whipped cream.
Cheesecake recipes are very popular on my blog. Like my Cheesecake Factory Original Cheesecake, Chocolate Peanut Butter Cheesecake and Samoa Cheesecake, this recipe is a perfect dessert option for a crowd!
No Bake Lemon Cheesecake Recipe
No Bake Lemon Cheesecake individually portioned desserts are always a hit at any party. The creamy texture, the gorgeous flavor of lemon from the freshly squeezed lemon juice and grated lemon zest make this dessert irresistible.
Served layered in glasses, the Lemon Cheesecake Parfaits are very easy to serve and also will look stunning on any dessert spread table.
This dessert is so easy to make, it's done in 30 minutes or less, after that you should have the patience for it to chill, or if you are anything like me, just dive straight into that creamy goodness. To keep the recipe No-Bake and very hassle-free I used store-bought lemon pie filling, sometimes shortcuts are the best and we should totally take them!
No-Bake Lemon Cheesecake Guidelines:
Use full-fat cream cheese – if you are making and intend to eat cheesecake, don't substitute the regular cream cheese for the fat-free version, you are loosing on creaminess. I mean, a cheesecake shouldn't be the dessert where you try to cut some calories. To save money on the cream cheese, look for, in house labels, I know that Whole Foods and Shoprite have their own cream cheese that usually is on sale and very reasonably priced.
Also, use full fat/whole milk greek yogurt – yogurt by itself already has fewer calories, so always use whole milk Greek yogurt, if you want it to taste rich and creamy
Make your own whipped cream – to top these parfaits I used homemade whipped cream, obviously full fat, the texture is so much better than the one from a tube!
In addition, don't skip the lemon zest – lemon zest will add extra flavor and freshness to this rich dessert.
Plain Graham Cracker crumbs – I like the lemon flavor to shine, so using plain graham cracker crumbs is key. In addition, you can top them with some crushed crackers. It is super delicious!
How to make lemon zest?
Follow the easy steps below:
Rinse the lemon.
Set your tool over a cutting board. A microplane produces a very fine zest, perfect for baking and cooking. If you don't have a microplane, use the smallest holes on an ordinary grater.
Grate the yellow skin of the lemon only. Grate just enough to get through the yellow skin, this way you can avoid the bitter white pith underneath.
Rotate the lemon and repeat. Once the white pith is exposed, rotate the lemon and zest the next strip of peel. Repeat until most of the peel is removed, or until you have enough zest for your recipe.
Can you use lemon juice instead of lemon zest?
Yes! Lemon zest adds a citrus flavor to your recipes, including desserts, main dishes, and more. If you don't have a lemon and a zester handy, you can the zest with regular lemon juice. 1 medium-size lemon = approximately 1 tablespoon of lemon zest = 2 to 3 tablespoons of lemon juice.
What to top the No-bake Lemon Cheesecake with?
It is a perfectly satisfying and delicious dessert as is. However, if you want to add some additional toppings, you are more then welcome to do so. Some of our favorite toppings would be:
Shaved chocolate
Cherries
Strawberries
Sprinkles
Graham crackers
Caramel
Love No Bake desserts? Check out my collection:
Tools/Ingredients I used to make this recipe:
Deliciousness to your inbox
Enjoy weekly hand picked recipes and recommendations