Crepe Stuffed New York Cheesecake
Last updated on June 18th, 2021 at 04:19 pm
Crepe Stuffed New York Cheesecake is an incredible combo of buttery, ricotta chocolate chip stuffed crepes, and baked into a NY cheesecake.
We love making delicious cheesecakes, and among our favorites are Best Instant Pot Cheesecake, Samoa Cheesecake No Bake and No Bake Tiramisu Cheesecake.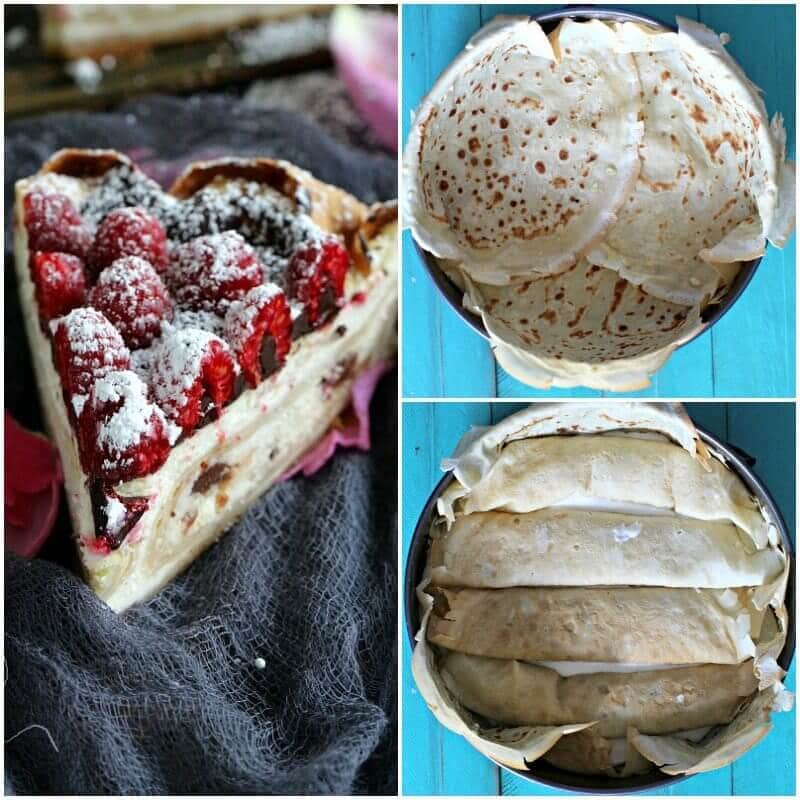 Crepe stuffed New York Cheesecake
This Crepe Stuffed New York Cheesecake is not your typical cheesecake. It doesn't have a graham cracker crust. All the cheesecake filling is being held by buttery layers of crepes! I had this Crepe Stuffed New York Cheesecake in my mind for a while. I was brainstorming recipes and combos when it came to me. Both crepe and cheesecake is something that I love dearly. So I can only make this better by combining the two, which I did and I couldn't be happier!
The crust is made of a few layered crepes, that are covered in New York cheesecake filling, topped with four crepes that are stuffed with ricotta cheese and chocolate chips. I enjoyed baking this Crepe Stuffed New York Cheesecake since it incorporates all the things I love. I am a sucker for creamy, hearty desserts like cheesecake, and I honestly eat crepes on a weekly basis. Having the two together was one of the best decisions I have ever made.
I specifically used ricotta cheese to stuff the crepes, because it has a slightly different texture. And I fell in love completely with the melted chocolate chips. Having the crepe layers baked into the cheesecake, gives this cake an amazing texture. Each bite is filled with creamy vanilla bean New York cheesecake, buttery, thin and soft crepes and a sweet chocolate ricotta mixture. The chocolate on top hardens when refrigerated, which adds a nice crunchy, and the fresh, juicy and tart raspberries, balance the sweetness of the cake and brighten it up.
Pin This Crepe Stuffed New York Cheesecake Recipe to your Favorite Board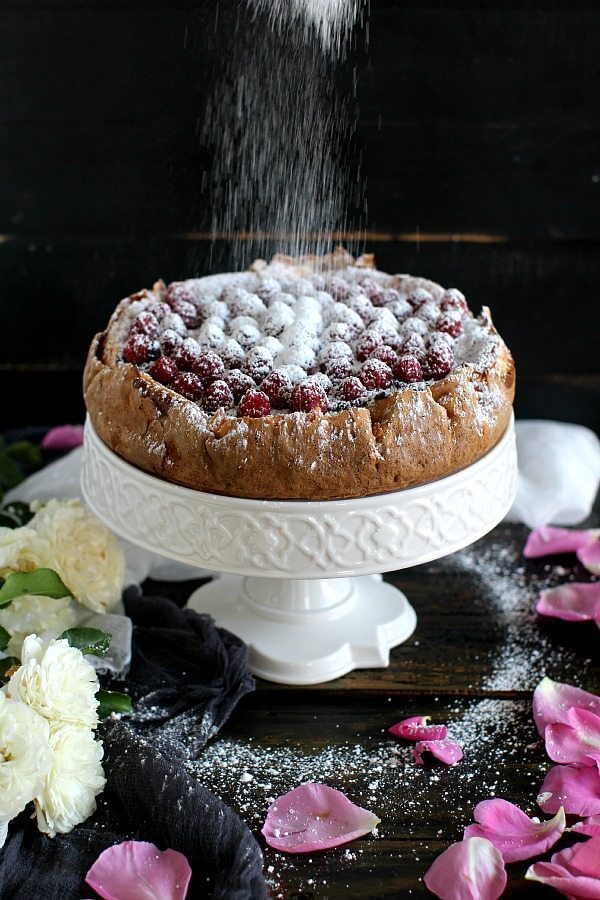 Why You Will Love This Crepe Stuffed New York Cheesecake:
Delicious and beautiful Cheesecake that combines Crepe and Cheesecake in one dessert.
Produces a creamy and rich cheesecake that will be a hit with everyone.
Perfect for special occasions such as Valentine's Day.
Can be made 1 or 2 days in advance so you don't have to worry about dessert
How to slice a Cheesecake:
Run a long, sharp thin-bladed slicing knife under hot tap water or dip it into a glass of hot water prior to slicing the cheesecake. Wipe the knife clean and run it it under hot water before making another cut.
An easy, mess free way to cut even slices is to use cheese wire or unflavored dental floss. Clean the bits that stuck to the wire/floss before very cut.
How to Freeze a Cheesecake:
You can freeze the cheesecake BEFORE you top it with whipped cream or any other sauces or chocolate ganaches. Make sure the cheesecake has fully cooled and also was refrigerated for at least 6 hours. Wrap cheesecake tightly with aluminum foil or plastic freezer wrap, or place in a heavy-duty freezer bag. Properly stored, it will maintain best quality for about 2 to 3 months.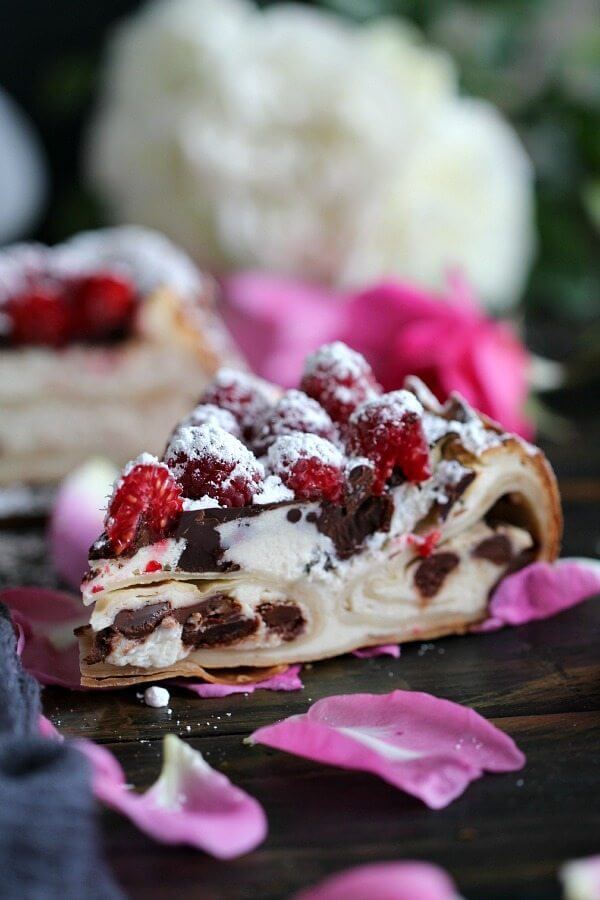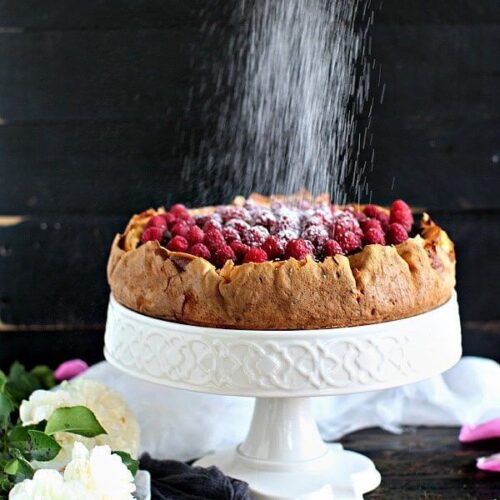 Crepe Stuffed New York Cheesecake
Crepe Stuffed New York Cheesecake is an incredible combo of buttery, ricotta chocolate chip stuffed crepes, and baked into a NY cheesecake.
Save
Share
Print
Pin
Rate
Ingredients
For Crepes - makes 9 crepes when using a 12 inch pan
1

cup

all-purpose flour

2

tablespoon

sugar

1/4

teaspoon

salt

1 1/2

cups

whole milk

4

large eggs

3

tablespoons

unsalted butter

(melted)

1

teaspoons

vanilla extract or 1 vanilla bean

(halved and seeds removed)

butter - to coat the pan between making each crepe
Ricotta Crepe Filling:
1 1/2

cup

ricotta cheese

3

tablespoons

sugar

1

egg

1

tablespoon

flour

1/2

cup

chocolate chips
New York Cheesecake Filling:
2

packages

cream cheese

(8oz. package size)

3/4

cup

white sugar

1/3

cup

whole milk

2

eggs

1/2

cup

sour cream

1/2

cup

all-purpose flour

1

teaspoons

vanilla extract or 1 vanilla bean

(halved and seeds removed)
Assemble and Garnish:
baking spray

6

ounces

dark chocolate

(chopped)

1

lb.

fresh raspberries

powdered sugar
Instructions
For the Crepes:
Place eggs, milk and melted butter in a blender and mix on low - medium speed. If you don't have a blender just whisk by hand until well combined. Add sugar, salt, vanilla bean seeds and flour - one cup at a time and mix in the blender/or whisk until well combined. Let the batter sit at room temperature for 15-20 minutes.

Place a 12-inch non-stick pan very low-medium heat and when hot add a little butter to coat it (less than half of a tablespoon).

Pour 1/3 cup of crepe batter into the center of the pan and swirl to spread evenly. Cook for roughly 1 minute or until the edges of the crepe appear to loosen from the pan.

Using a rubber spatula, loosed the crepe edges from the pan, now using your fingertips, quickly flip the crepe and cook for another 1 minute, until slightly golden brown.

Remove crepe and stack on a plate. Continue with the remaining batter and stack crepes on the plate. Coat the pan with butter as needed.

When done cooking, and the crepes have cooled to room temperature, cover them with a kitchen towel to avoid the edges from drying out.
Ricotta Crepe Filling:
In a medium bowl, using a fork, mix ricotta cheese with the egg and sugar, when combined stir in the flour, after fully incorporated add the chocolate chips. Set aside.
New York Cheesecake Filling:
In the bowl of an electric mixer, fitted with the wire attachment, mix cream cheese with sugar until smooth. Add the milk, and then mix in the eggs one at a time, mixing just enough to incorporate. Stop and scrape the bowl sides and the bottom of the bowl, using a rubber spatula. Mix in sour cream, vanilla bean seeds and flour until smooth.
Assemble and Bake:
Preheat oven to 350F.

Spray an 8 inch springform pan with baking spray.

Place 2 crepes on the bottom of the bowl and 3 on the sides, to create a crepe crust.

Pour half of the New York cheesecake filling into prepared crepe crust.

Place a crepe on a working table, place 1/4 of the ricotta chocolate chip mixture a few inches from the side that is facing you, and spread it over half of the crepe. Roll it gently into a tube and place it carefully into the pan on top of the cheesecake filling. Repeat with the remaining 3 crepes.

Top the crepes with the remaining New York Cheesecake filling.

Bake in the preheated oven for 1 hour. Turn the oven off, and let cake cool in oven with the door closed for 4-5 hours, (make sure it doesn't burn) this prevents cracking. If the cake cracks, don't worry since we are covering it in chocolate so it won't be visible.

Once you remove the cake from the oven, the crepe edges that are over the pan will be slightly burned, trim them, and bring the crepe crust to the same level as the cake.

Keep the cake in the pan.
Garnish:
Bring a medium saucepan half filled with water to a boil. Place the chocolate in a medium bowl set over the saucepan of simmering water, let it melt, stir just a few times. Remove from heat and set aside. Pour the chocolate on top of the cheesecake, level the mixture with a spatula or spoon.

Top with fresh raspberries and refrigerate for at least 4 - 5 hours or better overnight.

Before serving, sift powdered sugar on top of the cake and remove from the springform pan.
Nutrition
Calories:
467
kcal
|
Carbohydrates:
48
g
|
Protein:
14
g
|
Fat:
25
g
|
Saturated Fat:
14
g
|
Cholesterol:
148
mg
|
Sodium:
341
mg
|
Potassium:
473
mg
|
Fiber:
6
g
|
Sugar:
27
g
|
Vitamin A:
740
IU
|
Vitamin C:
10
mg
|
Calcium:
231
mg
|
Iron:
4.2
mg
More recipes you might love