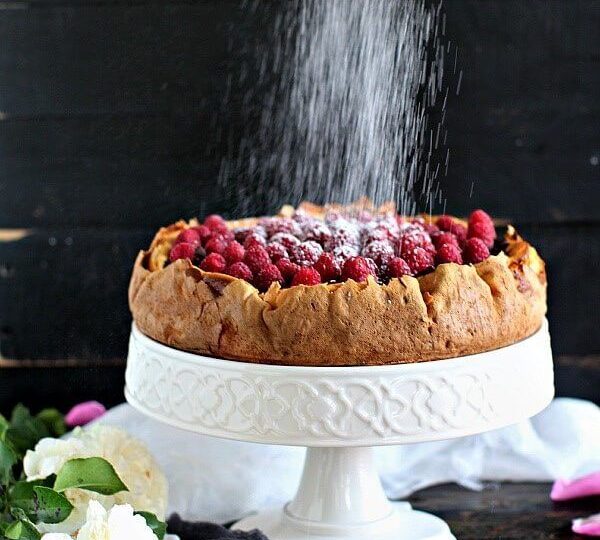 Crepe Stuffed New York Cheesecake
Crepe Stuffed New York Cheesecake is an incredible combo of buttery, ricotta chocolate chip stuffed crepes, and baked into a NY cheesecake.
We love making delicious cheesecakes, and among our favorites are Best Instant Pot Cheesecake, Samoa Cheesecake No Bake and No Bake Tiramisu Cheesecake.
Crepe stuffed New York Cheesecake
This Crepe Stuffed New York Cheesecake is not your typical cheesecake. It doesn't have a graham cracker crust. All the cheesecake filling is being held by buttery layers of crepes! I had this Crepe Stuffed New York Cheesecake in my mind for a while. I was brainstorming recipes and combos when it came to me. Both crepe and cheesecake is something that I love dearly. So I can only make this better by combining the two, which I did and I couldn't be happier!
The crust is made of a few layered crepes, that are covered in New York cheesecake filling, topped with four crepes that are stuffed with ricotta cheese and chocolate chips. I enjoyed baking this Crepe Stuffed New York Cheesecake since it incorporates all the things I love. I am a sucker for creamy, hearty desserts like cheesecake, and I honestly eat crepes on a weekly basis. Having the two together was one of the best decisions I have ever made.
I specifically used ricotta cheese to stuff the crepes, because it has a slightly different texture. And I fell in love completely with the melted chocolate chips. Having the crepe layers baked into the cheesecake, gives this cake an amazing texture. Each bite is filled with creamy vanilla bean New York cheesecake, buttery, thin and soft crepes and a sweet chocolate ricotta mixture. The chocolate on top hardens when refrigerated, which adds a nice crunchy, and the fresh, juicy and tart raspberries, balance the sweetness of the cake and brighten it up.
Pin This Crepe Stuffed New York Cheesecake Recipe to your Favorite Board
Why You Will Love This Crepe Stuffed New York Cheesecake:
Delicious and beautiful Cheesecake that combines Crepe and Cheesecake in one dessert.
Produces a creamy and rich cheesecake that will be a hit with everyone.
Perfect for special occasions such as Valentine's Day.
Can be made 1 or 2 days in advance so you don't have to worry about dessert
How to slice a Cheesecake:
Run a long, sharp thin-bladed slicing knife under hot tap water or dip it into a glass of hot water prior to slicing the cheesecake. Wipe the knife clean and run it it under hot water before making another cut.
An easy, mess free way to cut even slices is to use cheese wire or unflavored dental floss. Clean the bits that stuck to the wire/floss before very cut.
How to Freeze a Cheesecake:
You can freeze the cheesecake BEFORE you top it with whipped cream or any other sauces or chocolate ganaches. Make sure the cheesecake has fully cooled and also was refrigerated for at least 6 hours. Wrap cheesecake tightly with aluminum foil or plastic freezer wrap, or place in a heavy-duty freezer bag. Properly stored, it will maintain best quality for about 2 to 3 months.
Deliciousness to your inbox
Enjoy weekly hand picked recipes and recommendations