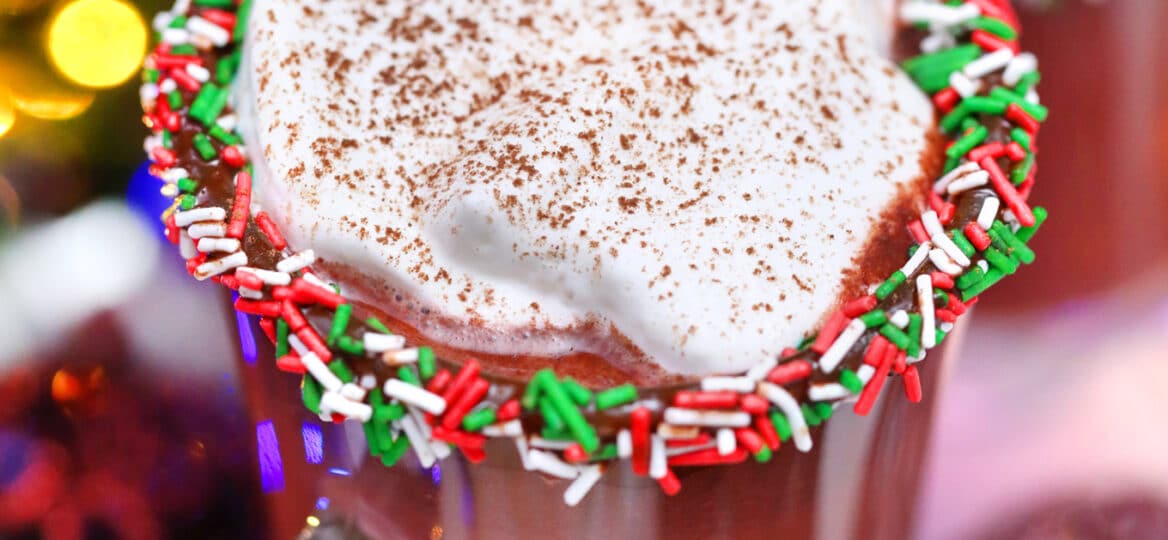 Red Velvet Hot Chocolate [Video]
Red Velvet Hot Chocolate is luxurious and rich, topped with a dollop of whipped cream, and the perfect holiday treat. Enjoy the taste of your favorite cake in hot chocolate form!
During this holiday season, a cup of warm hot chocolate drink will go a long way. If you are looking for other great holiday drinks, check out the Homemade Apple Cider, Christmas Punch, and Ginger Pomegranate Mojito.
Christmas Red Velvet Hot Chocolate
This Red Velvet Hot Chocolate is my favorite drink of the holiday season. In my opinion, this is definitely the drink that you should make for Christmas and Valentine's Day. It is bright, festive, and super delicious. Also, it will make your house smell amazing and there is nothing better than a cup of warm, hot chocolate during cold, windy days!
The Hot Chocolate is very flavorful and it's so easy to make, that you will never go back to store-bought. Fresh, rich and delicious, this is the perfect comfort drink to have. Enjoy this rich and warm Christmas drink with your friends and family!
Why You'll Love This Red Velvet Hot Chocolate:
It's creamy and luxurious, also very easy to make.
The hot chocolate has a gorgeous red color that is very festive.
It would make an amazing holiday treat and it's perfect for Valentine's day.
Rich and full of flavor it is a hit with children and adults.
Tastes delicious when served with whipped cream or toasted marshmallows.
How to make Red Velvet Hot Chocolate?
First, heat the mil and cream over medium-low heat. Then, stir in the chocolate, red food coloring, and vanilla.
Using a hand mixer, whip the cream, vanilla, and sugar together.
Serve warm, and top it with the freshly made whipped cream!
Recipe Variation:
You can easily adjust, change, or skip some of the ingredients on the list.
Not a vanilla fan? Simply, skip it. You can substitute vanilla with cinnamon or other spices you might prefer.
Also, this is a great drink to enjoy for other occasions. We made it for St. Patrick's Day but instead of red, we used green food coloring. It is similarly festive and delicious.
To make this an alcoholic drink, simply add some rum, baileys, or other spirits you might enjoy.
Top it with chocolate, marshmallow, or cookies.
How to store leftover hot chocolate?
First, let the chocolate cool to room temperature. Then refrigerate for up to 3 days. Reheat prior to serving.
Red Velvet Hot Chocolate Recipe Tips:
Use high quality unsweetened cocoa powder. Also, high-quality chocolate, as the chocolate flavor is front and center here.
The food coloring is optional. But obviously, if you want your chocolate red you have to use some. I highly recommend using gel food color as it's more concentrated and you will use less. You only need a few drops.
If you are wondering why the recipes ask for vanilla extract, its because a little vanilla flavor will make the chocolate flavor even more prominent. However, if not a fan, simply skip it.
Serve with whipped cream or toasted marshmallows.
Tools/Ingredients I used to make this Red Velvet Hot Chocolate Recipe: