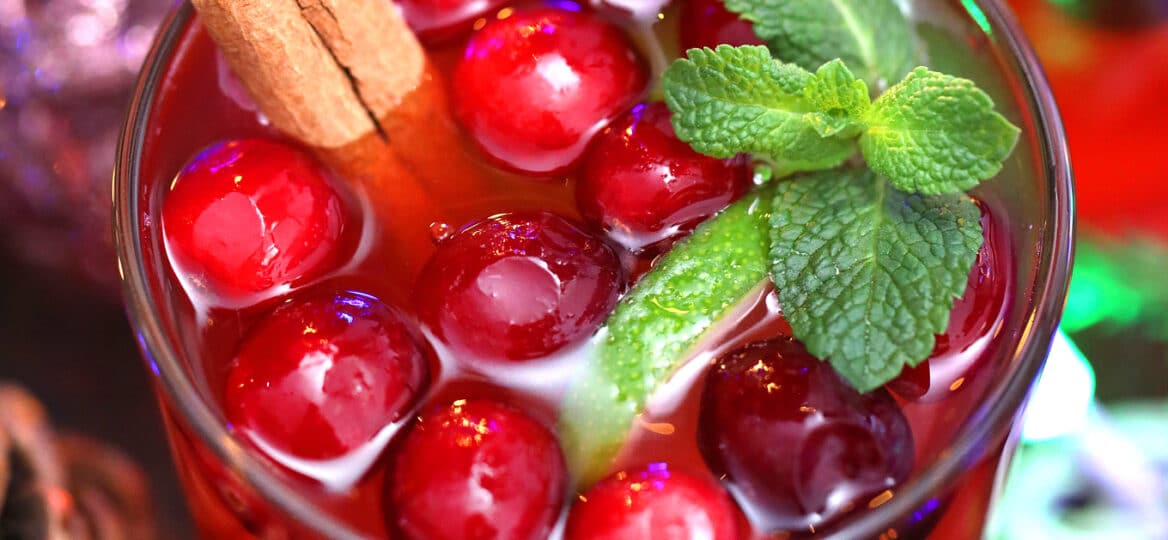 Christmas Punch Recipe [Video]
Christmas Punch is a festive, and refreshing drink that is made with pomegranate, lime, and cranberries, and ready in 5 minutes. The perfect drink to enjoy during the holiday season that is not overly sweet!
We have been making this Holiday Punch for over 5 years and is by far our favorite holiday drink to enjoy! During this time of the year, you can also try our delicious Homemade Apple Cider, Red Velvet Hot Chocolate, and Ginger Pomegranate Mojito.
Best Ever Christmas Punch Recipe
Every holiday party starts with a delicious and refreshing drink that can be enjoyed by both kids and adults. This time we are presenting you one of the best Christmas Punch Recipe out there! We love this version so much, that we make it pretty much every year.
First, this recipe is super easy to make, it only takes 5 minutes to put together. Second, it tastes amazingly delicious and refreshing. Because it is made of various fruits, it has a nice deep balance that you will definitely love. It has a perfect balance that is refreshing, festive, and not too sweet.
Also, you can make this kid-friendly by skipping the alcohol. Or, just make one bigger batch and split it into two. Then, simply add the alcohol into the adults-only version. This way, everyone can cheerfully celebrate the holiday spirit!
What do you need to make the Christmas Punch?
This recipe is versatile and can be made with various other ingredients. Generally, you will need the following ingredients:
Pomegranate juice
Cranberry juice
Pineapple juice
Rum or other spirits (such as champagne, vodka, gin, etc)
Lime juice
Lime flavored sparkling water – or regular sparkling water
Fresh cranberries
Sliced limes
Sprigs mint
How to make the best Christmas Punch?
This is quite an easy beverage to make that requires a few easy steps and less than 5 minutes of your time. Also, watch the short bonus video tutorial attached. The steps are listed below:
First, pour the juices together into a large pitcher. Use any pitcher available, or something more festive similar to

this one

. Stir until combined.

Then, add the sparkling water to the mix and stir until well combined.

Garnish with cranberries, limes, and mint. Prior to serving, add some cinnamon sticks and serve. It's that easy!
Christmas Punch Recipe Variations:
Alcoholic Christmas Punch – To make this into an alcoholic beverage, simply add some of your favorite spirits to the mix. Some of our favorites are Champagne, Prosecco, Rum and Spicy Rum, Vodka, Gin.
Add Spices – Feel free to add other spices to the mix. Cinnamon sticks, some cloves, star anise, and vanilla beans work great here.
Other Fresh Fruits – In addition, you can add other various fruits to the beverage to make it more colorful and festive. Sliced apples or pears, blueberries, cherries, peach, pineapple, etc are all great to add to the mix.
How to serve Christmas Punch?
This drink is best served cold. You can enjoy it with some ice cubes. However, if you feel like it is too cold outside, feel free to enjoy it warm as well. You could microwave it, or warm-up on the stovetop.
We like serving it with some desserts on the side. Some of our favorites are:
Can you make Christmas Punch in advance?
Absolutely! If you are short on time, you can make it a few days in advance. However, because it is so simple to make, we prefer simply making and serving at the same time.
But if you are pressed on time, simply assemble it, and then place in the fridge for up to 3-4 days. We would recommend adding the sparkling water just prior to serving.
Best Christmas Punch Recipe Tips:
For best results, use good quality 100% juices. Also, if possible go with organic variety.
You can use flavored sparkling water or just a regular/generic type. Ginger ale or apple cider is great as well.
For a more citrusy flavor, just add extra lime juice to it.
Serve this drink either in a pitcher, drink dispenser or a punch bowl, whichever is more convenient.
Garnish it the way you like. Add extra cranberries, lime, or various other fruits to the mix. Not only will it look more festive, but it will taste even better.