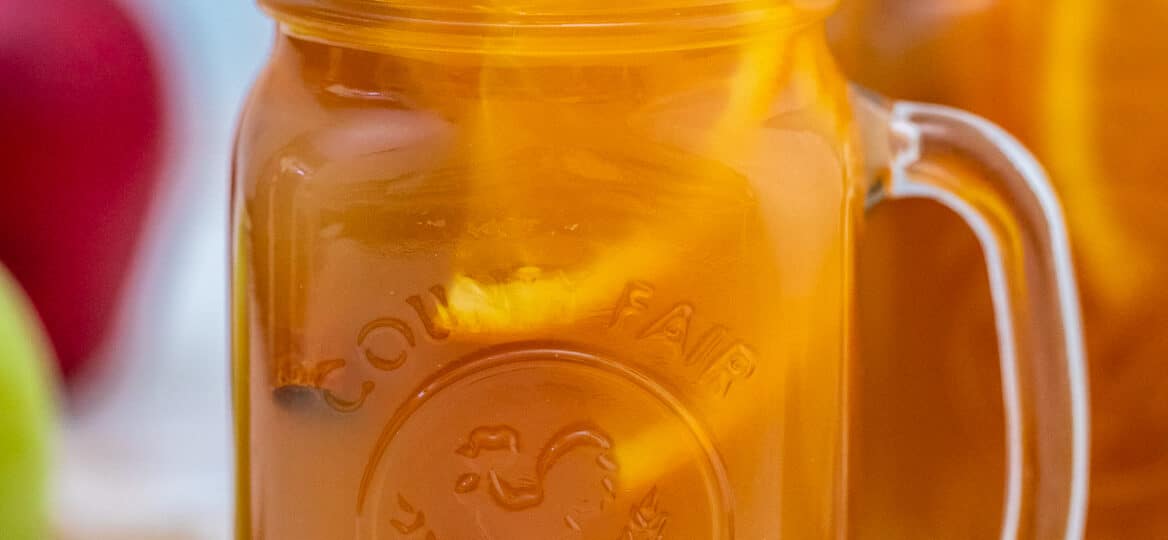 Homemade Apple Cider Recipe [Video]
Homemade Apple Cider Recipe is made with apples, oranges, spices, water, and maple syrup. It is comforting, delicious and one of the best ciders you can make from scratch!
This super easy and aromatic fall recipe can be made on the stovetop, crockpot, or Instant Pot. To experience the full autumn flavor with it, we recommend pairing this drink with Pumpkin Cheesecake, Cranberry Coffee Cake, and Pecan Pie Bars.
Best Homemade Apple Cider Recipe
I like the fall season because there are plenty of apples and fruits around. And there is not a better way to utilize them then in this Homemade Apple Cider recipe. If you have never tried making an apple cider from scratch at home before, then I strongly suggest you try it now.
First of all, it is an absolutely delicious and aromatic drink. Even though it is very popular during the autumn season, you can make it year-round. Whether you like it warm on a cold day, or cold with some ice on hot summer days, there is not a better drink to make with fresh fruits.
Second, it is a super easy and simple recipe to make from scratch. You do not need to be an experienced chef to make it. All you need is a few simple ingredients and you are good to go.
In addition, we will guide you on how to make it in the Crockpot, Instant Pot, as well as on the stovetop. This is the perfect drink to enjoy with friends and family during the holiday season.
What are the ingredients in Apple Cider?
You can adjust some of the ingredients based on your liking. Also, feel free to make it a smaller or larger batch. Just adjust the ingredients accordingly. In general, you will need the following:
Medium fresh apples – Feel free to use various types. However, we recommend using assorted types and colors, for the best flavor.
Oranges – It gives the cider a nice, citrusy and sweet flavor. In addition, the smell and aroma are just amazing. Therefore, do not hesitate to use some oranges.
Cinnamon sticks – We usually go with this type.
Whole cloves – You can easily get them at the local store. Or, get them from this link.
Nutmeg – It adds a nice flavor, so we love utilizing it.
Vanilla beans – Some people do not like it, so just omit it from the list. However, if you are ok with it, just use a few beans. The aromas will fill your room quite nicely.
Star anise – Here is the link if you cannot find it.
Fresh ginger – Our favorite spice!
Water
Maple syrup – We love using maple syrup instead of sugar. However, feel free to use just about any type of sweetener. Sugar, brown sugar, or even honey, all work great here. Just add according to your taste.
You will also need:
Recipe for Homemade Apple Cider on the Stovetop
Place apples in a large stockpot and add enough water cover by at least 2 inches. Then, add the maple syrup and the spices. Bring to a boil. Once it simmers, reduces the heat to medium-low, and let it simmer for 2 hours.

Using a potato masher, mash the apples and oranges, and let it simmer covered for an additional 30-60 minutes.
Next, strain apple mixture through a fine-mesh strainer. Discard solids and serve warm.
How to make Apple Cider in the Instant Pot?
Making it in the pressure cooker is also very simple.
First, combine all the ingredients in the Instant Pot. Then, cover the pressure cooker with water until the max line level.
Close the lid, and cook on manual for 25 minutes, followed by a quick pressure release.
Once the pressure is released, open the Instant Pot, and using a potato masher, mash the apples and oranges. Once the fruits are mashed, close the lid, and let the pressure cooker simmer the cider for an additional 5 minutes. This will release more flavors.
Lastly, strain the fruits through a fine-mesh strainer. Discard solids and serve warm. Feel free to adjust the sweetness based on your taste.
Apple Cider in the Crockpot – instructions
We love making it in the Slow Cooker/Crockpot because the cooking time is longer resulting in a super flavorful and delicious cider. Also, it is perfect to make it during the holidays, as your entire house will be filled with the delicious aromas!
Combine all the ingredients in a Crockpot. Then, cover them with water.
Next, cover the slow cooker, and let it simmer on LOW for 6 to 8 hours. Also, you can cook it on HIGH for about 3-4 hours.
Once cooked, mash the apples using the potato mashed. Then, cover the lid and cook the cider for a little longer to get all the flavors in.
Strain the fruits using the fine-mesh strainer, and discard all the solids.
Serve warm!
What Apples are best to Use for Homemade Apple Cider?
Feel free to use any type. Any apples will work great here. What we recommend is to combine and blend various types of them. This way, you end up with more pronounced flavors.
Feel free to use Fuji, Honeycrisp, Pik Lady, Galad, Rome, Granny Smith apples. However, do not limit yourself to these. In reality, any type will work just great here.
Can I add other fruits to the cider?
Absolutely! This is a very versatile drink and can be made with various other fruits to enhance its flavor. Some of our favorite addition are pear, cranberries, lemon, cherry, peach, mango, and pineapple.
How to store the Apple Cider?
To refrigerate: To make it ahead, simply let the drink cool and then transfer to an airtight container. Then, refrigerate for up to 5 days.
To freeze: Simply transfer it to a freezer-safe container and freeze it up to three months. This way you can use it throughout the year!
More delicious apple recipes:
Homemade Apple Cider Recipe Tips:
Feel free to adjust the sweetness based on your liking. Also, instead of maple syrup, you can use honey, sugar, or brown sugar.
Other spices can be used as well. Also, if you are not a fan of vanilla, cinnamon, or other ingredients from the list, simply omit it.
This is a perfect drink to enjoy during Thanksgiving or Christmas holidays. However, it is also great to make it during the summertime, and enjoy it cold with some ice!
Also, make sure to not over mash the mix.
Instead of whole oranges, you can simply add a cup of orange juice.