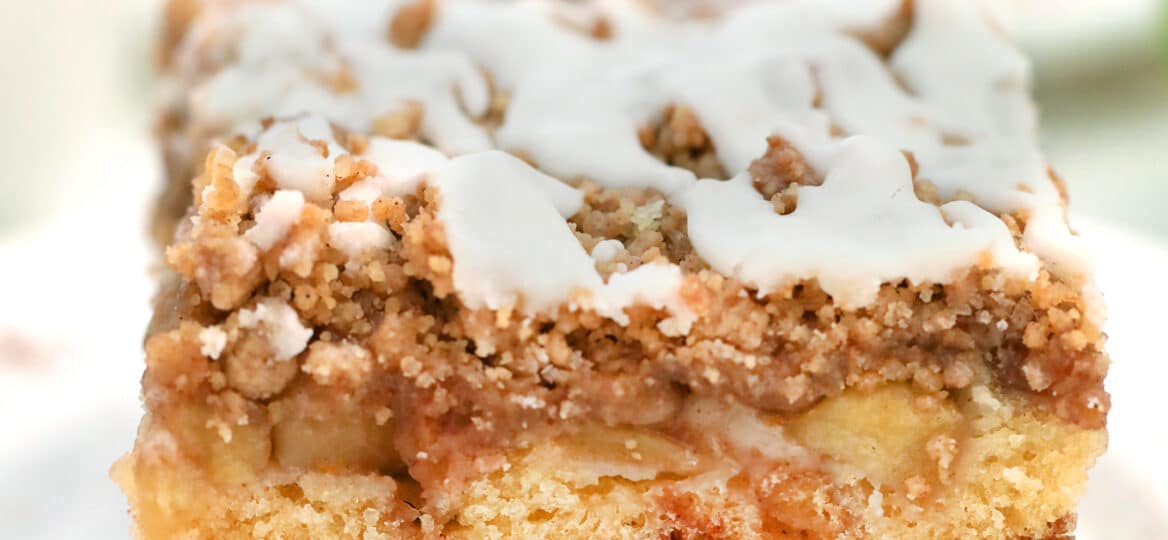 Apple Pie Coffee Cake [Video]
Apple Pie Coffee Cake is the perfect dessert for fall! It is dense and flavorful, made with apple pie filling and a delicious cinnamon spice streusel! Watch the short recipe video tutorial below for a quick step by step guidelines.
Whenever I have my favorite latte, I like having it with a good pastry and this recipe makes a delightful one! See our other recipes for all things autumny like the Sweet Potato Bread, Cabbage Soup, and Cranberry Relish!
Apple Pie Coffee Cake
Apple Pie Coffee Cake is like two desserts in one. You get to enjoy an apple pie filling but instead of a crust made with graham cracker crumbs, you get a soft layer of cake.
Not to mention, I am a huge fan of fruit-based desserts. The tartness of the fruit provides a good balance to the sweetness and spices further enhance that.
Aside from the filling, my favorite part is the streusel topping which gives a contrast of texture to the whole thing.
What is good about this recipe is that this is purely homemade, made from scratch, no cake mix in the ingredients!
How do you make homemade Apple Pie Spice?
I simply combine these spices in the following ratio:
1 teaspoon ground cinnamon
1/2 teaspoon ground nutmeg
1/4 teaspoon ground cloves
pinch allspice (optional)
You can add more of the cinnamon and more of the nutmeg if you want. A dash of ground ginger would not hurt either. Others add cardamom, too.
You can try to experiment and adjust depending on your taste. Once combined, store it in an airtight jar.
In making the filling, you will need this.
How do you make homemade Apple Pie Filling?
We have already shared with you how to make the homemade filling in this post and simply refer to it, it also has a step-by-step video.
What I like about this is that you can adjust the recipe depending on how sweet your fruits are. So, depending on the kind that you use, you might have to put more or less of the brown sugar.
How do you make Apple Pie Coffee Cake?
Make the cake layer: Lightly grease a 9×13 pan and dash some flour. In a bowl, combine the dry ingredients and then, using a mixer, mix in the butter. Add the rest of the batter ingredients. Once fully incorporated and fluffy, spread half of the batter into the pan.
Add the cinnamon filling: Prepare it by combining flour, butter, sugar, and cinnamon. When crumbs have formed, spread this over the batter then, pour in the remaining batter on top. Then, top with the apple pie filling.
Add the streusel topping: Mix sugar, cinnamon, and salt with a fork then, mix in the butter. Then, add the flour slowly until crumbs are formed. Sprinkle these on top of the layers.
Bake: Put this in the oven and bake at 350 degrees F for about 45 to 50 minutes. Let it cool to prepare it for the glaze.
Serve: Make the glaze by simply mixing the ingredients. It should be thick and opaque. Drizzle it on top before serving.
Can you make Apple Pie Coffee Cake in advance?
Yes! You can make it in advance because it keeps well in the fridge and the freezer. Read on for the storage instructions.
Also, you will need around 30 minutes in making the filling. The good thing is that you can make this in advance and store it in the fridge for later use.
How to store Apple Pie Coffee Cake:
Refrigerate: Store it in the fridge, covered in an airtight container, for up to a week.
Freeze: You can also freeze it by first wrapping it in plastic and a freezer bag. Freeze it for up to 2 to 3 months. Thaw before serving.
Recipe Tips:
For a well-balanced taste, choose a combination of tart and sweet varieties of the fruit.
Top it with vanilla ice cream!