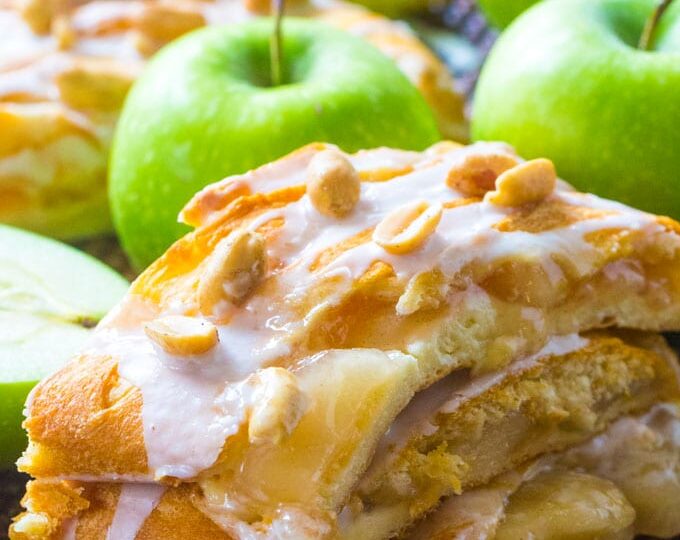 Apple Pie Danish – 30 Minutes
Apple Danish braid is loaded with caramelized apples and creamy cheesecake filling. It is flaky, sweet, and just the perfect pastry to enjoy for breakfast!
Danish is simply delicious and is very creamy! My other variations of this recipe are Peanut Butter Nutella Danish and Lemon Cherry Cheese Danish.
Apple Danish Braid
Apple Danish is the perfect dessert for those who want the great flavors of apple pie and don't feel like spending too much time making one. I love easy desserts, and I am grateful for any shortcuts I can take. With Pillsbury Crescent Dough Sheets I couldn't wait to bake something easy and tasty.
This danish is the perfect brunch or dessert item. All the crescent dough is perfectly flaky. Also, it's filled with a layer of cheesecake filling, apple pie filling and topped with a vanilla icing and crunchy peanuts!
I like to make this on a weekend when we are all home so we can enjoy a relaxed morning in the kitchen. The fall season always reminds me of my grandparents and their gorgeous orchards. I got my love for baking from my grandmother, and want to pass this tradition to my four years old too.
What is a Danish Pastry?
A Danish is a multilayered sweet pastry originating from Denmark by Austrian bakers and has since developed into a Danish specialty. Like other pastries, such as croissants, it is a variant of puff pastry made of laminated yeast-leavened dough that creates a layered texture.
How to make Apple Danish?
Preheat oven to 375 degrees F.

Prepare the apple pie filling: You can go with the store-bought version. However, I love making my own homemade apple pie filling.
Prepare the cream cheese filling: Mix together softened cream cheese, sugar, vanilla, and cinnamon in a bowl of a stand mixer and beat until fully combined and smooth.
Unroll the dough: To save time, you can use a store-bought dough sheet, such as Pillsbury Crescent Dough Sheets.
Spread the filling: Evenly spread the cream cheese, and apple pie filling down the middle of the dough sheet. Then, fold the strips over the filling from one side to the other.
Bake: Lastly, bake them for about 15-20 minutes, or until it is golden brown. Once done, glaze them and enjoy!
OCCASIONS WHEN YOU CAN SERVE THIS APPLE PIE DANISH:
Breakfast or Brunch – they are easily transportable
Easter Brunch, Mom's Day, Father's Day and even Christmas morning
LOOKING FOR MORE BREAKFAST RECIPES? CHECK THESE OUT:
Can you freeze Apple Danish?
Yes! You can store the dessert in the fridge for up to 4 days. Also, to freeze, wrap the pastries tightly with aluminum foil or plastic freezer wrap, and freeze for up to 3 months.
Recipe Tips:
Feel free to make the danish with other flavors. Instead of apples, you can use pears, cherry, strawberry, or any other fruits you like. Also, chocolate is a great filling.
I like breading them. However, you can also cut them into different shapes, such as triangles or circles, square. Then, just cut the pastry into 4 squares and fill half the square and fold it over.
The best apples to use for this recipe would be Granny Smith and Golden Delicious.
You can skip the icing on top, or top it with caramel or chocolate.
Tools/Ingredients I used to make this Apple Pie Danish Recipe:
Deliciousness to your inbox
Enjoy weekly hand picked recipes and recommendations