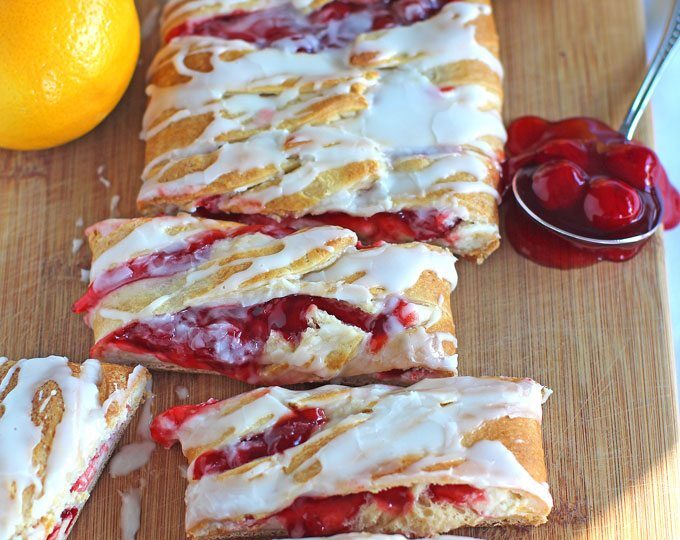 Lemon Cherry Cheese Danish Recipe [VIDEO]
Lemon Cherry Cheese Danish Recipe is very easy to make with crescent dough, ready in 30 minutes, with a delicious lemon and cherry flavors! Watch the short video tutorial attached below and learn to quickly make it on your own.
Danish is simply delicious and is very creamy! My other Danish hits with beloved readers are Peanut Butter Nutella Danish and Apple Pie Danish.
Easy Cherry Cheese Danish Recipe
Lemon Cherry Cheese Danish Recipe is one of the easiest recipes you will ever try! This Lemon Cherry Cheese Danish Recipe is made with crescent dough, so you don't have to worry about rolling any dough.
You will end up with a soft pastry, filled with perfectly baked sweet cheese, cherry filling, and an amazingly fresh lemon flavor. The Danish is topped with sweet Lemon Icing, which gives it a perfect citrus balance.
Why you'll enjoy this Lemon Cheery Cheese Danish Recipe:
It is super easy and quick to make with just a few ingredients.
The Danish braid is packed with delicious flavors.
Ingredients are very affordable and easy to find, so it's basically cooking on a budget.
It is perfect for brunch and breakfast or to bake for a crowd.
Easy to transport you can take it as a gift to family and friends.
Pin This Lemon Cherry Cheese Danish Recipe to your Favorite Board
What is a Danish Pastry?
A Danish is a multilayered sweet pastry originating from Denmark by Austrian bakers and has since developed into a Danish specialty. Like other pastries, such as croissants, it is a variant of puff pastry made of laminated yeast-leavened dough that creates a layered texture.
Lemon Cherry Cheese Danish Recipe Tips:
Please watch the recipe video attached to better guide you through the cooking process.
First, don't skip the lemon zest! It will add so much flavor and it compliments the cheery filling nicely.
Also, don't substitute the lemon extract with lemon juice, the lemon extract has a more pronounced flavor.
Use freshly squeezed lemon juice as it tastes so fresh and citrusy.
You can use a more or less cherry filling, I like mine bursting with cherries so I used 1 cup of cherry filling.
In addition, the cherry filling can be substituted with raspberry preserves, or even fresh cherries, blueberries or blackberries.
Use crescent dough sheet not croissants or biscuits as it will ruin the Danish.
How to make lemon zest in 4 steps?
Rinse the lemon.
Set your tool over a cutting board. A Microplane produces a very fine zest, perfect for baking and cooking. If you don't have a microplane, use the smallest holes on an ordinary grater.
Grate the yellow skin of the lemon only. Grate just enough to get through the yellow skin, this way you can avoid the bitter white pith underneath.
Rotate the lemon and repeat. Once the white pith is exposed, rotate the lemon and zest the next strip of peel. Repeat until most of the peel is removed, or until you have enough zest for your recipe.
Tools/Ingredients I used to make this Lemon Cherry Cheese Danish Recipe:
Deliciousness to your inbox
Enjoy weekly hand picked recipes and recommendations