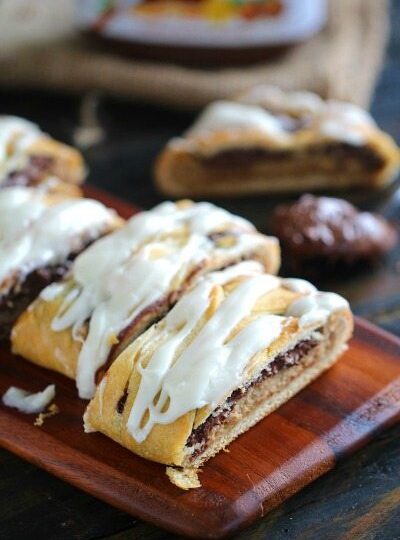 Peanut Butter Nutella Danish
Peanut Butter Nutella Danish is super easy to make, and filled with peanut butter cheesecake and lots of Nutella.
Danish is simply delicious and very creamy! My other favorites Danish are Lemon Cherry Cheese Danish and Apple Pie Danish which are also a huge hit with my beloved readers!
Peanut Butter Nutella Danish Recipe Tips
This Peanut Butter Nutella Danish Recipe is one that you will make over and over again. The recipe is super easy, and it will be ready in 30 minutes. Made with conventional puff pastry, just roll it, fill it, and bake it! The Peanut Butter Nutella Danish is so indulgent, filled with peanut butter cheese and topped with a hefty amount of Nutella. This indulging combination will make your day!
Guidelines for the perfect Peanut Butter Nutella Danish Recipe:
Make sure you whisk well the cream cheese and peanut butter, as you don't want any clumps! We are looking for a cheesecake like texture. So stop and scrape the sides and bottom of the bowl once and mix until fully combined
I like my danish to burst with chocolaty Nutella, so I added 2/3 cup. Note that if you add more the Nutella will most likely burst out thru the danish braid
If you are allergic to peanut butter you can skip it entirely and just use the whisked cream cheese topped with extra Nutella
Make sure you buy the Crescent Dough Sheet but not croissants, not biscuits, not cinnamon buns. While all these sound delicious you need the Crescent Dough Sheet for this recipe
Pin This Peanut Butter Nutella Danish Recipe to your Favorite Board
Why You'll Enjoy This Peanut Butter Nutella Danish Recipe:
It is super easy and quick to make with just a few ingredients
The danish braid is packed with delicious flavors
Ingredients are very affordable and easy to find, so it's basically cooking on a budget
It is perfect for brunch and breakfast or to bake a few for a crowd
Easy to transport you can take it as a gift to family and friends
Nutella and Peanut Butter is basically a match made in heaven!
Tools/Ingredients I used to make this Peanut Butter Nutella Danish Recipe:
What is a Danish Pastry?
A Danish is a multilayered sweet pastry originating from Denmark by Austrian bakers and has since developed into a Danish specialty. Like other pastries, such as croissants, it is a variant of puff pastry made of laminated yeast-leavened dough that creates a layered texture.
Whats is Nutella made of?
Nutella is made from sugar, modified palm oil, hazelnuts, cocoa powder, skimmed milk powder, whey powder, soy lecithin, and vanillin.