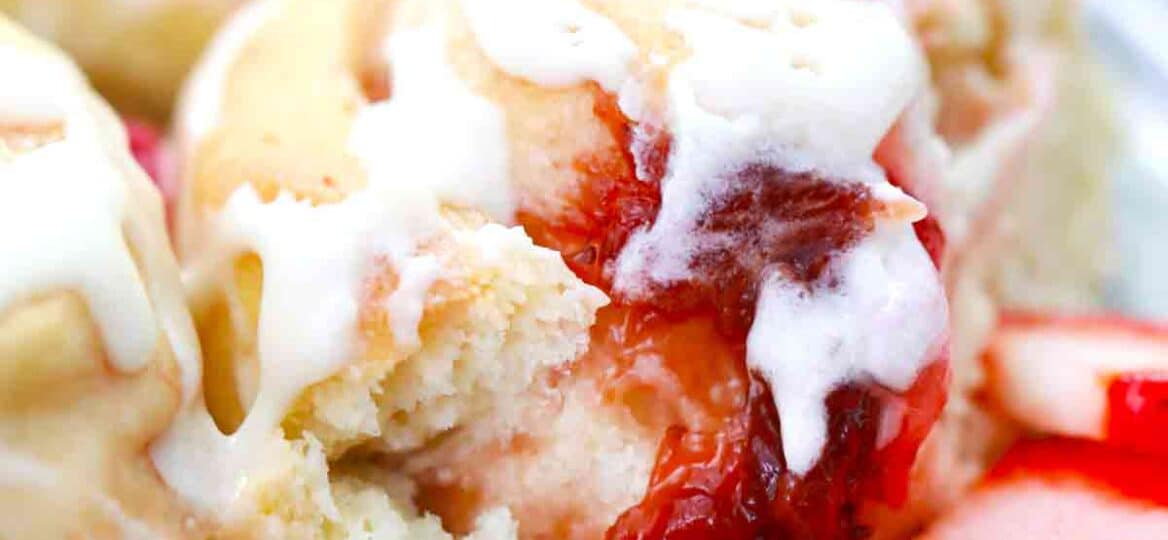 Strawberry Rolls Recipe [Video]
Strawberry Rolls are stuffed with fresh strawberries and lemon-infused jam filling, baked until golden, then smothered with cream cheese icing. Serve with coffee or tea for a terrific breakfast or snack!
More fresh-baked pastry for breakfast? Yes, please! After enjoying these rolls, try your hand at these Lemon Cherry Cheese Danish, Chocolate Chip Bagels, and Maple Sticky Buns!
Strawberry Rolls with Homemade Strawberry Filling
Strawberry Rolls are entirely made from scratch, but they cannot be easier! For instance, there's no kneading involved, and the filling and icing come together in minutes. Not only are these rolls seriously good, but they're made of wholesome, easily accessible ingredients.
It's worth making these rolls just for the smell alone. It's going to fill up your house with the heavenly aromas of strawberries and fresh, homemade bread! Finally, it tastes AMAZING. Full of pure strawberry flavor with a hint of lemon, stuffed into the softest rolls and soaked in creamy icing. You HAVE to try these ASAP!
What are strawberry rolls?
They're a fruity riff to everyone's favorite Cinnamon Rolls! Instead of classic cinnamon sugar, we're stuffing them with fresh strawberries and jam, then drizzling all of it with homemade cream cheese icing.
These are richer than your average rolls because not all roll recipes add milk and butter to the dough— but we do! That richness complements the fruit and the lemon flavors beautifully.
What You Need
For the dough:
Dry: Measure out some regular flour, a tsp. of salt, and a small packet of yeast (2 ¼ tsp.)

Sweetener: Just a half cup of sugar gives our dough a subtle sweetness that goes with the fruit.
Wet: No hard-to-find ingredients here— just regular melted butter, a cup of room-temp milk, and a couple of fresh eggs!
For the strawberry filling:
Jam: Use your favorite brand, or make your own. We like ours seedless so the filling is perfectly smooth.
Lemon: To brighten things up, we're using both the tart zest and juice.
Diced fruit: A full cup and a half of fresh, diced fruit goes into these treats!
Cornstarch: A little cornstarch will bind the filling and bring it together.
For the icing:
Cream cheese: Your cheese should be at room temp, so it blends with the butter without issue.
Butter: Soften this by letting it stand on the counter for a couple of hours.
Sweetener: A couple of cups of icing sugar gives our icing the perfect level of sweetness! It also giving the icing body, so it's not overly soft.
Flavorings: We're using a combo of vanilla plus lemon zest and juice, then a pinch of salt to wake up all the flavors.
How to make homemade strawberry rolls from scratch
Make the dough. Start by mixing the yeast together with a tbsp. of sugar plus the lukewarm water, then leave it for 5 mins. Meanwhile, combine your flour and salt.

After 5 mins., add your wet plus the rest of the sugar to the yeast mix. Combine that with the salt-flour mix, then stir. Let this rest for 10 mins. covered in plastic wrap.

Put the filling together. Take your diced fruit, then cook on medium for 4 mins., until the juices start to come out.

Add the rest of the filling components except for the jam, and continue warming up until thick. Finally, stir in the jam, and chill everything.
Prep for baking. Roll out your dough flat. Spread the chilled fruit filling, then make a log shape by rolling it up. Cut into 2-inch slices. Leave it for 10 mins. to rest.
Bake. Place in a 350F oven for up to 25 mins. until golden.
Finish with icing. Beat the cheese and softened butter, then add the rest of the icing components. Pour all over the freshly-baked rolls.
Serve. Enjoy fresh with more strawberries!
Recipe variations and substitutions:
Blueberry: Use blueberry sauce or a blueberry-strawberry combo.
Other jams: Love persimmon or peach jam? How about blackberry or plum? Feel free to experiment with your favorite fruit flavors.
Spices: We love adding a hint of cinnamon into the filling!
Other toppings: Top with crushed nuts, chocolate chips or chocolate sauce, caramel sauce, more fruit chunks, or even softened Nutella.
Frosting: For a more decadent treat, covered in cream cheese frosting!
Frequently Asked Questions
Will fresh strawberries work for this recipe?
Yes, use the freshest, sweetest, and juiciest ones you can find! It's hard to beat fresh fruit, especially in this recipe. You can even use them to make homemade jam as well using our easy recipe.
What do you eat with Strawberry Rolls?
Pair a piece with a hot mug of coffee or tea for a wonderful breakfast. If you're in the mood for something heartier, serve it with Egg Bites, Asparagus Frittata, or a nice omelet. Lastly, these go really well with a refreshing smoothie.
More breakfast recipes to try:
Storing instructions:
Cool these down, then seal them up in an air-tight container. Store in the fridge for up to 5 days. They're delicious cold, but even better if you warm them up in the microwave for a few minutes!
Deliciousness to your inbox
Enjoy weekly hand picked recipes and recommendations