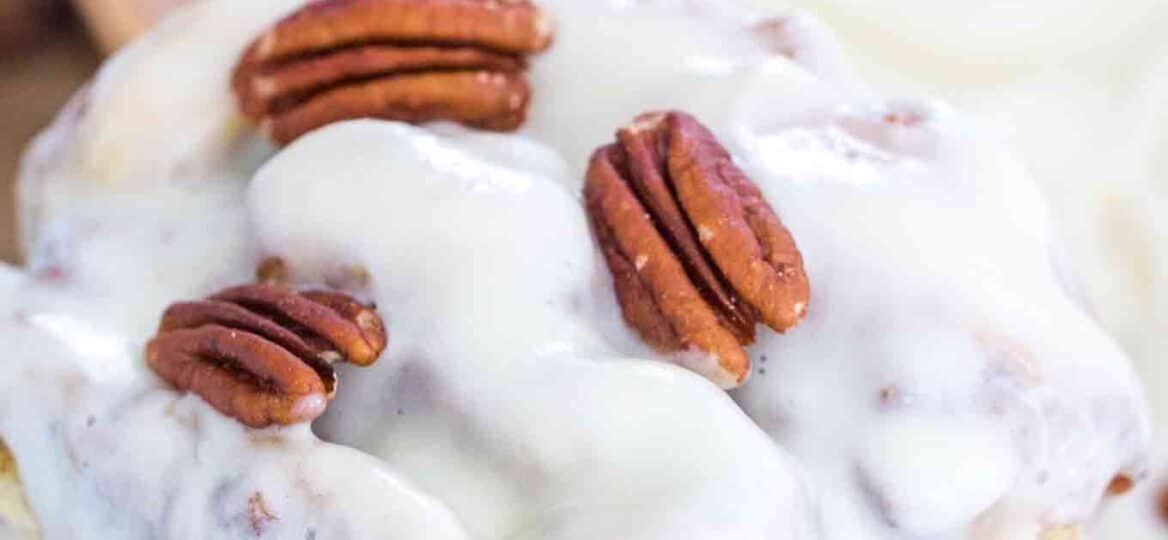 Pecan Pie Cinnamon Rolls [Video]
Pecan Pie Cinnamon Rolls are ready in just over one hour and filled with a delicious concoction of butter, cinnamon sugar, and homemade pecan pie filling. Watch the recipe video tutorial and see how delicious they are!
Easy brunch recipes are one of my favorites, as they are a great excuse to eat sweets for breakfast. You have to try my very famous Coffee Cake with a cheesecake layer, and don't forget about the Lemon Cheery Cheese Danish. These are great recipes that you can make ahead of time and take with you to a brunch party.
Easy Pecan Pie Cinnamon Rolls
Pecan Pie Cinnamon Rolls are the most indulging treat you can make for brunch this holiday season. To make these rolls you can use my recipe for No-Knead Cinnamon Rolls because it will take you only about 20 minutes to make the dough. Another option is to use the store-bought crescent dough.
The buns are filled with a delicious homemade Pecan Pie filling that is sweet and rich. Canned pecan pie filling can be used as well, to cut on some preparation time. The Pecan Pie Rolls are ready in just over an hour, they are tender, fluffy and indulgent. The rolls are topped with a bourbon cream cheese icing, that pairs well with the Southern-style pecan pie filling.
What is a cinnamon roll?
A cinnamon roll also called a cinnamon bun is a sweet roll served commonly in Northern Europe and North America. The main ingredients used to make a cinnamon roll are flour, cinnamon, sugar, and butter.
The rolls are usually stuffed with a cinnamon-sugar mix and topped with a cream cheese icing.
How do you make No-Knead Cinnamon Rolls?
Start by mixing Instant Yeast with lukewarm warm water and sugar.
Later add sugar, eggs, melted butter, flour, and salt mix.
Let the dough rest for 10-15 minutes.
Roll the dough, top with softened butter and sprinkle with the cinnamon-sugar mixture.
Add any other fillings and roll.
Slice into individual round rolls, arrange into a baking tray. Let the rolls rest.
Bake and top with cream cheese icing.
How do you make homemade Pecan Pie Filling?
Homemade pecan pie filling is very easy to make and tastes so much better than the canned version. To make Pecan pie filling you will need the following ingredients:
2 cups roasted pecans, chopped
1 cup dark brown sugar
¼ cup cornstarch
½ teaspoon salt
4 egg yolks, room temperature
⅔ cup dark corn syrup
½ cup cream, lukewarm
4 tablespoons unsalted butter, cold
Directions:
Mix brown sugar, cornstarch, and salt. Then, add the mixture to a saucepan over low-medium heat.
Whisk in egg yolks, dark corn syrup, and cream. Stir and simmer.
Remove from heat, stir in cold butter until fully dissolved.
Fold in chopped toasted pecans.
Can you refrigerate Cinnamon Rolls dough?
Yes, cinnamon roll dough can be refrigerated, either after it is kneaded and before the first rise or after the dough has risen and has been shaped.
To refrigerate after kneading: place the dough in a tightly covered bowl or a resealable plastic bag and refrigerate.
To refrigerate the shaped dough: wrap the dough tightly with plastic wrap and refrigerate for up to 24 hours.
When ready to bake, remove dough from the refrigerator, partially unwrap and let it rise until doubled.
How to store the Pecan Pie Cinnamon Rolls?
Rolls may be kept at room temperature for up to two days covered with foil or plastic food wrap to prevent drying out.
Rolls will keep for an additional week in the refrigerator, covered with foil or plastic food wrap.
How to freeze unbaked Cinnamon Rolls:
You can freeze the rolls, unrisen, in the pan.
Cover the pan tightly with both plastic wrap and aluminum foil.
Freeze for up to 3 months.
To bake, allow them to thaw and rise, then bake.
How to freeze baked Cinnamon Rolls:
You can freeze the rolls, baked but unfrosted.
When ready to enjoy, allow them to thaw.
Place in the oven for a few minutes to warm up and top with icing.
Watch recipe step-by-step video:
Deliciousness to your inbox
Enjoy weekly hand picked recipes and recommendations