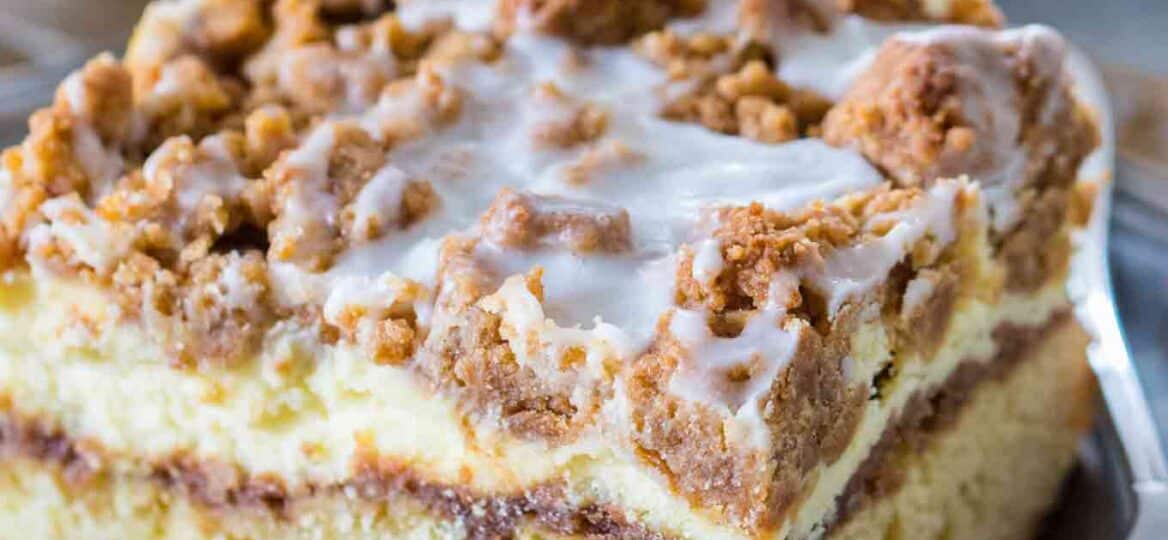 Best Ever Coffee Cake Recipe [VIDEO]
This easy Coffee Cake is moist, and buttery, topped with cinnamon filling, vanilla cheesecake, and a sweet streusel topping. It is a delicious dessert that you will make over and over again.
We love making easy and tasty desserts. Some of our favorites ones are Blueberry Banana Bread, Chocolate Banana Bread, and Chocolate Banana Muffins.
Best Easy Coffee Cake Recipe
The one and only Coffee Cake recipe you will ever need. This is by far the most amazing and easy to make Coffee Cake I have ever had. What is not to love, just check those layers: a very tender and buttery cake, that is topped with a flavorful cinnamon filling and after that topped with a creamy cheesecake layer.
That is all my friends, finally, a hefty amount of cinnamon streusel topping, to tie it all together. With this easy recipe, you will become a brunch pop-star! Seriously, people may start making a fan group after they have this cake, it's that good.
The cake involves many layers that are all different in texture and make it irresistible. We have made many variations of it over the past several years, and this version is simply delicious, and the BEST EVER!
What is Coffee Cake?
This type of cake has its roots from centuries ago. There are many versions and variations of it. The American way is mostly made with a delicious streusel topping and flavored with cinnamon. This dessert is best served for breakfast, alongside a warm cup of coffee. Hence the name Coffee Cake!
What Makes This Coffee Cake Recipe The BEST?
I've been experimenting with this recipe for over 7 years now, and I am proud to say that this is the best I've ever had. The secret is in the cream cheese layer and the streusel cinnamon topping. The combination of the two is what makes this dessert shine above others.
The cake itself is dense, moist, with a buttery texture. Yet, when you bite into it, the streusel topping provides a nice crunch that compliments it perfectly. Also, the dessert has a nice touch of cinnamon flavor, thanks to the sugar filling baked in the middle.
How to make the best moist Coffee Cake?
Although it might sound complicated, this recipe is quite simple to make. All you need is about 20 minutes of your time, and then bake it in the oven.
Grease the pan: I love using this 9×13 Cake Pan, as it is deep which keeps the batter inside when baking, and not overflow. Grease the pan and dust with a bit of flour. Pour half the batter into a greased pan.
Combine the ingredients: Begin by mixing the dry ingredients together. Beat in the butter into the flour mixture until crumbly. Next, add the eggs, vanilla, and buttermilk.
Prepare the cinnamon filling: Sprinkle the cinnamon evenly over the cake batter. Set aside.
Make the cheesecake layer: Using a scoop, spread the cheesecake filling over the cinnamon filling and using a spatula spread it evenly.
Streusel topping: Follow the recipe card instruction to make the streusel. Then, sprinkle it over the cheesecake layer until evenly distributed.
Bake: Once fully assembled, bake it at 350 degrees F, for about 40-50 minutes. Every oven is different, so the cooking time will vary. Therefore, it is best to check for doneness after the 40 minutes mark.
Glaze and serve: We love to glaze it with powdered sugar, milk, and vanilla extract and glaze the cake this way. But this is optional, and feel free to skip it. Serve warm, or refrigerate for a few hours and enjoy with a nice cup of coffee! 😉
Some popular add-ons or substitutions:
We follow the classic style in this recipe. However, the cake is very versatile and can be made in various ways. Some of the popular add-ons are:
Fruits: Feel free to add fruits to it, such as blueberries, sliced peaches or sliced apples. We even have a cranberry coffee cake, and cherry cream cheese version and both are super delicious!
Nuts: If you are a big nuts fan, add some sliced almonds or chopped pecans or walnuts to the top of the cake to give it a delightful crunch.
Is there coffee in Coffee Cake?
Unlike the name suggests, coffee cakes rarely contain coffee, mostly the contain spices, nuts, and feature a streusel or simple glaze topping. The main reason behind its name is because this dessert is a perfect complement to a cup of coffee or latte, and not because it has coffee in it!
How to store Coffee Cake?
The freshly baked coffee cake will last for about 1 to 2 days at normal room temperature. While you can store it in the refrigerator, for about 1 week, cover with foil or plastic wrap to prevent the cake from drying out.
Can you Freeze Coffee Cake?
Yes, to freeze, wrap it tightly with aluminum foil or plastic freezer wrap and it will maintain it's the best quality for about 2 to 3 months but will remain safe for consumption beyond that time. Thaw in the fridge before serving, you can cut individual slices and thaw them separately, while keeping the rest of the coffee cake in the freezer.
How to tell if the coffee cake is bad or spoiled?
The best way is to smell and look at its appearance. If it has an off smell and you see mold, discard the cake right away.
Cream Cheese Coffee Cake Recipe Tips:
Make sure all the ingredients are of room temperature. It is very important for the butter and cream cheese to be soft, so you can easily whip them.
Also, the cream cheese layer aka the cheesecake layer is optional, if you don't have time, you can just skip it. However, this is one of the secret ingredients, and what makes this recipe special compared to the others. Therefore, I highly recommend using the cream cheese layer, as it will make a huge difference. The cake tastes amazing with it, but its an optional, scrumptious addition.
The streusel topping is absolutely delicious, but if you want to cut on some calories, you can make half of it only.
In addition, the glaze is optional and can be skipped. I personally like to add it because it makes the cake prettier.
I used this 9×13 Cake Pan to make the coffee cake and here is the ground cinnamon that I used.