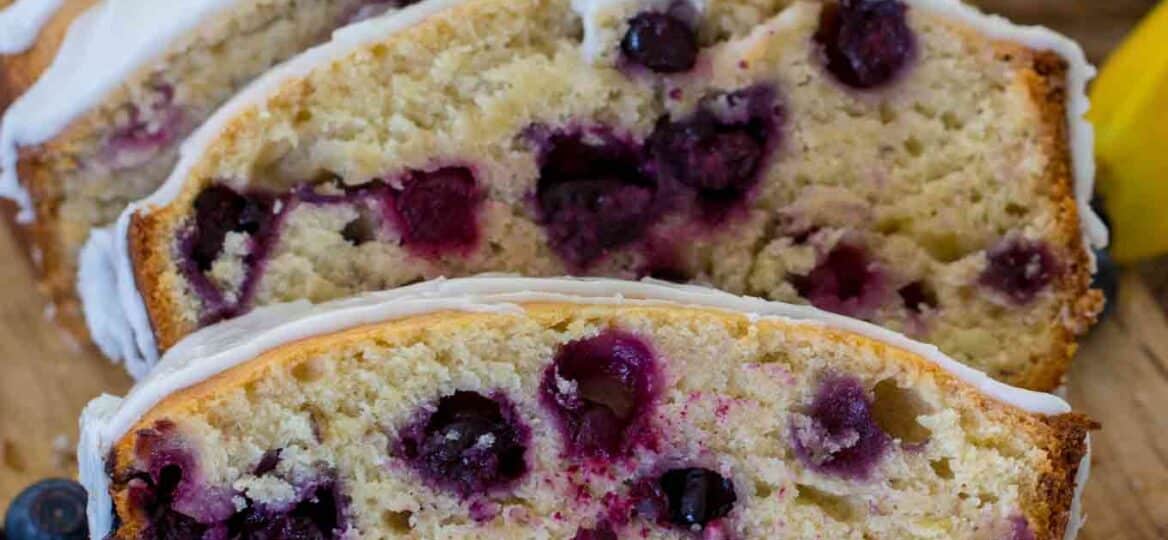 Blueberry Banana Bread [VIDEO]
Blueberry Banana Bread is one of the best recipes to make with very ripe bananas. It tastes delicious with its sweet and fluffy texture paired with a burst of banana, blueberry, and lemon in every bite. What's more, you can add whatever you like to this bread to make it unique for your tastes.
If you are looking for some other banana bread recipes, try our traditional Banana Bread with sour cream, vanilla extract, and brown sugar or this scrumptious Chocolate Chip Banana Bread made with semisweet chocolate chips and brown sugar for an even sweeter banana bread recipe. If you like the blueberry and lemon flavor in this bread, you will love our Lemon Blueberry Cake.
Homemade Blueberry Banana Bread
Making banana bread is easy and you can change it to whatever flavors you and your family prefer. If you are not a fan of blueberries, you can turn this into classic banana bread by omitting them. Or you can use a different fruit like chopped strawberries, blackberries, or peaches.
Our easy and delicious lemon blueberry banana bread recipe is perfect for breakfast, dessert, or a snack any day, no need for a special occasion. Using just a few ingredients including fresh blueberries, extra ripe bananas, eggs, all-purpose flour, and sugar, you can have this moist bread on the table in less than an hour.
In fact, this wonderful recipe makes the best blueberry banana bread with a moist inside and golden-brown outside. Add some sliced bananas or chocolate chips on top for extra sweetness or you can use additional blueberries.
If you have some very ripe bananas on hand that just begging to be baked into something flavorful and good, this recipe should be on top of your list.
I absolutely love the sweet berries in this bread, bursting with juice in every single bite. The fresh lemon zest and juice add even more freshness and amazing flavor. The banana flavor is subtle and works amazing with everything else and omg the texture: is tender, and fluffy and it basically melts in your mouth!
Ingredients needed:
You will only need these ingredients for our easy blueberry banana bread recipe. When you are ready, you can get the exact measurements and directions on our recipe card below.
Unsalted butter: Softened to room temperature. You can use salted butter if you reduce the amount of salt you use.
Large eggs: Room temperature for best results.
White granulated sugar
Mashed bananas: Approximately three medium bananas.
Lemon: Zest and juice.
Salt
Baking powder: Not baking soda.
All-purpose flour
Fresh blueberries
Nonstick spray: Or canola oil.
Glaze:
Powdered sugar: Confectioners' sugar.
Milk: Whole milk works best.
Vanilla: 100% pure vanilla extract.
How to make blueberry banana bread recipe?
Preheat: First, preheat your oven to 350 degrees F and grease a 9×5-inch loaf pan with nonstick cooking spray.
Cream: Meanwhile, in a large mixing bowl with your electric mixer or a stand mixer, cream sugar and butter together until it is fluffy and light.
Beat: Next, use a small bowl to beat eggs before adding them to the sugar mixture. Beat until combined.
Add bananas: Then, add your mashed bananas, lemon zest, and juice, and whisk until it is all mixed together. Use a rubber spatula to scrape the bottom and sides of the bowl.
Sift: Next, sift all your dry ingredients into a medium bowl including the all-purpose flour, salt, and baking powder.
Fold in blueberries: Then, add the flour mixture to the banana mixture and stir until combined. Do not overmix. After, gently fold the blueberries in using a spatula.
Bake: Lastly, pour the blueberry banana bread batter into the loaf pan and bake it for 45 to 55 minutes or until it passes the toothpick test. A toothpick stuck into the center should come out mostly clean with no raw batter.
Cool: Afterward, leave it to cool to room temperature on a wire rack. Run a butter knife around the edges before removing.
Glaze:
Mix: First, mix the powdered sugar and two tablespoons of milk along with the vanilla extract in a medium bowl. Stir until it has no lumps. If it is too thick, add another teaspoon of milk.
Cool and drizzle: Once the bread is cooled off, drizzle the glaze over it using a spoon or fork.
Serve: Finally, you can slice and serve as soon as the glaze sets.
How to make instant pot blueberry banana bread:
Prepare: First, spray a 7×3-inch springform pan with nonstick baking spray and set aside.
Cream: Next, cream the sugar and butter in your stand mixer or use a large mixing bowl with an electric mixer. You want it to be fluffy and light.

Mix: After, beat your eggs in a small bowl before you add them to your sugar mixture and stir until it is all combined.
Add wet ingredients: Next, you will add your lemon juice, lemon zest, and mashed bananas and whisk well. Use a spatula to scrape the bottom and sides of the bowl.

Sift: Then, sift the flour, baking powder, and salt in a medium bowl. Fold in the blueberries carefully and be sure not to overmix.

Pour: After, pour the batter into the pan and cover tightly with foil, leaving room on top for it to rise.

Add water: Next, pour 1 1/2 cups of water into the pot and put the cake pan on a trivet inside.

Cook: Lock the lid and set it to sealing. Cook on high pressure for 55 minutes.

Release the steam: After, let it release steam naturally for 15 minutes before doing a quick release by turning the valve to venting.

Cool completely: Remove the pan and let your blueberry banana bread cool completely on a cooling rack.
Recipe variations:
Brown sugar: You can switch out half of the white sugar for brown sugar in this blueberry banana bread recipe.
Whole wheat flour: For fewer calories and fat, use whole wheat flour.
Gluten-free: Similarly, you can also use gluten-free flour like oat flour if you are allergic to gluten.
Frozen blueberries: If your grocery store does not have any fresh blueberries, frozen blueberries will do just fine.
No baking powder: If you do not have any, you can use baking soda. However, you will have to use 1/3 of the amount of baking powder the recipe calls for because baking soda is three times stronger.
Sweeter: You can make your blueberry banana bread sweeter by adding more raw sugar to your recipe or extra mashed banana.
Apple sauce: For a lighter blueberry banana bread, substitute some (or all) of the sugar for apple sauce.

Greek yogurt Add a dollop of Greek yogurt or sour cream to the mix for extra creamy blueberry banana bread.
Add cinnamon: Added cinnamon can give your banana bread even more flavor and sweetness.

Banana blueberry muffins: Use this recipe to make blueberry muffins, bake them for 20-25 minutes at 350 degrees F.
How to serve:
This blueberry banana bread recipe is ready in less than an hour and can be served for breakfast, dessert, or an afterschool snack. Or you could try one of our serving suggestions:
Put a dollop of homemade whipped cream on top for an even more decadent dessert.
Slather warm blueberry banana bread with butter or honey.

Another way to top this delicious bread is with our butter cream cheese frosting.

Add extra blueberries or banana slices on top after baking just before serving.
This also tastes great with a bit of peanut butter.

Slice the whole loaf and make the best French toast your family has ever had.
Frequently asked questions
What if I don't have ripe bananas?
If your bananas are still too yellow, you can make ripe bananas quickly by putting them in the oven. Preheat the oven to 300 degrees F and place them on a cookie sheet covered with parchment paper. Bake for 10 to 15 minutes for sweet, ripe bananas.
Can I make a double batch of lemon blueberry banana bread?
If you have two loaf pans, you can certainly double this recipe easily. In fact, if you want to make more for later, you can freeze blueberry banana bread. Just tightly wrap it in plastic wrap or aluminum foil and put it in a freezer bag. It can stay in the freezer for up to three months.
How do I keep the blueberries from sinking to the bottom?
This issue has been a problem for many bakers until someone accidentally dumped their blueberries into the flour while cooking. You don't have to do that, but you can toss them in two tablespoons of flour before adding them to the batter.
Are blueberries healthy?
Blueberries have a lot of health benefits no matter how you eat them. For one serving, you get two grams of fiber, manganese, and calcium, and they have the most antioxidants out of all the vegetables and fruits. They are also a major source of vitamins A, C, and K.
How do you make lemon zest?
Follow the easy steps below:
Rinse the lemon.
Set your tool over a cutting board. A Microplane produces a very fine zest, perfect for baking and cooking. If you don't have a Microplane, use the smallest holes on an ordinary grater.
Grate the yellow skin of the lemon only. Grate just enough to get through the yellow skin, this way you can avoid the bitter white pith underneath.
Rotate the lemon and repeat it. Once the white pith is exposed, rotate the lemon and zest the next strip of peel. Repeat until most of the peel is removed, or until you have enough zest for your recipe.
How to store leftovers:
Store: Put your leftover blueberry banana bread in an airtight container in the fridge for up to five days.
Freeze: You could also freeze your blueberry banana bread for up to three months wrapped in plastic in a freezer bag.
Thaw: Remember to put your frozen blueberry banana bread in the fridge to thaw overnight before serving.
More recipes with bananas:
Recipe tips:
Start checking on the bread at the 50-minute mark, and if you still need to bake more, check on it every 5 minutes.
In addition, bananas must be brown, very ripe, and easy to mush. Obviously, don't wait for the bananas to turn completely brown, that is overdoing it.
If you use frozen blueberries, you don't have to wait until they are thawed out. Frozen is fine, toss them in a teaspoon of cornstarch.
Using fresh lemon zest will add amazing fresh flavor to this dessert.
Don't forget to cut the measurement to 1/3 if you use baking soda instead of baking powder.
If you use salted butter, reduce the amount of salt you use.
In addition, the sugar can be reduced from 1 cup to 3/4 cups.
Add parchment paper to the bottom of the loaf pan or loaf pans to keep your blueberry banana bread from sticking.
If the cake starts to brown too much on the sides or on the top and it's still not done, cover it with aluminum foil so it doesn't burn.
Make sure a toothpick inserted comes out clean before removing it from the oven.

If you don't have a wire cooling rack, use a removable grate from a gas stove or just roll up four pieces of aluminum foil and set the loaf pan on top.
I have this non-stick 9×5 Inch loaf pan and I love it.