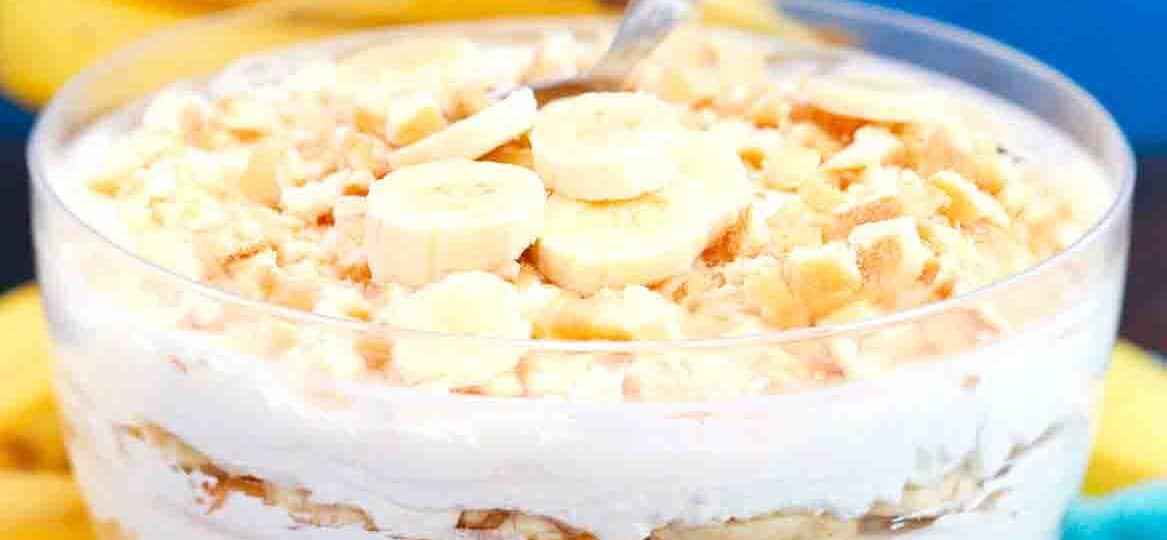 Magnolia Bakery Banana Pudding Recipe [Video]
Magnolia Bakery banana pudding is sweet, creamy, and one of the most delicious desserts you can have, a must-try New York City staple. This famous banana pudding recipe is easy too with just vanilla pudding mix, fresh bananas, and Nilla Wafers cookies. Your whole family will absolutely love this great recipe because it makes the best banana pudding ever.
If you loved our banana pudding recipe, you will really enjoy this Banana Pudding Poke Cake made from banana cream pudding mix, bananas, and Nilla Wafers. Another great banana dessert to try is our Banana Cream Cheesecake with cream cheese, pureed bananas, and sour cream.
Magnolia Bakery is a New York City Bakery that was opened by Allysa Torey and Jennifer Appel as a single shop on Bleeker Street in 1996. Today, they have a chain of bakeries famous for their desserts, especially banana pudding and cupcakes.
It has been featured on several television shows including Sex and the City, Spin City, and Saturday Night Live. They were also mentioned in the film, The Devil Wears Prada.
Magnolia Bakery Banana Pudding is famous for a very good reason! The creamy and sweet pudding is combined with two layers of bananas and Nilla wafer cookies in this easy dessert.
For this easy recipe, all you need is bananas, pudding mix, cream, sweetened condensed milk, and Nilla Wafers. Your family will likely agree with mine in saying it is the best banana pudding recipe ever.
Are you looking for more easy recipes to make for your family? We have plenty. If you like bananas, try our great recipe for chocolate banana bread made with cocoa powder, walnuts, and chocolate chips, or this moist and delicious blueberry banana bread recipe made with fresh blueberries, and bananas topped with a homemade glaze.
Ingredients needed:
All you need to make this Magnolia Bakery's banana pudding are these simple ingredients. After you gather these up, scroll down to the bottom of the page where you can find our recipe card. That is where you will get step-by-step instructions and precise measurements.
Sliced bananas: It is best to use bananas that are barely ripe.
Nilla wafers
Heavy cream
Vanilla instant pudding mix: Make sure it is instant.
Sweetened condensed milk: Not evaporated milk.
Vanilla extract: 100% pure vanilla extract is essential for this recipe.
Ice cold water
Extra bananas: For garnish.
Extra Nilla Wafers: For garnish.
How to make Magnolia Bakery banana pudding from scratch?
Mix: To start, slowly whisk the sweetened condensed milk and cold water in a large bowl.
Chill the pudding: Then, use a handheld electric mixer to mix in one box of the dry pudding mix gradually. Cover the pudding mixture with plastic wrap and let it chill for at least an hour, preferably several hours.
Beat the cream into peaks: While you wait, beat the heavy cream for about three minutes in a separate bowl. You want to mix it until stiff peaks form. After, blend in the vanilla extract.
Beat again: Now, gently fold the chilled pudding mixture into the whipped cream you just made. After, add five tablespoons of the dry vanilla pudding mix to the second box, and beat until it is fluffy.
Assemble your pudding: Next, in a clear glass trifle bowl, layer one-third of the pudding mix, one-third of the Nilla wafers, and one-third of the sliced bananas. Then pudding again, cookies, and bananas. Then finish with one final layer of vanilla pudding. Be sure to cover the bananas completely.
Chill pudding again: Once your famous Magnolia Bakery banana pudding is done, put the assembled dessert in the fridge for four to six hours to chill.
Garnish and serve: When finished chilling, garnish with crushed wafers and sliced bananas. Serve immediately to prevent browning.
Recipe variations:
Vanilla wafers: You can use whatever kind of vanilla wafers you like.
Graham crackers: Instead of vanilla wafers, graham crackers would also be absolutely delicious.
Banana pudding: For extra banana flavor, use banana pudding instead of vanilla pudding.
Jello brand: We used Jello brand pudding mix but you can use whatever you have.
Nabisco Nilla Wafers: You do not have to use Nabisco Nilla Wafers.
Cold milk: For even creamier pudding, use cold milk instead of cold water.
Chocolate chips: Chocolate lovers will enjoy some chocolate chips in the mix.
How to serve:
This wonderful recipe is creamy, sweet, and delicious. You can serve this as a dessert or snack anytime. Try one of our serving suggestions here or share your own in the comments section below.
Squirt some chocolate syrup on top for extra decadence.
Top with a heaping spoonful of whipped cream. Try our easy recipe for homemade whipped topping.
Add a bunch of sprinkles on top for a festive dessert.
For more fruitiness, add a dollop of blueberry sauce or strawberry jam.
You can also toss on some chopped pecans or walnuts for a crunchy topping.
Serve a scoop of this dessert with your favorite cake.
Instead of nuts, use granola for a healthy crunchy topping.
You could also serve this pudding with our yummy peanut butter cookies with Reese's candy cups.
Frequently asked questions
How many layers should I make?
For the authentic Magnolia Bakery banana pudding recipe, you should have two layers. However, you can make more layers if you want. Try pudding, then cookies, then bananas three times, or mix it up and do the cookies or bananas first. Just make sure you cover the bananas so the air cannot get to them and turn them brown.
Why did my bananas turn brown?
If you do not use your bananas right away, they will often end up brown, even when they are still peeled. Just like apples, bananas have a hormone called ethylene that lets the banana continue to ripen after it is harvested from the tree.
The inner flesh will brown even faster after being peeled. As long as you keep them away from the air, they should last for a day or two in the pudding.
How can I keep bananas from going brown quickly?
Bananas still in the peel should be kept in a dark and dry space. It is best to keep them in the plastic they were stored in when you bought them. Once they are sliced, there are several ways to keep them from browning.
The most common way is to toss them in lemon juice or some other acid juice like orange or lime. Or you can use Fruit Fresh citric acid, ginger ale, vinegar, or honey.
What are the nutrition facts in this recipe?
Each serving has 284 calories, 29 mg of sodium, 7 grams of sugar, and 98 mg of cholesterol. It also has 14 grams of carbs as well as 25 grams of fat and 16 grams of saturated fat. However, each serving also has 3 grams of protein, 49 mg of calcium, 1 mg of iron, 230 mg of potassium, 1 gram of fiber, and 1,054 units of vitamin A.
How to store leftovers:
Store: If you have any Magnolia Bakery banana pudding left over, you can refrigerate it in an airtight container for up to four days.
Freeze: Freezing your Magnolia bakery banana pudding is not recommended because the bananas will end up mushy and brown.
More copycat recipes:
Recipe tips:
Be sure you have instant vanilla pudding mix and not the kind you have to bake.
Use a stand mixer if you have one so you do not have to mix it by hand.
For the best banana pudding, use barely ripe bananas. Otherwise, they may get mushy.
Also, using the best vanilla extract makes all the difference as it is a crucial ingredient.
Another key ingredient is sweetened condensed milk.
Be careful not to overmix. Just blend until no more streaks of pudding remain.
Make sure you cover the banana slices quickly, so they do not end up turning brown.
To shorten prep time, make the pudding the night before but do not add the rest of the ingredients until you are ready to chill and serve the pudding.
If you do not have a trifle dish, you can use any wide glass bowl.
To easily make Nilla Wafer crumbs, put them in a baggie and smash them or use a blender or food processor.
Magnolia Bakery Banana Pudding Copycat
Ingredients
14

oz

can sweetened condensed milk

1 1/2

cups

very cold water

2 3.4

oz

boxes vanilla instant pudding

4

cups

heavy cream

cold

1 1/2

teaspoon

vanilla extract

11

oz

box Nilla Wafers

set aside a few for garnish

5

barely ripe bananas

plus a few slices for garnish
Instructions
In a large bowl, whisk together the sweetened condensed milk and the cold water until fully combined.

Using an electric mixer on low speed, gradually add and blend one box of pudding mix into the sweetened condensed milk mixture, and whisk until it is smooth.

Cover the pudding mixture with plastic wrap and refrigerate for at least 3 hours, or overnight.

In a large bowl, beat the cold heavy cream until stiff peaks form, about 3-4 minutes. Once the cream begins to thicken, keep beating on high speed until stiff. Blend in the vanilla extract.

Next, fold the chilled pudding mixture into the whipped cream, and stir gently until fully combined.

After that, add 5 tablespoons of dry vanilla pudding, from the remaining package, and beat until you get a fluffy consistency.

Assemble the dessert in a clear glass trifle bowl by adding 1/3 layer of the pudding, top with nilla the wafers, and ⅓ of the bananas. Repeat this again, then finish the dessert with a heaping layer of pudding.

Make sure all of the bananas are completely covered with the pudding mixture or they will turn brown more quicker.

After assembling, chill the trifle for at least 4 hours so the vanilla wafers will soften.

Garnish with nilla wafers crumbs and sliced bananas right before serving.
Deliciousness to your inbox
Enjoy weekly hand picked recipes and recommendations