Cheesecake Factory Chocolate Blackout Cake Recipe
Last updated on December 28th, 2022 at 03:18 pm
Cheesecake Factory Chocolate Blackout Cake is the perfect dessert for any chocolate lover. This legendary chocolate cake baked with dark chocolate chips, layered with Belgian chocolate icing, and sprinkled with toasted peanuts is so decadent and delicious that you will swear you are sitting in a fancy Belgian bakery. Or maybe you are at The Cheesecake Factory.
Is the Cheesecake Factory your favorite restaurant? We love it too! Try our Cheesecake Factory Original Cheesecake recipe with sour cream and a graham cracker crust. They also make great eggrolls. We have the copycat for Cheesecake Factory Avocado Egg Rolls made from fresh avocados, sun-dried tomatoes, and egg roll wraps.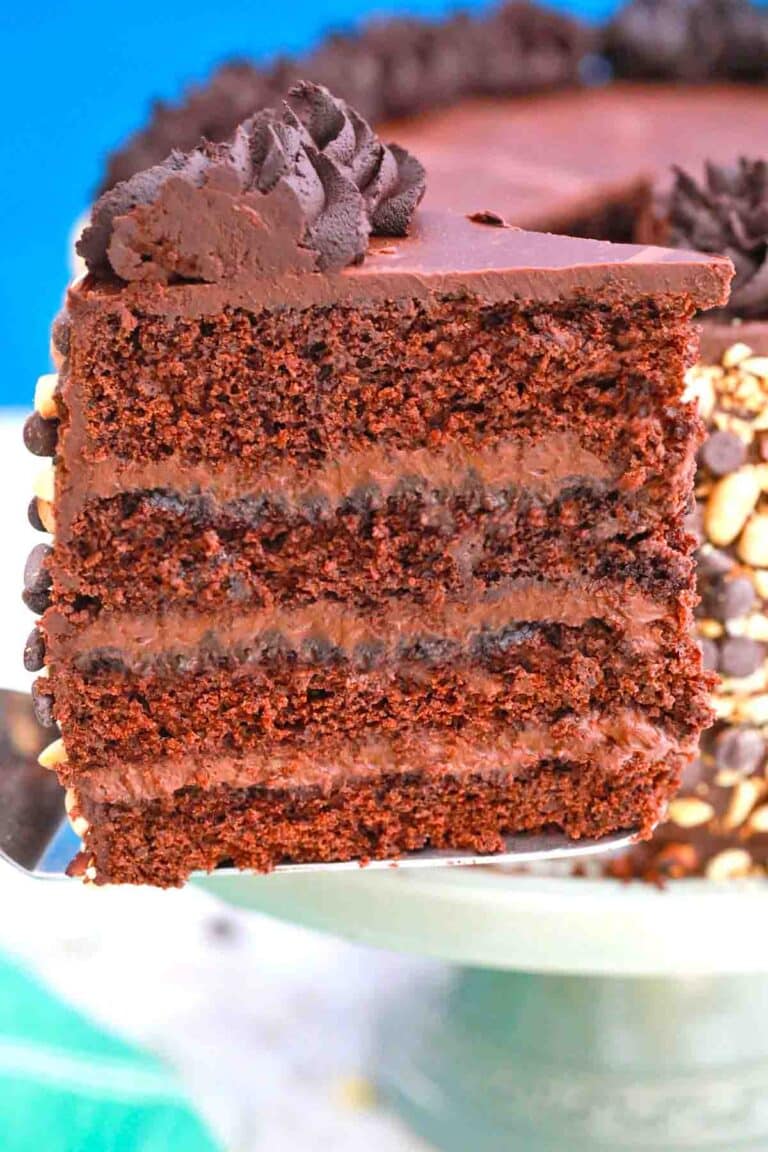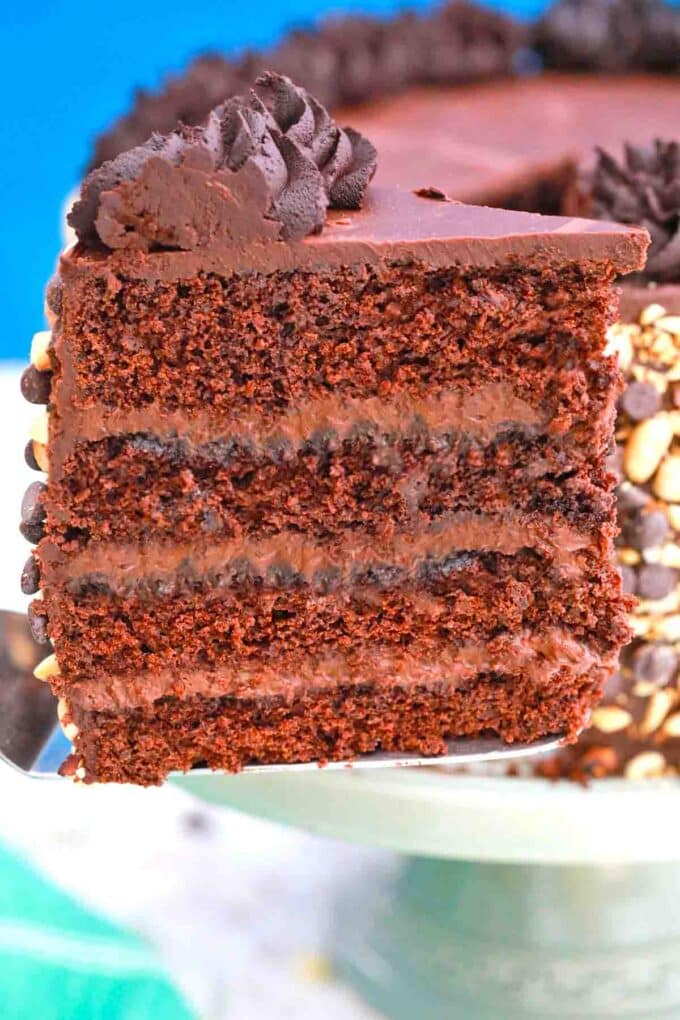 This is the Cheesecake Factory blackout cake, not the classic New York or Brooklyn blackout cake. That one was made by Ebinger Bakery and had three layers of devil's food cake with dark chocolate pudding filling coated with dark chocolate frosting and crumbled chocolate cake.
It seems everyone loves a nice slice of chocolate cake. But this legendary chocolate cake baked with dark chocolate chips and Belgian chocolate icing is one that nobody can pass up. No need to go out to eat to get this dessert though. You can make it yourself with just a short time and a handful of ingredients.
This is the perfect dessert for a fancy celebration, the cake is stunning, decadent, and absolutely delicious. Made with layers, and layers of chocolate! Starting with the cake layers, the rich chocolate pudding, and the creamy icing!
If you love sweets, you may enjoy our strawberry crunch cheesecake with a topping made from golden Oreo cookies and strawberry Jello. Another one of my family's favorites is this banana cream cheesecake filled with Bavarian custard on a vanilla cookie crust.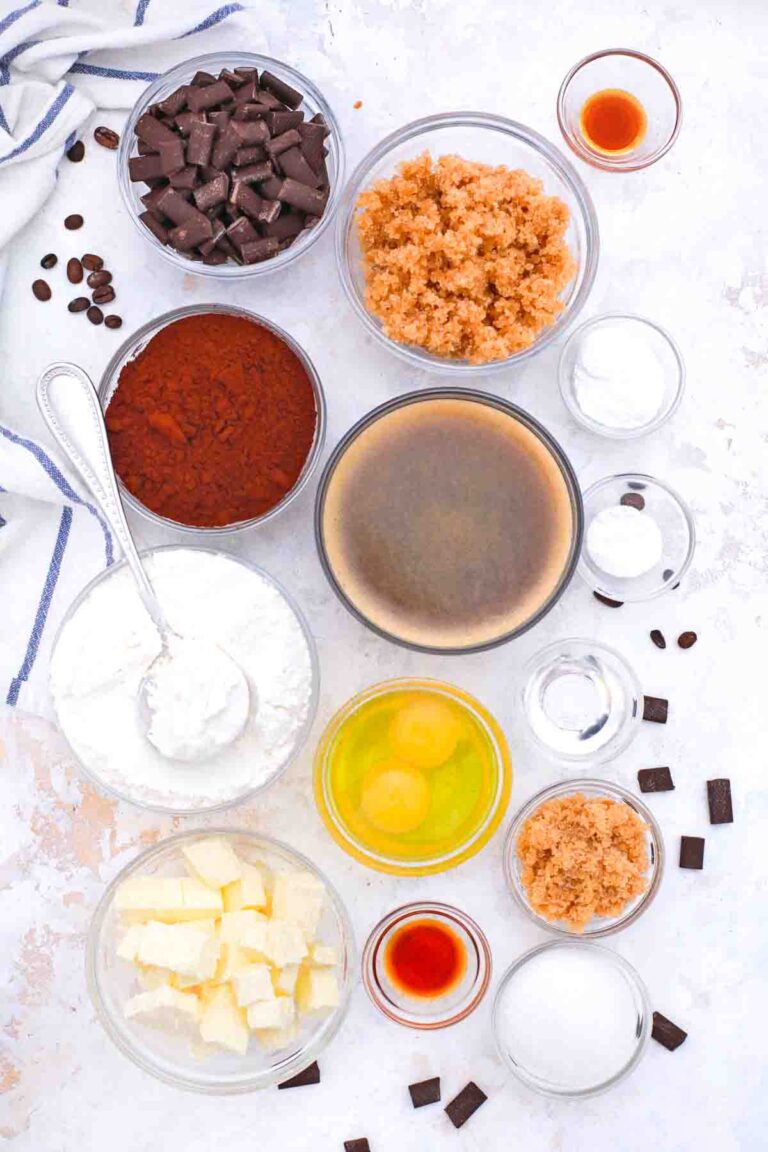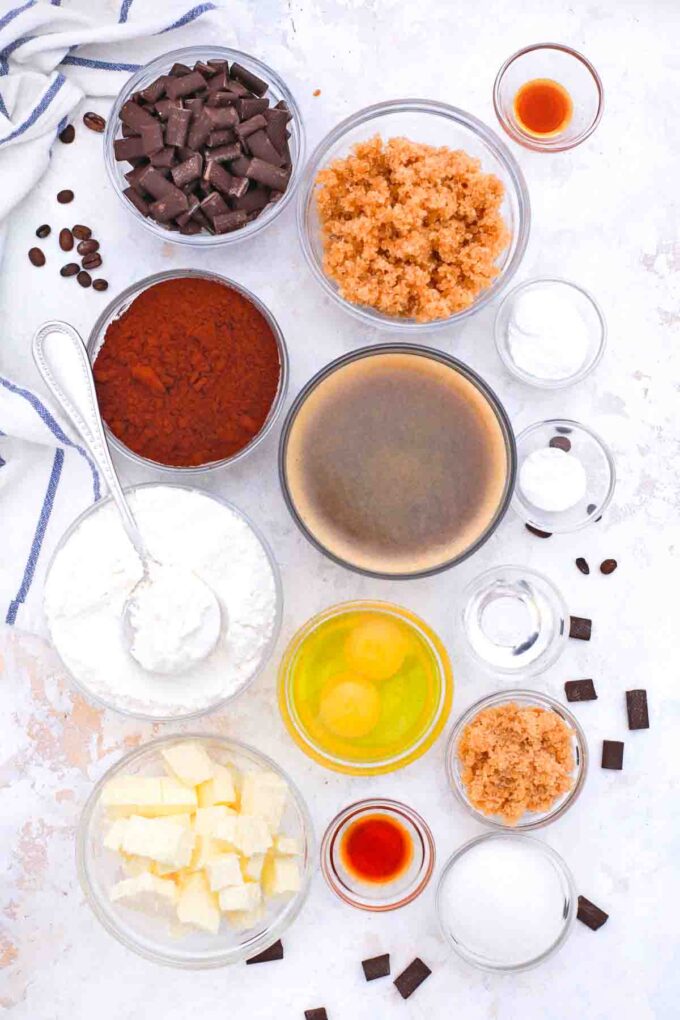 Ingredients needed:
To make this legendary chocolate cake, you will need the ingredients listed below. Be sure you have the correct ingredients for each specific part of the recipe. And once you are ready to begin, scroll down to the bottom of the page where you will find our recipe card with the measurements and instructions.
Pudding ingredients:
Vanilla extract
Semisweet chocolate: Chopped.
Brown sugar: Light or dark brown are both good in this.
Granulated white sugar
Cornstarch
Baking or kosher salt
Whole milk
Cake ingredients:
All-purpose flour
Buttermilk: At room temperature.
Dutch-processed cocoa
Packed brown sugar: Light or dark.
Large eggs: At room temperature.
Granulated white sugar
Belgian dark chocolate: Melted.
Vanilla extract
Strong brewed coffee
Baking powder
Baking soda
Baking or kosher salt
Unsalted butter: Cubed and softened to room temperature.
Frosting ingredients:
Belgian semisweet chocolate: Chopped.
Vanilla extract
Light corn syrup
Unsalted butter: Cubed and softened to room temperature.
Hot water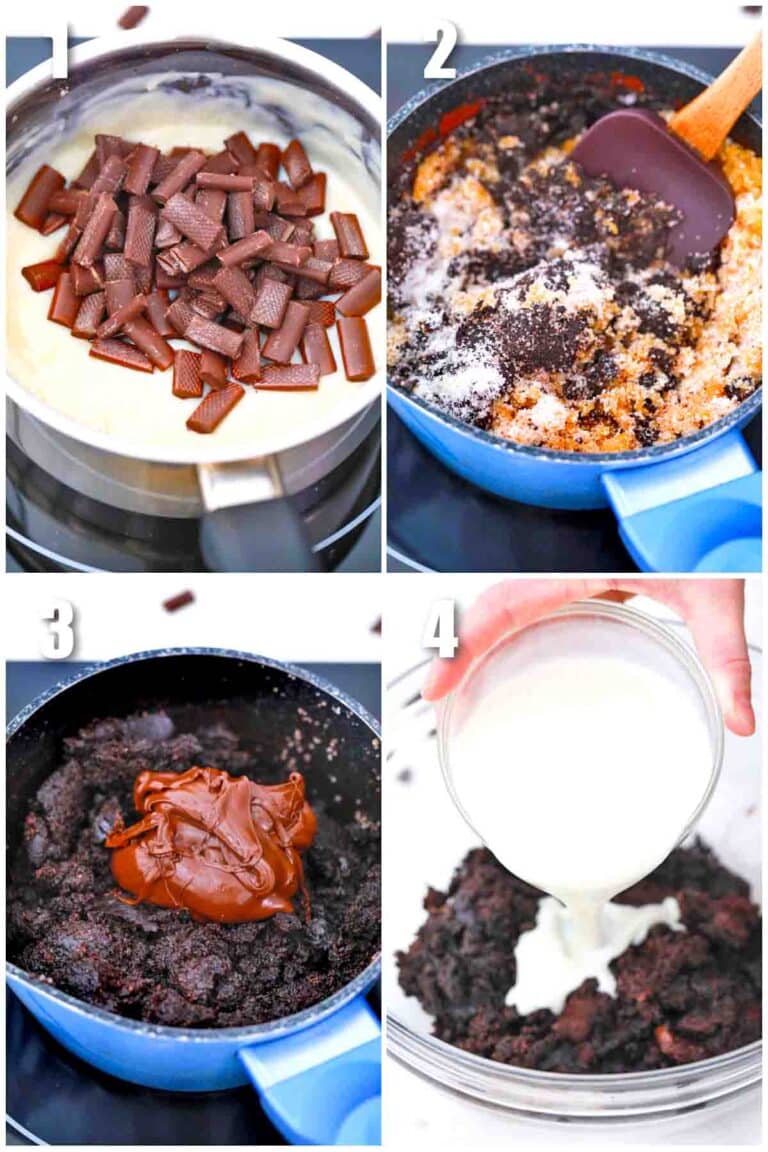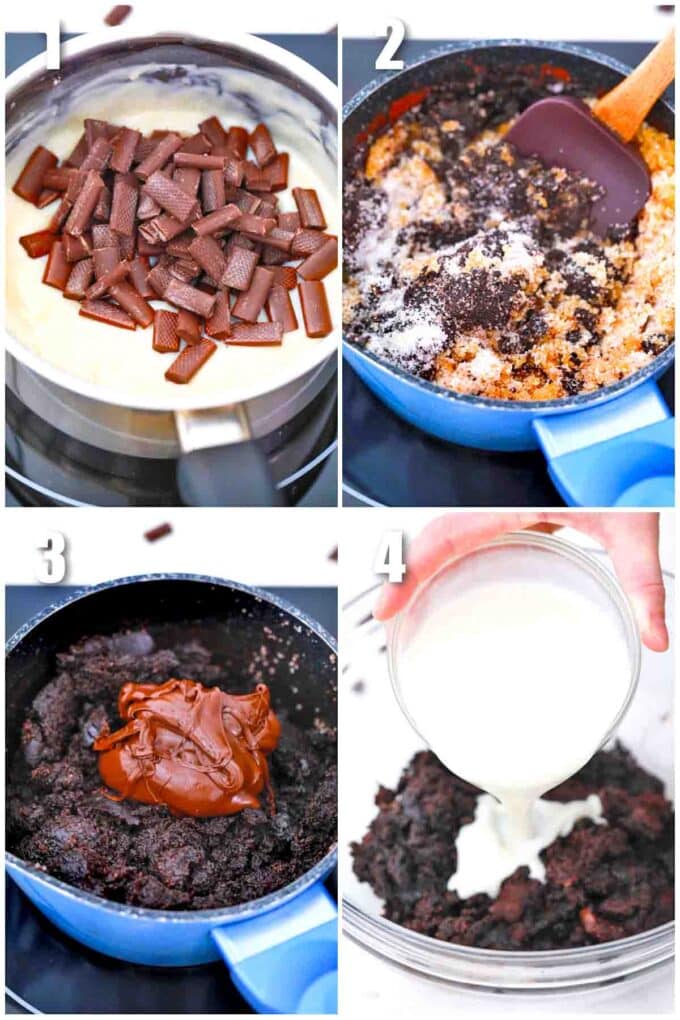 How to make cheesecake factory blackout cake from scratch?
Start with the pudding:
Cook the sugars: To start, mix the salt, cornstarch, and both sugars with milk in a small heavy pot. Cook while stirring over medium heat until it starts boiling. Then, lower the heat and keep cooking and stirring for two minutes.
Cover and chill: Now, add in the chocolate and stir until it is completely melted. Then, pour it into a medium mixing bowl and let it cool for five minutes covered with plastic wrap before chilling in the fridge for at least two hours.
Make the cake:
Preheat oven: First, preheat your oven to 325 degrees F.
Prep the pans: While you wait, grease four round cake pans (we used 8-inch) and line the bottom with parchment paper.
Combine the dry ingredients: Next, combine the dry ingredients in a small bowl.
Melt the chocolate: Then, using a large saucepan, melt the butter before stirring in the chocolate powder. Cook for three minutes, stirring frequently. Then stir in both the sugars and chocolate.
Mix the cake batter: Afterward, remove the pot from the heat and add vanilla, coffee, and buttermilk. Stir in the eggs one at a time, stirring between each one. Pour the flour into the pot in a slow steady stream while you mix.
Bake the cakes: Next, pour the cake batter into the four pans equally and bake them for 35 to 40 minutes. Check for doneness by inserting a toothpick into the center of each cake. It should come out dry or with a few crumbs.
Let them cool: Lastly, let the cakes cool for 10 minutes in the pans before removing them to let them cool completely on wire racks.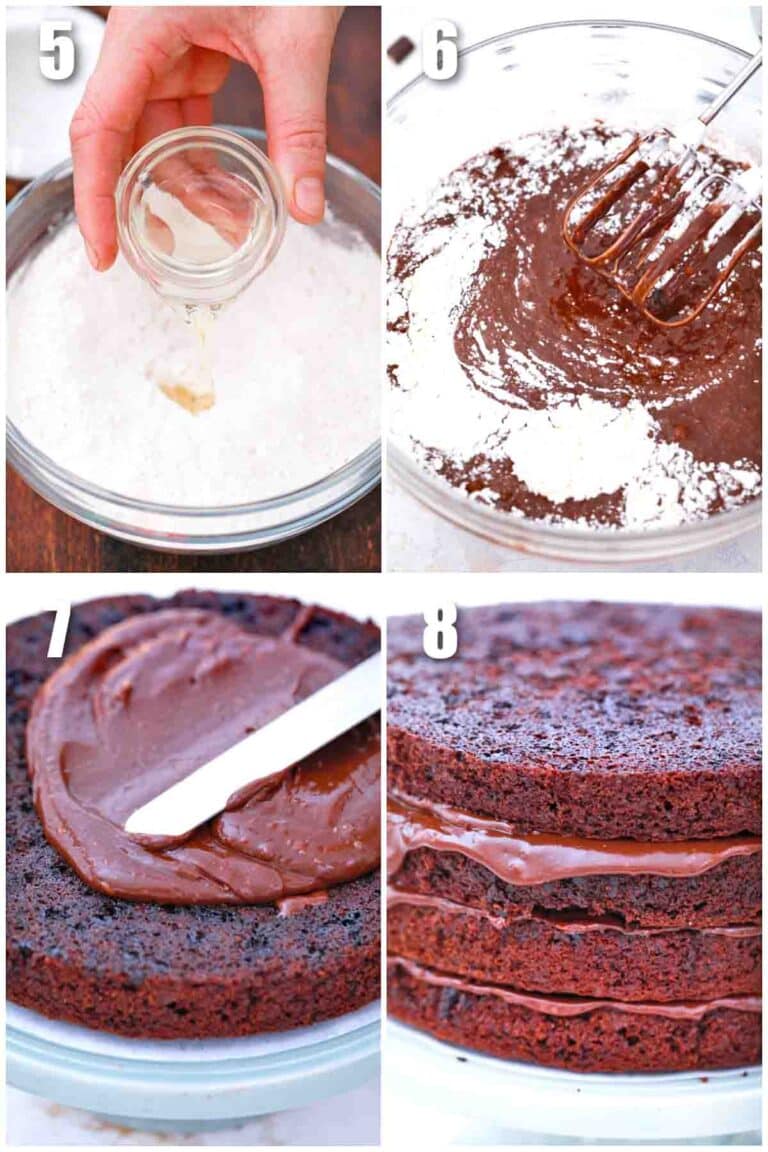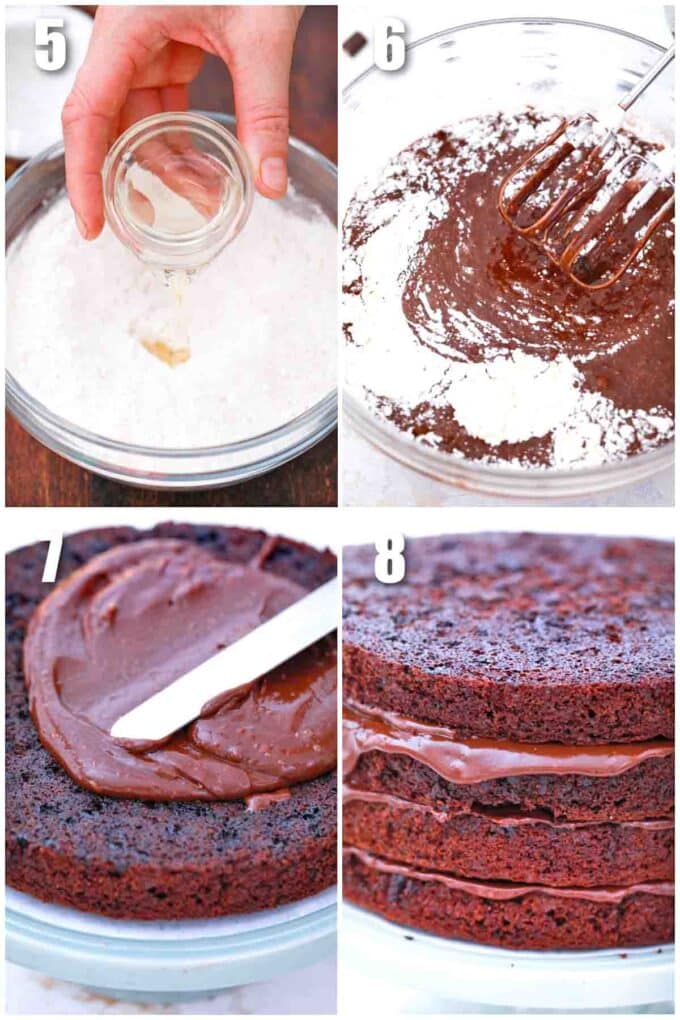 Make the frosting:
Melt the chocolate: Now, melt the butter and chocolate over hot water in a double boiler or metal bowl on the stove.
Remove from heat: After it is melted, remove it from the heat and slowly whisk in the hot water before pouring in the extract and corn syrup.
Chill: Last, chill for about 30 minutes until it is easy to spread.
To assemble the cake:
Cut the cakes: Begin by cutting the top of each cake in half horizontally using a knife with a serrated blade.
Coat each layer: Then, put each layer on separate plates and spread the pudding on each layer as you add them to the bottom layer.
Frost the cake: Now, use the frosting to coat the top and sides of the cake.
Decorate and serve: Afterward, add several dark chocolate rosettes and sprinkle on toasted peanuts. Refrigerate for three to four hours before serving. We recommend keeping the product covered to prevent dryness.
Recipe variations:
Chocolate whiteout cake: Instead of dark chocolate, use white chocolate pudding, ganache, and cake. Then you can call it a chocolate whiteout cake.
Make it festive: Make your cake more festive by adding rainbow sprinkles to the filling or cake batter.
Add nuts: Even though you are putting toasted peanuts or almonds on the outside, there is no reason why you cannot add chopped walnuts, pecans, or almonds to the batter for extra crunch.
Gluten-free: You could also use coconut, almond, or your own favorite gluten-free flour.
Cherries: Because cherries go great with chocolate, why not add some cherry extract to the cake batter?
Other flavors: In fact, feel free to add any kind of extract to make your own flavor preference like peppermint, orange, or cake batter.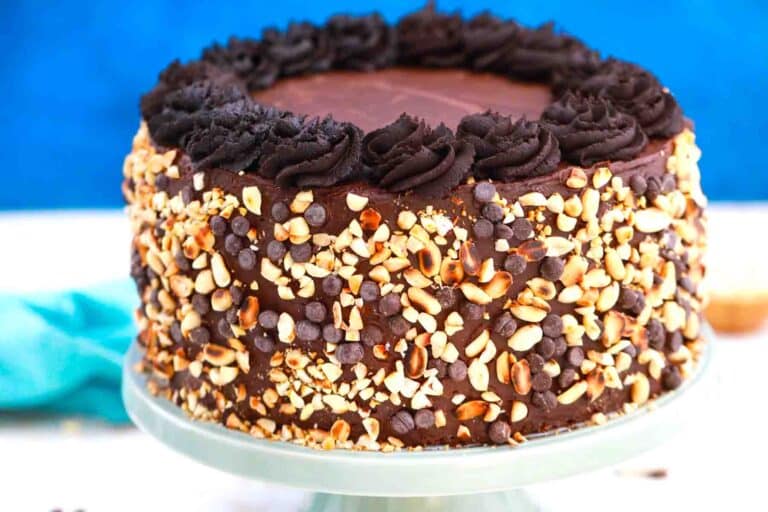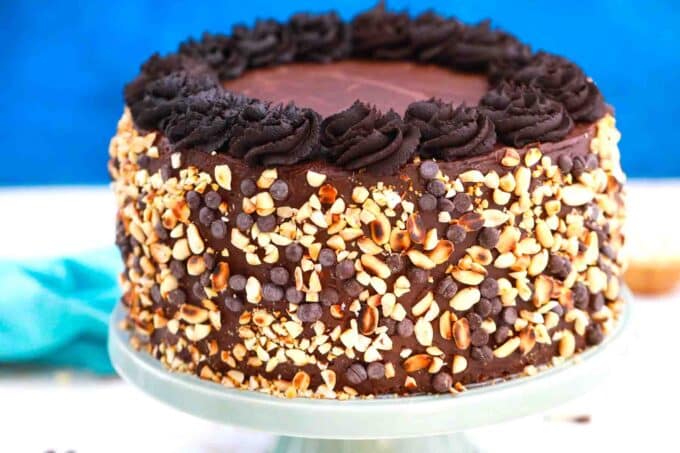 How to serve:
Even though this moist and chocolatey cake is delicious just the way it is, we have some ideas for serving. Serve with a scoop of ice cream, a glass of ice-cold milk, or a mug of hot chocolate. Here are some other serving suggestions.
With so much chocolate, you may have a hard time figuring out how to top it. One of the best ways is with caramel sauce.
You could also top your cake with your favorite fruit like cherries, strawberries, or blackberries.
Another scrumptious topping for this dark chocolate dream cake is whipped cream. Try our recipe for light and sweet homemade whipped cream.
Are you having a celebration? Toss some rainbow sprinkles on top for a festive look.
Another kind of cream that goes with cake is ice cream. Vanilla goes excellent with this dark chocolate or try our strawberry ice cream with chocolate chunks.
If you want to make this more like the Brooklyn blackout cake, use one of the layers to make crumbs and stick them to the sides.
For an even creamier dessert, use cream cheese frosting instead of regular. Simply add chocolate to make it go with the theme.
You cannot have too much chocolate. Go ahead and add some chocolate chips on top!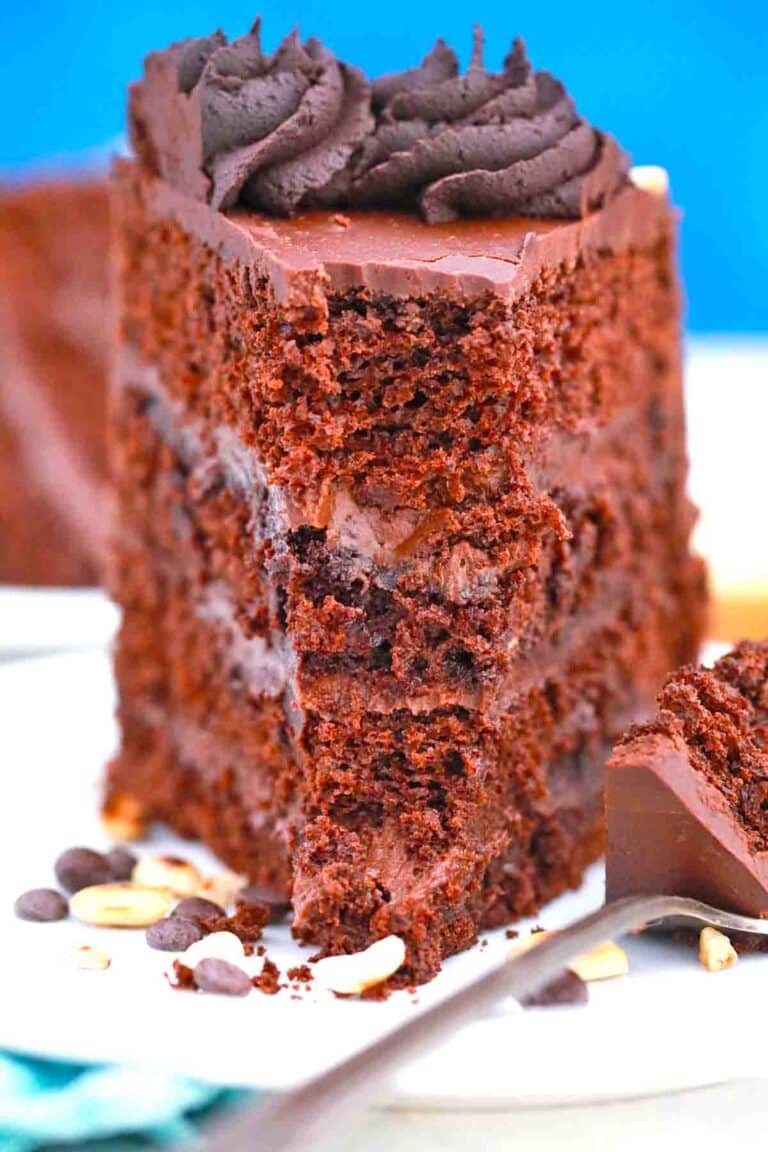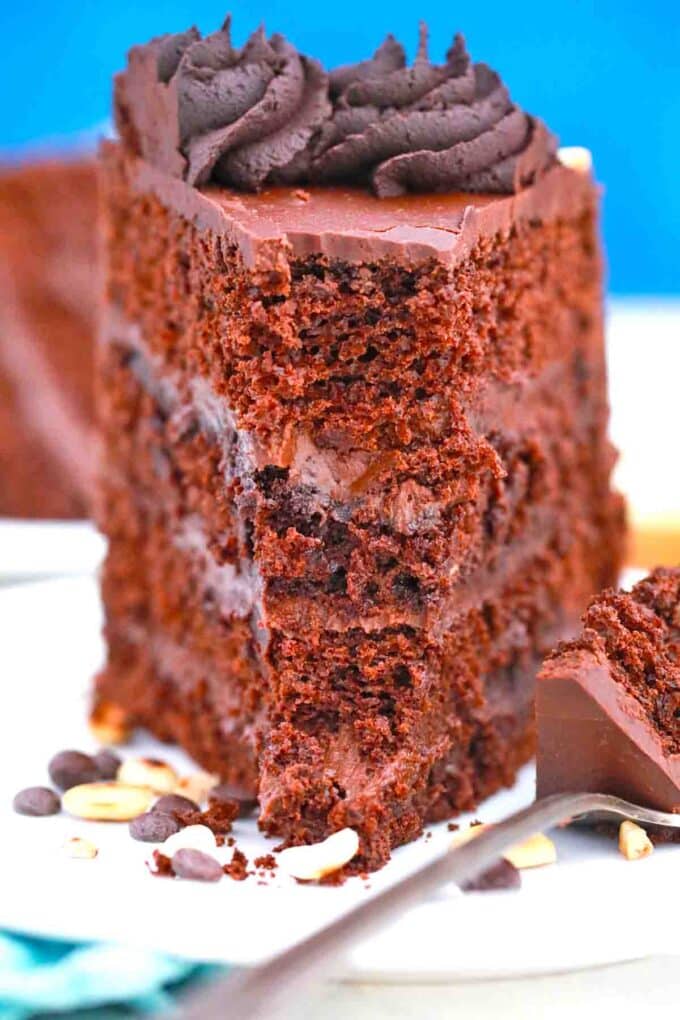 Frequently asked questions
Why is it called blackout cake?
According to an article printed in the New York Times in 1969, the cake got its name from the blackout drills that were done in WWII. This was done to prevent the enemy from seeing the battleships that were departing from the Brooklyn Navy Yard.
It was right around that time when Ebinger's Bakery in Brooklyn started selling their legendary chocolate cake baked with dark chocolate chips and cake crumbs on the outside. Thus, the name stuck just like the cake crumbs.
What is the difference between regular and Belgian chocolate?
Food critics and historians say that Belgian chocolate came first, for one thing, and that they introduced it to the Swiss. But the preference is subjective. The Mayor of Zurich brought the recipe back from Brussels in 1697 according to stories.
But the scientific facts say that Belgian chocolate icing has a higher cocoa content, but Swiss chocolate has a creamier texture and milder flavor. So, experts can agree that dark chocolate is typically Belgian and milk chocolate is Swiss.
Why do you add coffee to chocolate cake?
Although cocoa and coffee are both bitter on their own, mix them together and you will get the most wonderful and rich chocolate flavor. Coffee intensifies the flavor in any dish made with chocolate because it increases your sensitivity to sweet flavors and decreases your sensitivity to bitter flavors. But it will not make your chocolate taste like coffee.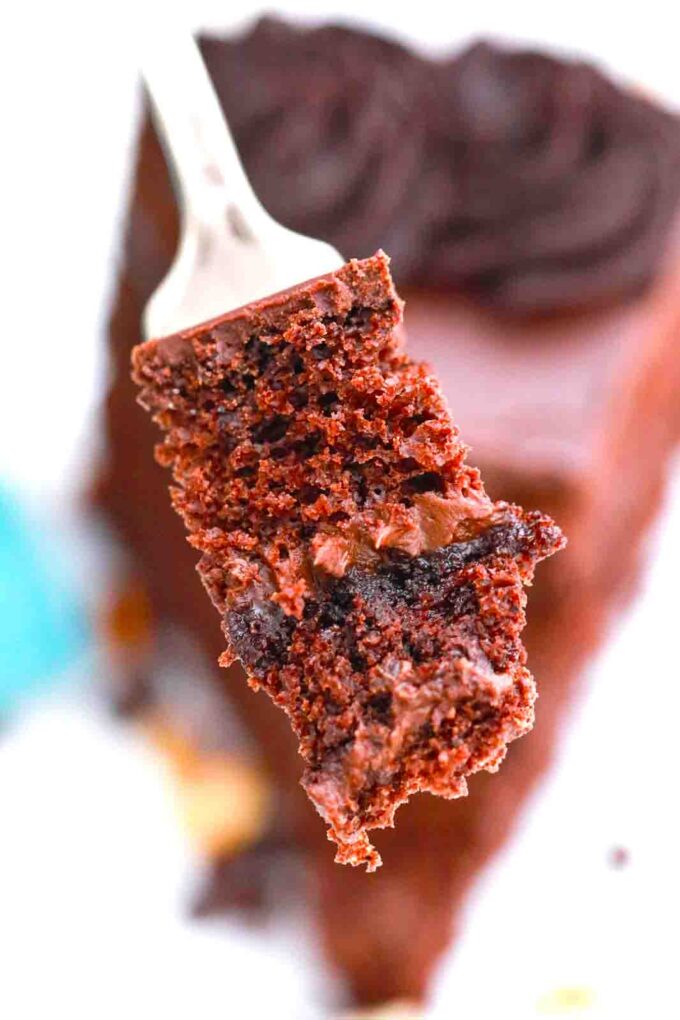 What are the nutrition facts for this cake?
Each delicious serving has 812 calories, 89 grams of carbs, and 50 grams of fat including 30 grams of saturated fat and 1 gram of trans fat. It also has 149 milligrams of cholesterol, 414 milligrams of sodium, and 60 grams of sugar.
On the other hand, you also get 4 milligrams of iron, 97 milligrams of calcium, 1,086 units of vitamin A, 6 grams of fiber, 388 milligrams of potassium, and 10 grams of protein.
How to store leftovers:
Store: With the least amount of handling, store your leftover chocolate blackout cake in an airtight container in the fridge. It can be stored for up to five days.
Freeze: You can also freeze your leftovers for up to 12 months in a freezer-safe container.
Thaw: Before serving, allow your frozen cake to thaw in the fridge for eight to 12 hours. Serve within five days.
More cake recipes to try:
Baking tips:
Real buttermilk is one of the key ingredients. Do not skip this because it adds to the moistness and tanginess like nothing else.
The special ingredients, coffee, is also important. Even if you do not like coffee, you have to use it. You will not taste the coffee, but you will taste the richness like never before.
Another vital step is to make sure your ingredients are at room temperature. All of them. Even the coffee.
Cut the butter into cubes to make it soften faster.
Use whatever your favorite chocolate is if you like Hershey's use that. Or if your favorite is Ghirardelli, you should use that instead.
We recommend keeping the product covered at all times to prevent dryness.
You can use different nuts or skip them altogether if you do not like them.
Our nutritional values depend on the size of the serving and the ingredients used.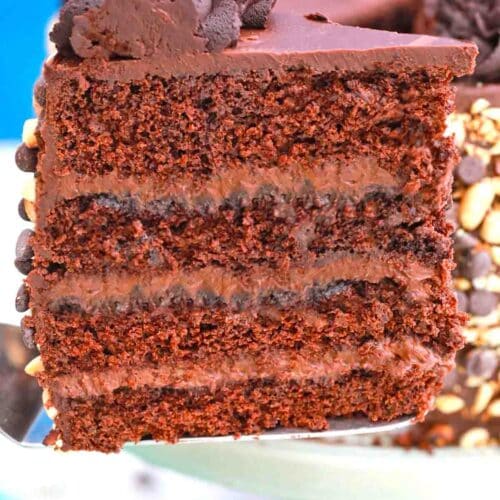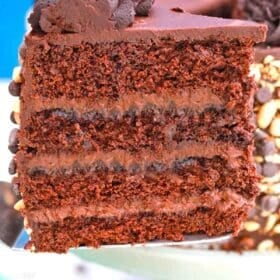 Cheesecake Factory Chocolate Blackout Cake
Cheesecake Factory Chocolate Blackout Cake is baked with dark chocolate chips, layered with Belgian chocolate icing, and sprinkled with toasted peanuts.
Save
Share
Print
Pin
Rate
Ingredients
Chocolate pudding:
1/4

cup

granulated sugar

1/4

cup

brown sugar

(packed)

2

tablespoons

cornstarch

1/4

teaspoon

sea salt

1 1/2

cups

whole milk

6

ounces

semisweet Belgian chocolate

(chopped)

1

teaspoon

vanilla extract
Cake layers:
1-1/2

cups

all-purpose flour

2

teaspoons

baking powder

1/2

teaspoon

baking soda

1/4

teaspoon

sea salt

1/2

cup

unsalted butter

(cubed)

6

ounces

Belgian dark chocolate

(melted)

1

cup

Dutch-processed cocoa powder

1

cup

granulated sugar

1

cup

brown sugar

(packed)

1

cup

buttermilk

1

cup

strong brewed coffee

1

teaspoon

vanilla extract

2

large eggs

(room temperature)
Chocolate frosting:
16

ounces

Belgian semisweet chocolate

(chopped)

1

cup

unsalted butter

(cubed)

2/3

cups

hot water

2

tablespoons

light corn syrup

1

teaspoon

vanilla extract
Garnish:
Cake crumbs

1/2

cup

toasted peanuts

(or almonds)
Instructions
Chocolate pudding:
In a saucepan over medium heat, combine sugars, cornstarch, salt, and milk. Stir until thickened and bubbly. Lower the heat and continue to cook for 2 minutes.

Add the chocolate and stir until melted.

Pour the mixture into a bowl and stir in the vanilla extract. Allow to cool slightly and cover the pudding with plastic wrap. Place in the fridge for at least 2 hours or until cold.
Cake layers:
Preheat the oven to 325 degrees F. Grease 4 8-inch round baking pans and line the bottoms with parchment paper.

In a medium bowl mix flour, baking powder, baking soda, and salt.

Place a large saucepan over medium heat and melt the butter. Stir in cocoa and cook for a few minutes. After that, stir in sugars and chocolate until melted.

After that, remove the mixture from the heat and stir in buttermilk, coffee, and vanilla extract.

Whisk in the eggs one by one.

Slowly, while stirring add the flour mixture, and mix until fully combined and the batter is smooth.

Pour the batter into the prepared pans. Bake for about 35 minutes, or until a toothpick inserted in the center comes out clean or with just a few crumbs.

Remove the pans from the oven, and let them cool for 10 minutes before inverting the cakes on a cooling rack. Allow to cool completely before adding the frosting.
Chocolate frosting:
First, melt the chocolate and butter over hot water in a double boiler or in the microwave in 30-40 seconds increments. Once melted, gradually whisk in the hot water, corn syrup, and vanilla.

Chill the mixture in the fridge for 25-30 minutes, or until spreadable.

Cut the top of each cake horizontally with a long serrated knife to make it flat. Add the tops to a bowl and use your hands to make them into crumbs.

Arrange each cake layer on a serving plate and distribute the pudding mixture over each layer. Layer the cakes on top of each other.

Cover the sides and top of the cake with frosting. Pipe also some roses on top.

Sprinkle the cake crumbs and toasted peanuts or almonds over the sides of the cake and press lightly to adhere.

Place in the refrigerator to chill for at least 8 hours before serving.
Nutrition
Calories:
869
kcal
|
Carbohydrates:
94
g
|
Protein:
10
g
|
Fat:
54
g
|
Saturated Fat:
31
g
|
Polyunsaturated Fat:
3
g
|
Monounsaturated Fat:
16
g
|
Trans Fat:
1
g
|
Cholesterol:
95
mg
|
Sodium:
390
mg
|
Potassium:
724
mg
|
Fiber:
9
g
|
Sugar:
73
g
|
Vitamin A:
874
IU
|
Calcium:
180
mg
|
Iron:
6
mg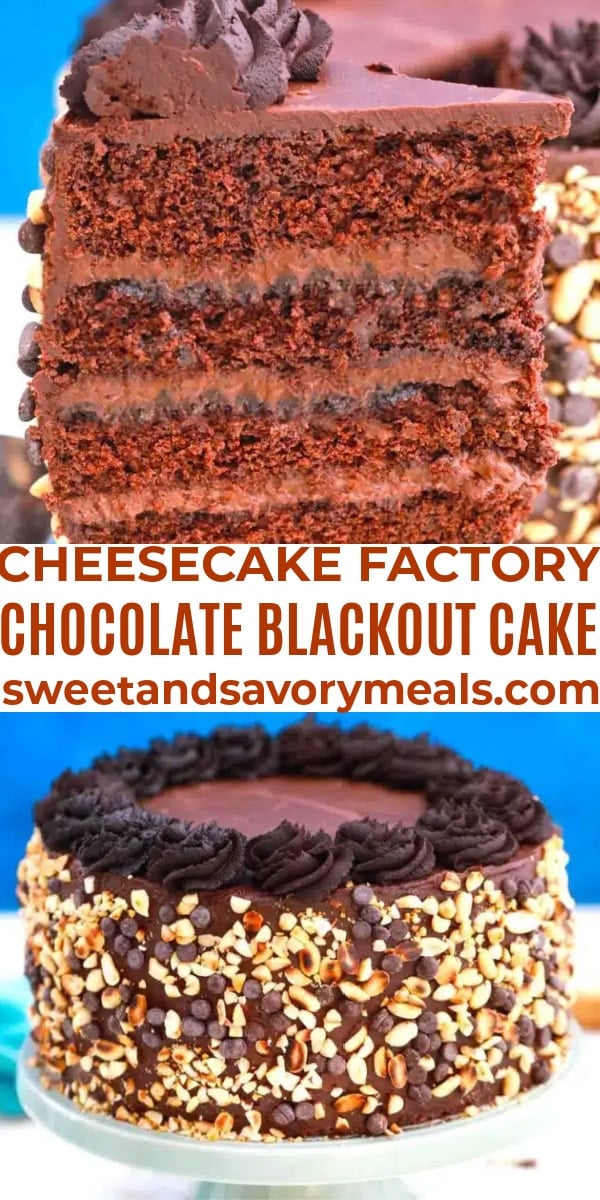 More recipes you might love