Easy Whipped Cream Recipe [Video]
Homemade Whipped Cream is sweet, fluffy, and smooth! Learn how to make it at home using minimal ingredients. This recipe comes in handy when making desserts! Watch the video tutorial below and you'll see how easy this is.
If you are trying to make desserts out of this homemade recipe, then, look no further! For your next treat, try our recipe for Chocolate Mousse Brownies, Unicorn Cake, or Strawberry Pie!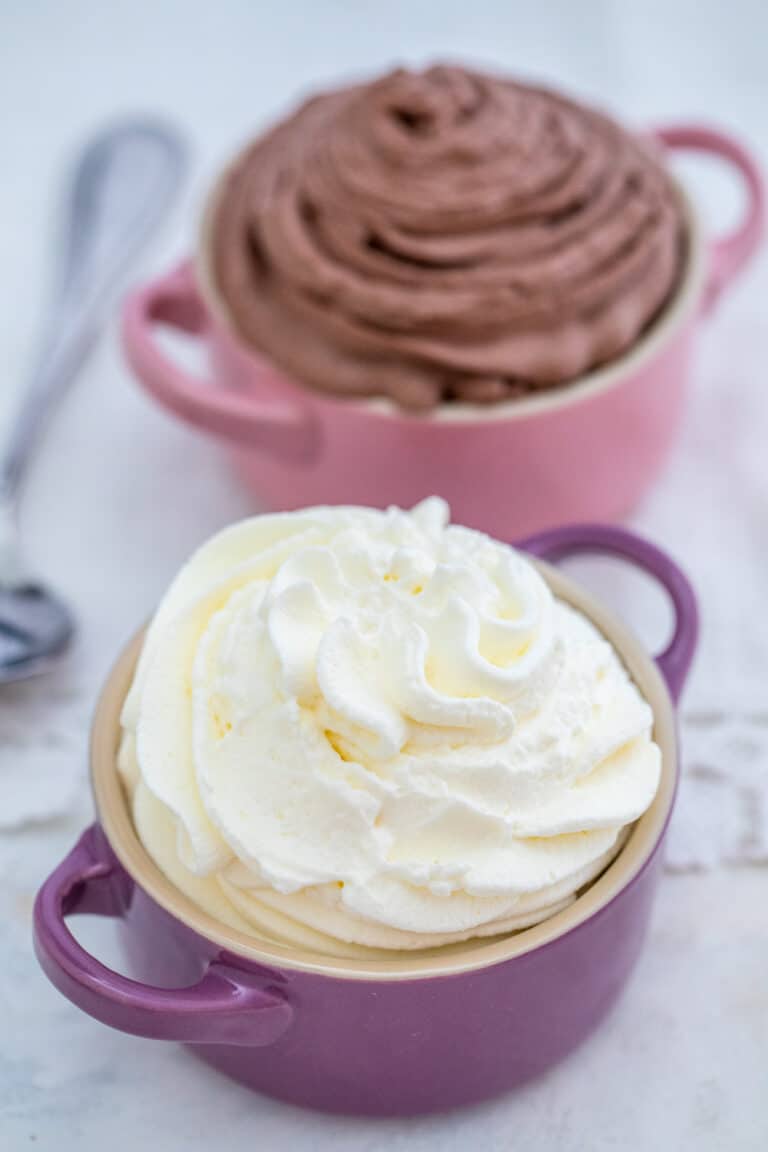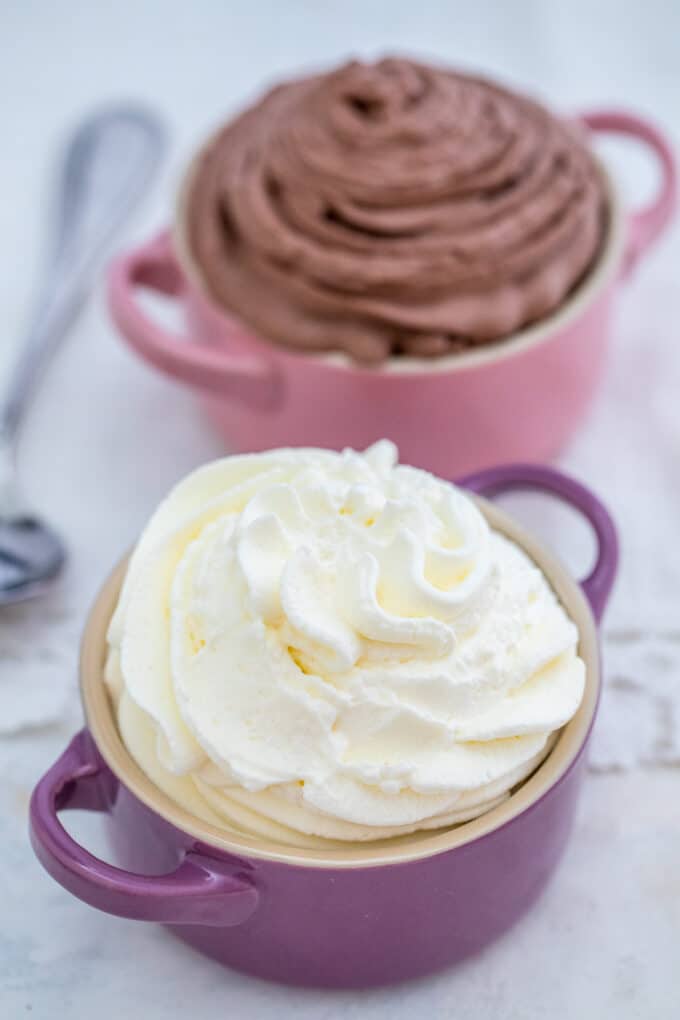 Easy Homemade Whipped Cream Recipe
Whipped Cream is a baking essential. Without it, a lot of desserts will become boring and plain-looking. Yes, you can buy it in grocery stores, but homemade is better, healthier, and cheaper! Therefore, making it at home is a win-win situation.
This is a classic recipe that will only need three ingredients and a few minutes of whipping. It may even be faster to prepare this than allow store-bought ones to thaw. It is this easy!
Having this made on your own also helps you minimize losses – you can prepare as little or as many as you need. Also, as with any homemade recipe, you can alter the sweetness level depending on your taste.
What is whipped cream?
It is the result of mixing cold cream and sugar at high speed and low temperature, incorporating as much air as possible to make it light and fluffy. It doubles in volume!
The sweetness depends on how much sugar you add, and it is highly customizable. What makes a successful whip is when the resulting mixture forms soft peaks.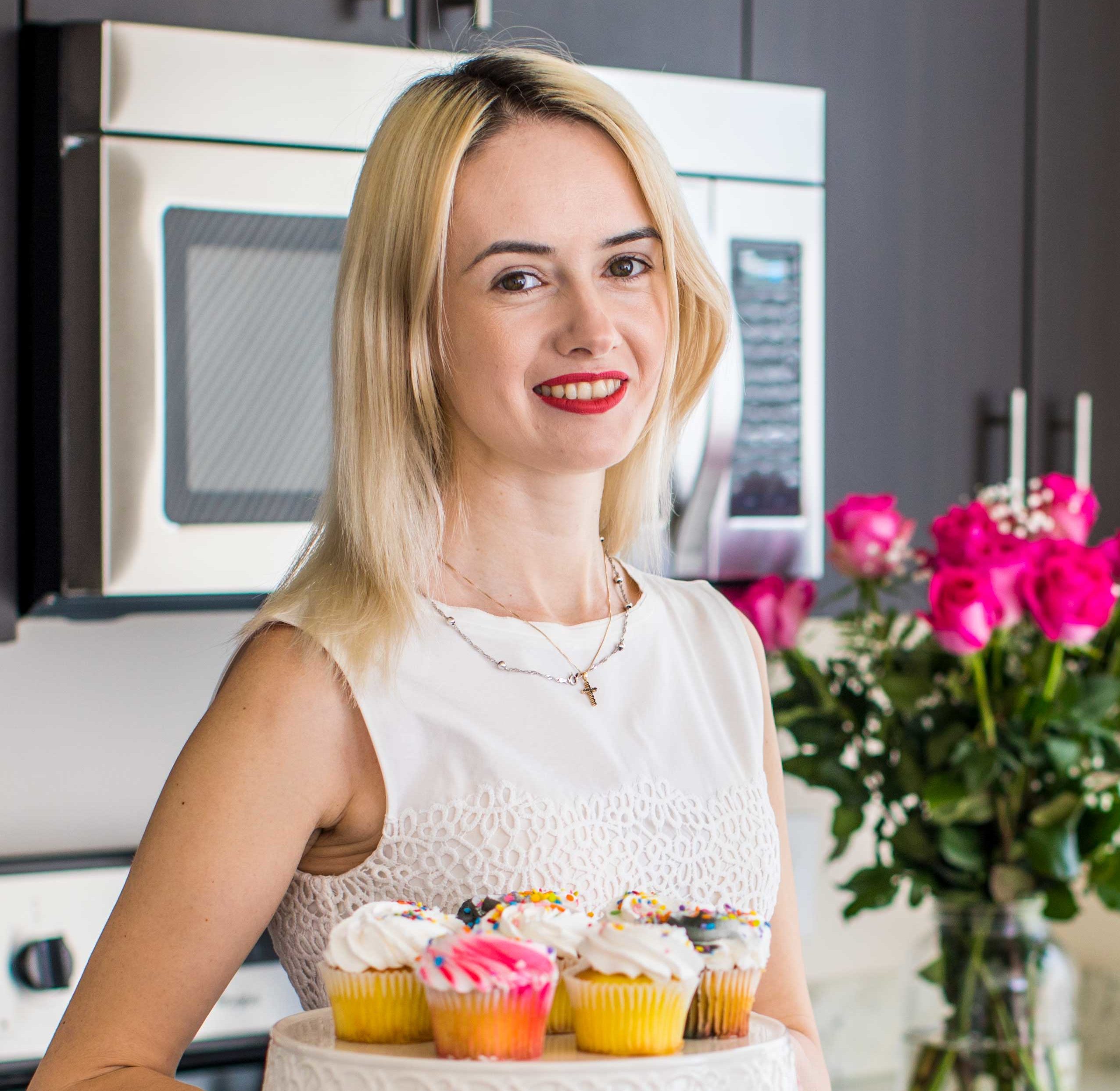 Follow us on Pinterest for more delicious recipes!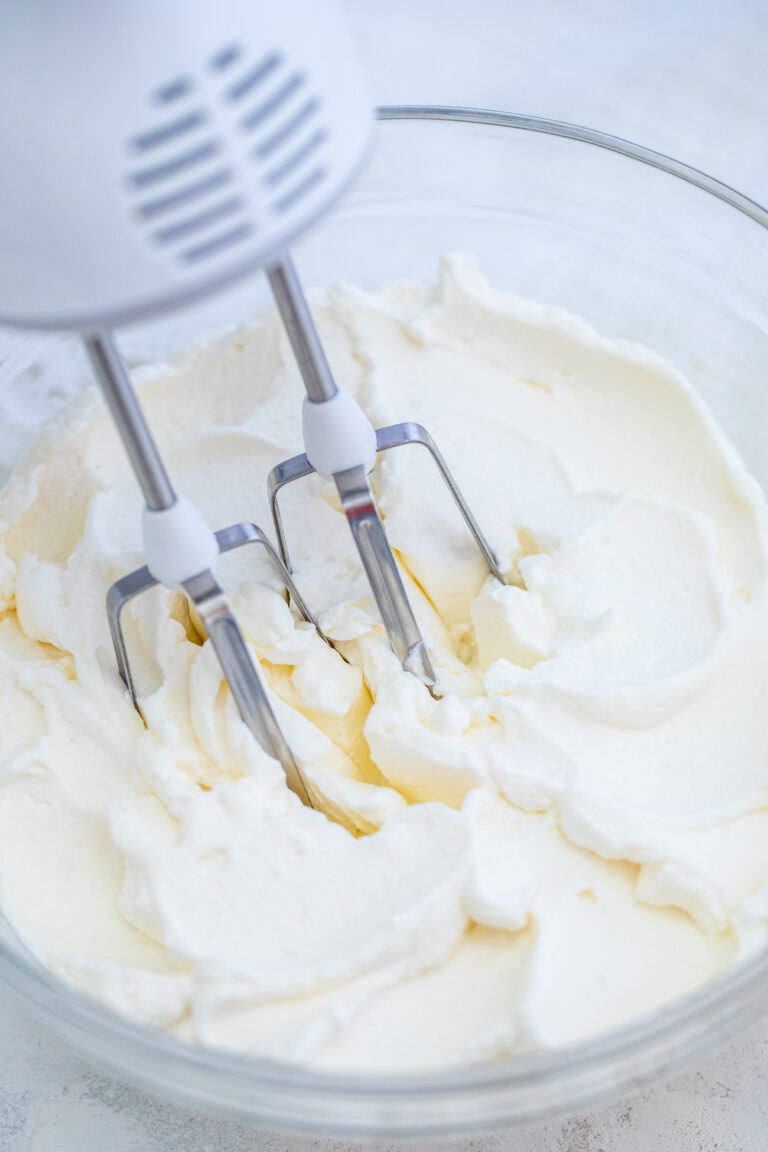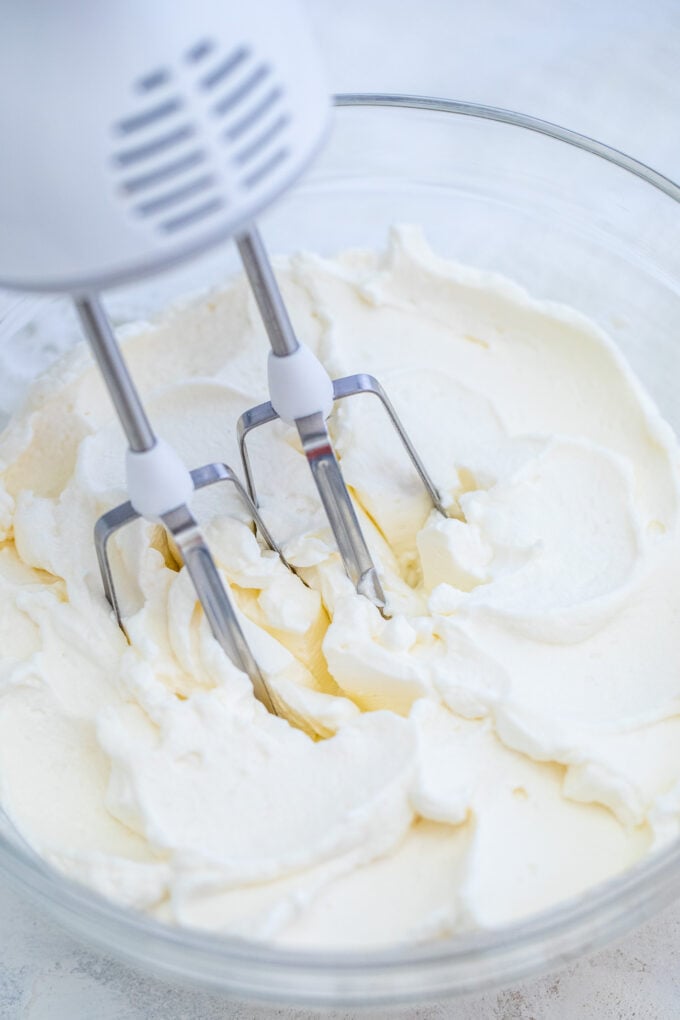 Is whipping cream the same as heavy cream?
They both make good bases for this recipe, but the latter has at least 6% more fat content than the former. With this, the heavy one will make sturdier peaks than the other.
How long will whipped cream last?
This depends on how it was prepared. The basic type that uses only the three ingredients will last in the fridge for about an hour, a maximum of two hours.
But you can work around this by making a stabilized version. You just need to add a magic ingredient and it will last for days in the refrigerator. You can even freeze it!
What is whipping cream made of?
It is made of heavy cream, granulated or powdered sugar, and vanilla. That's all! The vanilla is even optional so you can make this with just two ingredients.
But if you are planning to make a stabilized one and a flavored version of it, then, you will need a bit more than that. For the stabilized one, prepare cold water and unflavored powdered gelatin.
Also, for a chocolate-flavored version, add cacao powder in your grocery list.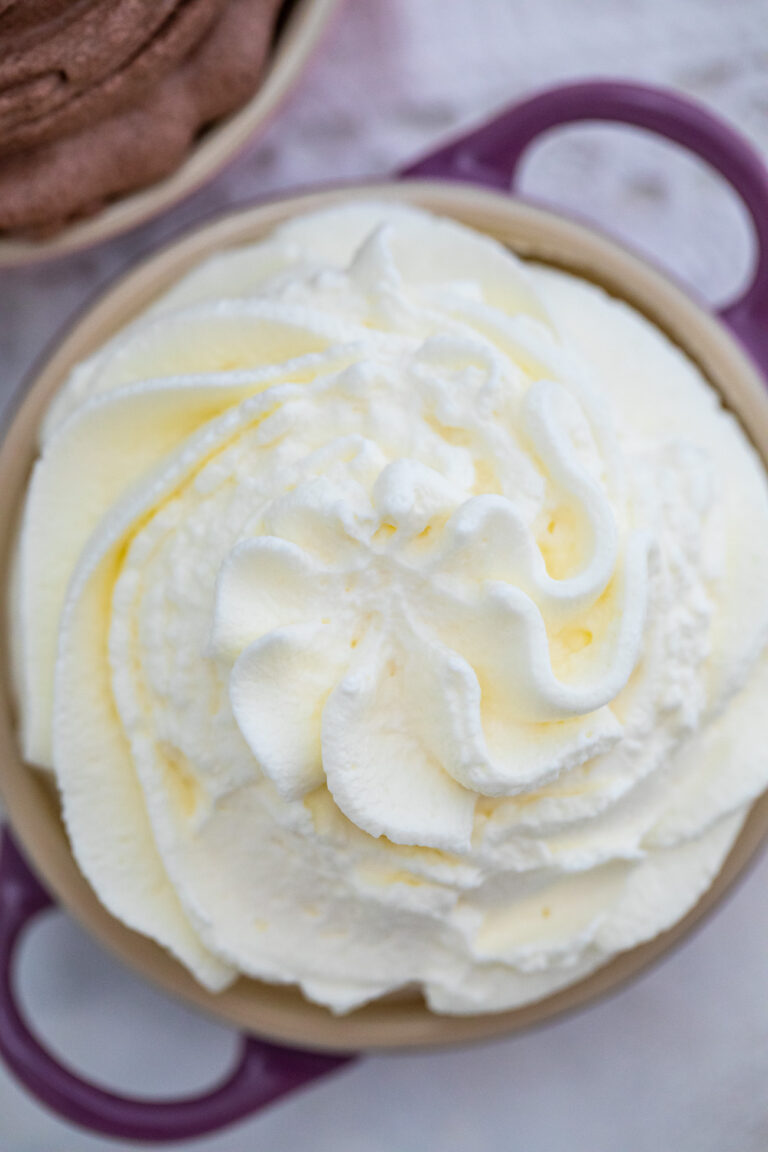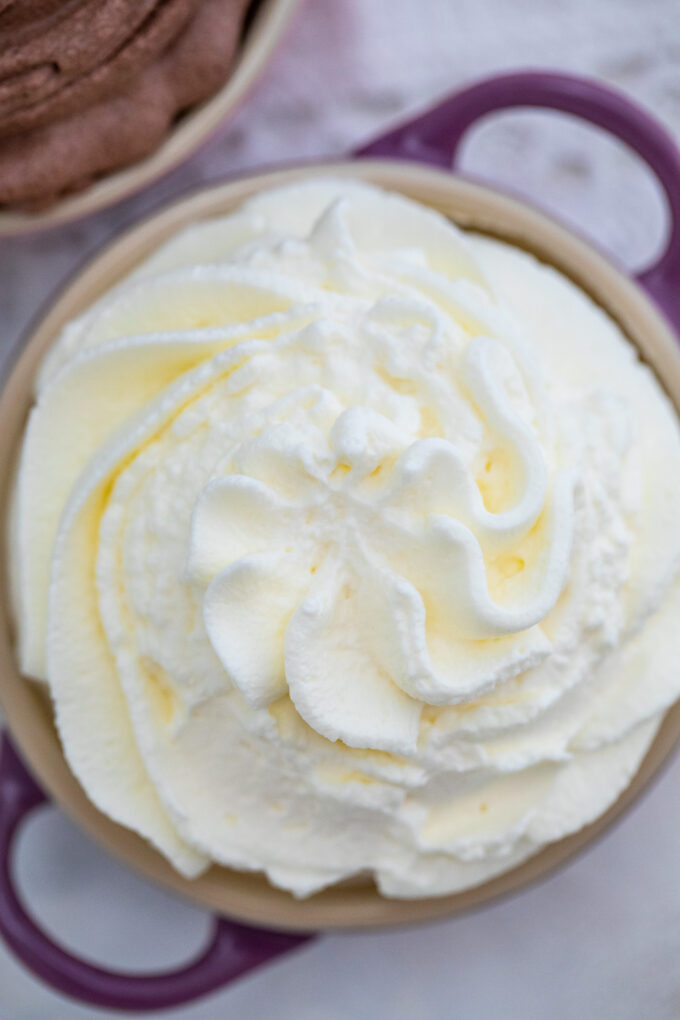 How do you make whipped cream?
Chill: Put the mixing bowl, and even the beater blades in the freezer for 5 minutes or in the fridge for at least 15 minutes.
Whisk: In the bowl, pour in all the ingredients. Then, mix with your mixer starting at a medium-high speed. Once thick, pick up the speed and whisk on high until stiff peaks form.
Use: Afterwards, use it in your recipe or refrigerate for later use (within the next two hours for best results).
How do you make stabilized whipped cream?
Follow the same recipe described above with this single added step: steadily pour in the gelatin mixture while whisking on high. This is how you will prepare the gelatin mixture:
In the bowl of cold water, sprinkle the gelatin powder.
Let it stand for about 5 minutes.
Next, put it in the microwave and heat for 10 seconds.
Whisk to fully dissolve the powder and then, let it stand for about 2 minutes to cool.
Remember to use the gelatin mixture right away or else it will set.
How do you make chocolate whipped cream?
Follow this same procedure. Just mix in your cacao powder along with the sugar and vanilla.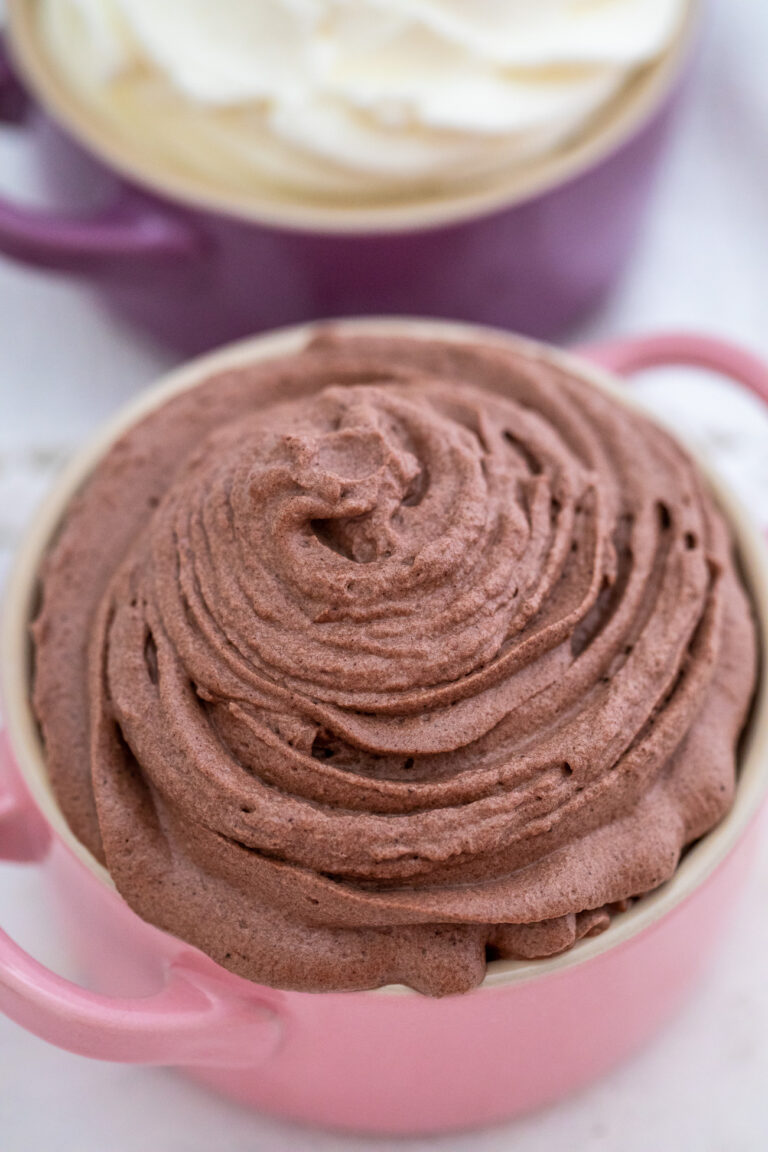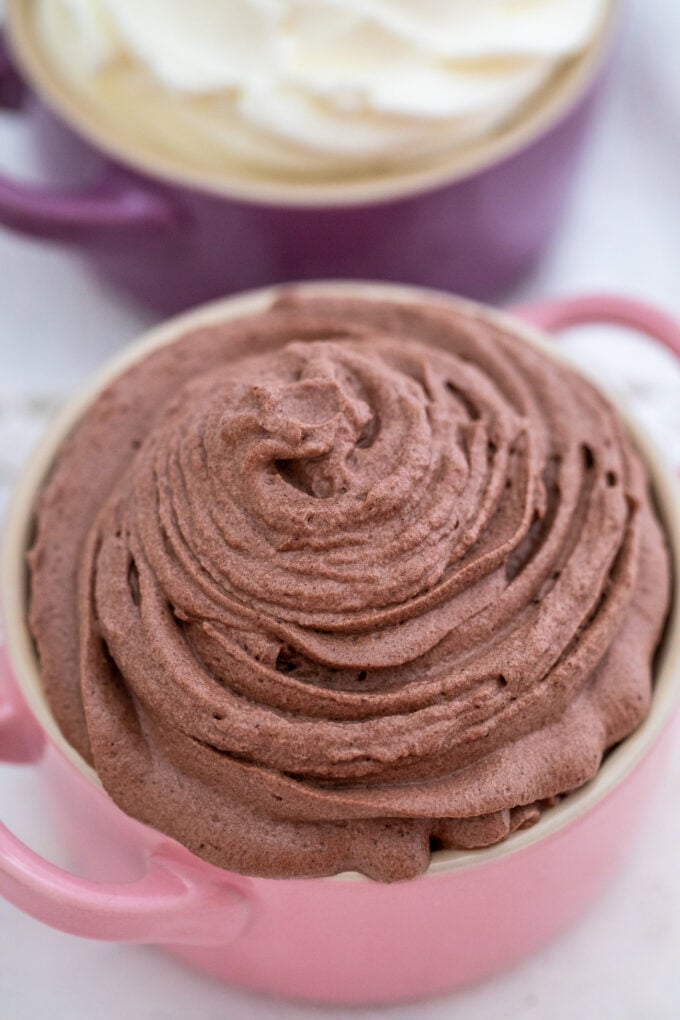 How to Store it?
Refrigerate: Put it in an airtight container and it will keep for about 2 to 3 days.
Freeze: You can also put it in freezer-proof containers, and it will last for up to 3 months. To use, thaw first in the refrigerator.
Recipe Tips
Note that when frozen, the quality diminishes but still, the result will be good for dipping fruits and such.
Also, note that there is such thing as overbeating and that is something to avoid. If you overbeat, then, the dairy can become buttery. Hence, it is better to under-beat than to over-beat. To compensate, stir it a little bit more right before serving.
Aside from unflavored gelatin, try adding cream of tartar or sour cream to make a stabilized version.
Save Recipe
How to Make Whipped Cream
Whipped Cream is sweet, fluffy, and smooth! Learn how to make it at home using minimal ingredients.
Author: Catalina Castravet
Serves: 3 cups
Prep time:

15

minutes
Total time:

15

mins
Ingredients
CLASSIC WHIPPED CREAM:
STABILIZED WHIPPED CREAM:
CHOCOLATE WHIPPED CREAM:
Instructions
CLASSIC WHIPPED CREAM:
STABILIZED WHIPPED CREAM:
CHOCOLATE WHIPPED CREAM:
Nutrition information
Calories: 473 Carbohydrates: 19 Protein: 2 Fat: 44 Saturated Fat: 27 Cholesterol: 163 Sodium: 45 Potassium: 89 Sugar: 16 Vitamin A: 1749 Vitamin C: 1 Calcium: 77
Save Recipe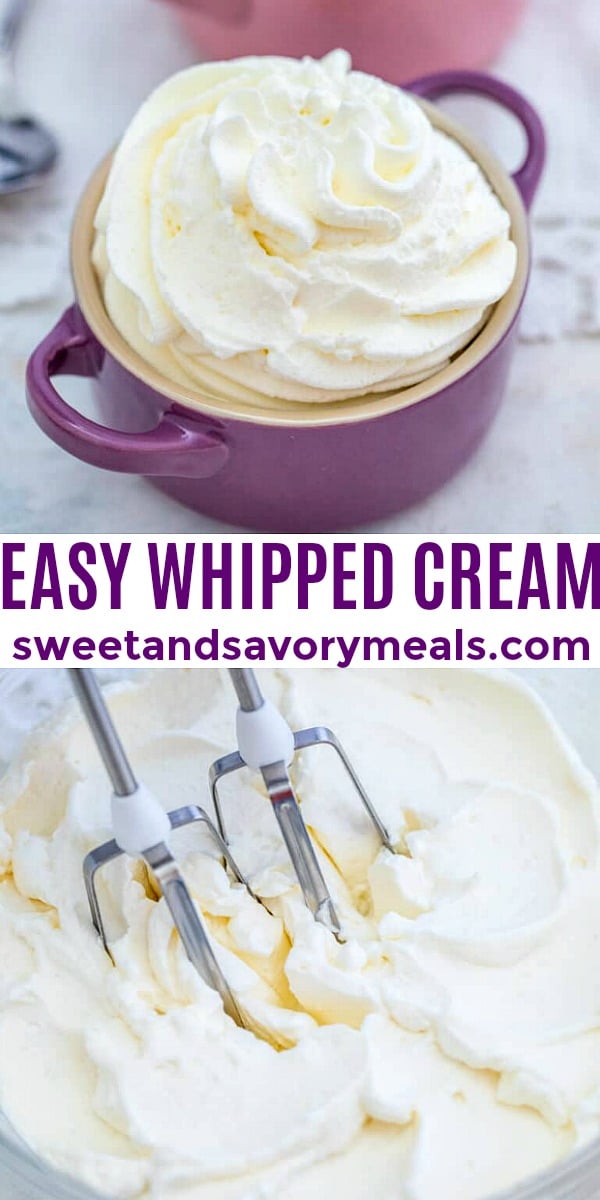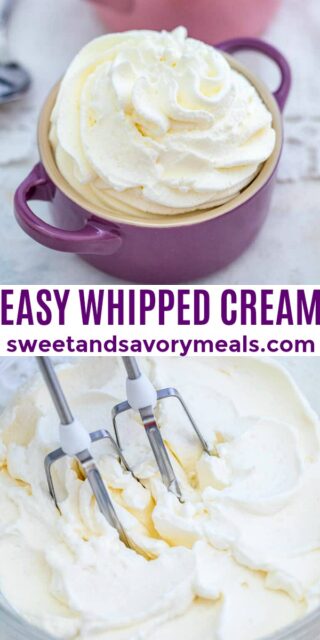 More recipes you might love
Categories: