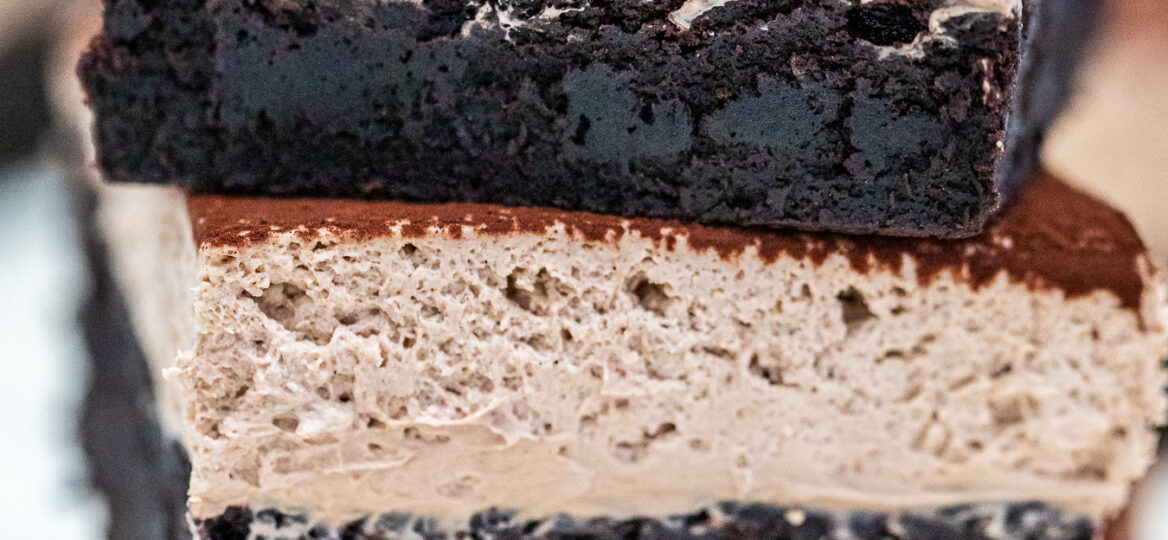 Chocolate Mousse Brownies or Best Brownies EVER!
Chocolate Mousse Brownies are creamy, indulgent, and loaded with chocolate, making them the perfect dessert.
I love making rich and creamy chocolate desserts like my famous Best Chocolate Banana Bread, German Chocolate Cupcake, and Chocolate Baileys Poke Cake.
Chocolate Mousse Brownies
These Chocolate Mousse Brownies are one of the BEST brownies I have ever made. The brownie layer is amazing, it is soft, it is chocolaty, perfectly baked, and with the right level of chewiness.
The brownies are topped with a light, airy and creamy milk chocolate mousse, that balances the chocolaty brownies, that melt in your mouth!
The chocolate flavor is very subtle, almost like an introduction, so you are ready for the chocolate overload that will happen with your next bite. This is such an elegant dessert, it takes regular brownies to a whole new level.
Why You'll Love This Recipe:
It is rich and chocolaty and is a show-stopper dessert.
Easy to find ingredients and minimum prep work and dishes to clean.
Perfect for brunch parties and bigger crowds.
Easy to transport if you have to take them to a brunch party.
It can be made 1 or 2 days in advance so you don't have to worry about the last-minute dessert.
What is a brownie?
A chocolate dessert that is usually square, but can come in a variety of forms. The texture is either fudgy or cakey and may include nuts, sprinkles, or chocolate chips.
Why are my brownies NOT Fudgy?
To make the most amazing, melt-in-your-mouth fudgy brownies you have to make sure that the fat-to-flour ratio is higher. If you use more flour, the end result will be more cake-like in texture.
In that case, to obtain a fudgier texture, use more butter, oil, or chocolate. The amount of sugar and eggs does not change whether you're going fudgy or cakey.
How do you know when fudgy brownies are done?
Use a toothpick or skewer to test for doneness. For fudgier brownies, look for some crumbs stuck to the toothpick. For a cakey texture, the toothpick should come out clean.
How Long Will Chocolate Mousse Brownies Stay Fresh?
They can be stored wrapped in plastic wrap at room temperature for about 4-5 days.
This recipe also freezes well, except for the mousse layer. You can prepare the bottom layer, freeze, and thaw when ready to use.
To freeze, cool the brownies completely and fully wrap them in plastic wrap, tightly. After that wrap it in aluminum foil. Freeze for up to 2-3 months. Defrost before serving.
Can I use store-bought brownie mix to make them?
Yes, and this will also save you time. Just make sure to prepare the brownie mix according to the package instructions and then follow the recipe steps to proceed with making the chocolate mousse topping.
Can I make an eggless version of Chocolate Mousse Brownies?
Absolutely! Simply replace the eggs with various egg substitutes, such as applesauce, yogurt, or flaxseed meal mixed with water.
Can I freeze Chocolate Mousse Brownies?
While it's possible to freeze Chocolate Mousse Brownies, I would not recommend it. Firstly, the texture of the mousse may be affected upon thawing.
Also, if you decided to freeze it, then I would recommend freezing the brownie layer separately from the mousse and assembling them before serving.
More Brownie Recipes:
Tools/Ingredients used to make Chocolate Mousse Brownies:
Non-Stick Baking Pan – I use it for many recipes, brownies, fudge and blondies, the quality is great and it will last you a long time.
Unsweetened Cocoa Powder – delicious flavor, making any chocolate dessert amazing.
Parchment Paper – a kitchen staple, it just makes life so much easier with its non-stick magical powers.
Recipe Tips:
When baking the brownie layer, make sure you do not overbake it. A toothpick inserted into the center should come out with some crumbs stuck to it.
If you insert a toothpick into the hot brownies and it comes out clean, it means that you over-baked them and they will become tough and crumble when cooled.
Make sure you cool the brownie layer well before adding the mousse layer.
Plan in advance as these need to be well refrigerated before being sliced and served, for the mousse layer to fully settle.
Deliciousness to your inbox
Enjoy weekly hand picked recipes and recommendations