Pomegranate Mousse Brownies
This post may contain affiliate links. Please read my disclosure policy.
In honor of October Breast Cancer Awareness Month I am sharing these sweet, silky smooth, loaded with chocolate and topped with a luxurious mousse Pomegranate Mousse Brownies that are festive and delicious.
This post contains affiliate links at NO extra cost to you, I just like sharing the things that I love and worked for me. Thank you!
If you have been reading my blog for a while, you probably know that my grandfather passed away of breast cancer a few months ago. He was an avid dessert lover, and I wanted to create a pink dessert for Breast Cancer Awareness Month to honor his memory. I am sure he would've loved these Pomegranate Mousse Brownies that are sweet and chocolaty. I think that any family that was touched by cancer is a survivor, it's a very hard road emotionally and physically for all people involved.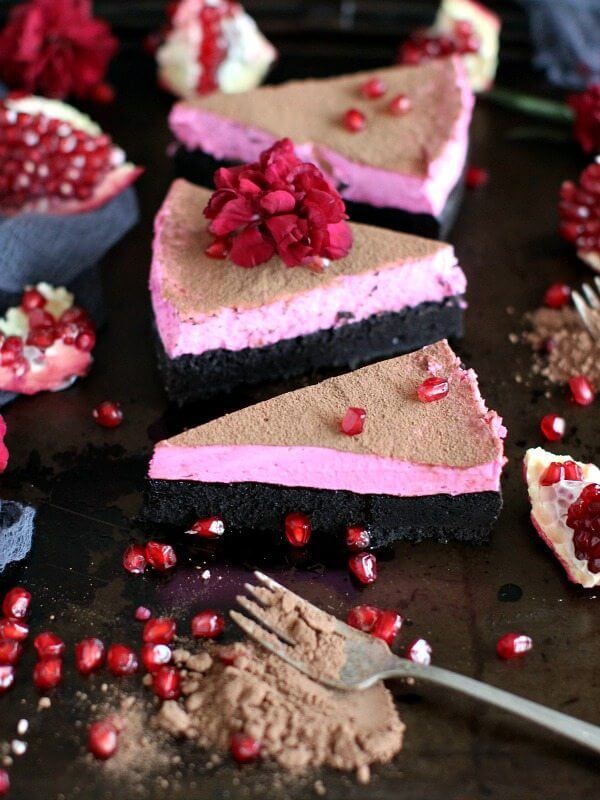 One of my most popular recipes and a favorite among readers and our family are these Chocolate Mousse Brownies. They are truly irresistible and with holiday season right around the corner I transformed them in Pomegranate Mousse Brownies that look festive and taste fabulous. What's not to like, they are super chocolaty, smooth and dense brownie layer, topped with an airy and creamy pomegranate mousse. The mousse is perfect in combination with the brownies, as it balances the richness of the dessert and cuts the edginess of the chocolate overload that we have here.

I love how easy the Pomegranate Mousse Brownies are to make. I baked mine in a round springform pan, to give them the look of a cake, but you can bake them in a brownie pan, and cut them into bars, whatever you prefer. I know its probably too early to talk about Christmas, but maybe it isn't, can you just imagine how festive these Pomegranate Mousse Brownies would look on your dessert table!
If you love decadent brownies just like me, check here my collection of Brownie Recipes: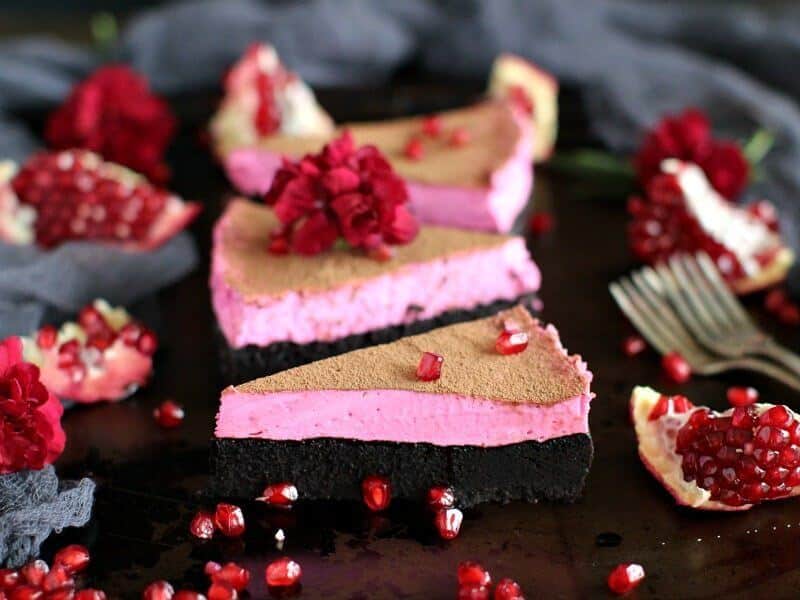 These Pomegranate Mousse Brownies are the perfect combo of chocolate and fruit. The pomegranate flavor is very subtle and if you want that bright pink color you will have to add a little gel food coloring. The Pomegranate Mousse Brownies are dusted with unsweetened cocoa to balance the sweetness of the dessert.

MY LATEST VIDEOS
Tools/Ingredients I used to make these Pomegranate Mousse Brownies:
Non Stick Baking Pan – I use it for many recipes, brownies, fudge and blondies, the quality is great and it will last you a long time
Unsweetened Cocoa Powder – delicious flavor, it will make any chocolate dessert amazing
Gel Food Coloring – this set comes in a variety of colors and it won't add extra water to your recipe
Pomegranate Mousse Brownies
In honor of October Breast Cancer Awareness Month I am sharing these sweet, silky smooth, loaded with chocolate and topped with a luxurious mousse Pomegranate Mousse Brownies that are festive and delicious.
Author:
Katalina Kastravet
Ingredients
For the Brownie Layer:
2 tablespoons soft butter, for greasing the pan
4 large eggs
2 cups sugar
8 ounces / 2 sticks melted butter
1¼ cups cocoa, sifted
2 vanilla beans, seeds only
⅓ cup flour, sifted
½ teaspoon kosher salt
For Pomegranate Mousse:
1 pomegranate, seeds only
1½ cups whipping cream, chilled
⅓ cup sugar + 1 tablespoon
1 teaspoon corn starch + 2 tablespoon water
7 grams gelatin
2 tablespoons of water
Instructions
For the Brownie Layer:
Preheat oven to 300 degrees F.
Spray a 8 inch springform pan with baking spray or grease with butter.
In a mixer fitted with the wire attachment, beat the eggs at medium speed until fluffy and light yellow, add the sugar and beat until combined. Add remaining ingredients, and mix to combine.
Pour the batter into the pan and bake for 35 - 45 minutes. Check for doneness by inserting a toothpick into the center of the pan, it should come out with just a few crumbles attached.
When done, remove from oven and place the pan on a cooling rack, do not remove the brownie from the pan.
For Pomegranate Mousse:
Place seeds in a food processor and alternating between the grind and chop function, process the seeds until finally grinded. A liquid mixture will form. Strain the mixture into a bowl thru a fine mesh and discard the solids.
Place a small sauce pan over medium-low heat, add the pomegranate mixture with ⅓ cup of sugar. Simmer for 10-15 minutes, stirring occasionally. Mix corn starch with 2 tablespoons of water until corn starch dissolves, add it to the pomegranate mixture. Keep, simmering on low heat, the mixture will reduce in volume by ⅓.
In the meantime, in a small bowl, place gelatin and water, allow the gelatin to bloom, let it sit for 10 minutes.
Remove pomegranate sauce from heat, add the dissolved gelatin and stir well to combine. Set aside to cool for 15 minutes at room temperature. Stir occasionally to avoid jellyfication.
In the bowl of a stand mixer fitted with the wire attachment, place the remaining 1½ cups of cream and 1 tablespoon of sugar and whisk until soft peaks form.
Once the pomegranate sauce has cooled to room temperature, add it to the cream and whisk until incorporated and the mixture is stiff. Don't over mix or you will curdle the cream. If you wish your mousse to be more pink, add in a few drops of pink gel food coloring at this point. To avoid over mixing, turn off the mixer, and gently mix the ingredients manually with a spatula.
Pour on top of the cooled brownie and level the top layer. Place in the fridge overnight, or for at least 6 hours.
Before serving, remove from the fridge, dust with cocoa powder, run a knife thru cold water and cut.
Enjoy!
Peas and Peonies, LLC. owns the copyright on all images and text and does not allow for its original recipes and pictures to be reproduced anywhere other than at this site unless authorization is given. If you enjoyed the recipe and would like to publish it on your own site, please re-write it in your own words, and link back to my site and recipe page. Copying and/or pasting full recipes to social media or personal blogs is strictly prohibited. Sharing this recipe is very much appreciated and encouraged. Read my disclosure and privacy policy. This post may contain affiliate links.