Best Chocolate Banana Bread [VIDEO]
Chocolate Banana Bread is the best banana bread you will ever have! Incredibly tender, moist, and flavorful, loaded with chocolate chips and crunchy walnuts! Check out the short video tutorial attached below and see how easy this recipe is to make!
I love making delicious chocolate desserts that can feed a crowd including Triple Chocolate Pound Cake, Chocolate Brownie Cake, and Chocolate Baileys Poke Cake.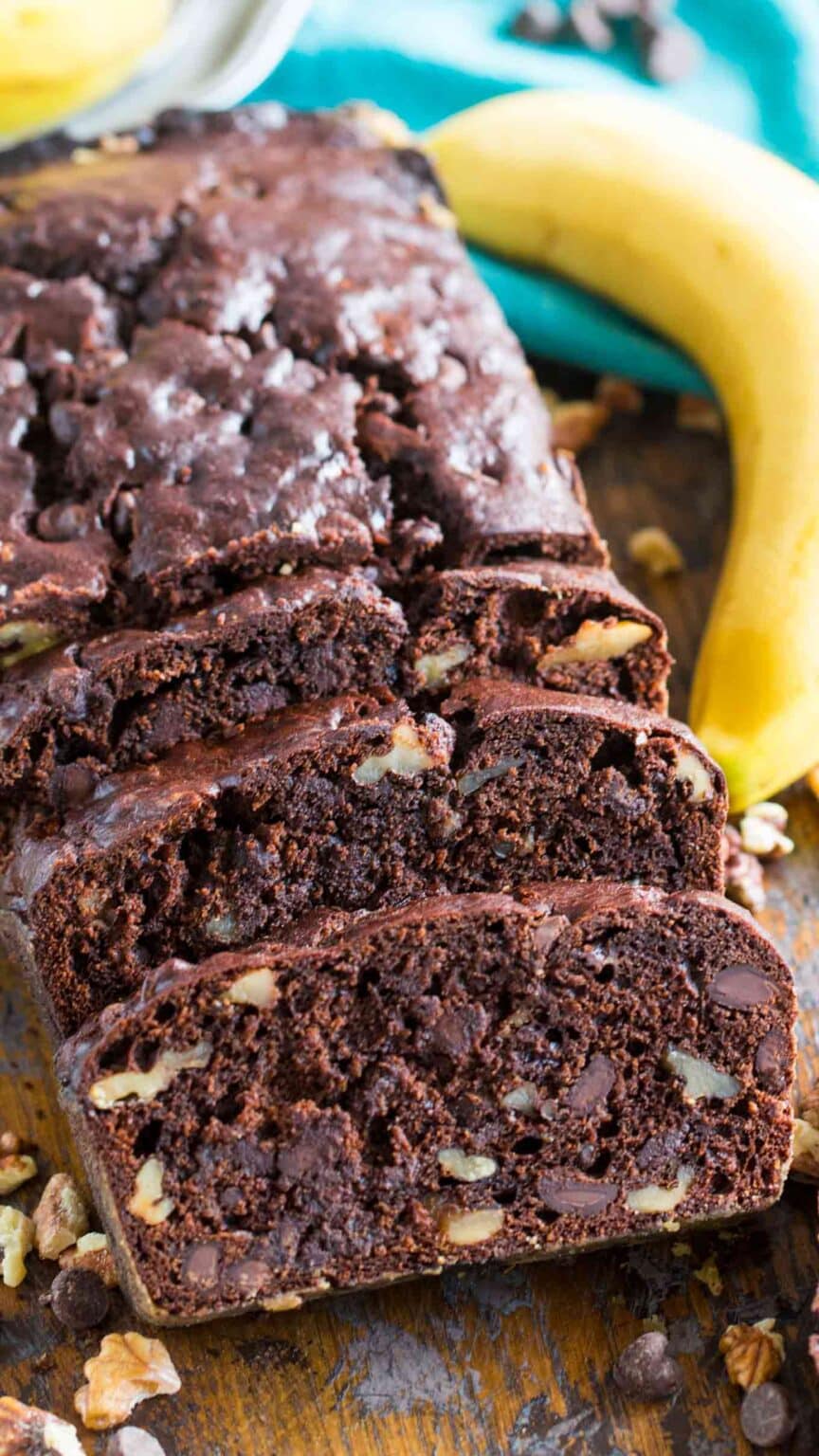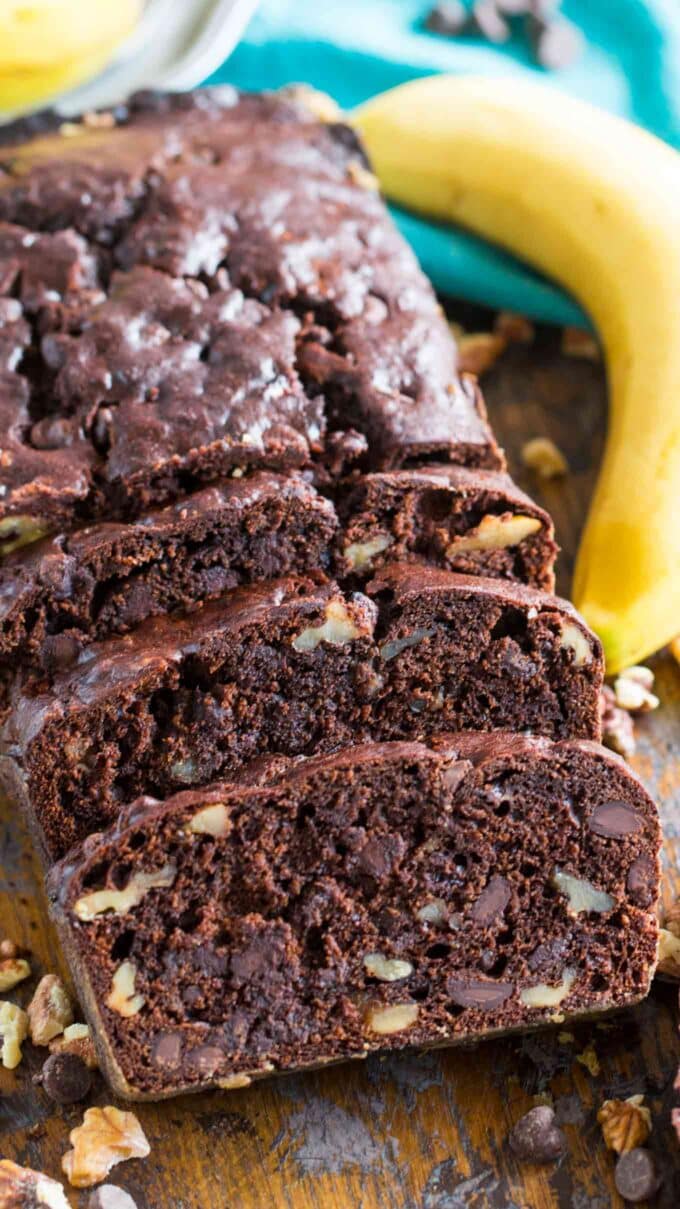 Best Chocolate Banana Bread
Chocolate Banana Bread is hands down one of the best banana bread that I have ever made. This beauty is LOADED with chocolate. I am not messing with you, every single bite is filled with glorious chocolate! Check out these Chocolate Banana Bread slices, you can see the huge chocolate chips!
If you have some brown bananas on hand, you basically have to run into the kitchen and make this, you can thank me later! So dramatically chocolaty that I just want to lock my doors, get some milk, put on Netflix, and enjoy this all by myself! This homemade chocolate dessert is sweet, tender, aromatic, with chewy chocolate chips and crunchy walnuts!
Why You'll Love This Chocolate Banana Bread:
It is rich and chocolaty this is a show stopper dessert.
Easy to find ingredients and minimal prep work and dishes to clean.
Perfect for brunch parties and for bigger crowds.
Also, very easy to transport if you have to take it to a brunch party.
It can be made 1 or 2 days in advance, so you don't have to worry about a last-minute dessert.
How to make Chocolate Banana Bread?
I have been using this secret formula over the past 7 years, to get the best and most tender bread. Also, watch the recipe tutorial attached, and you will see how easy this is!
I always use butter in this recipe. It gives it a denser texture, and also a boost of flavor.
For the most flavorful bread, I highly recommend using very ripe bananas.
Do not slice the bananas as it will leave lumps when cooked in the bread. Instead, mash them. This is a mix and stir recipe, so avoid using an electric mixer when making the batter. This will result in a soft, fluffy, and moist cake.
Also, do not overmix. Over mixing the batter will make your bread dense and chewy.
Grease and flour your pan.
Don't be afraid to use extra chocolate chips in this recipe. This is really what makes this recipe special. Also, I mix in walnuts. The combination of the two is what makes this bread so special.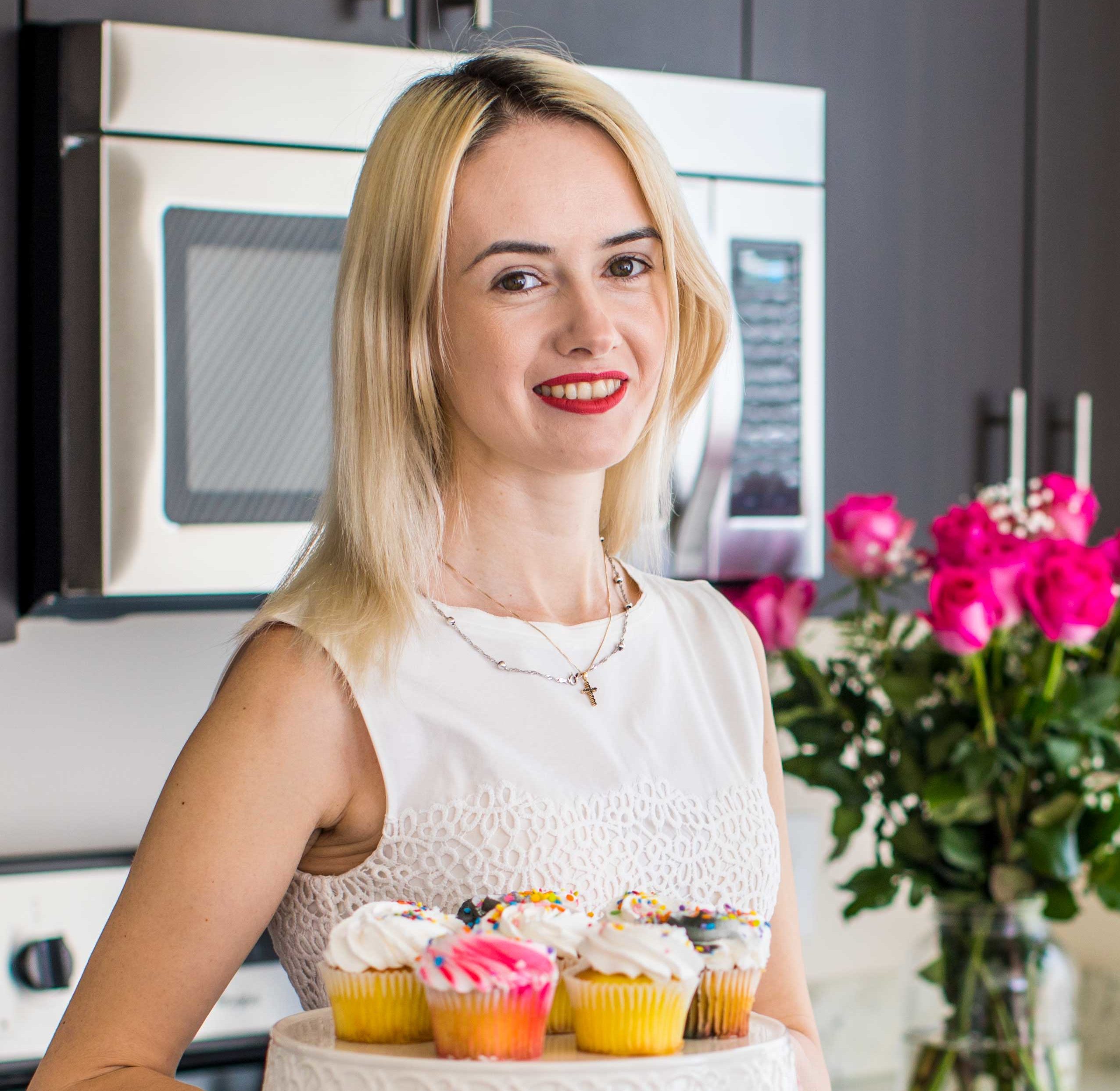 Follow us on Pinterest for more delicious recipes!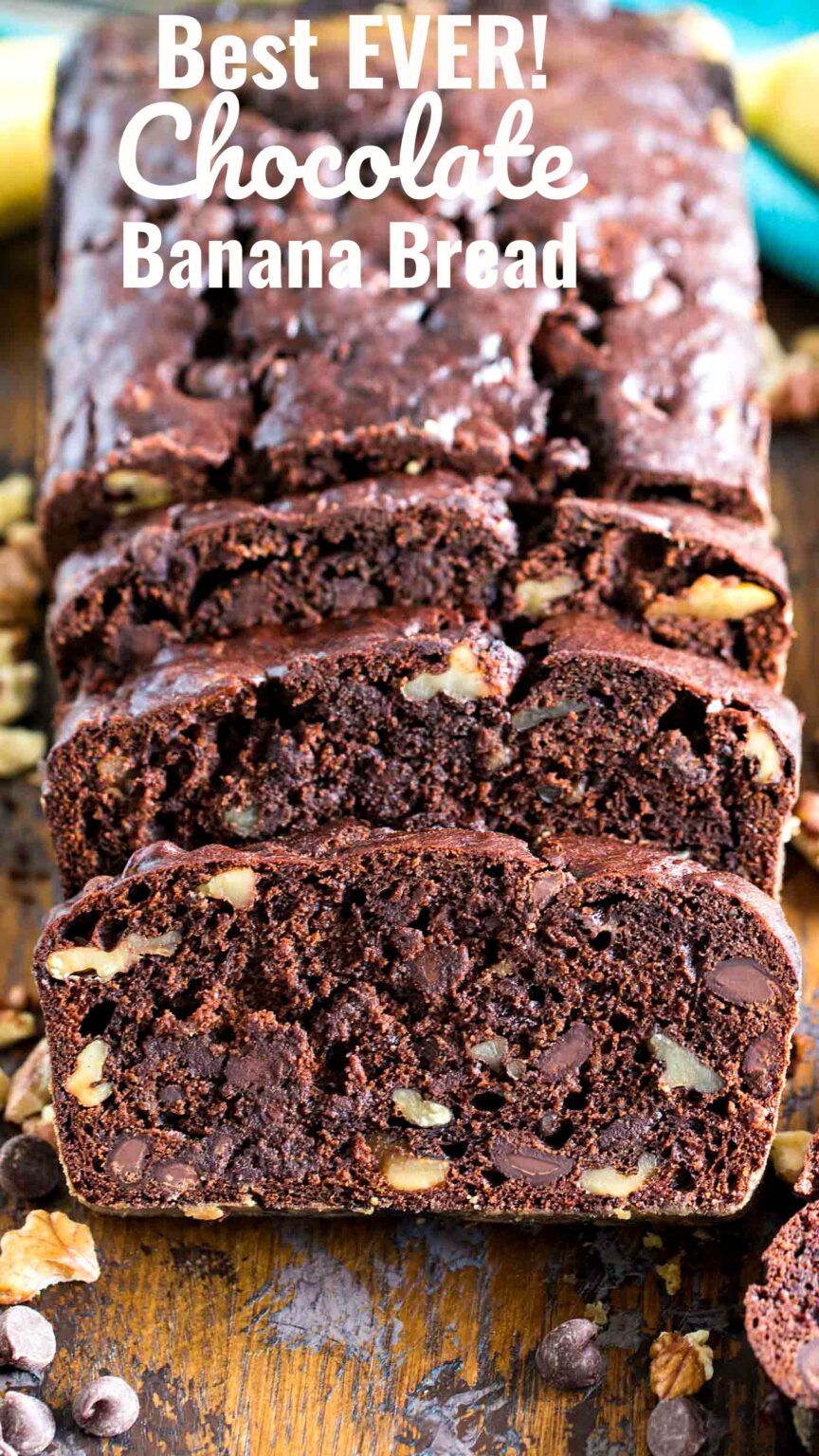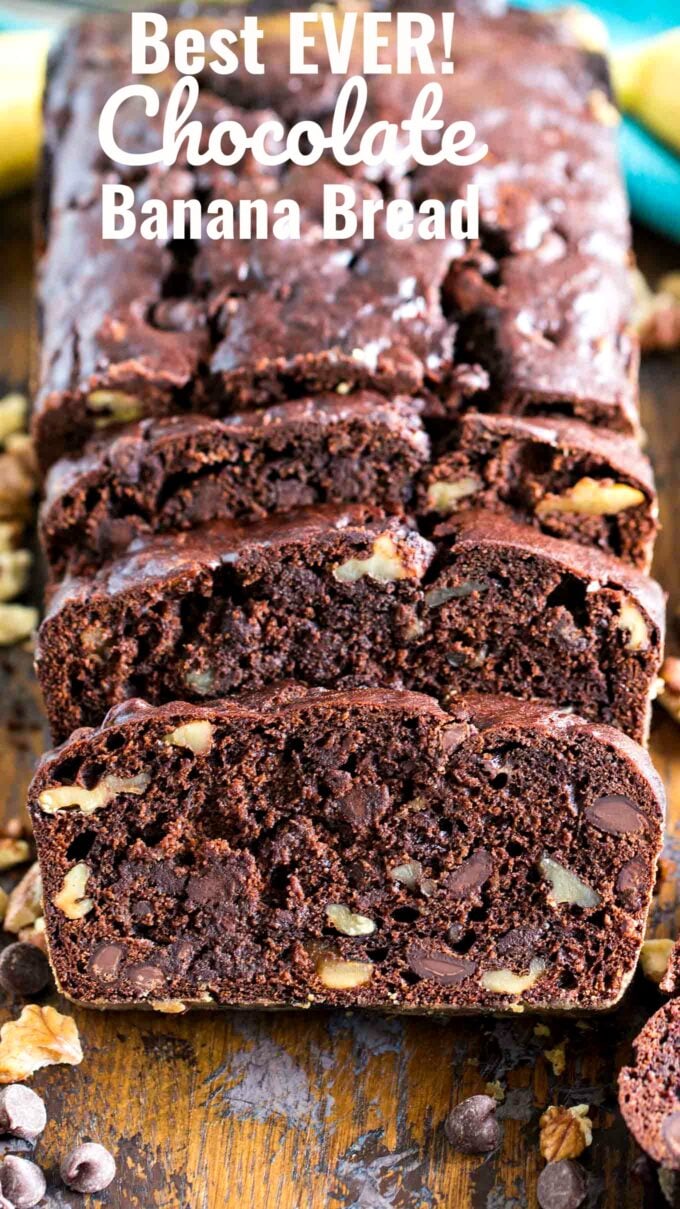 What Else Can You Add To Chocolate Banana Bread?
I love using extra chocolate chips in combination with walnuts. However, this recipe is very versatile, and feel free to add the following:
Chopped Peanut Butter Cups
Dried fruits, such as raisin
Peanut butter
White Chips
Candied Pecans
Chopped Oreos
How Long Will Chocolate Banana Bread Stay Fresh?
The Choco Banana Bread can be stored wrapped in plastic wrap at room temperature for about 4-5 days.
Can You Freeze This Chocolate Banana Bread?
Absolutely! Cool the cake completely and fully wrap it in plastic wrap, tightly. After that wrap in aluminum foil. Freeze for up to 2 months. Defrost before slicing.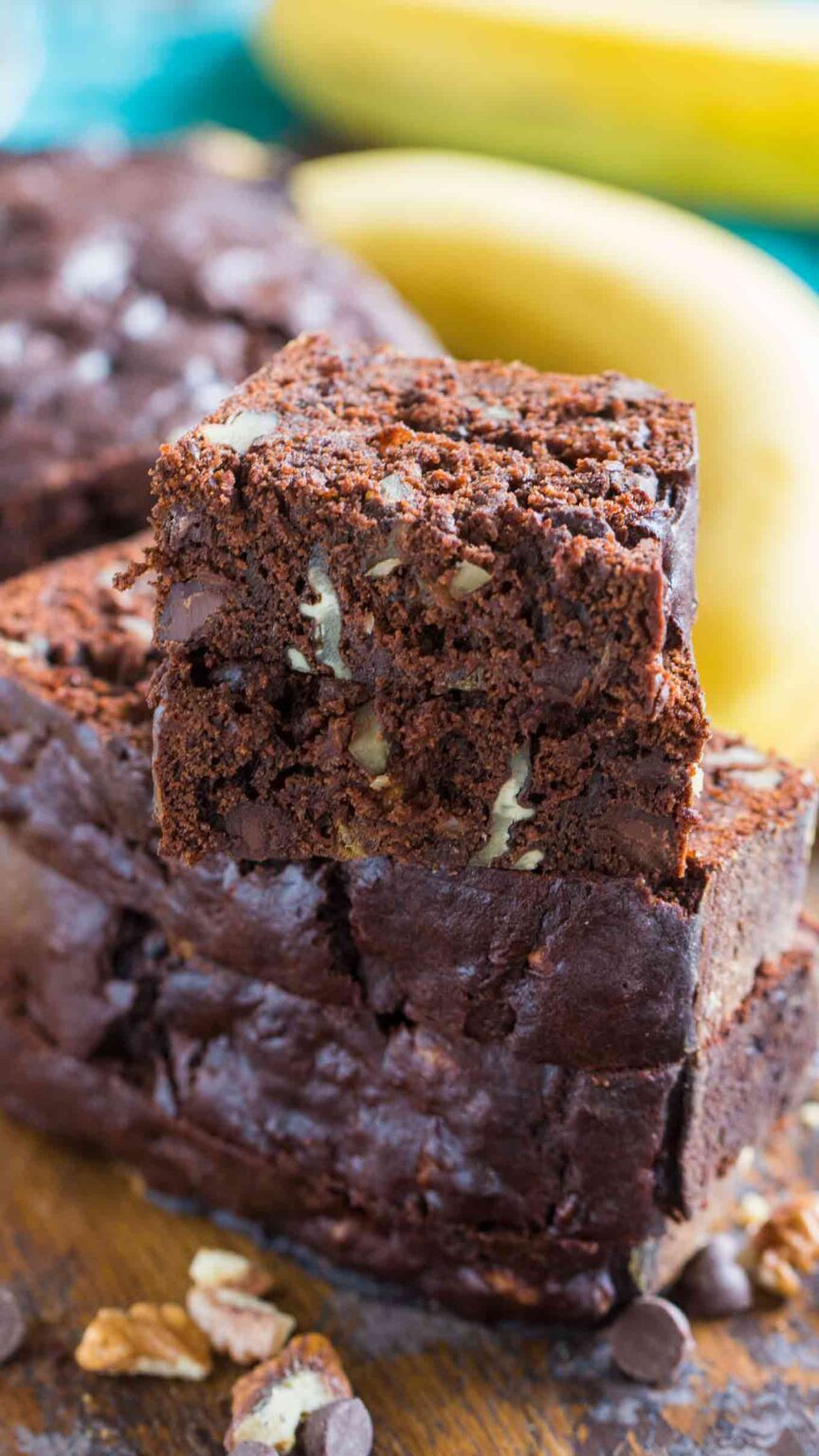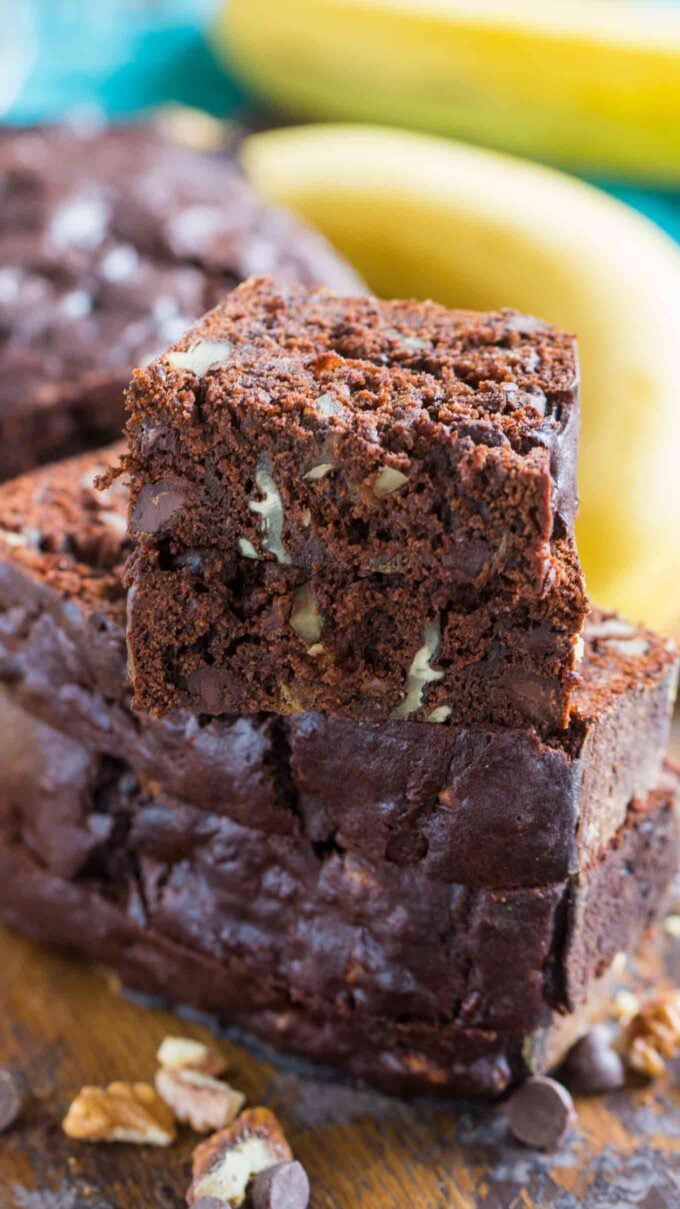 Chocolate Banana Cake Recipe Tips:
Chocolate is one of the main ingredients here, so make sure you use quality cocoa powder and chocolate, as this is basically how the bread will taste.
Also, bananas must be brown, very ripe, and easy to mush. Obviously, don't wait for the bananas to turn completely brown, that is overdoing it.
I also like to use larger chocolate chips, as they don't fully melt when baked and are amazing when you bite into them!
Similarly, I like the brown sugar in this recipe, it combines well with the flavors from the bananas, and also it locks in moisture, which gives the banana bread that irresistible crumb.
The chopped walnuts are optional, you can skip them if you don't like walnuts or just prefer not to use them.
You can use canola oil, vegetable oil, or even olive oil! Also, you can use melted coconut oil.
The sugar can be reduced from 1 cup to 3/4 cups.
Also, the bread is very dense, so it will not rise a lot in the oven, that is ok.
Watch the bread closely after 45-50 minutes of baking, to make sure not to over bake it. I like to check on it at the 50-minute mark and if it still needs more baking, check on it every 5-7 minutes until done. A toothpick inserted in the center of the cake should come out clean or just with some melted chocolate on, but not raw batter.
Serve the bread warm or room temperature, you can also warm up slices in the microwave, and it tastes delicious with some butter.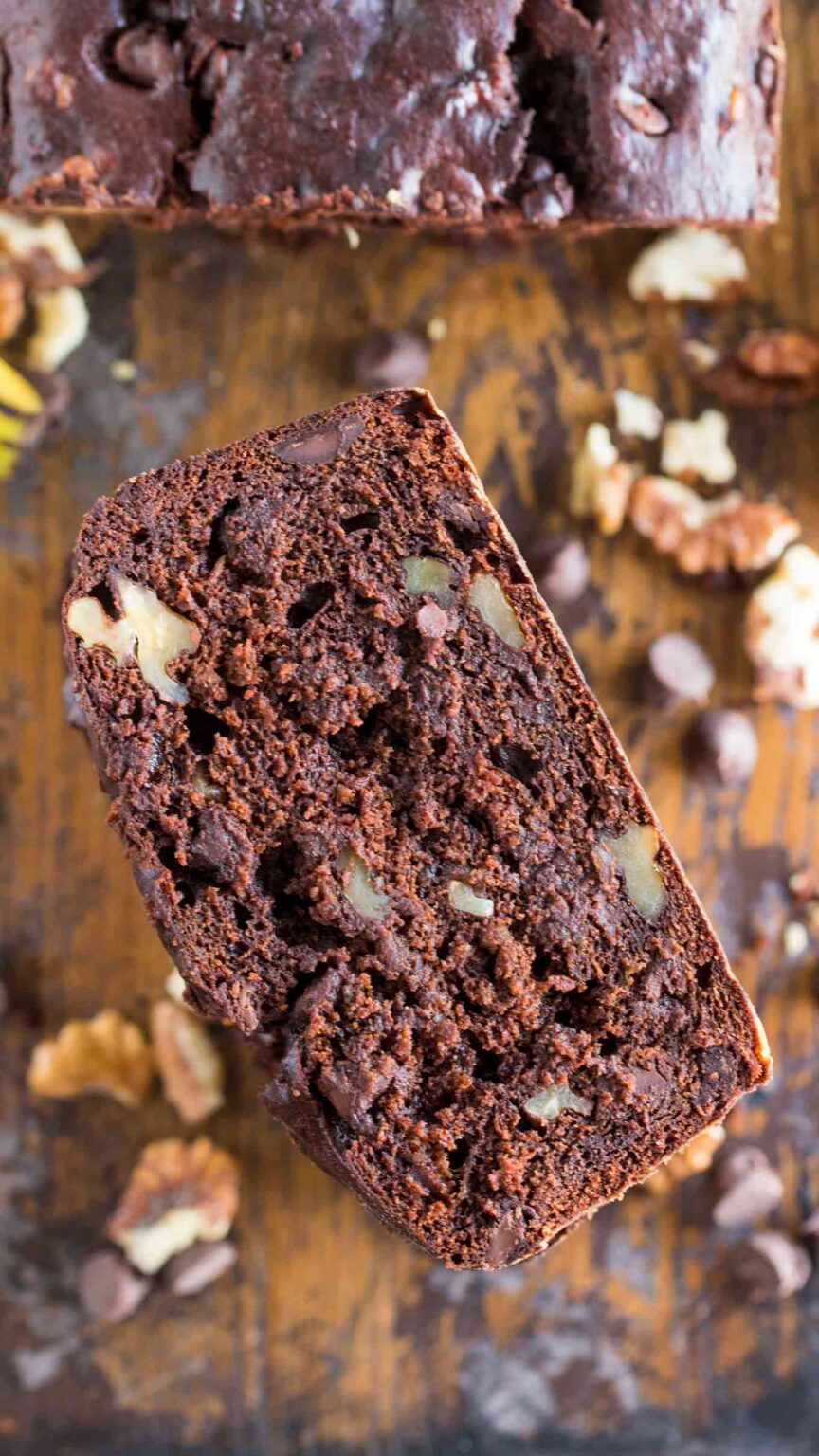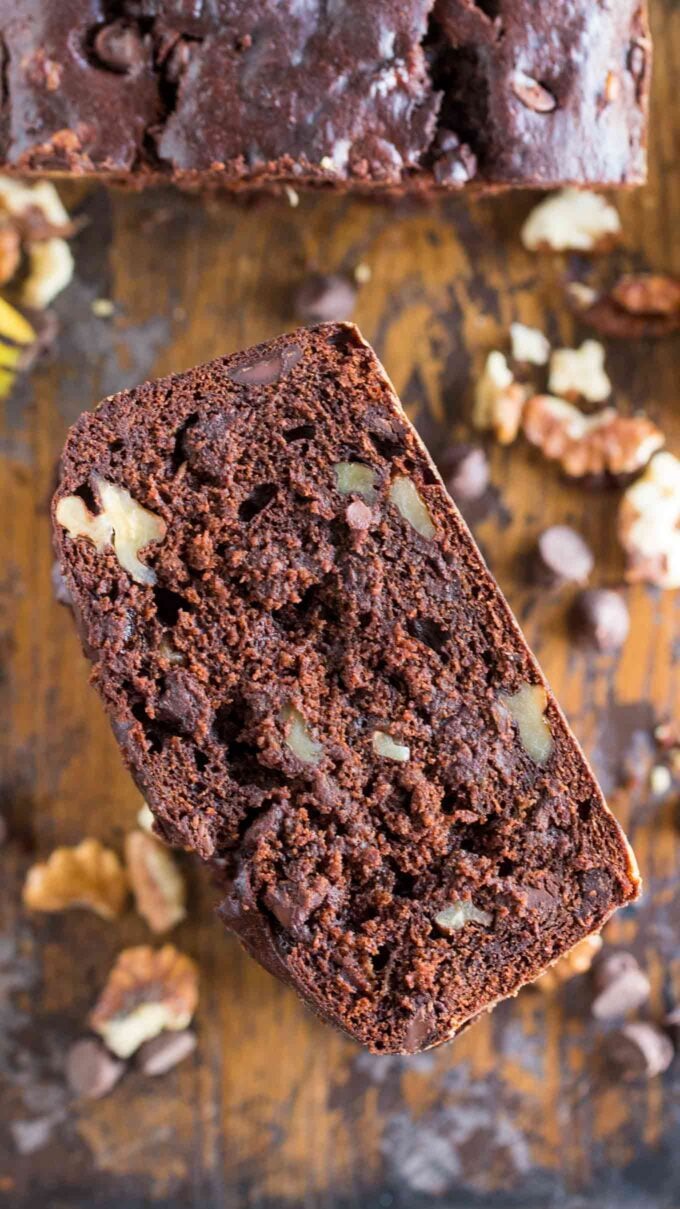 Looking for more chocolaty desserts? Check these out:
Tools/Ingredients I used to make this Chocolate Banana Bread Recipe:
Cocoa Powder – love this one, it is a bit more expensive, but it tastes amazing!
Loaf Pan – a huge fan of their products, always great quality!
Save Recipe
Best Chocolate Banana Bread
Best Chocolate Banana Bread is the best banana bread you will ever have! Incredibly tender, moist and flavorful, loaded with chocolate chips and crunchy walnuts!
Author: Catalina Castravet
Serves: 10 slices
Prep time:

10

minutes
Cook time:

1

hour
Total time:

1

hr

10

mins
Nutrition information
0 Calories: 329 Carbohydrates: 50 Protein: 4 Fat: 14 Saturated Fat: 5 Cholesterol: 17 Sodium: 136 Potassium: 443 Fiber: 4 Sugar: 32 Vitamin A: 90 Vitamin C: 3 Calcium: 97 Iron: 3
Save Recipe

More recipes you might love
Categories: