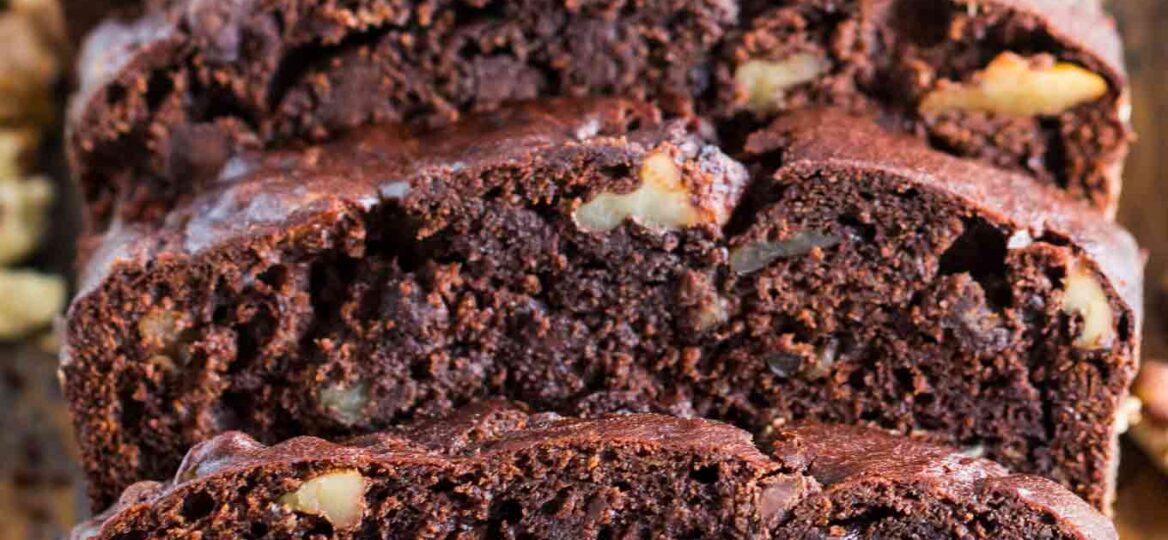 Best Chocolate Banana Bread [VIDEO]
Chocolate Banana Bread is the best banana bread you will ever have! Incredibly tender, moist, and loaded with chocolate chips! If you have brown bananas on hand, this is a great way to use them.
I like making quick breads as they serve a few purposes. They are a great snack or breakfast on the go, and also, they can be a delicious dessert. Also, they make a great hostess gift and can be healthy or more of a sweet treat. Try our Chocolate Chip Banana Bread with mashed bananas and chocolate chips or this Gluten-Free Banana Bread recipe flavored with espresso powder, ginger, and cocoa powder.
Chocolate banana bread is the best banana bread you will ever have if you love chocolate because it is a chocolate lover's dream. With the added cocoa powder as well as huge chocolate chips, the chocolate flavor bursts through with every bite. And it is the best way to use up those overripe bananas you have on your counter.
This recipe is fast and easy to make too, so you can make it any day you want something sweet that is also healthy enough to have for breakfast. No need for yeast or waiting for anything to rise. This is a quickbread recipe similar to a cake but in a prepared loaf pan.
All you need for this delicious recipe is mashed bananas, cocoa powder, semisweet chocolate chips, and a few other basic ingredients you probably already have in your kitchen.
You can change the recipe to suit your dietary needs. For example, use almond flour instead of all-purpose flour or use a sugar substitute instead of brown sugar.
If you would rather have individual servings, try our Chocolate Banana Muffins recipe that makes 12 deliciously moist muffins.
Follow us on Pinterest for more delicious recipes!
Ingredients needed:
Scroll down to our recipe card for complete instructions and exact measurements.
Flour: We used all-purpose flour, but you can use whole wheat, almond flour, or whatever you prefer.

Cocoa powder: The chocolate flavor is front and center here, so make sure you use high-quality cocoa powder, as this is basically how the end result will taste. Dutch-processed cocoa is a great choice.
Baking powder: Not baking soda.
Sea salt
Over ripe bananas: For the most flavorful bread, I highly recommend using overripe bananas, but not mushy and way too brown.

Large egg: At room temperature.
Unsalted butter: Melted and cooled to room temperature.

Canola oil: You can also use vegetable oil or whichever you prefer.
Light brown sugar: Dark brown sugar will work too. In this recipe, it combines well with the flavors from the bananas, and also it locks in moisture, which gives the dessert irresistible moist crumbs.
Vanilla: Pure vanilla extract.
Large semisweet chocolate chips: In addition, I like to use larger chocolate chips, as they don't fully melt when baked and are amazing when you bite into them! Don't be afraid to use extra chocolate chips in this recipe.
Chopped walnuts: Actually, the chopped walnuts are optional, you can skip them if you don't like walnuts or just prefer not to use them.
How to make chocolate banana bread from scratch?
Preheat: To start, preheat the oven to 350 degrees F and grease a 9×5-inch loaf pan with nonstick cooking spray.

Whisk the dry ingredients: In the meantime, whisk flour, cocoa powder, baking powder, and salt in a medium bowl. If you have the time and the sifter, it is even better to sift all of these ingredients together.

Mix the wet ingredients: Then, mash the ripe bananas in a large bowl with a fork until the large chunks are gone. Pour in the eggs, vanilla, oil, and butter. Stir until combined before whisking the brown sugar into the banana mixture.

Combine the dry and wet ingredients: After, fold the dry ingredients into the wet ingredients gently with a spatula. Do not overmix. Gently stir in the chopped walnuts and 3/4 cup of the chocolate chips.

Finish the chocolate banana bread: Lastly, spoon the batter into the prepared pan and add the remaining chocolate chips to the top of the bread.

Bake the banana bread: Finally, bake for 50 to 60 minutes or until it passes the toothpick test. A toothpick inserted into the middle of the bread should come out mostly clean with no raw batter. Begin checking it after 50 minutes and then every five minutes after.

Remove and cool: When it is done, remove the banana loaf pan from the oven and place it on a wire rack to cool for 15 minutes.

Loosen and sit: After, run a knife around the edges of the bread and gently remove the loaf. Let it sit on the wire rack for at least 30 minutes or until it is just slightly warm.

Cut and serve: Once it is cool completely, you can cut it and serve.
How to make instant pot chocolate banana bread:
Mash: To start, mash your bananas with a fork in a large bowl. Add the butter, oil, and sugars. Then, add eggs one at a time before mixing in the vanilla.

Whisk: Next, gently whisk your dry ingredients together and fold them into the wet ingredients gently, just until it is combined. Do not overmix.
Prepare and pour: After, prepare the loaf pan with nonstick spray and pour batter into the pan. Cover with foil tightly.
Pressure cook: Pour one cup of water into the bottom of your pot and place the pan on top of the trivet. Cook on high pressure for 55 minutes.

Release the pressure: Afterward, let the pot naturally release for 20 minutes, and then do a quick release to vent the remaining pressure.

Cool the bread: Last, put the chocolate banana bread loaf pan on a wire rack to cool for 10 minutes.

Slice and serve: Finally, remove from the pan carefully and let the bread cool completely before slicing and serving.
Recipe Variations:
Different oil: Try using melted coconut oil instead of canola oil for a hint of coconut.

Triple Chocolate: Melt some chocolate and drizzle it over the top of the bread right before cooking for triple chocolate banana bread.

Add sour cream: You can substitute the butter for sour cream for less fat. Hence, the texture will be denser but still moist.

Banana lovers: For serious banana lovers, use banana extract instead of vanilla extract for extra banana flavor.

Chocolate peanut butter: Add a couple of tablespoons of peanut butter to the batter before baking to make chocolate peanut butter banana bread. You can also add peanut butter baking chips.

Richer flavor: Another great addition is espresso powder. Just one teaspoon will make this chocolate banana bread ridiculously rich and flavorful.

Dry fruit: Toss in a cup of cranberries or raisins for a nice chewy addition.

Other fruit: Don't hesitate to add other fruits like blueberries, raspberries, or blackberries.

Other add-ins: Chop up some Oreo cookies or even some peanut butter cups to add to the batter for extra deliciousness.

Mini muffins: Use mini muffin pans to make chocolate banana bread muffins.
How to serve:
No matter how you serve this delicious chocolate banana bread recipe, it will be a hit. Whether you have it for breakfast, a snack, or a simple dessert, this is one of the best banana bread recipes you will ever make. Here are some great ideas to try:
Top a slice with a scoop of strawberry or vanilla ice cream for a decadent dessert.

Use it to make the best french toast you have ever tasted.

You could also smother your slice of bread with our homemade whipped cream.

For even more chocolate flavor, drizzle chocolate syrup or melted chocolate chips over the top before slicing and serving.
In fact, you could turn it into a festive banana chocolate cake by covering it with frosting and sprinkles.

Slice bananas into coins and place them on top of the bread for even more banana flavor.
Frequently Asked Questions
Why isn't my banana bread moist?
It is the moisture that is most important in a delicious chocolate banana bread. The ratio of banana to flour is key. If you use too much flour, it will be dry and if you use too much banana, it will be gooey in the middle. By following the recipe exactly, your bread should be moist like a cake.
If you followed the recipe and your bread is still too dry, it may be the way you measure your flour. Never use the measuring cup to scoop the flour out. Rather, use a spoon to fill the cup and then level it with the back of a knife for best results.
How can I make my bananas ripen faster?
Sometimes it seems like your bananas turn black within hours of bringing them home. Other times, you buy your bananas and several days later, they are still light yellow. If you are ready to make bread but your bananas are still yellow, just bake them.
First, preheat the oven to 300 degrees F and place parchment paper on a cookie sheet. Then, place unpeeled whole bananas on the sheet about two inches apart. Bake them for 10 to 15 minutes, depending on how ripe they are.
Can I freeze bananas?
Yes, you can freeze your bananas but not how you think. First, peel the bananas and get rid of the peels. Then put the bananas in a freezer bag whole or you can mash them first. Either way, they will be good in the freezer for up to three months.
How do you use the toothpick test?
If a wooden toothpick inserted into the middle of your bread comes out clean, it is done. If it has a few crumbs, that is fine. But if it has wet batter on it, you need to put your chocolate banana bread loaf back into the oven for a few more minutes.
How to store leftovers:
Room temperature: Store it at room temperature uncovered or covered for 2-3 days.
Refrigerate: First, let the dessert fully cool on a wire rack. After that, either refrigerate it whole in an airtight container or slice it into individual pieces. It will stay fresh in the fridge for up to 5 days.
Freeze: Start by making sure that it has been fully cooled. After that, wrap the bread or individual slices in plastic wrap and after that in foil. Next, place them in freezer-safe bags. Freeze for up to 3 months.
Thaw: To thaw transfer the bread from the freezer to the fridge to thaw overnight.
Serve: Serve it warm or at room temperature, you can also warm up slices in the microwave, and it tastes delicious with some butter.
More Quick Bread Recipes:
Recipe Tips:
Be sure to use unsweetened cocoa powder or your easy chocolate banana bread will be too sweet. However, do not use dutch process cocoa powder. It has to be natural cocoa powder.
If all you have is baking soda, don't worry. You can substitute it for baking powder. But baking soda is about three times as potent as a baking powder so use 1/3 teaspoon of baking soda for every teaspoon of baking powder the recipe calls for.

Be sure to mash the bananas instead of chopping them. You don't want that many lumps in your chocolate banana bread.

Use a fork to mix your batter and do not overmix. Too much mixing increases the gluten, making it chewy and dense.

Place parchment paper in the loaf pan with some hanging out for easier removal.

Use a cake pan instead of a loaf pan to make a chocolate banana bread cake.

For more chocolate flavor, use dark chocolate chips.
Best Chocolate Banana Bread
Ingredients
1

cup

all-purpose flour

1/2

cup

unsweetened cocoa powder

2

teaspoons

baking powder

1/2

teaspoon

sea salt

1 1/2

cups

mashed bananas

about 3 medium bananas

1

large egg

room temperature

1/4

cup

unsalted butter

melted

1/4

cup

canola oil

1

cup

light brown sugar

packed

1

teaspoon

vanilla extract

1

cup

large semisweet chocolate chips

1/2

cup

walnuts

chopped - optional
Instructions
Preheat the oven to 350°F.

Grease a 9-by-5-inch loaf pan with nonstick baking spray and set aside.

In a medium bowl combine flour, cocoa powder, baking powder, and sea salt, whisk to combine or if you have time, it is better to sift all the ingredients. Set aside.

In a large bowl, mash the ripe bananas with a fork until no large chunks are left. Add the slightly cooled melted butter, oil, vanilla, and egg. Stir until fully combined.

Whisk in brown sugar until smooth.

Add the dry ingredients to the wet ingredients, and gently fold in with a spatula, careful not to overmix.

Stir in 3/4 cup of the chocolate chips and the chopped walnuts, if using.

Transfer batter into the prepared pan and sprinkle the remaining 1/4 cup of chocolate chips on top of the bread.

Bake for 50-60 minutes, or until a toothpick inserted into the center of the bread comes out mostly clean, with no raw batter on it. Start checking on the bread at the 50-minute mark, and if still needs to bake more, check on it every 5 minutes.

Once fully baked, remove the pan from the oven and set it on a wire cooling rack. Let the bread cool in the pan for 15 minutes.

For easy removal, run a knife around the edges of the bread and gently remove it from the pan onto the wire cooling rack, let it stand until slightly warm.

Cut into slices and serve. Enjoy!