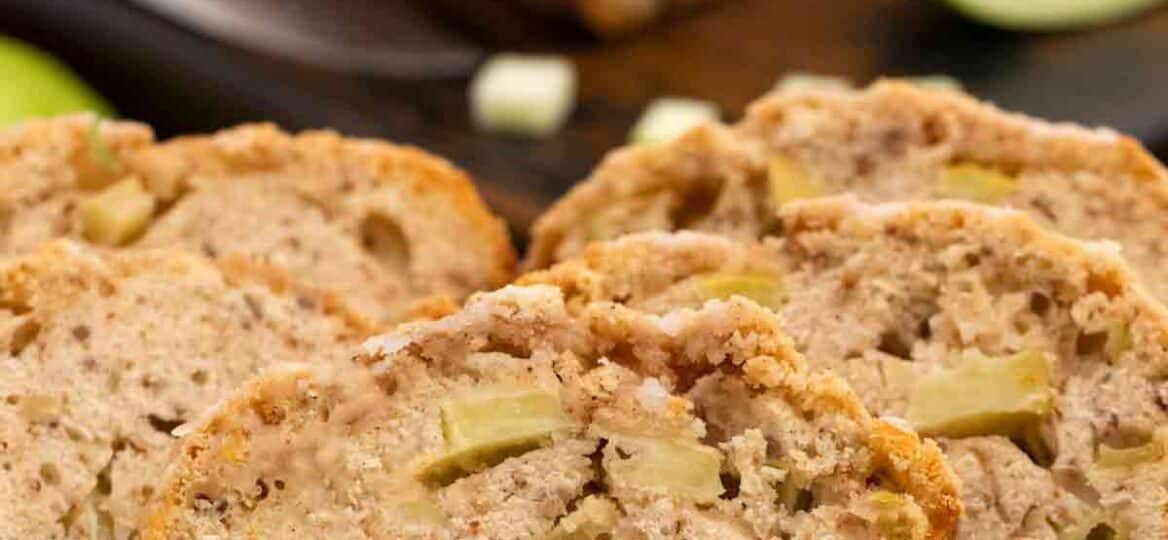 Apple Bread Recipe [Video]
Apple Bread is bursting with warm autumn flavors! Fully loaded with apples, walnuts, spice, and drizzled with a sweet and buttery glaze, this is going to be a hit all year long.
Want more of those fall feels on your plate? Then, cozy up with this Homemade Apple Cider paired up with these moist Pumpkin Muffins that taste like pumpkin pie. Also, the fantastic cinnamon-pumpkin combo of these Pumpkin Madeleines with Cinnamon Frosting is irresistible too!
Easy Dutch Apple Bread Recipe
This Easy Homemade Apple Bread is one of my fall must-bakes. I mean, I love a good crisp apple. It's the perfect sweet and juicy snack! However, something magical happens when bread meets apples. That fruity flavor combined with butter, vanilla, cinnamon, nutmeg, flour, and sugar is absolute heaven in a slice.
This loaf is tender and loaded with apple flavor. Also, the best thing about this dessert is that it tastes even better the following day. The leftover can easily be wrapped and stored. The moisture of apples makes it even more tender as it sits, especially when adding a pad of melted butter!
Aside from being delicious, this loaf fills up your kitchen with the most wonderful autumn smells. It keeps well too, so you can always have some no matter the season.
Best apples to use for Apple Bread?
I use green apples here because the tartness balances out the sweetness of the other ingredients. For this reason, I also like using Granny Smith type for baking. Honeycrisp is a great choice too.
However, feel free to use your favorite! Just make sure they're not overripe or too soft, or it won't hold up to baking and the bread can turn mushy.
How to make homemade Apple Bread from scratch?
Prepare your ingredients for the bread, topping, and glaze.
For the apple bread batter:
Preheat your oven to 350F.
Get some parchment paper to line your bread pan, or use non-stick cooking spray.
Cream your sugars and butter.
Next, stir in your vanilla, milk, and eggs.
Mix in the cinnamon, nutmeg, baking powder, salt, and flour.
Fold in the nuts and apples, and pour the batter into your baking pan.
For the topping:
Combine all topping ingredients.
Mix with a pastry mixer or a fork until you achieve a crumbly texture.
Sprinkle over the apple bread batter.
How to bake the apple bread?
Bake the loaf for 55-60 minutes.
Check for doneness using a toothpick. The loaf is done when the toothpick comes out clean.
Cool for a bit then removes from pan.
For the glaze:
Whisk all the ingredients for the glaze until you achieve a smooth consistency. Then, drizzle the glaze over the loaf.
Slice it and serve warm with more glaze if desired.
Possible apple bread variations:
Turn this into a Dutch Apple Bread by topping with a cinnamon streusel.
You can make this in a loaf pan or a bundt pan, depending on your preference.
For snickerdoodle version, fold in some cinnamon baking chips instead of nuts.
Also, you can add other fruits like raisins, cranberries, even strawberries!
Load it up with vegetables like carrot and zucchini.
Bake a nutty version by swapping in your favorite nuts.
Play with the glaze – decadent chocolate glaze or maple glaze complement this apple bread nicely!
Can I use shredded apple instead of chopped apple for this bread?
Sure! I find that shredding creates a much smoother texture for apple bread. However, I have to admit I love biting into those sweet apple chunks in my bread!
How to store homemade Apple Bread?
First, let it completely cool. Then, wrap it in foil. Keep in the fridge up to five days, or freeze for around two months.
More delicious Apple desserts:
Easy Homemade Apple Bread Recipe Tips
Peel your apples! The peel separates from the fruit during baking, which creates an unpleasant texture in the bread.
In addition, ensure not to overmix the batter. For best results, mix the dry and wet ingredients separately. Mix until just combined.
Make sure to line your pan your parchment paper, grease and flour the pan, or coat with non-stick spray so the bread will come out cleanly.
Follow baking time closely so your bread doesn't fall apart.
To check the doneness, insert a toothpick into the middle of the bread. If it comes out clean the loaf is done baking.
Make sure the loaf is cool before you drizzle the glaze so it doesn't slide off.
Also, instead of the glaze, you can top this loaf with my keto caramel sauce.
Nuts can be added to the batter for a crunchier texture. Almonds, pecans, or walnuts will work great.