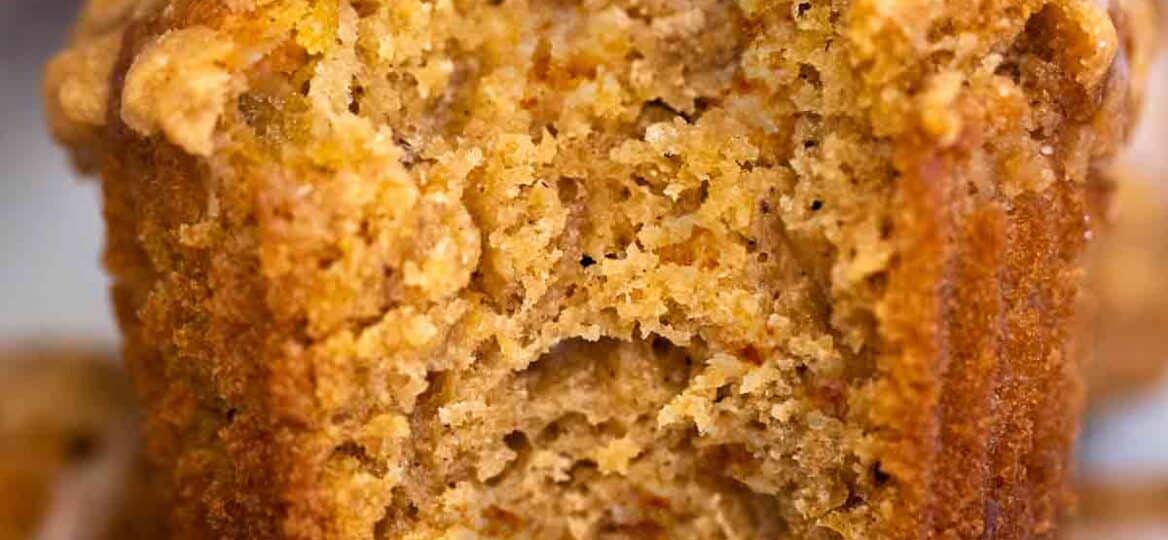 Pumpkin Muffins Recipe [Video]
Pumpkin Muffins are tender, moist, and bursting with pumpkin pie flavor. They are a great treat for a fall breakfast or an awesome Halloween or Thanksgiving dessert.
Pumpkin recipes are ideal for Thanksgiving and Halloween. For more fall favorite desserts, try our delicious pumpkin bread, instant pot pumpkin pie, and apple slab pie.
Pumpkin Muffins are an easy recipe to make with a few simple ingredients. During the pumpkin season, this is my favorite recipe to make because the spices and aromas are out of this world. They always turn out moist, tender, with a sweet and earthy flavor to them.
Also, they have the right amount of spices and the perfect texture. The streusel topping gives them a nice crunch and a boost of flavor.
Although Halloween is a time to make some creative treats, I also like to bake these for people that would like to eat something simple without all the spooky decorations. But if I do want to make them look fit for the theme, I can easily top them off with a scary icing design.
This is a pretty versatile dessert that I can enjoy not only during Autumn but all year round. During fall, there may be an overload of leftover purees which you can use and for other seasons, canned ones will also work fine.
These are the best muffins to enjoy during the Halloween or Thanksgiving season. They are festive, moist, and super delicious!
Ingredient list:
The recipe calls for the following ingredients:
All-purpose flour
Baking soda: Make sure to use baking soda not baking powder.
Pumpkin pie spice
Brown sugar and white sugar: Feel free to adjust the sweetness based on your preference.
Pumpkin puree: I love using homemade pumpkin puree in this recipe because I can control the flavors. However, you could also use canned puree.
Oil: Canola oil, vegetable oil, olive oil, or coconut oil will work.
Eggs
Vanilla extract: If you are not a vanilla fan, simply omit it.
Buttermilk: This makes the muffins moist and fluffy. You can also use whole milk instead.
Unsalted butter
Powdered sugar, maple syrup, milk, and vanilla extract: For the maple icing.
How do you make Pumpkin Muffins?
Watch the recipe video tutorial attached. But here are the general steps:
Prepare baking necessities. First, preheat the oven to 425 degrees F and prepare your cupcake pan with the necessary liners.
Mix the wet ingredients: Next, in a large bowl, combine the wet ingredients such as oil, sugar, puree, eggs, vanilla, and buttermilk.
Combine the dry ingredients: In a separate bowl, whisk flour, baking soda, cinnamon, pumpkin spice, and salt.
Make the muffin batter: Then, pour the first wet mixture onto the flour mixture, and gently mix together. Spoon mixture into the cupcake liners.

Mix crumb topping. Combine flour, sugar, and pumpkin pie spice, and melted butter. Use a fork to mix until there are crumbs. Get a spoon or an ice cream scooper and add batter onto the unbaked mixture.
Bake: Next, pop them into a preheated oven, and bake for 5 minutes at the initial temperature. Then, lower the temperature down to 350 degrees F for another 16 minutes. Let cool afterward while making the icing.
Make icing. Mix sugar, syrup, milk, and vanilla together. Make sure they are smooth and well combined before drizzling a generous amount on top of the muffins.
Possible Variations:
Add-ins: Feel free to add raisins, walnuts, pecans, and chocolate chips to the batter.
Cinnamon: Spread some cinnamon powder on top of the icing.
Oatmeal: Mix some oatmeal into the crumb toppings.
Flour alternative: I use all-purpose flour. However, use whatever you have on hand. Whole wheat flour works really great as well.
Gluten-free: Turn them into gluten-free muffins by using gluten-free flour.
Cake mix: Alternatively, substitute the flour with cake mix.
Cream cheese frosting: Instead of maple icing, go with cream cheese frosting.
Butternut squash or sweet potatoes: Substitute the pumpkin with butternut squash or sweet potatoes instead. A great and delicious alternative!
Make your own pumpkin pie spice:
Simply combine 1/4 teaspoon of each ground cinnamon, nutmeg, ginger, and cloves. Also, you could add a bit of ground allspice for a boost of flavors.
Just whisk the ingredients together, and you have a homemade spice!
How do you know when they are done?
Because every oven is different, it is important to keep a close eye on them after the 20-minute mark. Once they turn golden-brown, they are about done.
To check for doneness, insert a wooden pick into the center of the muffin. If it comes out clean, then they are done.
How to make homemade pumpkin puree?
First, place a fresh pumpkin on a wooden board.
Then, using a sharp knife, cut it in half.
Spoon out the pumpkin seeds and the flesh out.
Drizzle with some olive oil on top, and roast for 40-50 minutes.
Using a food processor or immersion blender, pure pumpkin till smooth.
Use it right away, or store it in an airtight container for later use.
Can you make Pumpkin Muffins in advance?
Yes! First, let them completely cool at room temperature. Then, transfer the muffins to an airtight container, and refrigerate them for up to 3 days.
Can you freeze them?
Of course! But, do not forget to let it be completely cool first at room temperature.
Afterward, you can wrap them in aluminum foil or freezer bags and store them for 3 months.
More pumpkin recipes:
There is just something so nostalgic, childlike, and extraordinary when it comes to pumpkins. They can even be added to any occasion as a snack or a dessert which is why it is so convenient to know some recipes for it.
If you have some leftover pumpkin puree, why don't you try some of my favorite recipes that I use for any event:
Cooking Tips:
If you want a healthier and fuller icing, try to switch from store-bought syrup to maple syrup.
Also, you can use either muffin tins or muffin cups for baking.
To reduce the sugar intake, simply substitute granulated sugar with stevia.

Also, if you want more fall flavors, feel free to use more spices such as ground cloves, extra cinnamon, etc.
For a healthier treat, skip the icing altogether.
To make a double batch, simply double the ingredients, and follow the same steps. Just cook in batches, and do not overcrowd the oven.