Pumpkin Bread Recipe [Video]
The Best Pumpkin Bread Recipe packs the classic flavors of fall in a loaf that stays moist for days! Filled with warm autumn spices and the perfect level of sweetness, it's impossible to stop at just once slice.
Want to flex your baking skills? Here's another fall favorite for you: Apple Bread! For a kid-friendly recipe that sneaks in a ton of veggie goodness, you should try this Carrot Zucchini Bread. Finally, this Chocolate Coffee Bread is a sure hit for chocolate lovers.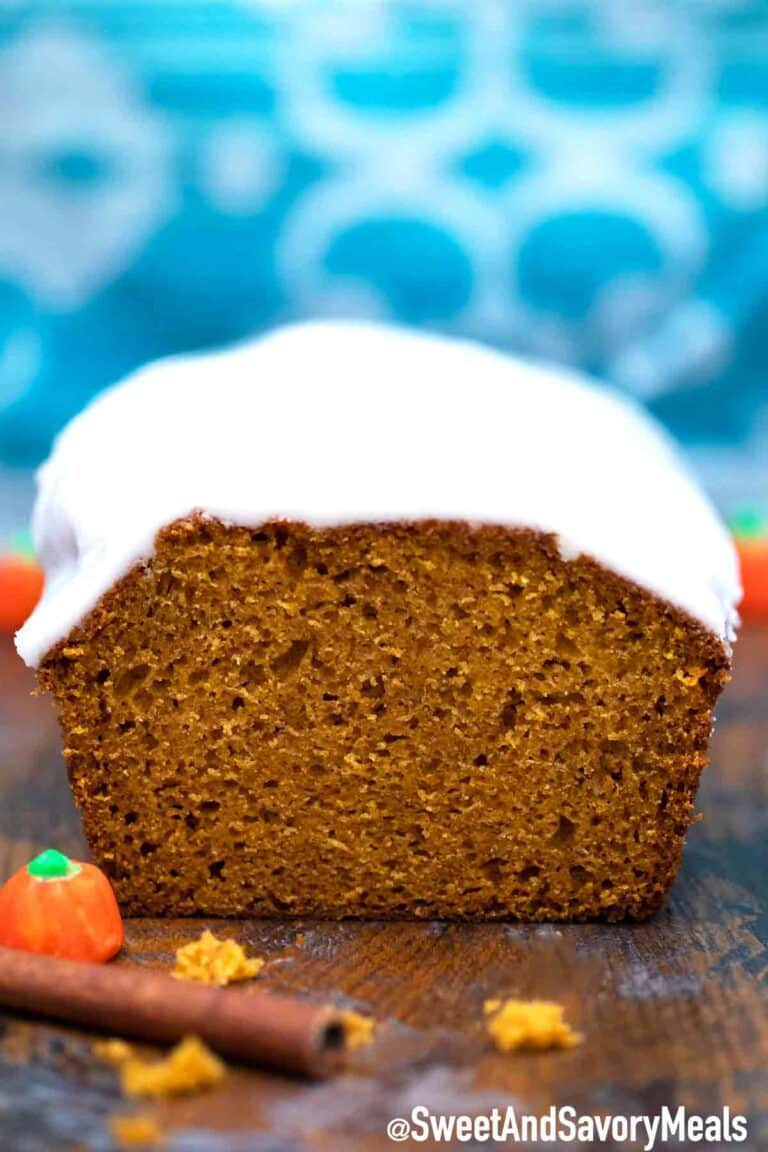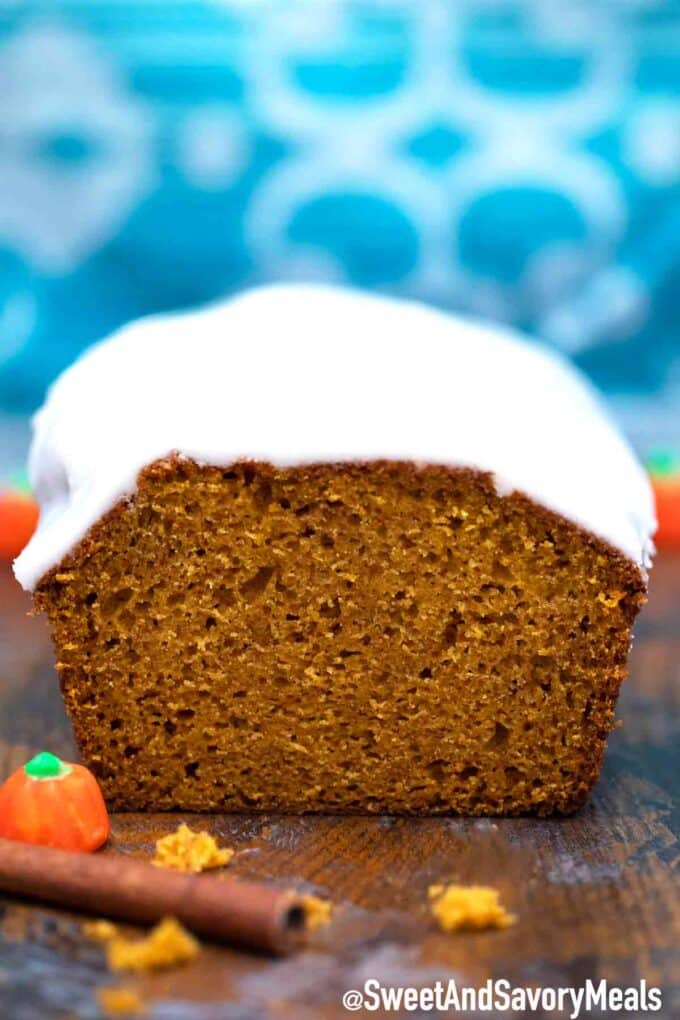 Best Pumpkin Bread Recipe
Pumpkin Bread is the best way to welcome the fall season. It's got all those autumn flavors we know and love— pumpkin, spices like ginger, cloves, cinnamon and nutmeg, and just a hint of vanilla. It's wonderfully moist and stays like that for several days.
Also, no kneading is required, because this is a quick bread with a few easy preparation steps. Just combine the ingredients according to the recipe. Then, pop it in the oven, and, in less than one hour, you'll have a house smelling of sweet autumn spices. So flavorful and delicious, that this will quickly become your favorite autumn treat.
Because pumpkin bread is so easy, baking these loaves can be a fun family activity. Let the little ones get in there and help stir the batter! You can even make it a nice tradition every year. Aside from enjoying it yourself, these loves also make for fantastic gifts and for potlucks because it's a breeze to make a big batch.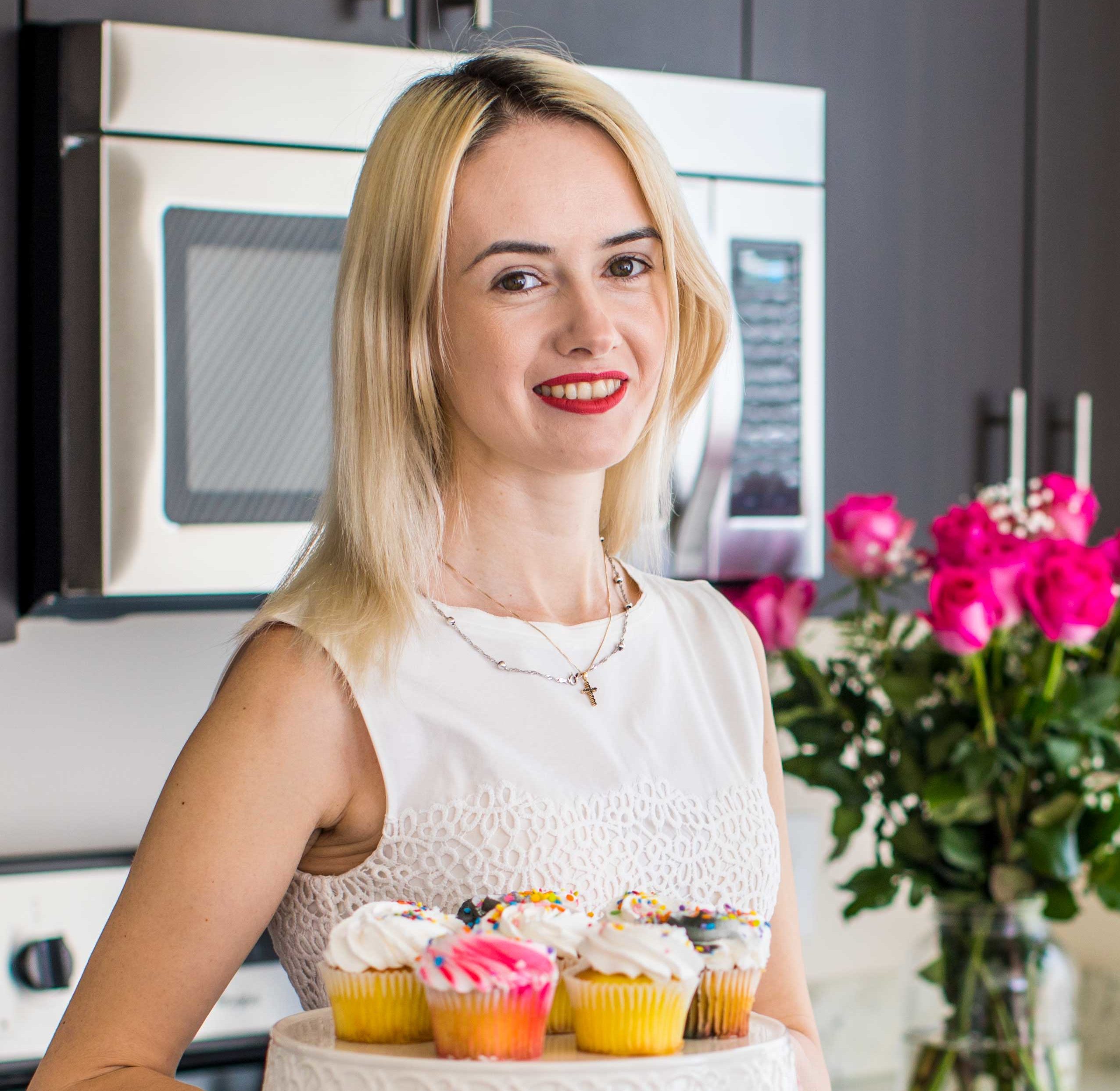 Follow us on Pinterest for more delicious recipes!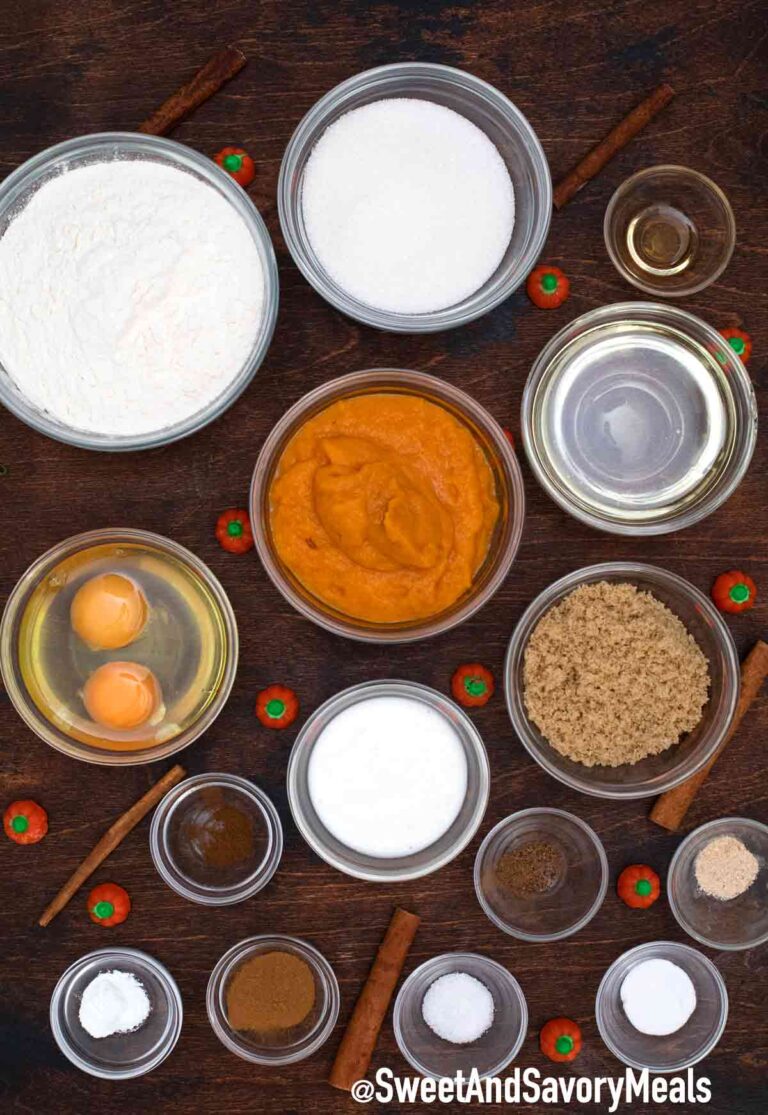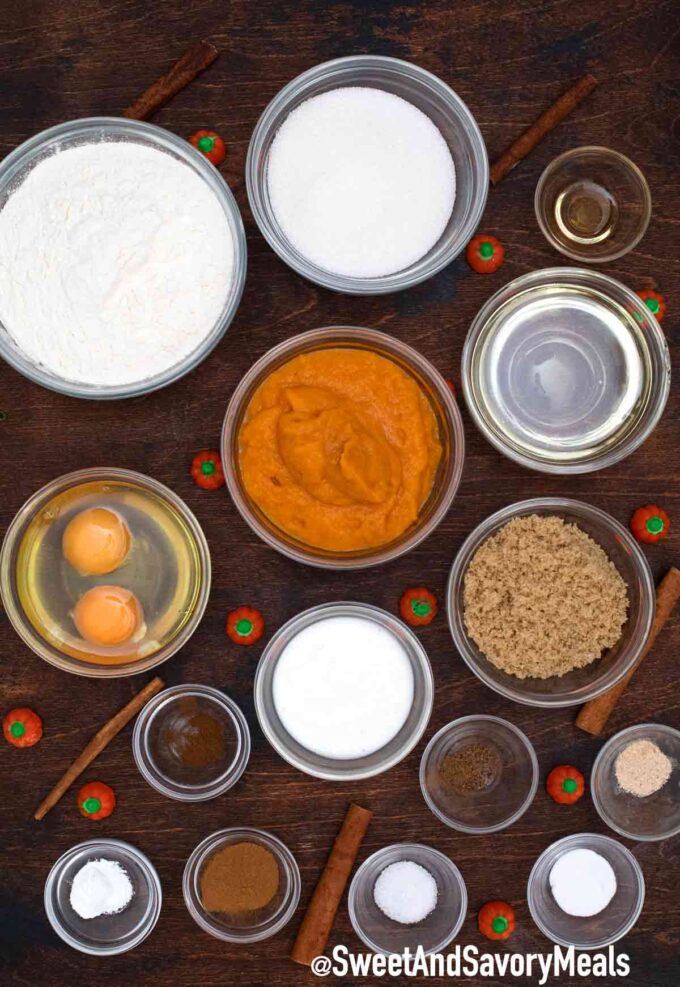 How to make the best pumpkin bread?
Preheat the oven: Preheat your oven to 350F and grease a 9×5 loaf pan. This will make it effortless to remove the baked loaf.
Mix the ingredients: Whisk your dry ingredients together (flour, spices, salt, baking powder, baking soda). Next, do the same for your wet ingredients (puree, vanilla, eggs, buttermilk, sugars, and oil). Then, combine both mixtures together.
Bake: Pour into pan and bake for around an hour.
Let it rest: Cool inside the pan for around 20 minutes, then transfer to a wire rack to cool completely.
Serve: Slice and serve.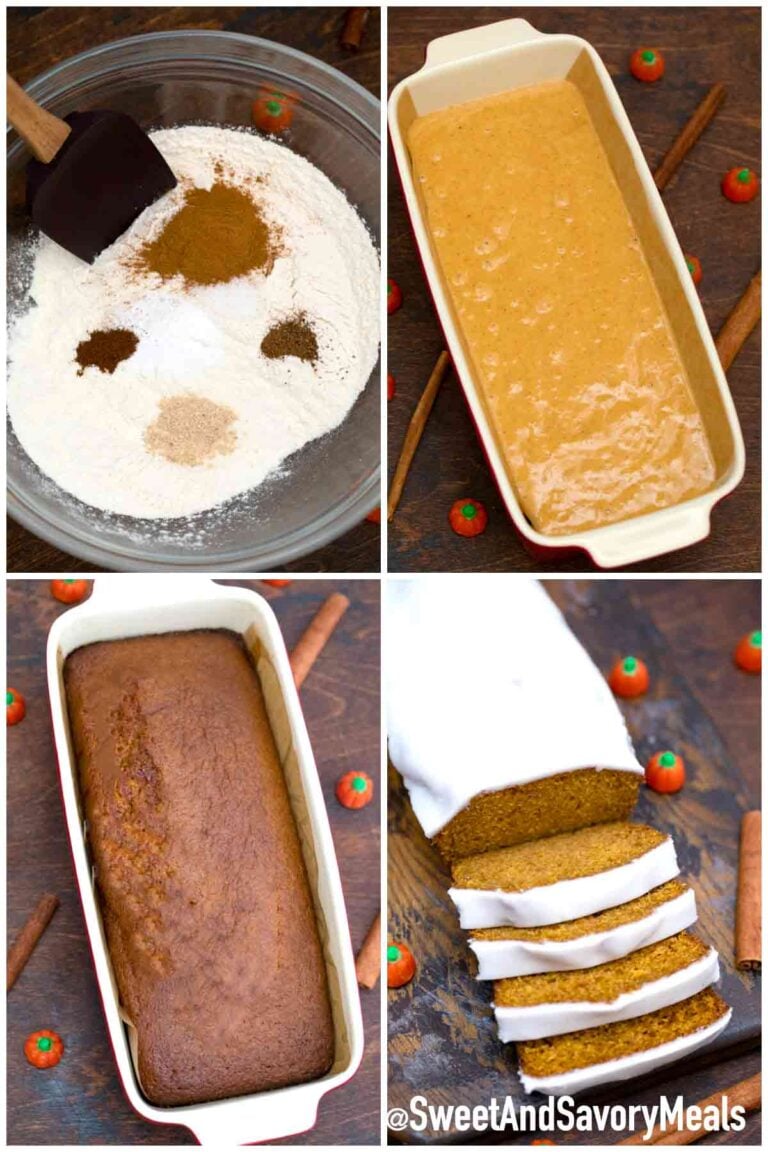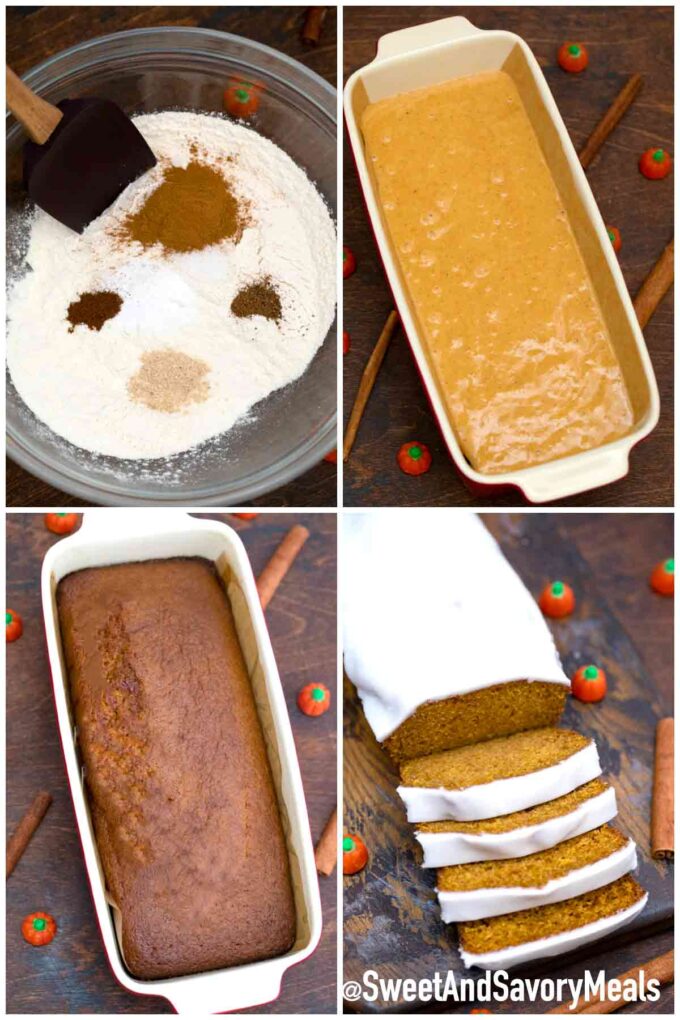 Pumpkin bread recipe variations:
The loaf is easily adjustable and can be made by adding or swapping various ingredients. Some of our favorites are:
Add chocolate chips: Feel free to add your favorite chocolate chips (semi-sweet complements the flavors so well!), white chocolate chips, or caramel chips.
Add some drizzle on top: Drizzle with salted caramel or chocolate sauce.
Mix in some nuts: For a crunchier texture, mix in a cup of your favorite nuts.
Make it vegan: Use butter and egg substitutes to make it vegan.
Reduce the sugar intake: To reduce the sugar, simply halve the sugar level to make it less sweet.
Throw in some dried fruits: Raisins or Gogi berry would work great.
Mix in some berries: Also, if you like it fruitier, perk it up with fresh cranberries, strawberries, blueberries, etc.
Top it with cream cheese frosting: This is super delicious!
Double the spice mix for more intense flavor
What to eat with Pumpkin Bread?
It's already so good plain or with salted butter! But I also love eating with Nutella, jam, cream cheese, or with this Slow Cooker Apple Butter. You can also use the Cinnamon Honey Butter in this recipe.
Also, it tastes phenomenal with some Homemade Blueberry Sauce, Cranberry Sauce, and Keto Caramel Sauce too!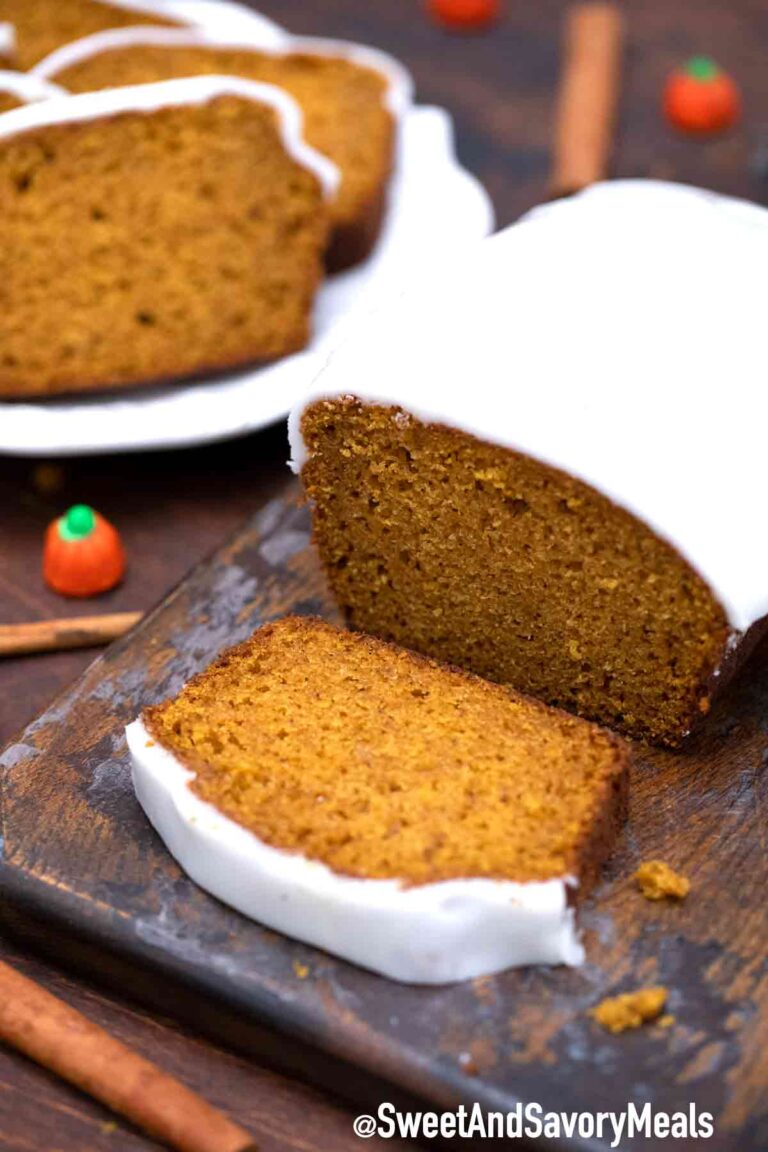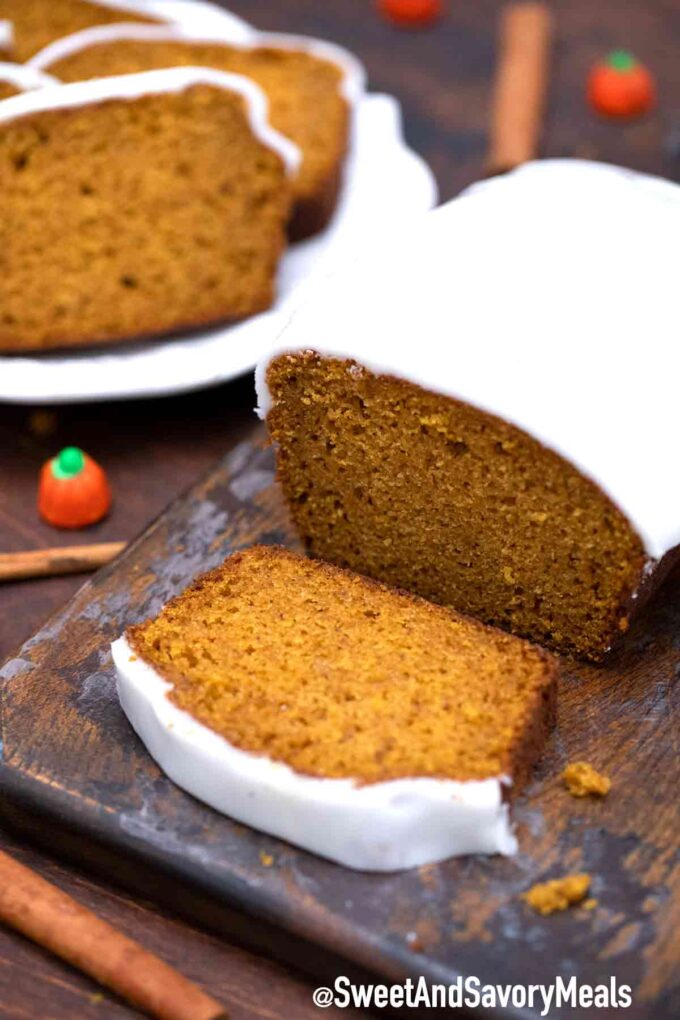 How to keep pumpkin bread moist?
The oil, buttermilk, and puree are the key to this ultra-moist loaf. In case your loaf dries out after several days, sprinkle with some water, wrap in foil, and warm in the oven for around 15 minutes.
More delicious pumpkin recipes:
How to store pumpkin bread?
This will stay good at room temperature for up to four days.
You can also refrigerate it. First, let it cool completely. Then, wrap in foil, and transfer it to the fridge for up to 7 days.
To freeze, wrap it with foil, or use an airtight container. Then, freeze it up to three months.
Please keep in mind, that the loaf easily absorbs other odors, so make sure you place it in an airtight container.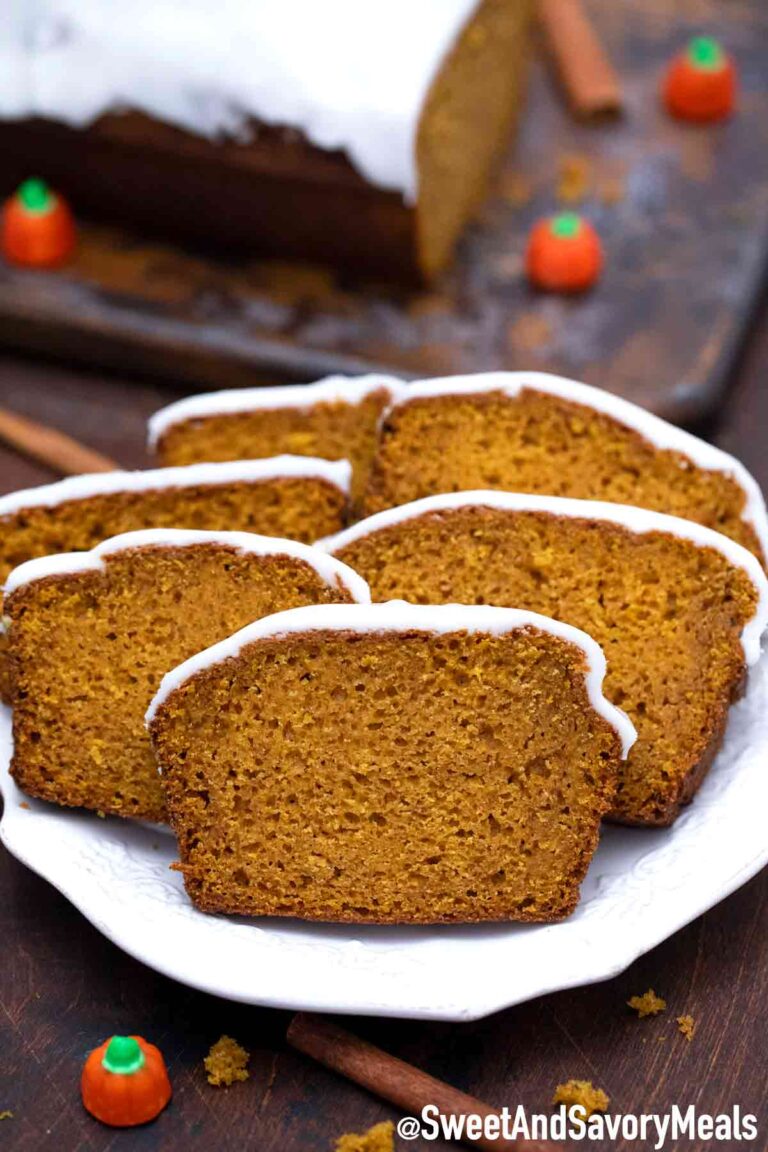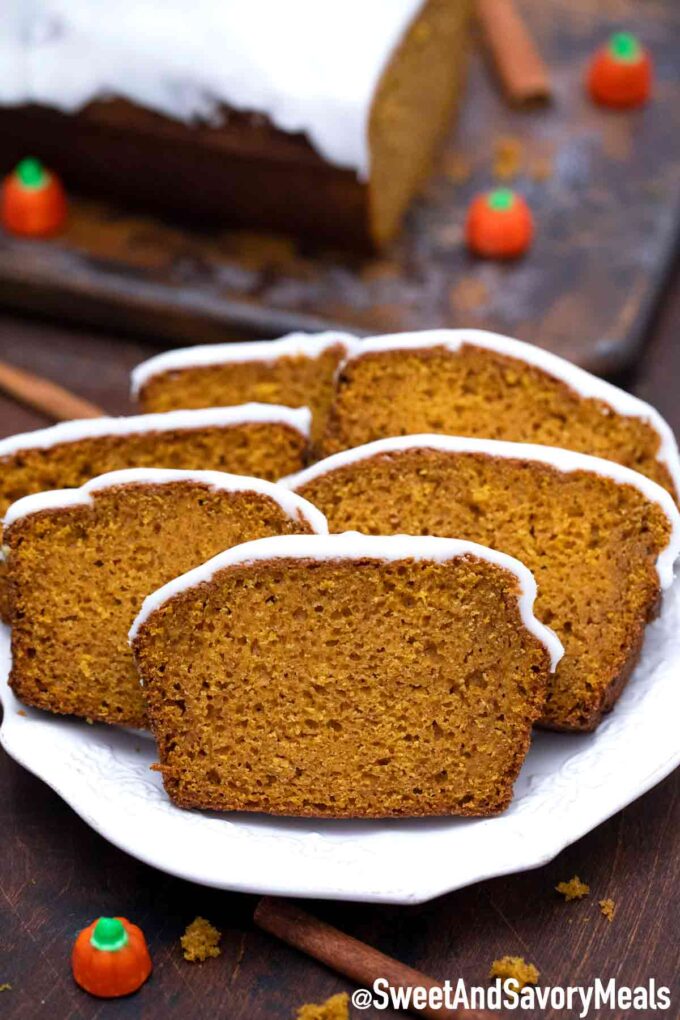 Pumpkin Bread Recipe Tips:
If adding fresh berries, toss them in a bit of flour first so they don't sink to the bottom of the loaf.
Feel free to make your own puree if you don't want to use canned.
If using homemade, blot out your puree to eliminate extra moisture. Also, do this by measuring it out according to the recipe, then using a paper towel to squeeze the excess liquid.
Don't forget to cool the loaf in the pan first. This allows the loaf to it hold its shape.
No buttermilk? Then, make your own buttermilk! Place 1 Tbsp white vinegar or lemon juice in your measuring cup, then add enough milk to reach one cup. You can also use plain yogurt instead of buttermilk.
You can easily make turn this recipe into muffins. Simply, bake in muffin pans instead of a loaf.
Similarly, to make it into a bundt cake, use a bundt pan for baking.
Use an oven thermometer for precise baking temperature.
Chop it up and make it into bread pudding!
Save Recipe
The Best Pumpkin Bread Recipe
The Best Pumpkin Bread Recipe packs the classic flavors of fall in a loaf that stays moist for days! Filled with warm autumn spices and the perfect level of sweetness, it's impossible to stop at just once slice.
Author: Catalina Castravet
Serves: 8 slices
Prep time:

20

minutes
Cook time:

1

hour
Total time:

1

hr

20

mins
Nutrition information
Calories: 349 Carbohydrates: 52 Protein: 2 Fat: 15 Saturated Fat: 2 Cholesterol: 42 Sodium: 313 Potassium: 132 Fiber: 1 Sugar: 49 Vitamin A: 4838 Vitamin C: 1 Calcium: 51 Iron: 1
Save Recipe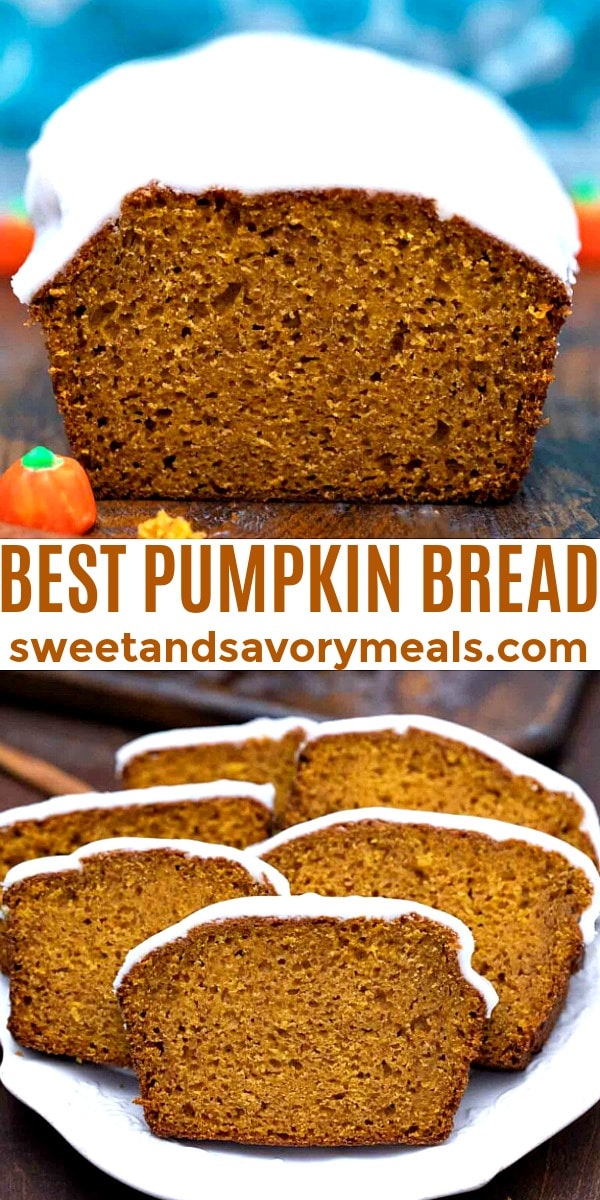 More recipes you might love