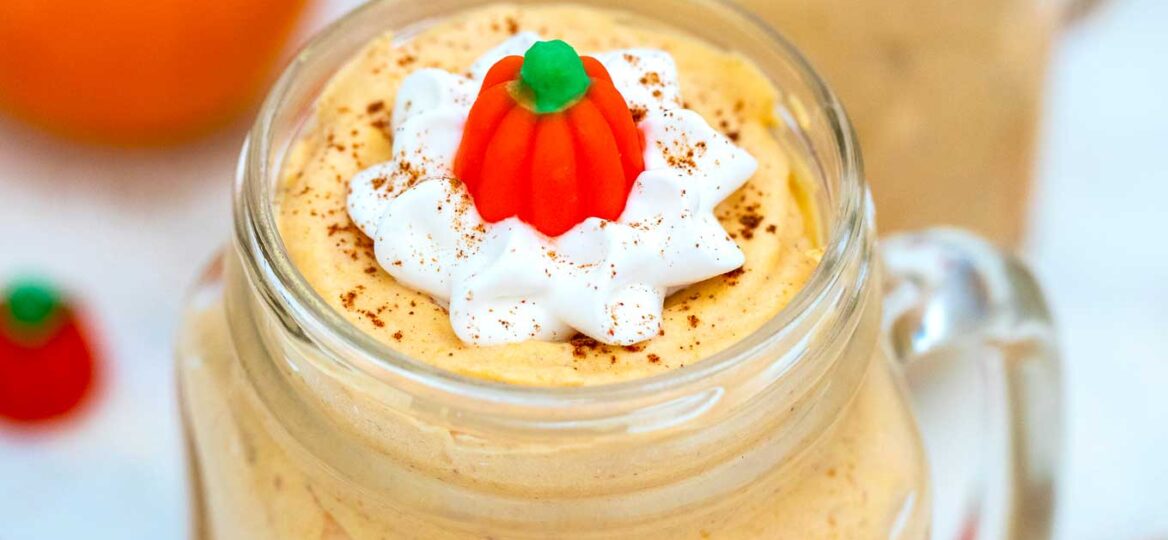 Pumpkin Mousse Recipe [Video]
Pumpkin Mousse is a smooth, light, and creamy dessert that is ready in less than 30 minutes! It has all the amazing flavors of autumn in one easy-to-prepare pumpkin dessert! Watch the short video tutorial below and learn to make it quickly in your own kitchen!
This is just one of many pumpkin recipes that we have for the fall season. And it comes in handy during the holiday season when parties are held every so often! Check out our other Thanksgiving dishes, like the Sweet Potato Pie Cupcakes, Dry Brined Turkey, and Pumpkin Bundt Cake!
This Creamy Pumpkin Mousse tastes just like a lighter version of pumpkin cheesecake but without the cream cheese. It is full of pumpkin flavor with a velvety and silky texture and finished off with a nice whipped topping. Also, this is a no bake dessert and super easy to make. Just perfect during the busy holiday season!
In addition, this airy dessert is one of the favorite Thanksgiving desserts to prepare. It requires minimal prep time and is loaded with pumpkin spice and whipped cream. You simply whisk the ingredients together, and refrigerate!
When you taste it, the flavors explode in your mouth. This recipe guarantees a delectable dessert that can be served perfectly at cocktail parties or for Thanksgiving dinner. Since it is creamy and soft, it can be arranged in individual glasses that you can line up on a tray.
It is the perfect dessert to satisfy your sweet tooth. Also, no baking is required, and ready in less than 30 minutes! Just ideal during the busy holidays!
Not only does it make a nice presentation, but this dessert is super easy to prepare! Learn how to make it, and satisfy your sweet tooth anytime you crave something fluffy, light, and delicious!
What is Pumpkin Mousse?
It is a kind of an airy and puffy French dessert that has pumpkin puree mixed into it to add seasonal flavors. Typically made with whipped cream, this dessert is not baked and is usually served cold to make it denser. Gelatin can be added for a firmer texture.
The common and traditional mousse flavor is chocolate or vanilla, this recipe is a welcome change to the usual flavor. Aside from sweetness, expect some hint of earthy and woody flavors in there.
It has a nice orange tint to the color and the smoothness is a nice canvas to add in more textured toppings if you prefer it that way. As for me, I like to keep it smooth and simple but elegant.
Main ingredients:
This airy dessert requires just a few simple ingredients. Here is the list:
Pumpkin puree: I love making my own, homemade pumpkin puree and use it in various desserts. However, feel free to use the canned version as well.
Pumpkin pie spice: Basically a mix of nutmeg, cinnamon, cloves, vanilla extract, and a bit of salt.
Instant vanilla pudding
Maple syrup or brown sugar: Used as a sweetener.
Milk: I always go with whole milk. It makes this dessert extra fluffy and creamy. However, to save some calories, feel free to use lower-fat milk.
Heavy cream
How to Make No bake Pumpkin Mousse?
Whip: First, in a large bowl, beat the cream using an electric mixer until soft peaks form. Then, put it in the fridge to chill.
Mix: Next, in another bowl, combine the dry ingredients, to which add the milk and after that the pumpkin puree.
Combine: Using a rubber spatula, fold the whipped cream into the pumpkin mixture.
Refrigerate: Lastly, transfer into individual jars and cover with plastic. Then, chill for at least 4 hours until firm before serving.
Possible Flavor Variations:
You can use more spices, add toppings, or layer it with some cake pieces! Here are some great alternatives:
Make it dairy-free: For a dairy-free version, simply substitute the whipped topping for whipped coconut milk or coconut cream. Just use a can of coconut milk, and whip it with a bit of sugar and vanilla extract until the stiff peaks form.
Peanut butter: Also, feel free to add a layer of peanut butter for extra flavor. Use creamy peanut butter for the best results.
Lighter version: To save some calories, use light cream, skim milk, or reduced-fat milk.
Caramel swirls: Add some caramel swirls to it. A nice combination of sweet and savory flavors.
Graham cracker crust: For a crunchy finish, use a couple of crushed graham crackers for the topping on each serving glass.
Candied pecans: Another great addition would be adding some candied pecans as a topping.
Liqueur: Also, feel free to turn this into an adult's dessert by mixing in some liqueur to it. Anything from rum, to vodka, will do it. You can dissolve your gelatin in it instead of plain water or milk.
Favorite toppings:
Depending on the time of year, I love serving this easy pumpkin mousse with some of the following toppings:
Chocolate chips
Melted chocolate or caramel
Crumbled ginger snaps
Nuts and pistachios
Gingersnap cookies
Can you make Pumpkin Mousse in advance?
Yes! In fact, it becomes much more flavorful as you let it chill for longer. And it becomes denser, too! Make this about 2 to 3 days in advance, cover it with plastic, and refrigerate.
Storing instructions:
To make it ahead, just transfer it to a piping bag before storing it in the fridge. Once ready to serve, just pipe!
Also, feel free to store leftovers covered in plastic or in an airtight container. Then, refrigerate for up to 3 days.
I do not recommend freezing it. Anything with cream does not freeze well as the cream may separate and when thawing, it becomes runny.
More delicious pumpkin recipes:
Cooking Tips:
Dissolve the gelatin: I did not use gelatin in this recipe, the pudding mix serves that purpose. However, in case you want gelatin, for a firmer texture, microwave the milk until simmer and sprinkle the gelatin on top. Let it bloom for 1 minute after that stir to combine.
To serve, you can put portions in small cups, ramekins, small dessert dishes, or wine glasses for a nice and elegant presentation.
Also, eat it with graham crackers! It's delicious!
Top it with whipped cream and a dash of cinnamon, or some crumbs of graham crackers, candy pumpkins, or gingersnaps cookies.
You can prepare this fluffy mousse with or without eggs.
Replace maple syrup with granulated sugar-free sweetener to lessen the carbs.
To save time, you can buy heavy whipped cream from your local grocery stores.
Deliciousness to your inbox
Enjoy weekly hand picked recipes and recommendations