Pumpkin Cheesecake Recipe [Video]
Pumpkin Cheesecake is super flavorful and delicious with just the right amount of pumpkin flavor. It is the best dessert you can have on your Thanksgiving table.
We love fall desserts that are easy to make and taste even better! If you are looking for other festive dishes to put on your holiday table, check out our Sweet Potato Bars, Creamy Potato Gratin, or Oven Roasted Turkey Breasts.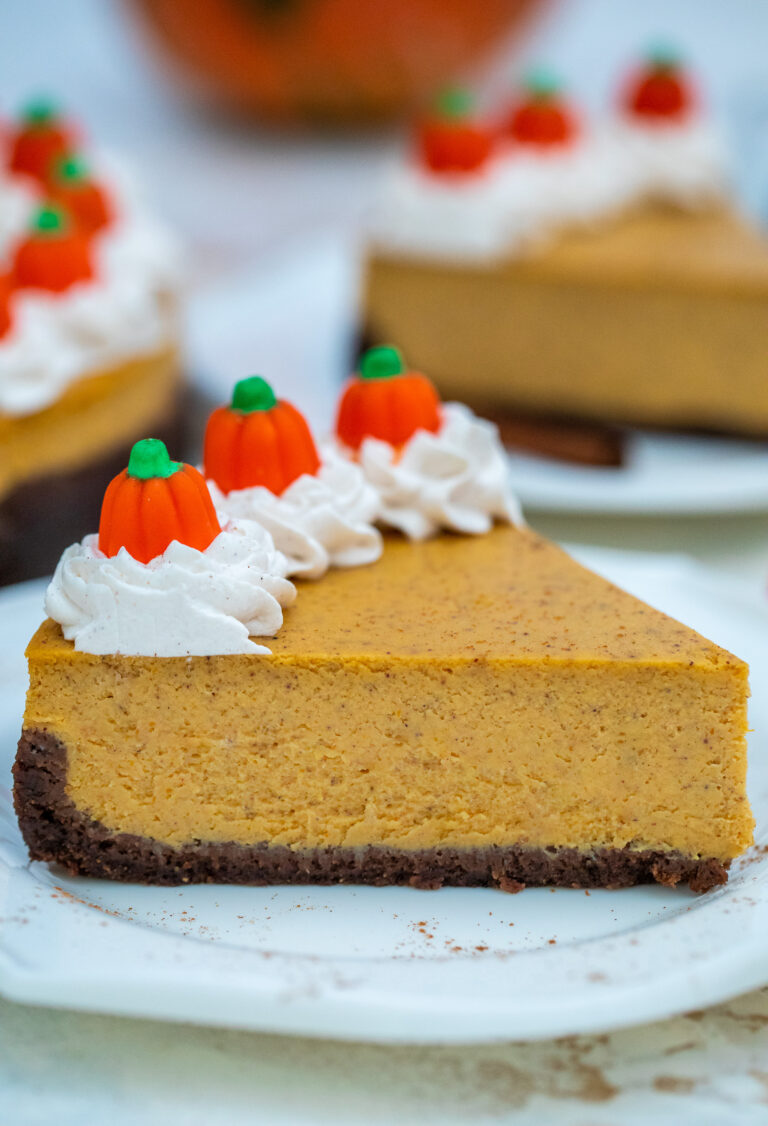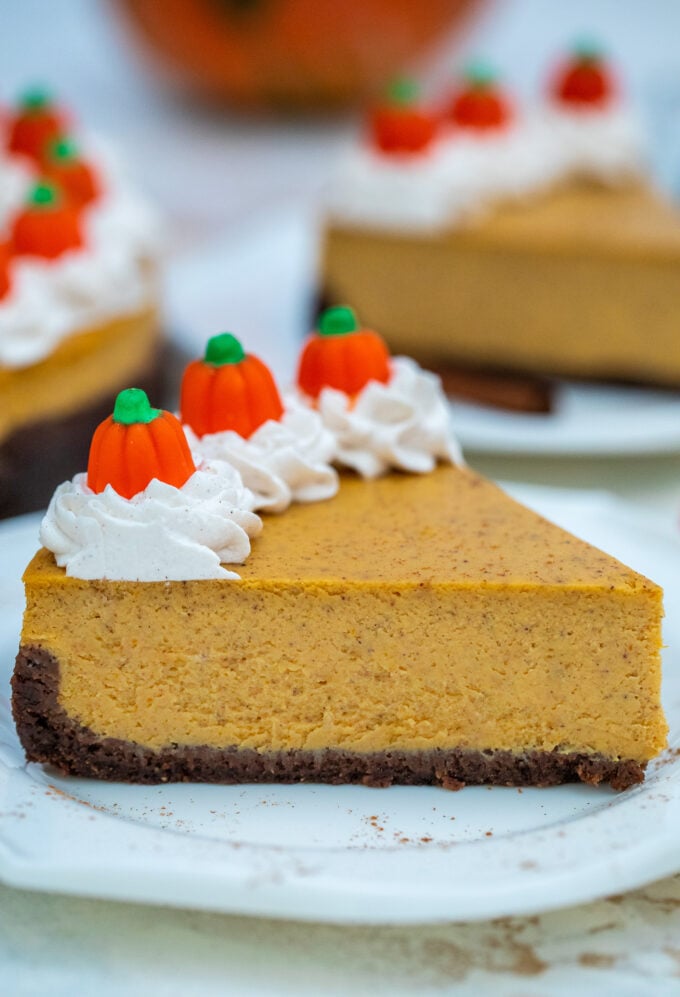 Easy Pumpkin Cheesecake
This Pumpkin Cheesecake is rich and creamy, with a crunchy crust. It is topped with fresh cinnamon whipped cream and you can drizzle it with a delicious caramel sauce. I love the fall season, and this is my favorite dessert to enjoy during this time of the year. In addition, with all the holidays around, this dessert is a must-try!
What I love about it is that is not overly sweet, and it has the perfect texture with the ideal amount of pumpkin flavor. When you bake it, your home will smell incredible. You will not want to wait for it to cool off. It is that appealing and delicious!
Also, it tastes pretty much as a rich restaurant-quality cheesecake but with a nice pumpkin flavor. Basically, you end up with a dessert that is not only rich and creamy, but also very seasonal, festive, and very yummy! Give it a try, and you will see why this is one of the best treats you can have for Thanksgiving!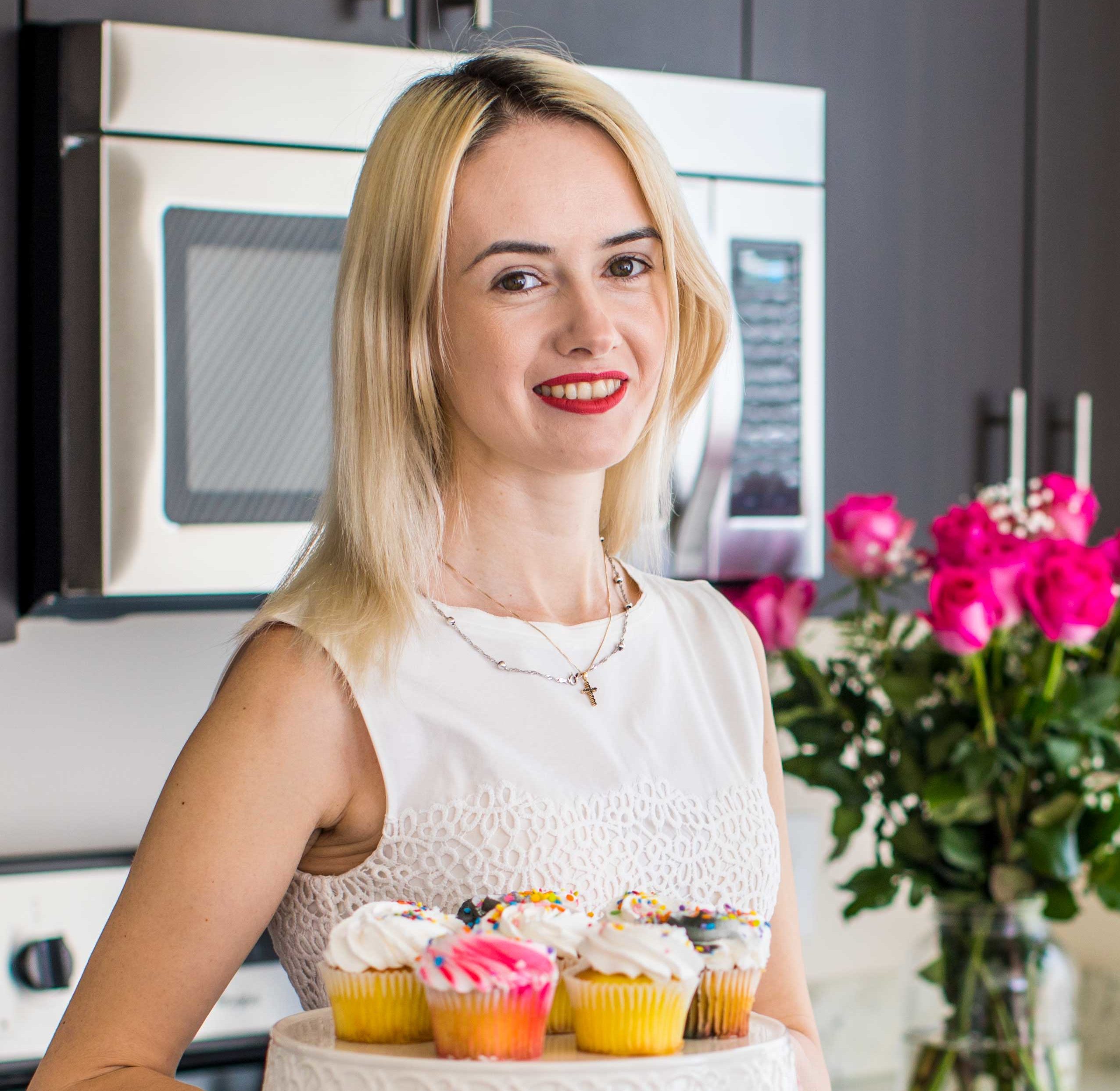 Follow us on Pinterest for more delicious recipes!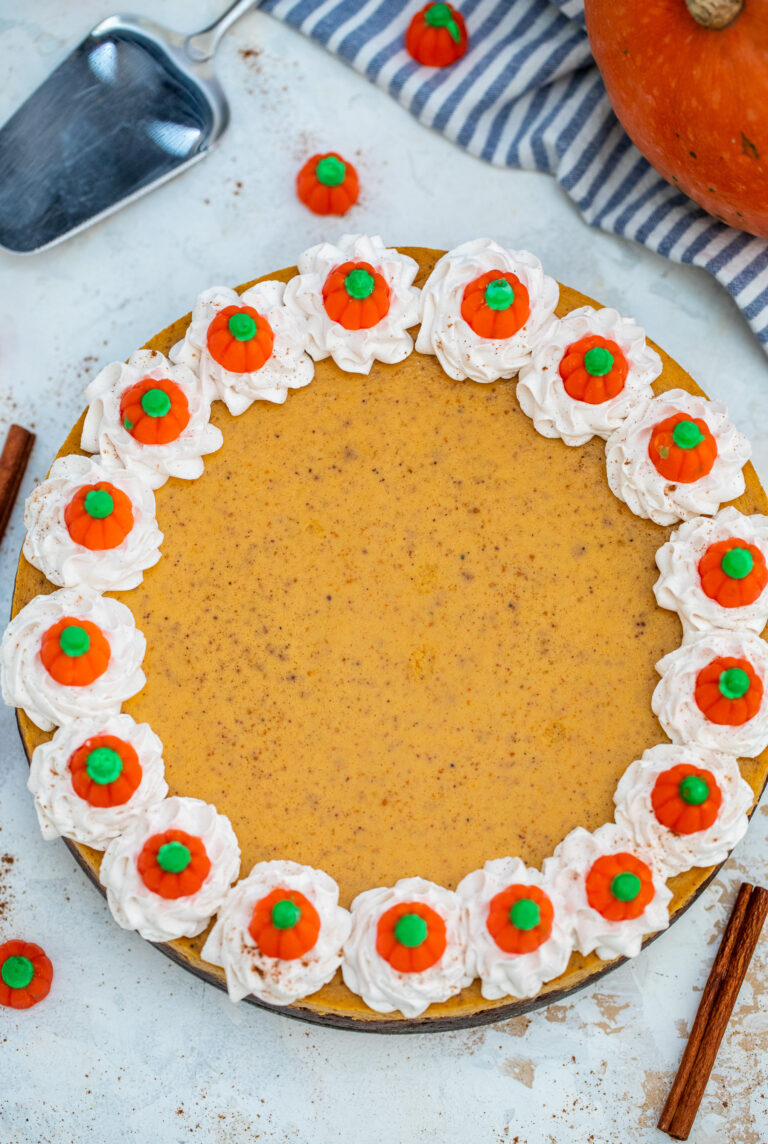 What do you need to make the Best Pumpkin Cheesecake?
For the Crust you will need the following:
2 1/4 cups (302g) gingersnap cookie crumbs
½ cup (140g) unsalted butter, melted
1 tablespoon (42g) packed brown sugar
1 teaspoon ground cinnamon
1/2 teaspoon ground nutmeg
Pumpkin Cheesecake Filling:
24 ounces (678g) cream cheese, room temperature
1/2 cup white sugar
1/2 cup brown sugar
¼ teaspoon salt
¼ cup all-purpose flour
4 large eggs, room temperature
15 oz can pureed pumpkin
½ cup sour cream
½ cup heavy cream
1/2 tbsp vanilla extract
1 1/2 teaspoons ground cinnamon
1/2 teaspoon ground nutmeg
1/3 teaspoon ground cloves
1/4 teaspoon ginger
Cinnamon Whipped Cream Topping:
2 cups heavy whipping cream (cold)
1/2 cup granulated sugar
1 teaspoon vanilla extract
1 teaspoon ground cinnamon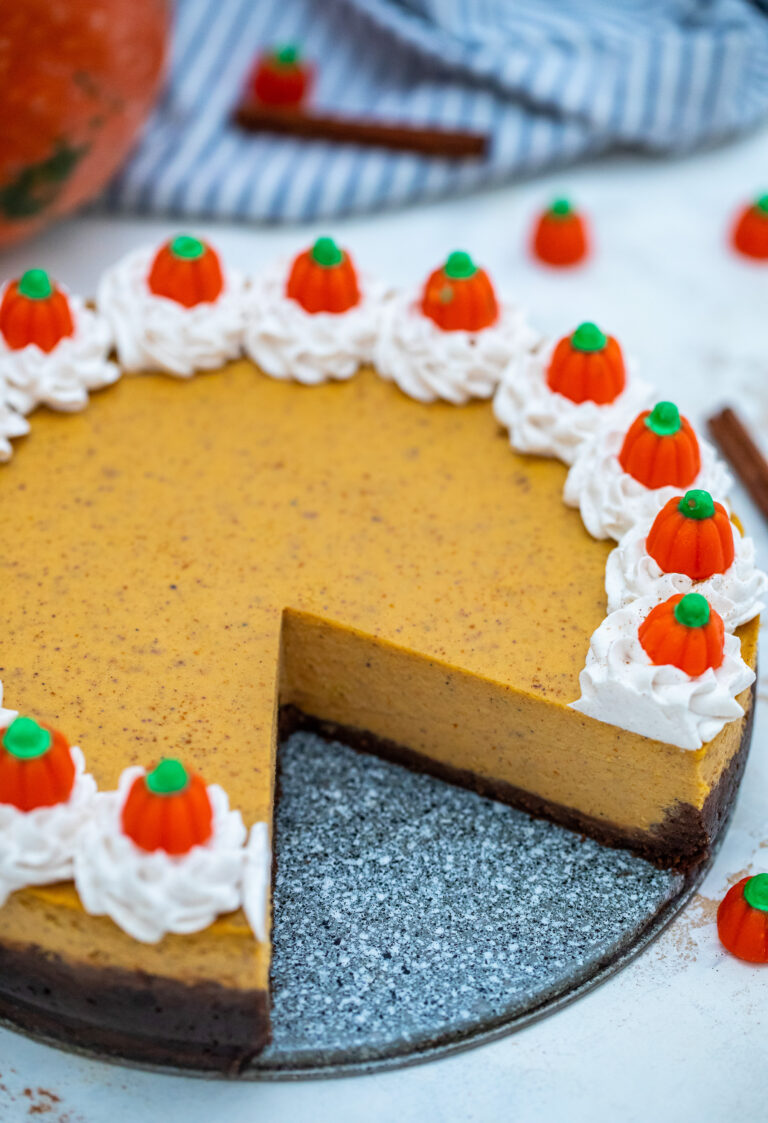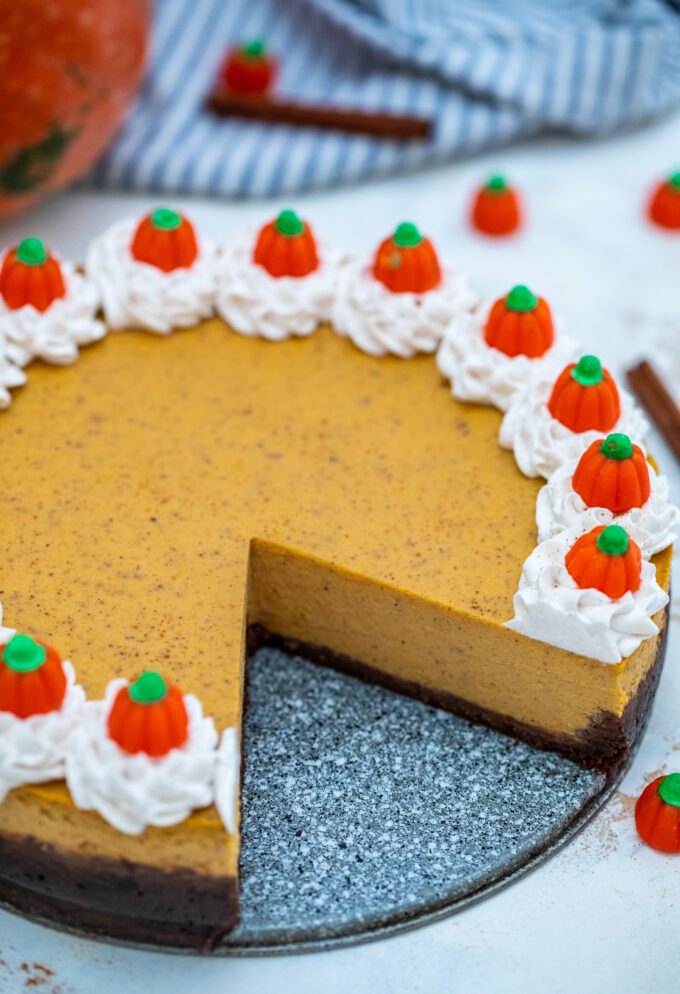 How to make Pumpkin Cheesecake?
Although this type of cake requires some extra steps and attention, it is well worth it. Please see the exact recipe card instructions below. Also, watch the short video tutorial attached. But the general steps are as follows:
This recipe starts by making the crust: Using a food processor, pulse the gingersnap cookie crumbs until they are finely crumbled. Also, you could use regular graham crackers if you prefer. Then, stir together crumbs with melted butter, brown sugar, ground cinnamon, and nutmeg. Next, transfer the mixture to a 9-inch springform pan, and using a large spoon press it into the bottom of the pan. Bake until lightly browned.
Make the cheesecake filling: Combine the filling ingredients, then pour the filling into the springform pan over the crust.
Bake it: The next step is to bake the cake until the filling is set and browned on top. Once, done cooking, open slightly the oven door, and let the cake rest in the oven for another 45 minutes or so. This will prevent it from cracking. After, remove it from the oven and let cool to room temp before covering with plastic wrap and then chill.
Make the whipped cream topping: In a bowl, add the topping ingredients together. Then, beat them on high speed until fluffy, for about 1-2 minutes. Do not overbeat it.
Decorate and serve: Decore the cake with the whipped cream topping. Then, slice it and serve, preferably drizzled with some caramel sauce.
HOW LONG DO YOU BAKE PUMPKIN CHEESECAKE?
As a general rule, you want to bake it for about 50-65 minutes. However, because each oven is different, its best to check on it prior to the 50 minutes mark, not to overbake it.
It will be done, when the edges will be lightly browned and the center just set, and a little jiggly. Remember, it will rest in the oven with the door open and still continue cooking for a bit. Therefore, you do not want to have a firm center prior to resting.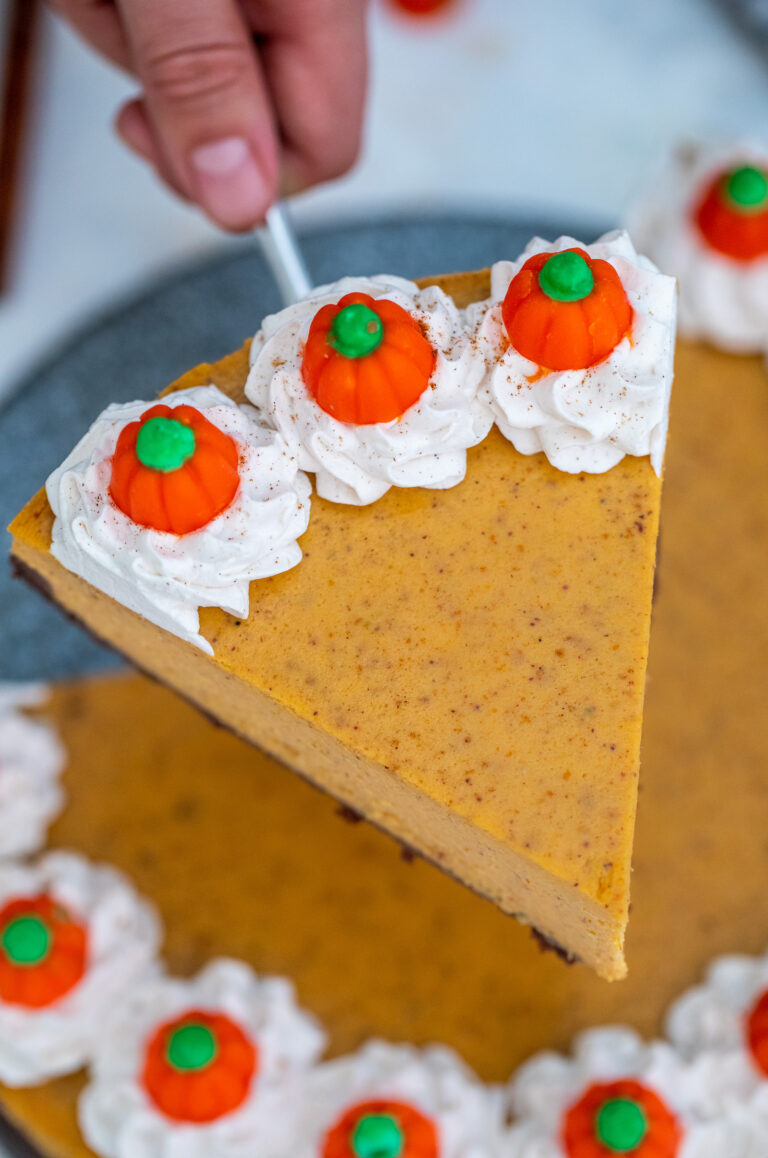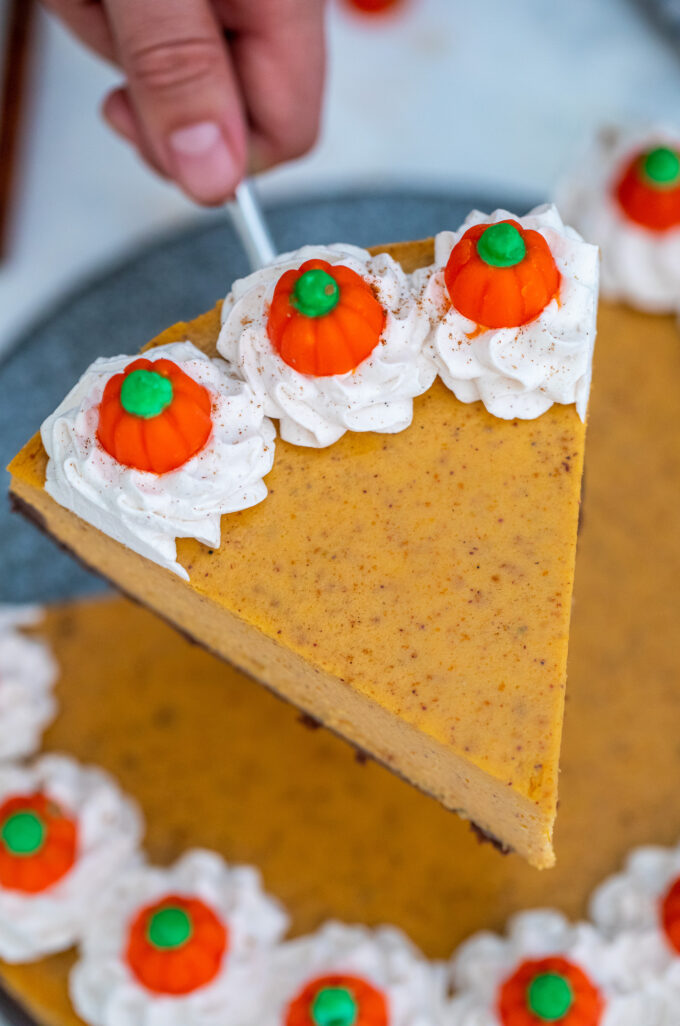 HOW DO YOU KEEP CHEESECAKE FROM CRACKING?
To prevent it from cracking, I recommend doing the following:
First, ensure that all the ingredients are at room temperature
Mix your cheesecake as little as possible once the eggs are added to avoid incorporating extra air into the batter
Also, adding some flour to the batter helps to prevent the cracks as well
Do not open the door oven while baking the cheesecake. If you open it, the internal temperature will drastically change, and this might result in a crack.
Do not overbake it. The cheesecake is done when the center is slightly wobbly, and the edges are lightly browned and puffy. The center will firm up as it cools in the oven.
How to Freeze it?
Prior to freezing, let it cool on the counter. You can also chill it in the refrigerator if desired. Once chilled, remove it gently from the springform pan and wrap it with a plastic wrap.
Then, a final layer of aluminum foil. Transfer it to a freezer, and store for up to 3 months. Also, do not freeze the cheesecake with any topping.
Looking for more Pumpkin or Thanksgiving desserts? Check these out: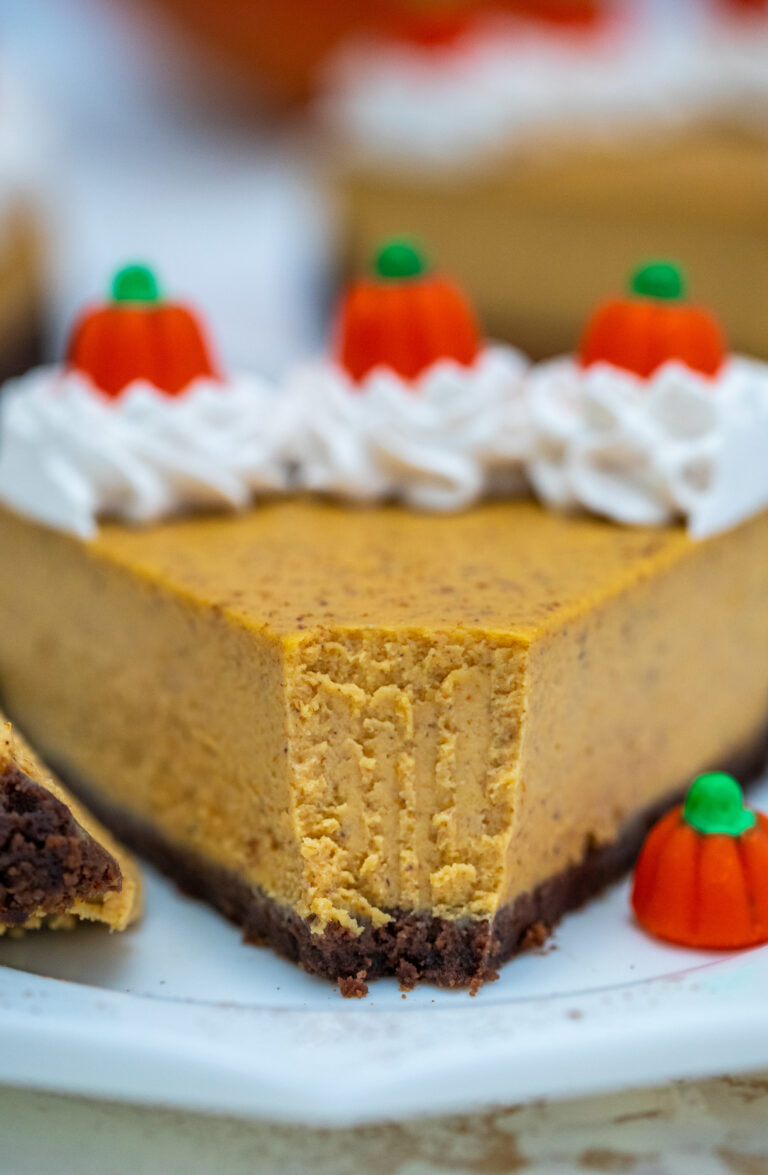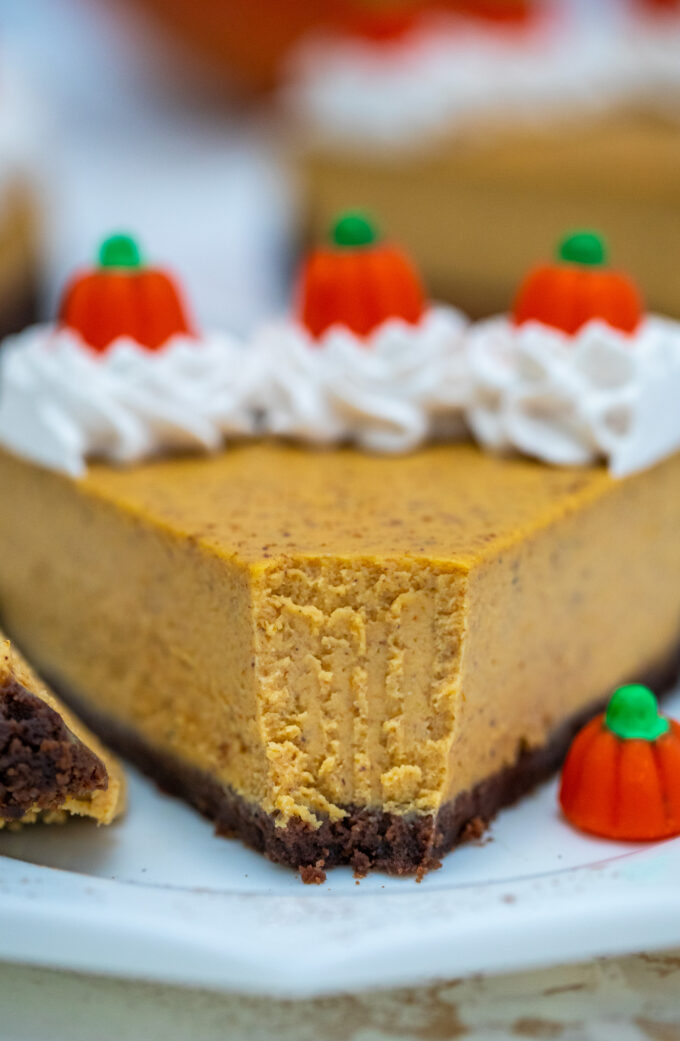 Recipe Tips:
Ensure to use regular cream cheese blocks, not cream cheese spread.
Also, the batter ingredients should be at room temperature prior to mixing them in.
Similarly important is not to overbeat the batter, as this might cause cracks in the cake.
After the pumpkin cheesecake is done baking, cool it in the oven with the door open for about 40-60 minutes.
In addition, you can use pumpkin puree or canned pumpkin pie filling.
Feel free to decorate it the way you want, or add other toppings. Caramel, a dollop of ice-cream, berries, sprinkles, etc.
If you prefer, use regular graham crackers instead of gingersnap cookies for the crust.
Save Recipe
Pumpkin Cheesecake
Pumpkin Cheesecake is super flavorful and delicious with just the right amount of pumpkin flavor. It is the best dessert you can have on your Thanksgiving table.
Author: Catalina Castravet
Serves: 12 slices
Prep time:

30

minutes
Cook time:

1

hour
Total time:

7

hrs

30

mins
Ingredients
Crust:
Pumpkin Cheesecake Filling:
Cinnamon Whipped Cream:
Instructions
Cheesecake Crust:
Pumpkin Cheesecake Filling:
Bake:
Cool:
Cinnamon Whipped Cream:
Nutrition information
Calories: 456 Carbohydrates: 56 Protein: 10 Fat: 22 Saturated Fat: 12 Cholesterol: 112 Sodium: 543 Potassium: 418 Fiber: 2 Sugar: 38 Vitamin A: 6274 Vitamin C: 2 Calcium: 211 Iron: 2
Save Recipe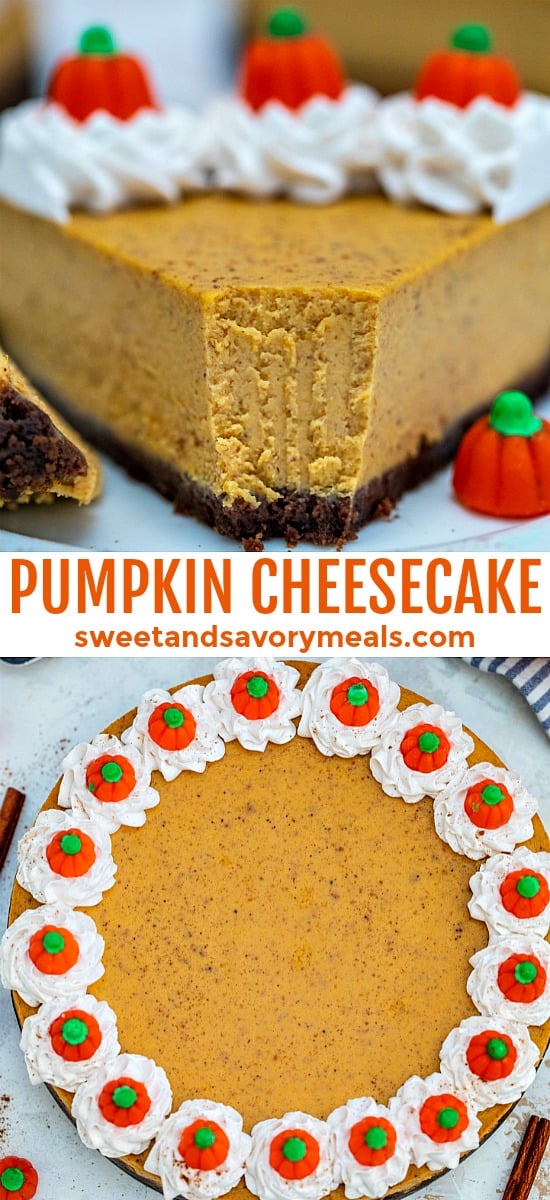 More recipes you might love