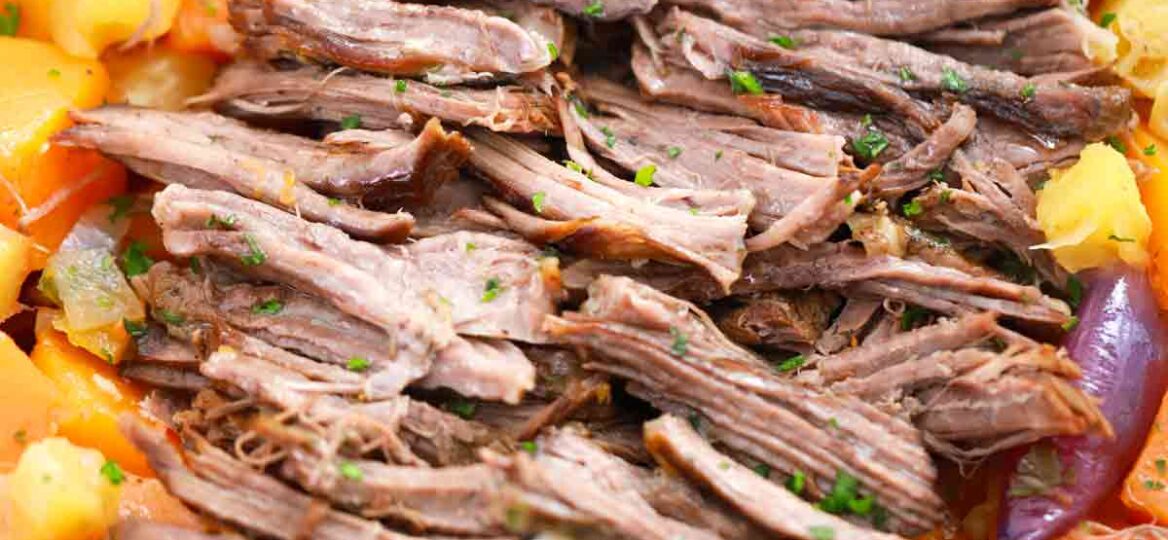 Pumpkin Pot Roast [Video]
Pumpkin Pot Roast is made with tender beef, pumpkin, and pineapple, all cooked to perfection in a blend of fall flavors. The tender beef and fall flavors merge to make this a favorite in your household for sure.
For those who do not like the pumpkin flavor, we have the perfect recipe for you! Our Red Wine Pot Roast is tangy, tender, and mouthwatering. If you are short on time, try this Homemade Instant Pot Roast for a meal in under three hours. And for those who do not want to eat until later, our Slow Cooker Red Wine Pot Roast is fabulous.
No matter whether it is pumpkin season or not, you are going to want to put this one in the delicious recipes file so you can make it again soon. And believe it or not, it is one healthy recipe too.
This is one of those easy recipes that are also totally scrumptious and delightful. And with this simple recipe, all you need is the roast, spices, pumpkin, and a few other ingredients you probably already have in the kitchen.
Whatever cooking process you like, whether it is the dutch oven, crockpot, or instant pot, our pumpkin pot roast is easy and fantastic. This meal is perfect for Thanksgiving or any other special ocassion.
It is so good, and full of fall flavors! While you can skip the pineapple, I highly recommend using it. In addition to a subtle sweetness it adds another level of flavor, that brightness the dish.
Follow us on Pinterest for more delicious recipes!
Ingredients needed:
If you want to see the recipe card, scroll down to the bottom of the page where you can find all the measurements and directions. But here are the main ingredients you need:
Roast: We used chuck roast, but you can use whatever cut of meat you like.
Kosher salt
Black pepper
Vegetable oil: Or olive oil is fine too.
Garlic: Whole cloves, as well as diced ones, are needed in this recipe.
Onions: One yellow diced and one red quartered.
Pumpkin: Cut into 2-inch cubes.
Poblano peppers: Diced.
Worcestershire sauce: If you don't have this, try soy sauce or miso paste.
Pineapples: With juice and diced.
Beef stock: Or beef broth (low sodium).
Spices: Cilantro, bay leaves, cinnamon, and nutmeg.
How do you make a pumpkin pot roast?
Preheat: Before starting, preheat your oven to 325 degrees F.
Brown: Meanwhile, using a large dutch oven on medium-high heat oil before placing the seasoned beef into and brown it. It should take about six to eight minutes per side.

Remove: Then, remove the meat and set it to the side.

Saute: After, add the diced onions to the pan and saute them over medium heat, stirring with a slotted spoon until they are lightly brown and translucent. This should take about three or four minutes.

Continue to saute: Next, add the garlic and pumpkin, saute.
Add the beef: Last, put the meat back in the pot and add the whole garlic, quartered onion, and bay leaves.
Cook: Finally, cover and cook for three to four hours.
Recipe variations:
No pumpkin: Grocery stores don't have any fresh pumpkin? Use sweet potatoes chopped into chunks instead and add 2 teaspoons of pumpkin pie spice.

More pumpkin: Alternatively, add a can of pumpkin purée.
Brew it: You can also add a can of pumpkin beer for more fall flavor.
More veggies: Feel free to add potatoes, carrots, celery, and other vegetables if you like.
Add some wine: Pour in a glass of red wine to make this dish even more savory.
Spice it up: Add a jar of salsa for a spicier flavor.
Tomato: Use a can of tomato paste for a sweet and tangy kick.
How to serve:
This tasty entrée is best served shredded and warm with veggies and garnished with cilantro. Of course, there are plenty of delicious ways to serve your pumpkin roast.
Frequently asked questions
What is the best cut of meat for pot roast?
For a juicy and tender roast that falls apart when you fork it, a boneless chuck roast is the best choice. Although you could make a great one from any cut of beef, chuck roast holds the best flavor and cooks to the best consistency than the others like briskets, round roast, or rump roast.
Does chuck roast get more tender the longer you cook it?
Cooking it on low heat will make any cut more tender the longer you cook it. In fact, if you have a crockpot, try a slow cooker pot roast. You could even use a large dutch oven on the stovetop for this same recipe because it is the slow cooking over low heat that makes this delicious comfort food so tender and juicy.
Why is my meat still tough?
There are several reasons for tough meat. You could have overcooked the meat or cooked it at too high of a temperature. This will result in dry and flaky meat. Unfortunately, you cannot uncook a roast that is already cooked too long. Adding some gravy or pan juices can help.
Alternatively, it may not be cooked enough. A roast that is not cooked all the way can be very chewy. Put it back in and cook it a little bit longer. When it is fork-tender and falling apart, go ahead and take it off the stove or out of the oven.
How to store leftovers:
Store: If you have pumpkin pot roast leftovers, let them cool down before putting them in an airtight container. Then, it will stay fresh for three or four days in the fridge. Don't forget to add the juice so it doesn't dry out.

Freeze: For those leftovers that last beyond the four day-limit, put them in a freezer bag with some of the juice and these will stay good for about three or four months.

Thaw: Put the leftovers in the refrigerator overnight to thaw before reheating.

Reheat: Finally, you can reheat this delicious meat in the oven or on the stove, cooking it in its own juices for best results.
More fall recipes:
Recipe tips:
Brown the roast properly first to sear it and keep the juices in the meat where they belong.
Using high-quality meat like organic beef is best for the most flavor and tenderness.
Make sure the cut of meat has a lot of marbling and is a bright red color. Skip the ones with gray or brown spots.

If it is too large for your pot, cut it into two or more pieces.
In addition, be sure to cut the pumpkin into large chunks so they do not get mushy.
Pumpkin Pot Roast
Ingredients
4

pounds

beef chuck roast

1

teaspoon

Kosher salt

1/2

teaspoon

ground black pepper

3

tablespoons

vegetable oil

4

cloves

garlic

minced

4

cloves

garlic

whole

1

yellow onion

diced

1

red onion

quartered

4

lbs

pumpkin

cut into 2 inch cubes

2

poblano peppers

diced

1

tablespoon

Worcestershire sauce

28

ounces

canned diced pineapple

with juice

1

teaspoon

cinnamon

¼

teaspoon

nutmeg

3

cups

beef broth

low-sodium

1/4

cup

cilantro

diced

2

bay leaves
Instructions
Preheat oven to 325 degrees F.

Place a large dutch oven over medium-high heat and add the oil.

Season beef chuck roast with salt and pepper and brown it on both sides, 6-8 minutes on each side.

Remove the meat from the pot and set it aside.

Add in the diced onions. Sauté until translucent and lightly browned, about 3 to 4 minutes.

Add in the minced garlic, the pumpkin, and saute.

Add the rest of the ingredients, stir well. Also, add the beef back to the pot, add bay leaves, add whole garlic, and quartered onion.

Cover and cook in the preheated oven for 3-4 hours, or until fork-tender.

Discard bay leaves when done cooking.

Serve beef shredded with chopped parsley, the cooked veggies, cilantro, and lime wedges.