Air Fryer Apple Chips are a crispy, delicious, and healthy snack for munching on any time of the day or night. The brown sugar and cinnamon with a touch of nutmeg give them a sweet flavor on top of their natural sweetness and all you need is a few simple ingredients and your air fryer.
While you have your air fryer out, why not make these Air Fryer Apple Fritters for a heavenly treat to make with some of the same ingredients? For a breakfast treat, try this Air Fryer French Toast recipe with brioche bread, brown sugar, cinnamon, and a few other ingredients. And for dinner, the air fryer is the best choice for crispy pork chops with smoked paprika and Italian herbs.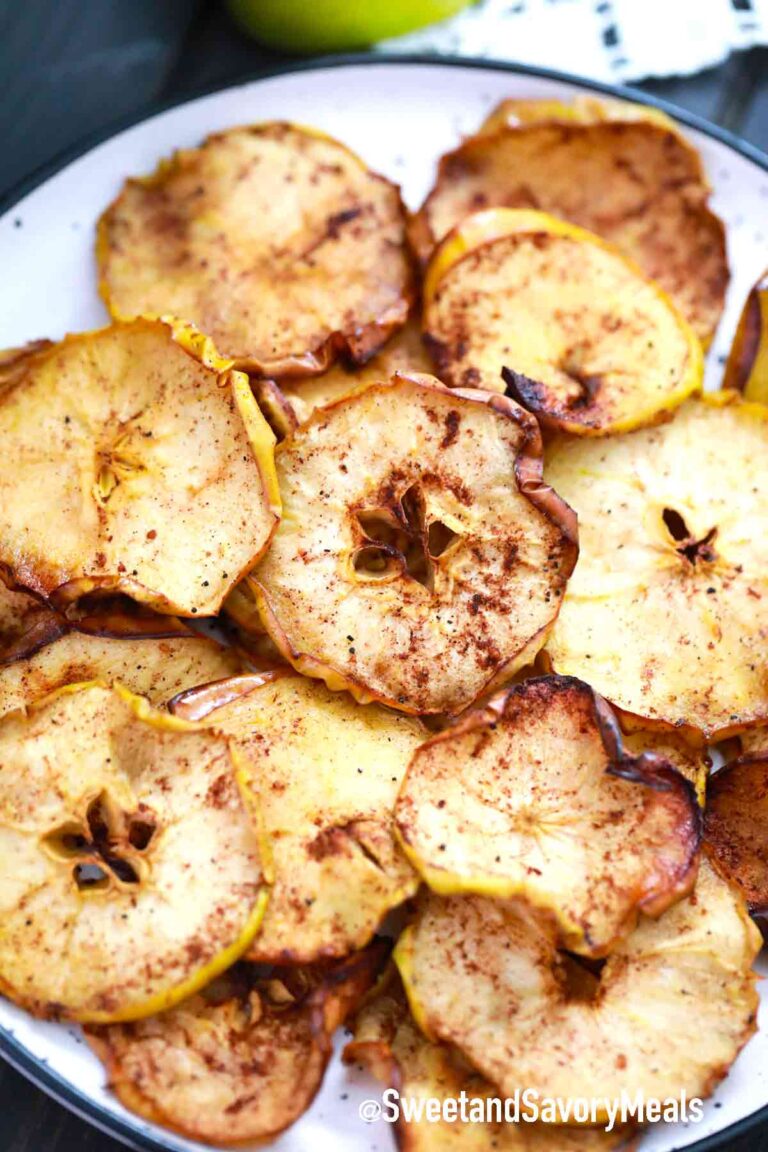 Air Fryer Chips
Making these crispy chips in the air fryer is a healthy and delicious way to make a snack that everyone can enjoy without feeling guilty. It will soon be one of your favorite air fryer recipes because it is so easy and fast.
All you need is apples and spices so no need to run out on a shopping trip. You probably already have everything you need in your kitchen.
You can actually make these crunchy chips with nothing but your favorite apples if you do not have any of the other ingredients. After all, the sweetness in the apples will be intensified as the chips turn crispy, making them a delicious treat and a nutritious snack without anything added to them.
These easy air fryer apple chips are a great way to utilize some leftover apples and also introduce kids to a healthy and tasty snack. Now thanks to the air fryer they can have healthier potato chips, and these delicious air fryer banana chips. This is an easy recipe that your entire family will love and also a great school snack to pack.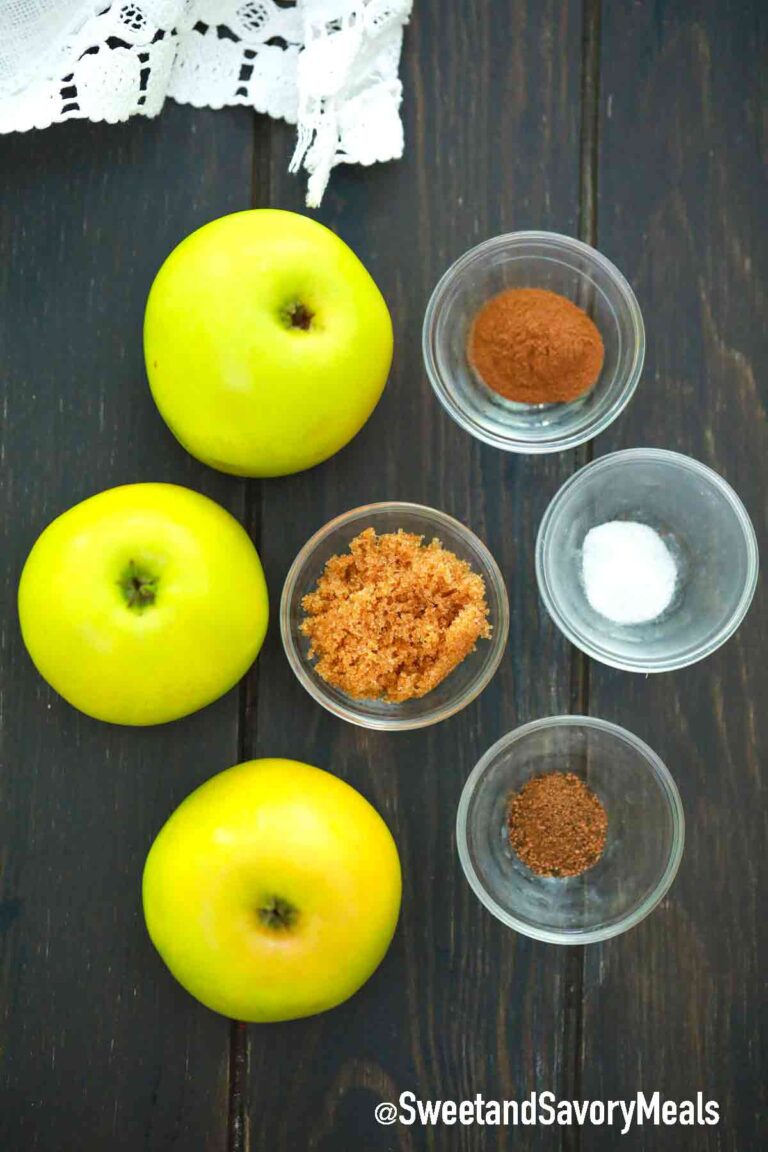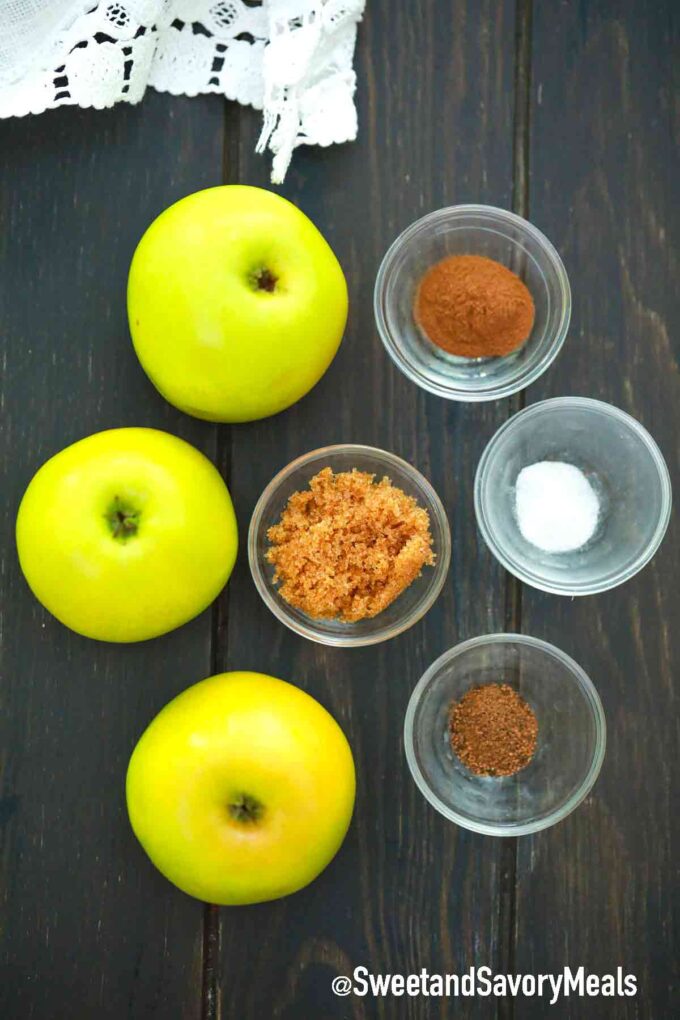 Ingredients needed:
To get the exact measurements, scroll down for our recipe card. But here are the few simple ingredients you need in this recipe:
Fresh apples: You can use whichever type of apple you like but the best apples for this recipe are granny smith, red apples, pink lady apples, and honeycrisp.
Pear chips: Also, using the same recipe you can also make pear chips. This is a great alternative if you are looking for a variety of healthy snacks.
Cinnamon: Freshly ground would be great but store-bought is fine too.
Brown sugar: Light or dark brown sugar will both work.

Nutmeg: Just a touch for that spiced flavor. Also, you can use apple pie spice blend.
Salt: Just a pinch, but it is totally optional.
How to make the air fryer apple chips recipe?
Preheat: To get started, preheat your air fryer to 350 degrees F.

Peel: Next, using a sharp knife peel the apples if you do not want the peels on your chips but this is optional.

Core: Then, use a small knife or apple corer to remove the cores.
Slice: Immediately, thinly slice the apples about 1/8th of an inch thick or use the thinnest setting on your mandolin.

Combine: After, combine the cinnamon, brown sugar, nutmeg, and salt.

Toss: Toss the apple slices in the bowl with the cinnamon mixture.

Arrange: Next, place the sliced apples in the air fryer basket in a single layer making sure there is space between each one for air to circulate.

Cook: Finally, cook for eight to 10 minutes, flipping the slices every few minutes.

Also, you will have to cook the remaining apple slices in batches. The cook time may vary slightly based on the type of fruit you use.

Remove and store: As you remove the chips, let them cool fully on a wire rack before placing them in an airtight container or baggie.

Cooking tip: You may have to adjust the cooking time depending on your air fryer and how thick you slice the apples.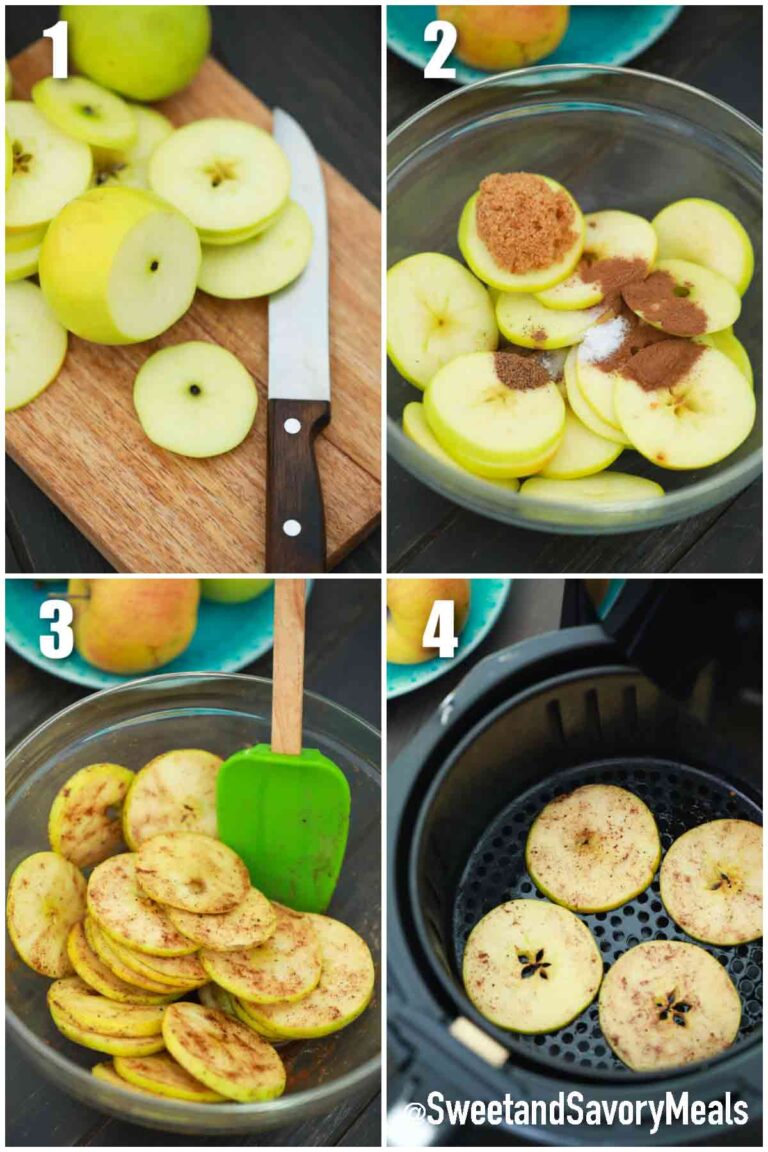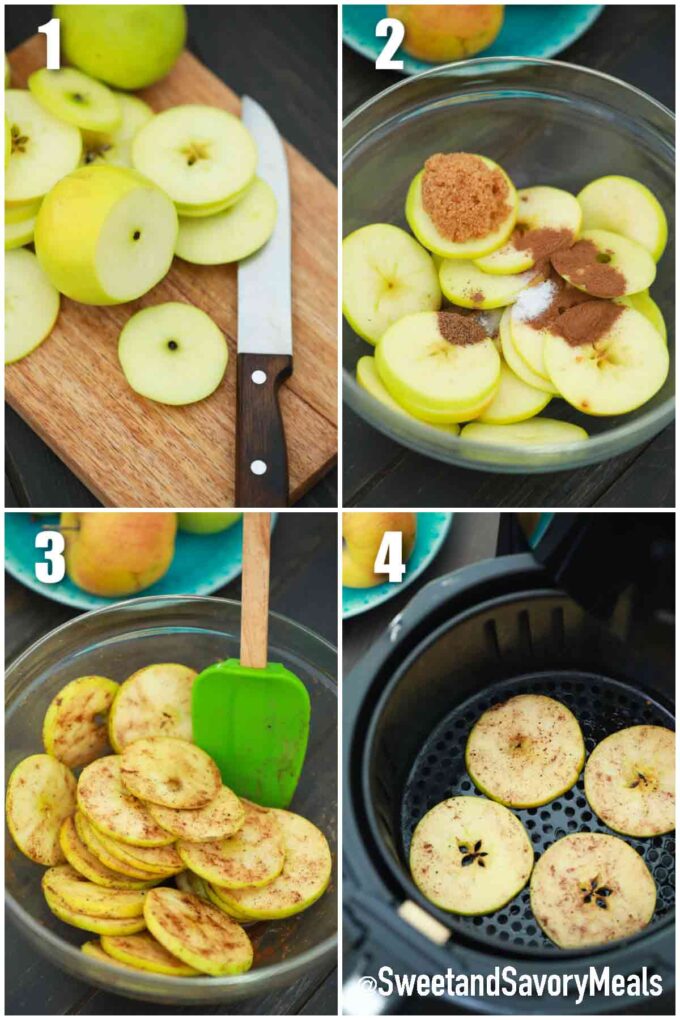 Recipe variations:
Add less sugar: If you are on a low-sugar diet or are diabetic, leave out the brown sugar or replace it with Splenda or another artificial sweetener. Another option is to make this delicious snack without any added sugar.
Use different apples: For bigger chips, use larger apples. If you want sweeter apple chips, try pink lady or envy apples.
Add more sugar: Alternatively, add white sugar with the brown sugar for a sweeter taste.

Try other spices: In addition, other spices that may be good on apple chips include cloves, ginger, lavender, or rosemary.

Make them spicy: For spicier apple chips, sprinkle them with cayenne pepper or paprika.
Cinnamon: As an alternative use more cinnamon for cinnamon apple chips.
How to serve:
These chips are great right out of the fryer. Just let them cool for about a minute and you can start munching on them right away. Or try one of these serving ideas: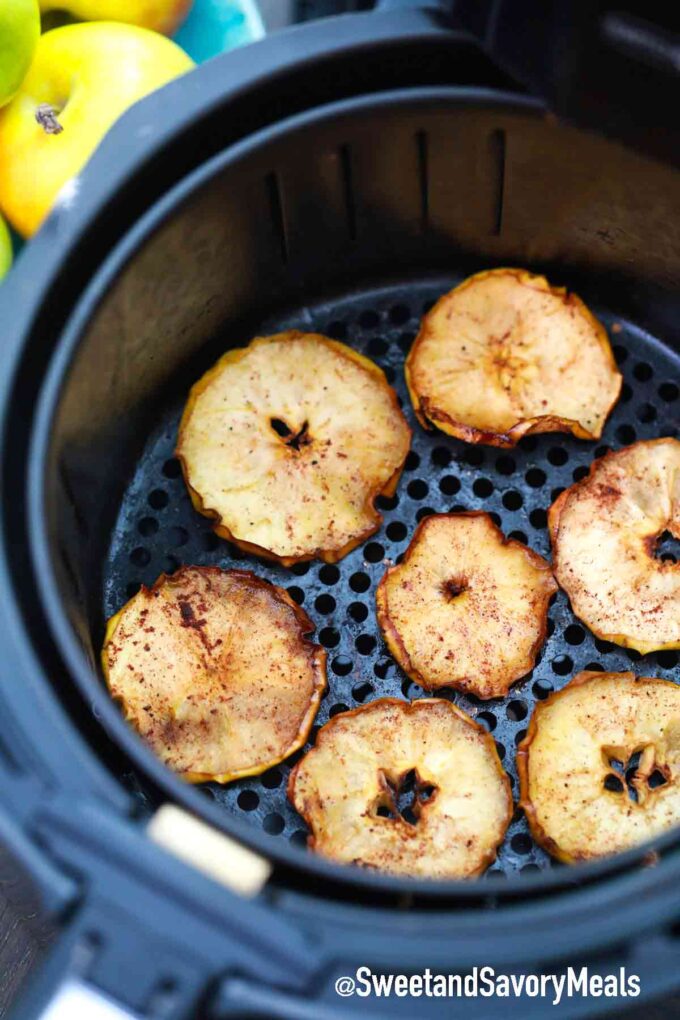 Frequently asked questions
Can you dehydrate fruits in the air fryer?
Just like this recipe, you can also dehydrate other fruits in the air fryer. Food dehydrating is a fantastic way to preserve fruits, vegetables, and even meat. Although there are plenty of food dehydrators on the market, they basically do the same thing that air fryers do. They blow hot air around to dry out food.
Are apple chips healthy?
If you buy apple chips premade, you will often get a ton of sugar and preservatives along with them. However, if you use our recipe and make them yourself, you do not have to worry about what is in them because you can put in what you want and leave out what you don't. Dried apples are full of fiber, vitamins B5 and B6, potassium, iron, and antioxidants without adding a thing.
How do you slice apples for apple chips?
The easiest and most efficient way to slice apples for chips is to use a mandolin. But first, you have to core the apple and peel it (if you do not want the peel). Coring the apple can be done with an apple corer or a knife. Just be sure to remove all the seeds as you see them when slicing.
The mandolin will make nice thin slices for crispy apple chips, or you can adjust it to make thicker slices for chewy apple slices. Of course, you can use a knife or any kind of vegetable slicer if you do not have a mandolin. It is best to make them about 1/8th of an inch thick.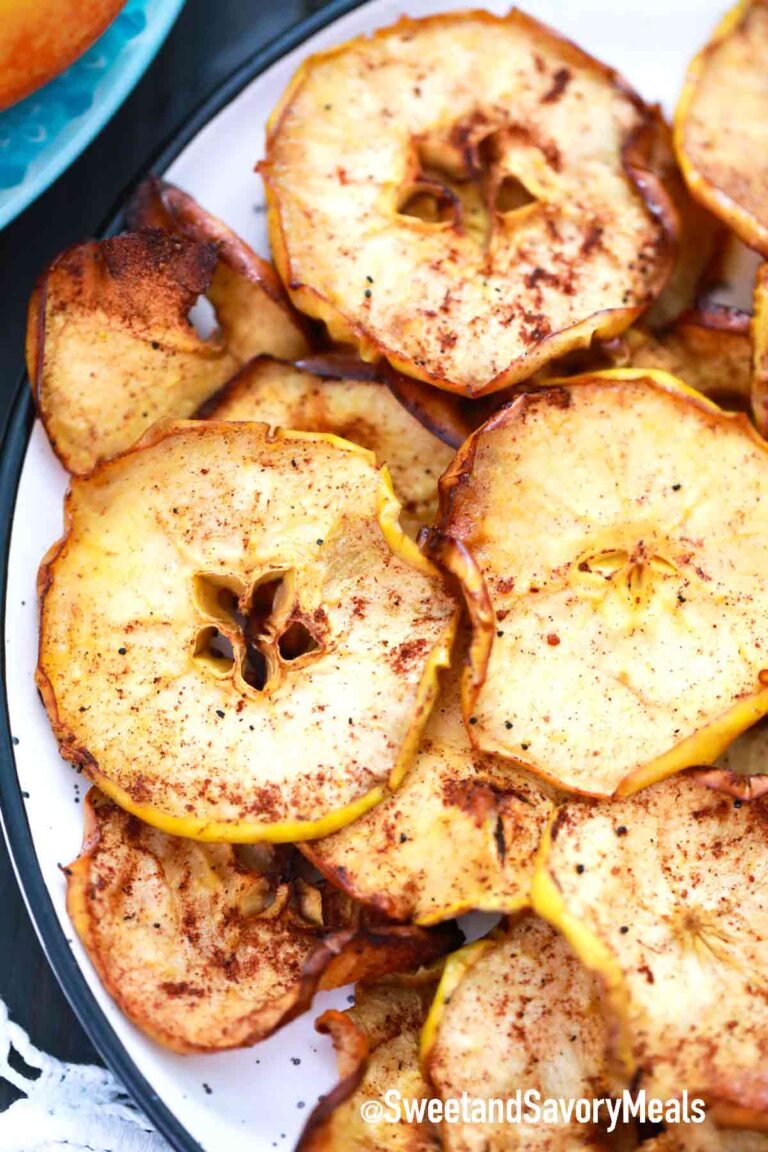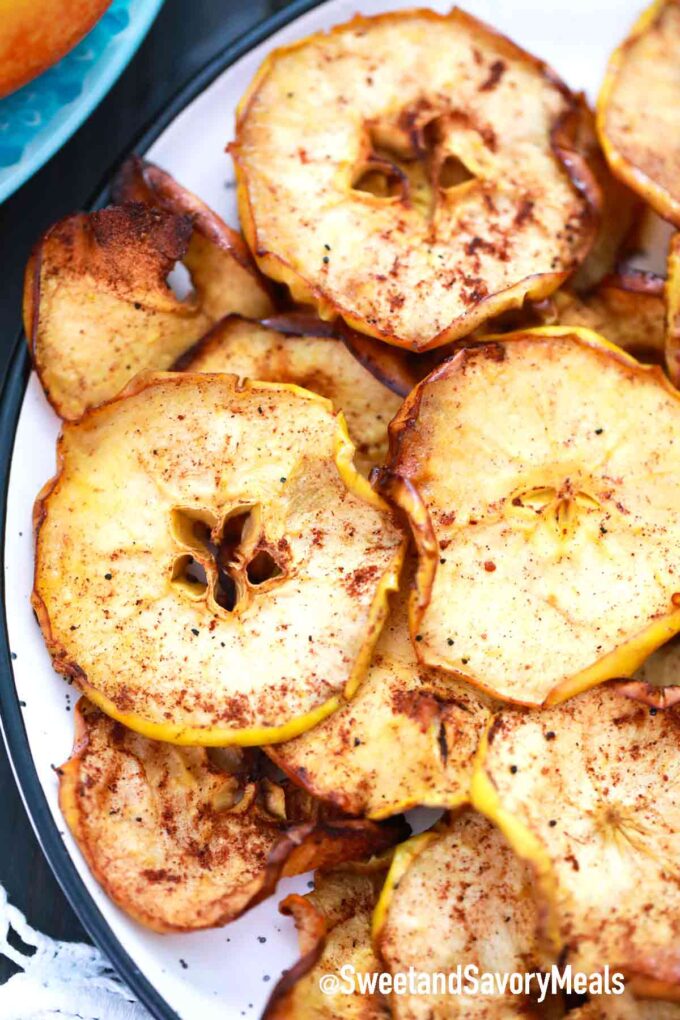 How to store leftovers:
Store: If you have any air-fried apple chips leftovers, we recommend storing them in an airtight container right away, so they do not get chewy or soft.
Freezing: You do not have to freeze these chips since they will stay good for several months in an airtight container or baggie.
More Air Fryer Recipes:
Cooking tips:
Important, store or eat your apple chips as soon as they crisp up. If you leave them in the air for too long, they will get soft again.
Also, place a trivet over the apple slices so they do not blow around in the fryer.
Keep in mind to flip your apple chips every few minutes when cooking.

You do not have to peel the apples if you want the peeling around the edges.

Also, for this recipe is best to use crispy apples.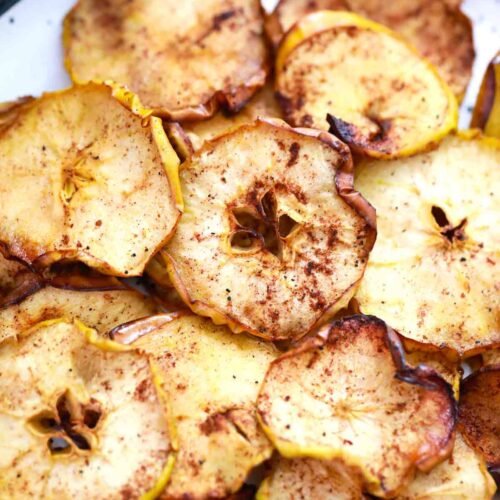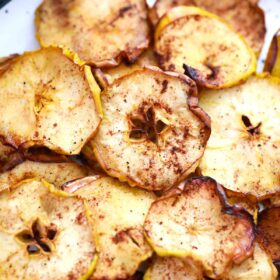 Air Fryer Apple Chips
Air Fryer Apple Chips are a flavorful, crispy, delicious, and healthy snack for munching on any time of the day or night.
Save
Share
Print
Pin
Rate
Servings:
4
servings as a snack
Ingredients
2

apples

(I used Granny Smith)

1/2

teaspoon

ground cinnamon

1/4

teaspoon

nutmeg

1

tablespoon

brown sugar

(optional)

Pinch

of salt
Instructions
Preheat the air fryer to 350 degrees F.

Using a very sharp knife, or a mandolin thinly slice the apples.

Add them to a large bowl and add cinnamon, nutmeg, sugar, and salt. Toss to combine.

Arrange the apple slices in a single layer in the air fryer basket, make sure the slices do not touch each other. If you have a small trivet on hand, place it on top of the slices so they do not fly in the air fryer.

Cook for 8-12 minutes, turning and flattening them at least 2 times during the cooking process. Cook until crisp.

Remove the apple chips and place them on a wire rack to cool.

Repeat with the rest of the apple slices.
Nutrition
Calories:
60
kcal
|
Carbohydrates:
16
g
|
Protein:
1
g
|
Fat:
1
g
|
Saturated Fat:
1
g
|
Polyunsaturated Fat:
1
g
|
Monounsaturated Fat:
1
g
|
Sodium:
2
mg
|
Potassium:
103
mg
|
Fiber:
2
g
|
Sugar:
12
g
|
Vitamin A:
50
IU
|
Vitamin C:
4
mg
|
Calcium:
11
mg
|
Iron:
1
mg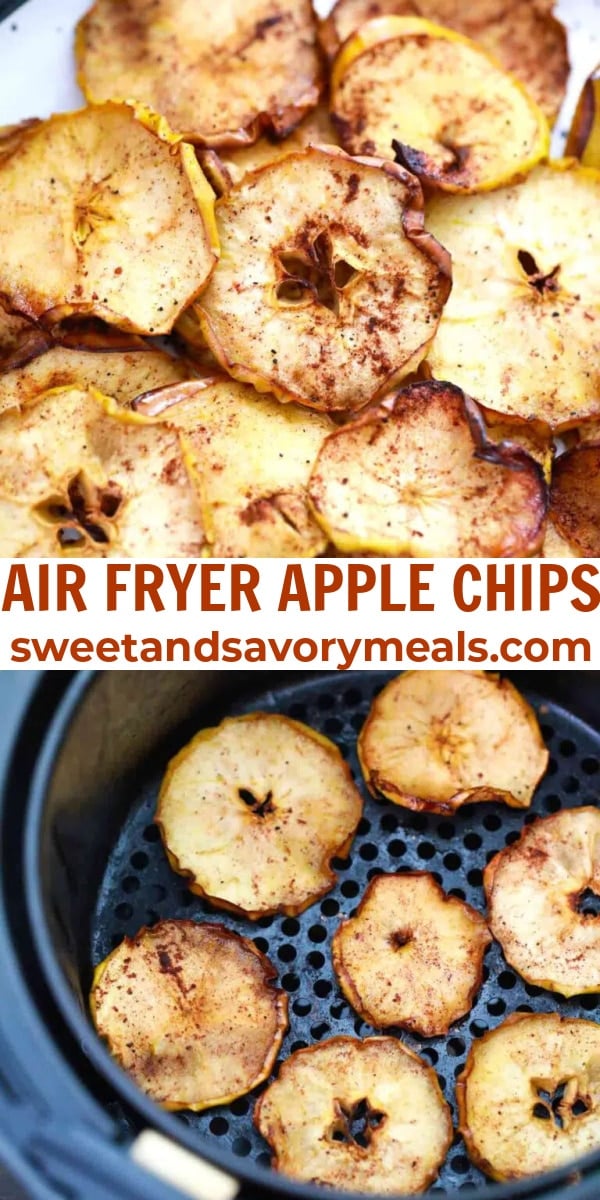 More recipes you might love