Air Fryer Pop Tarts Recipe [Video]
Air Fryer Pop-Tarts are both flaky and sweet and you only need four ingredients to make them. This simple and fast recipe will bring you back to the past when you used to wait patiently for your tarts to come flying out of the toaster so you could bite into the juicy fruit filling.
A few similar delicious recipes that only need a few ingredients are these decadent Air Fryer Blueberry Hand Pies. Or, if you have a craving for that fast-food pie, try this Air Fryer Copycat McDonald's Apple Pie recipe that tastes better than the real thing. For a different but equally delicious breakfast, these Air Fryer French Toast Sticks are tasty dunked in maple syrup.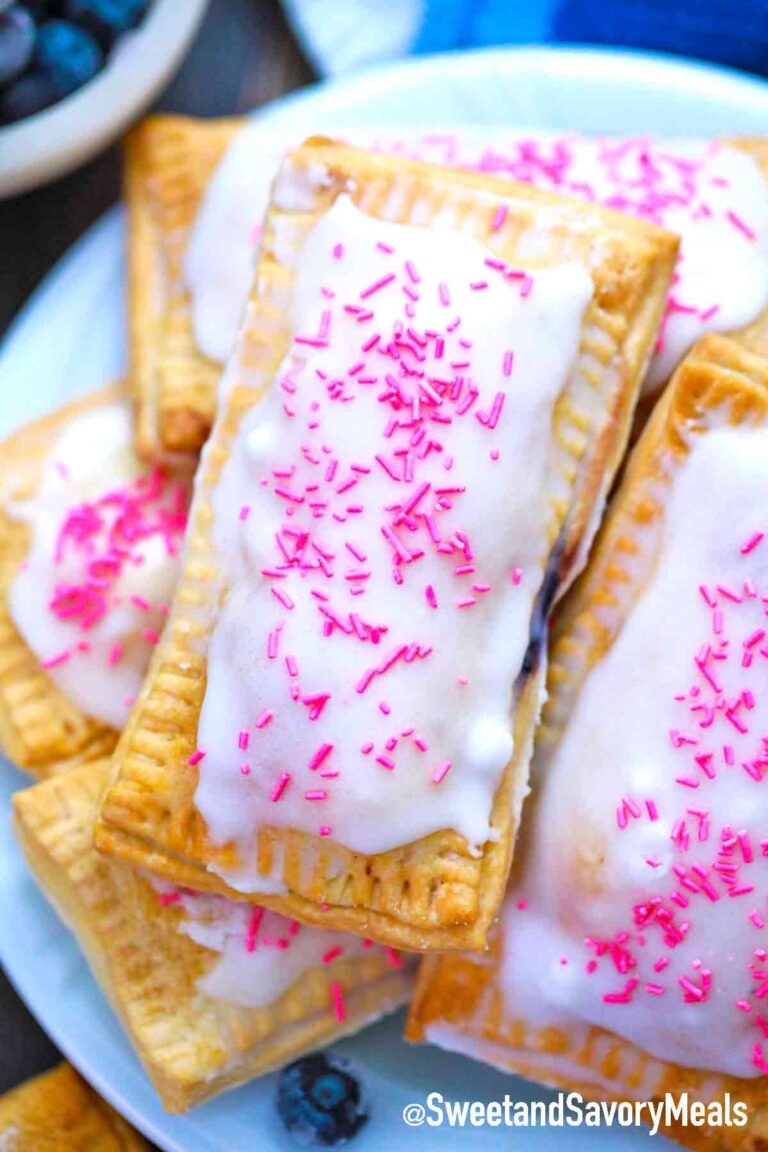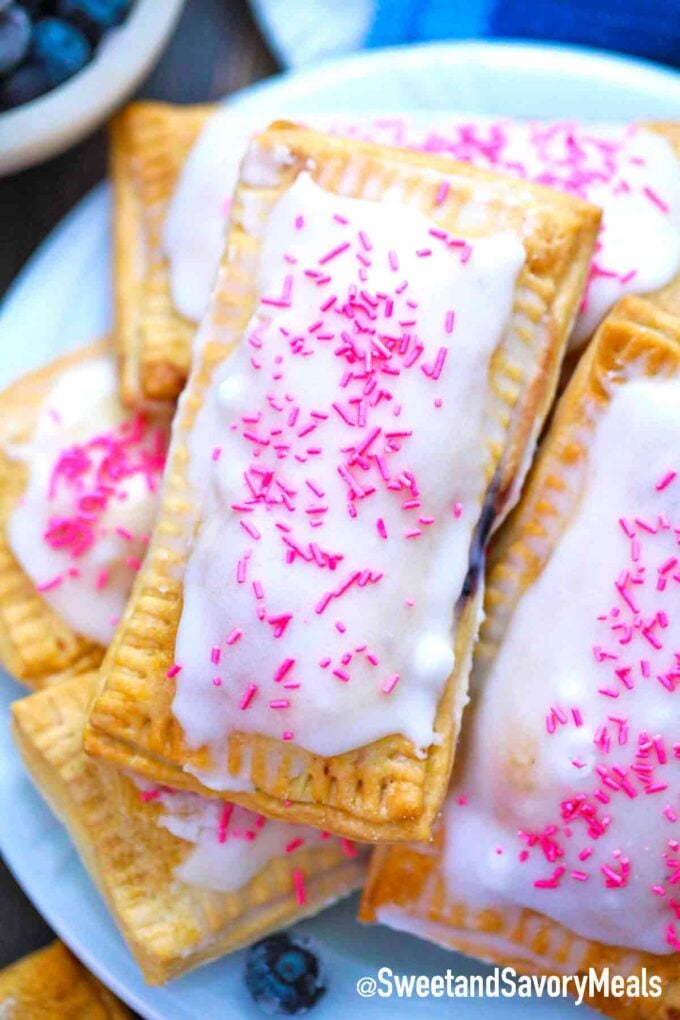 If you grew up eating pop tarts out of the box or otherwise called toaster streusel then this easy recipe will bring back those sweet memories. But with a recipe as easy as this one, there is no need to settle for the mundane boxed tarts filled with preservatives.
Make your favorite childhood treat healthier with this air fryer homemade tarts recipe. Crisp flakey crust holding your favorite fruity filling, this recipe is guaranteed to be loved by the whole family. Made with simple ingredients and bursting with flavor this will quickly become a personal favorite.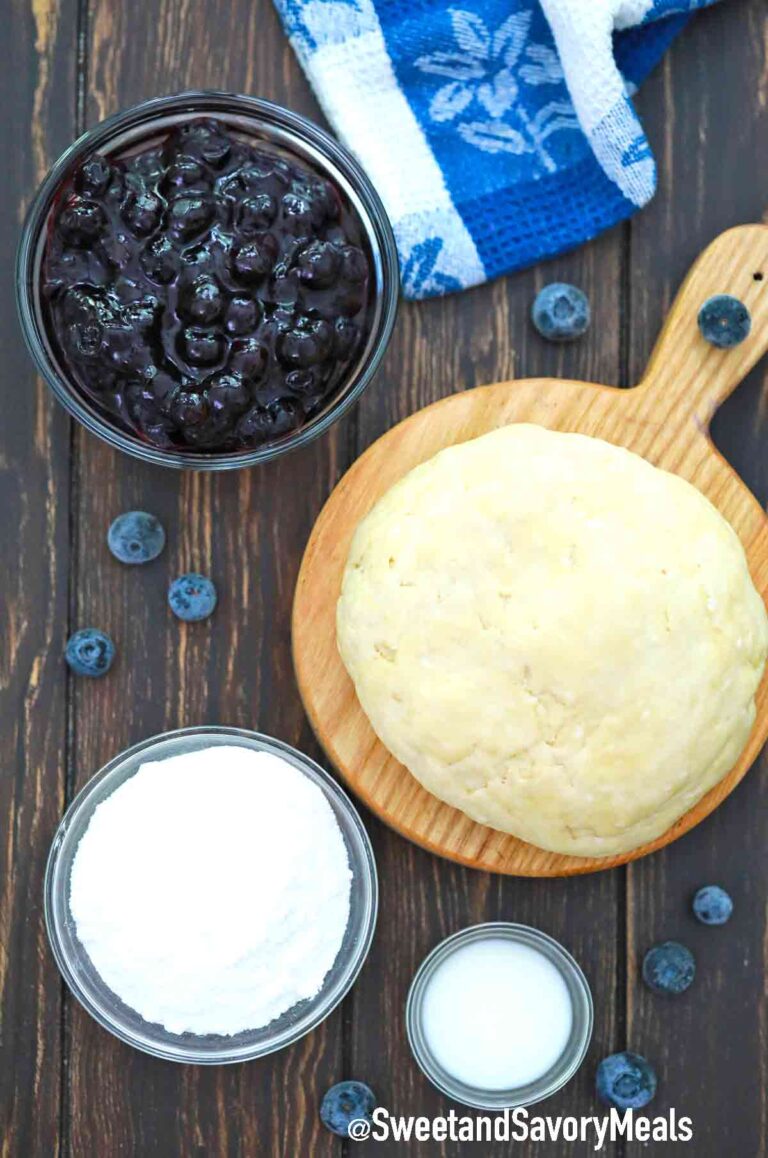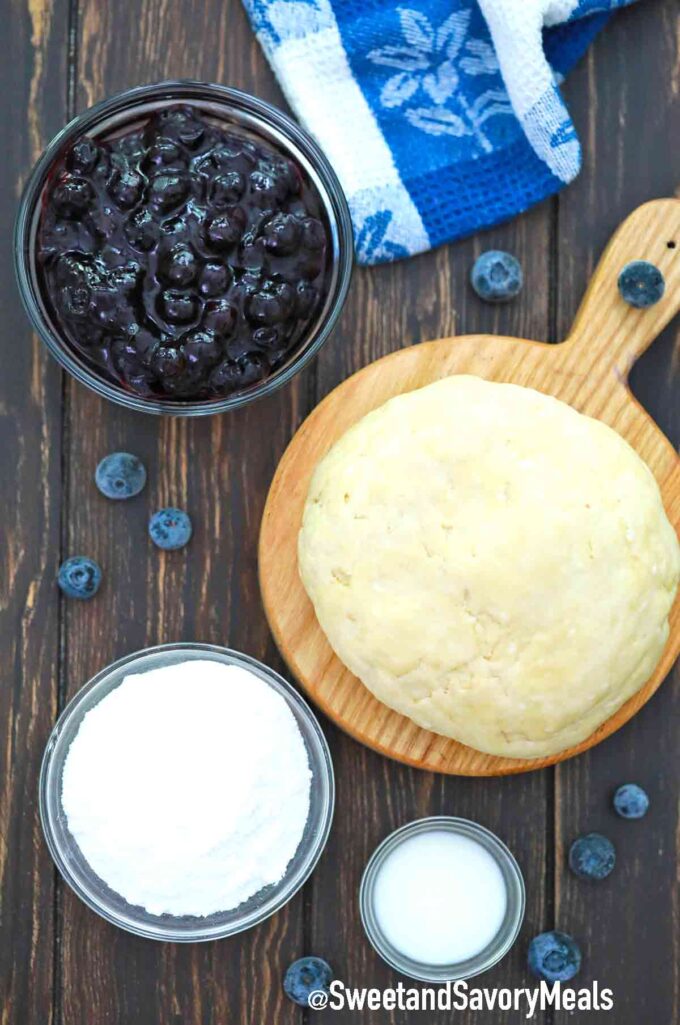 Ingredients needed:
Using premade or store-bought unbaked pie crust and your favorite preserves or pie filling, you do not need to make anything except the simple glaze to put on top. To get precise measurements, scroll down to the recipe card below. But here are the few ingredients you will need:
Pie ingredients:
Refrigerated pie crusts: You need two, store-bought or homemade pie crust, both are fine.

Also, you can use pastry sheets.

Pie filling: Use this homemade blueberry filling, strawberry jelly, or strawberry preserves. Actually, any fruit flavor will do.
For the icing:
Powdered sugar: Or confectioner's sugar.

Milk: Full-fat vitamin D is best, but you can use light or almond milk. Another option is to use lemon juice for a refreshing glaze.
Sprinkles: Optional but fun!
How to make air fryer pop tarts from scratch?
Roll: To get started, roll out the two pie crusts to about a quarter of an inch thick onto a lightly floured surface.

Cut: Then, slice the pie dough into four rectangles or into equal squares.

Fill: Next, spoon out two heaping tablespoons of tart filling in the middle of half of the dough rectangles but leave ½-inch around the edges.

Crimp: Immediately lay one of the other rectangles on top, crimping the edges with a fork to seal the edges. Put two small holes in the top to release steam.
Preheat: Meanwhile, set the air fryer to 360 degrees F to preheat.
Spray: Then, spray the basket of the fryer with cooking spray and place each tart inside, leaving room on each side for air to circulate.

Fry: Finally, arrange them in the air fryer basket in a single layer without touching each other. Then, cook for eight to 10 minutes until the edges are a golden color.

After that, transfer to a cooling rack.

Mix the icing: Last, use a small bowl to mix the ingredients for the icing.

Cool: Let the pastries sit for about 30 minutes to cool completely before icing them.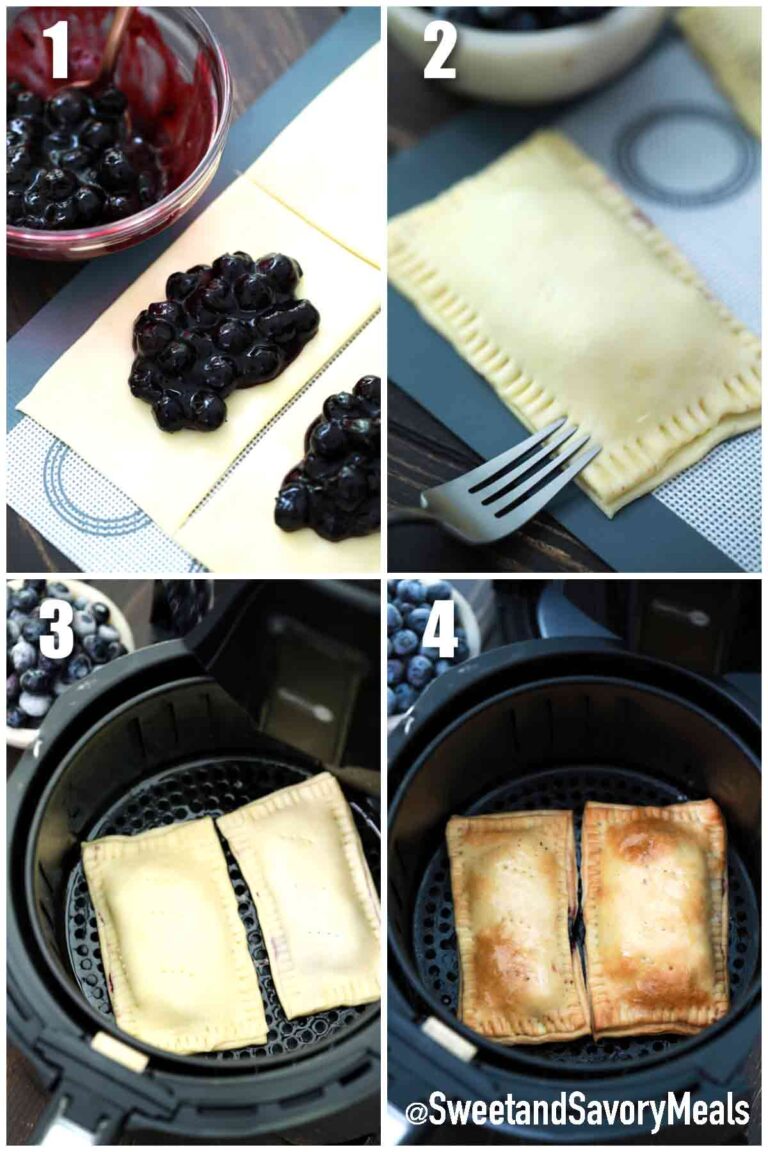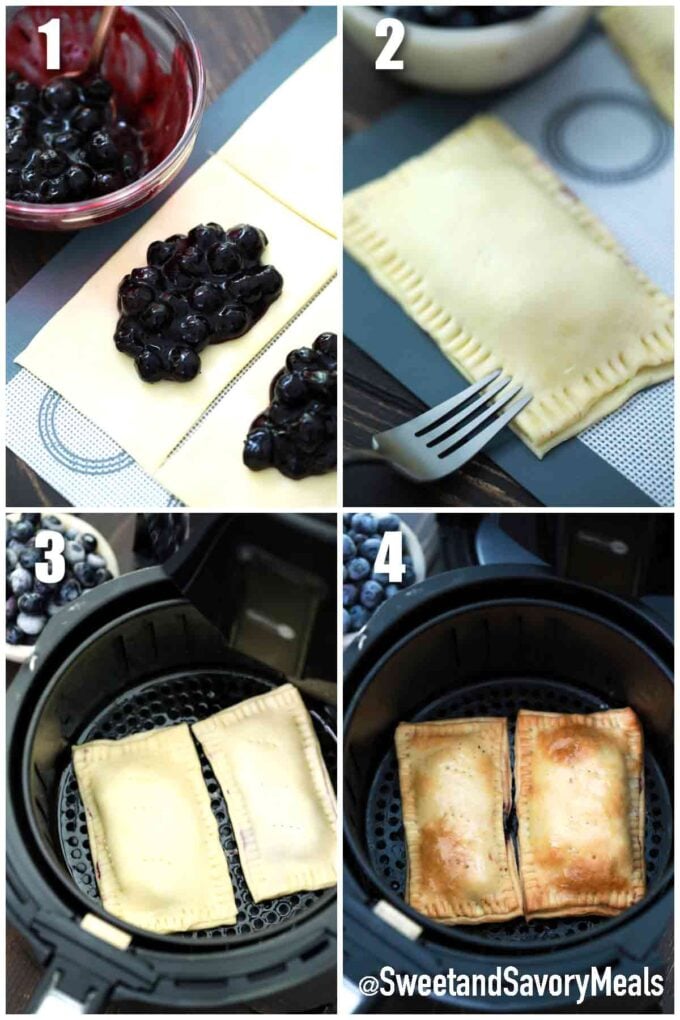 Recipe variations:
Use any fruit: Use any kind of fruit you like in any form like blueberry, raspberry, or strawberry jam, jelly, or preserves.

Different flavors: Alternatively, try pie fillings like lemon, apple, strawberry filling, or cherry pie filling. Keep in mind that the best fillings for this recipe are the ones that are thicker and not too watery.
Chocolate: Similarly, fill your tarts with chocolate chips, spread, or Nutella for a chocolatey flavor.
Nut butter: Another great idea is to fill the pastries with peanut butter or almond butter.

S'Mores: Try adding chocolate chips and mini-marshmallows inside and sprinkling graham cracker crumbs on top for a s'mores taste.

Tart shapes: Make a heart shape for Valentine's Day, or use different cookie cutters for other fun forms.
How to serve:
Serve the cooled tarts with a generous dollop of icing and add sprinkles if you like. Or try one of these other serving suggestions:
For even more sweetness, top the pop tarts with whipped cream or ice cream.

Make a brown sugar and cinnamon tart by mixing brown sugar, cinnamon, and a bit of flour.

Crumble up strawberry pop tarts and make this strawberry crisp.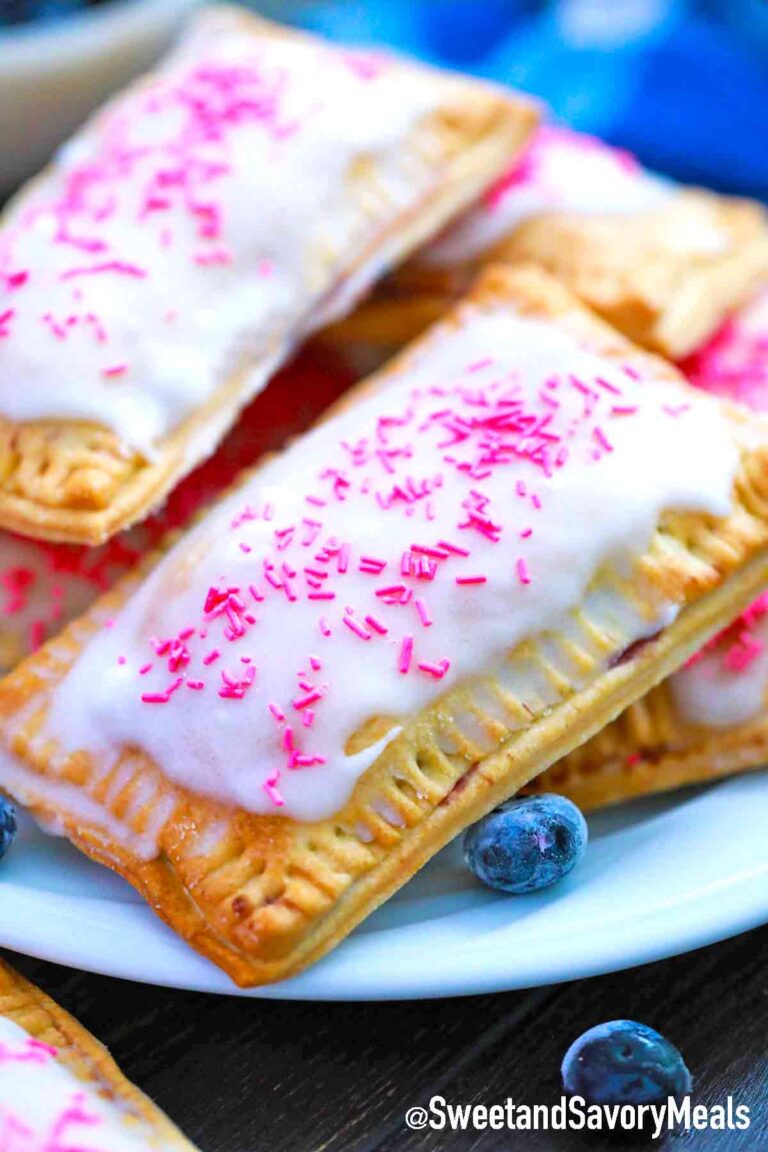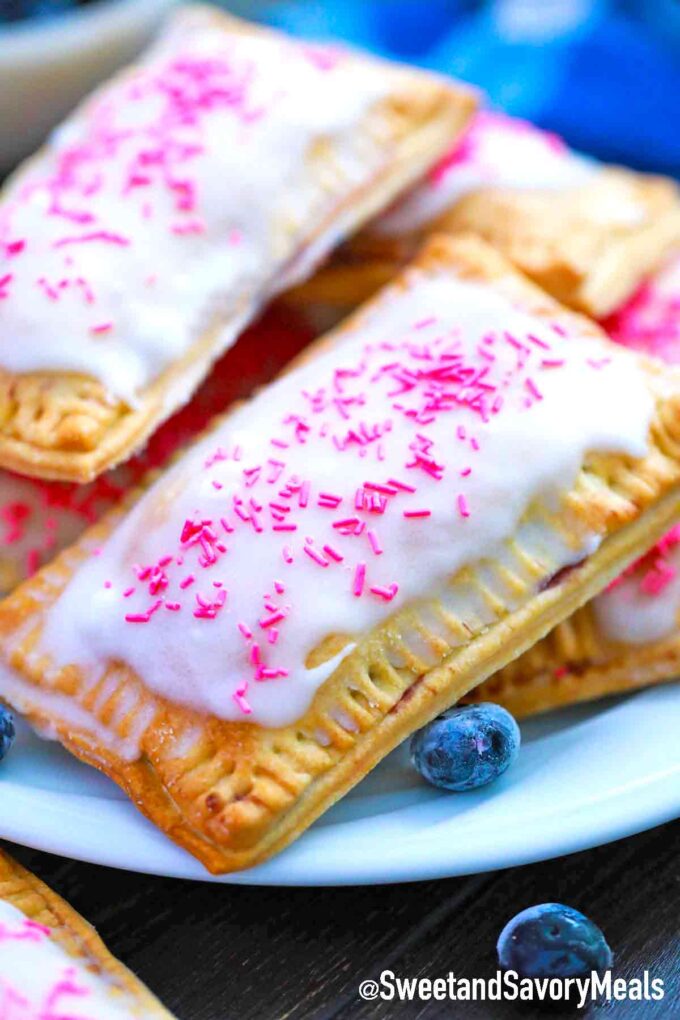 Frequently asked questions
Can you reheat pop tarts in an air fryer?
Whether you are reheating the homemade pop tarts you made with this recipe or the ones you buy from the store, the air fryer is the perfect way to heat them up. Seriously, it just takes a few minutes, and the results are amazing.
You may not see it listed on the box, but air frying makes the crust crispy and lightly browned like a real pastry. Pop them in the fryer for two to three minutes at 400 degrees F and you have a warm and juicy pop tart as you have never tasted.
How long do you cook pop tarts in the oven?
You will not see oven directions on a pop tarts box either but there is no reason why you cannot bake them in the oven. Since they are already cooked, you can heat them up any way you want to. Or don't heat them up at all.
Deciding how to cook them just depends on how you want them to taste and how long you want to wait. To cook in the oven, just preheat it to 350 degrees F and heat your tarts for about two minutes.
Are pop tarts good frozen?
Not only can you eat cooked pop tarts frozen, but there is also a recipe for it. And the first step is genius! You don't have to do it, but adding a popsicle stick to the pastry is perfect.
Stick a popsicle stick in the bottom of the unbaked pop tart, put them in a baggie, and freeze them overnight. To get that stick in there without the tart crumbling, set it on a hard surface and carefully slide the stick in the middle of the pastry.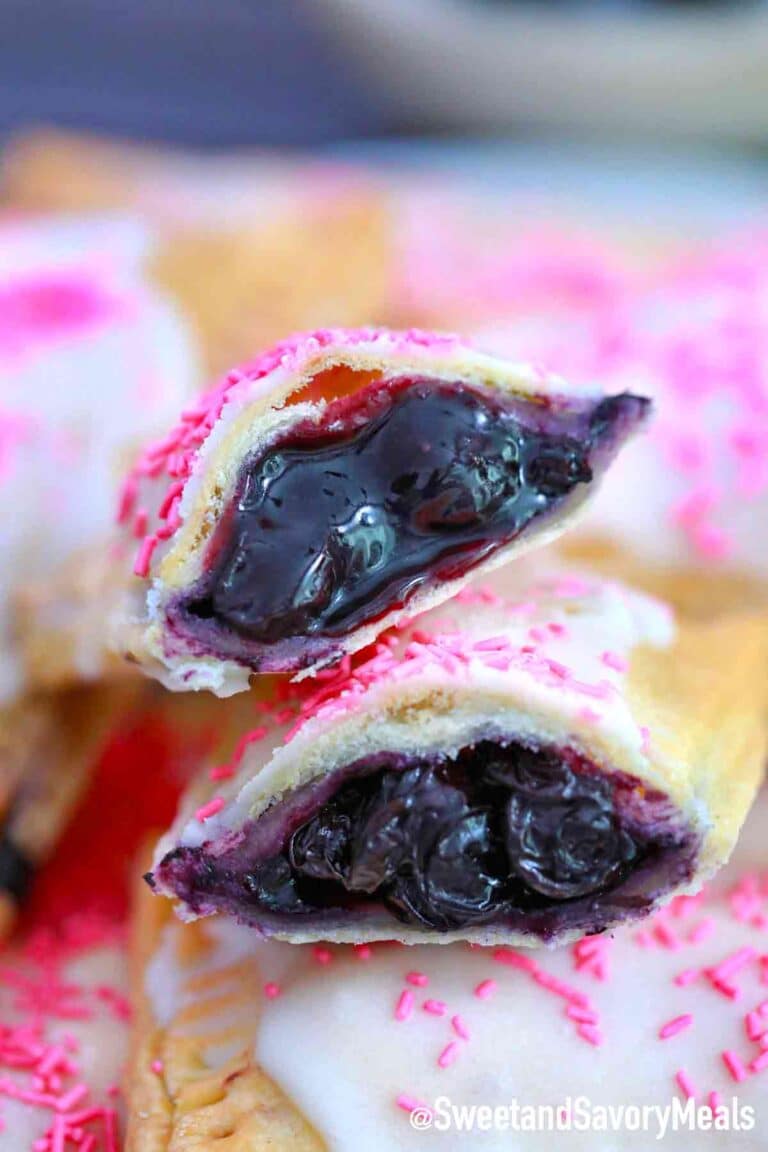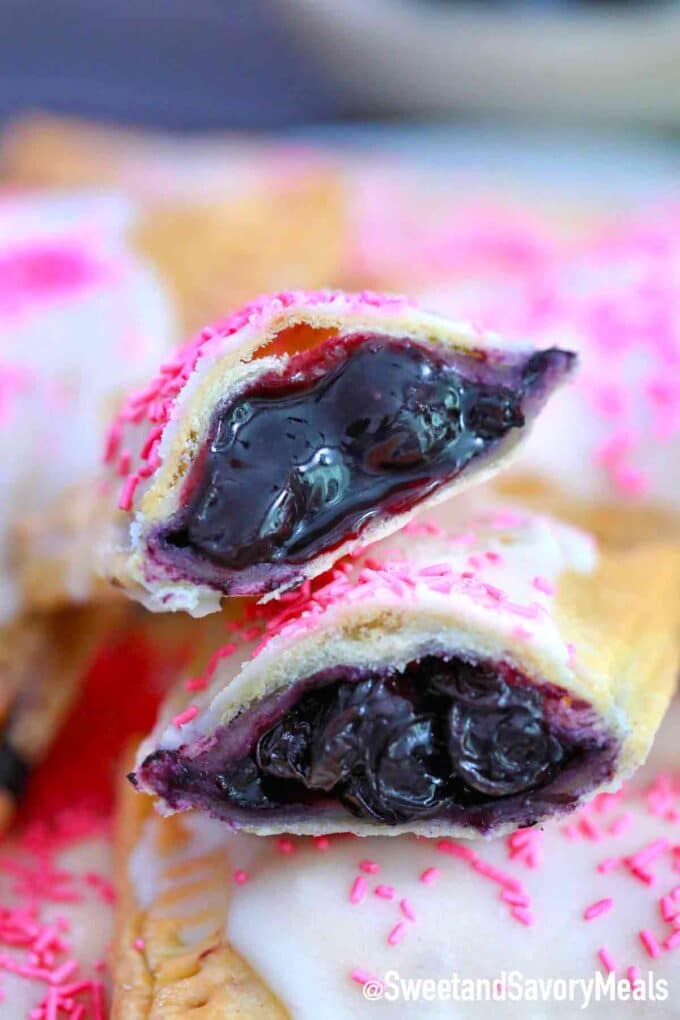 How to store leftovers:
Store: After the tarts are cool, put them in an airtight container and they will stay good in the fridge for three to four days.

Freeze: You can also freeze leftover pop tarts for a later date. First, put the air-fried pop tarts in the freezer on a baking sheet for two hours to flash freeze. Then, wrap them in plastic wrap and foil or put them in freezer bags. They should be good for up to three months.

Thaw: Finally, thaw them in the fridge overnight before reheating to serve.
Reheat: Either reheat them in the microwave, toaster oven, or air fryer.
More Air Fryer Recipes:
Cooking tips:
You could brush the edges with egg wash using a pastry brush before they are air-fried for a brown and crispy crust.

Similarly, top the tarts with egg wash too for even more crispiness.

Use this homemade cream cheese frosting instead of icing for a creamier treat.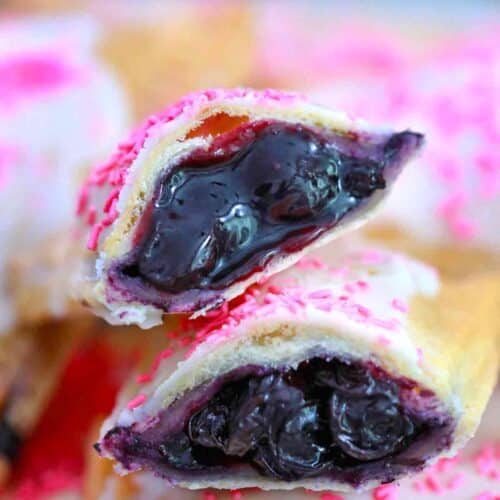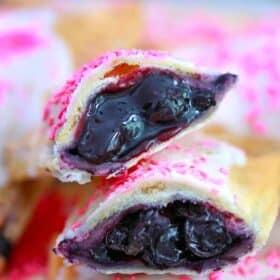 Air Fryer Pop-Tarts
Air Fryer Pop-Tarts are both flaky and sweet and you only need four ingredients to make them. This simple recipe tastes like childhood.
Save
Share
Print
Pin
Rate
Ingredients
1

package refrigerated pie crusts

8

tablespoons

pie filling

(or preserves)
Icing:
1

cup

powdered sugar

2

tablespoons

milk

Sprinkles
Instructions
On a lightly floured surface, roll out the refrigerated pie crusts to about a ¼-inch thick rectangle.

Cut each dough into four even rectangles.

Add 2 tablespoons of jam, preserves, or pie filling on one side of the rectangle leaving ½-inch space to the edge. Dip a finger in some water and go along the edges of the dough.

Add the second rectangle on top and seal the edges with a fork. After that, poke two holes on the top of the tart.

Place in the air fryer basket and cook at 360 degrees F for 8-10 minutes or until golden brown.

Remove and let cool completely on a wire rack.
Icing:
Mix the icing ingredients in a bowl until smooth and drizzle on top of the cooled pop tarts.

Immediately garnish with sprinkles.

Let the icing set and serve.
Nutrition
Calories:
345
kcal
|
Carbohydrates:
59
g
|
Protein:
3
g
|
Fat:
11
g
|
Saturated Fat:
4
g
|
Polyunsaturated Fat:
1
g
|
Monounsaturated Fat:
5
g
|
Cholesterol:
1
mg
|
Sodium:
192
mg
|
Potassium:
65
mg
|
Fiber:
1
g
|
Sugar:
34
g
|
Vitamin A:
20
IU
|
Vitamin C:
1
mg
|
Calcium:
18
mg
|
Iron:
1
mg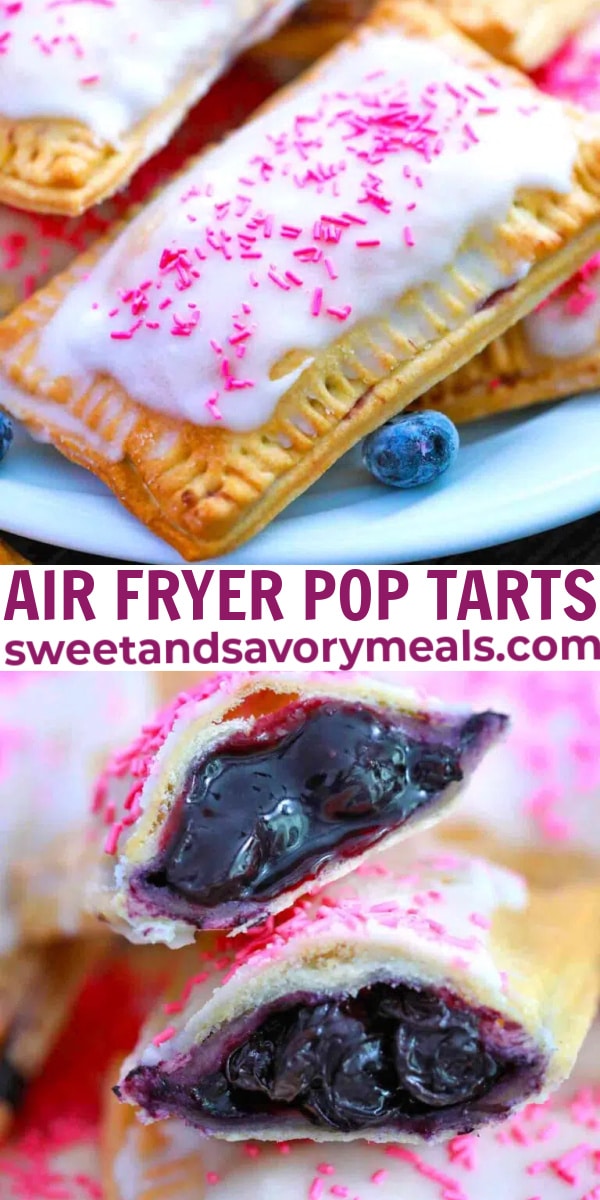 More recipes you might love