Blueberry Pie Filling Recipe [Video]
Blueberry Pie Filling made with juicy blueberries, is such a fast and easy recipe that is so much better than the store-bought version. You will not need many ingredients for this homemade pie filling, and it takes less than 30 minutes to make.
While you are at it, if you love blueberry pie, try this simple and delicious Classic Blueberry Pie recipe using this filling instead. You can also add it to this amazing Instant Pot Berry Cobbler. Don't have any blueberries? Try making this Blackberry Cobbler recipe instead.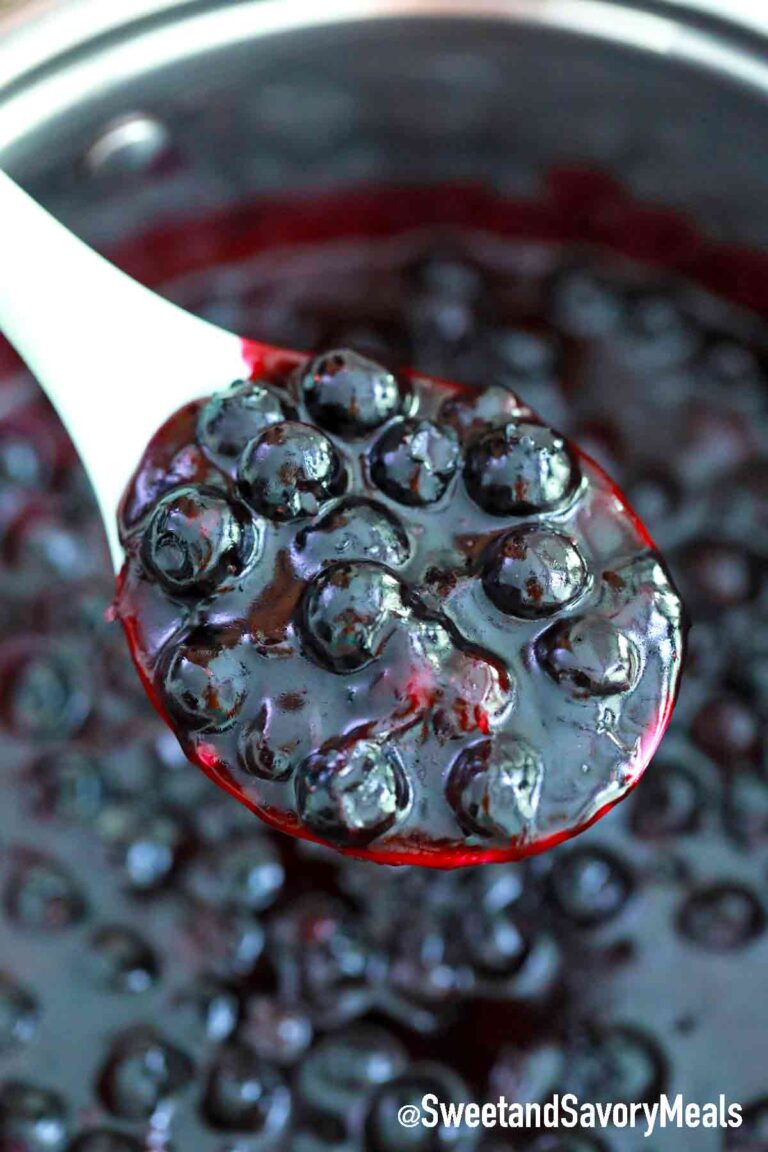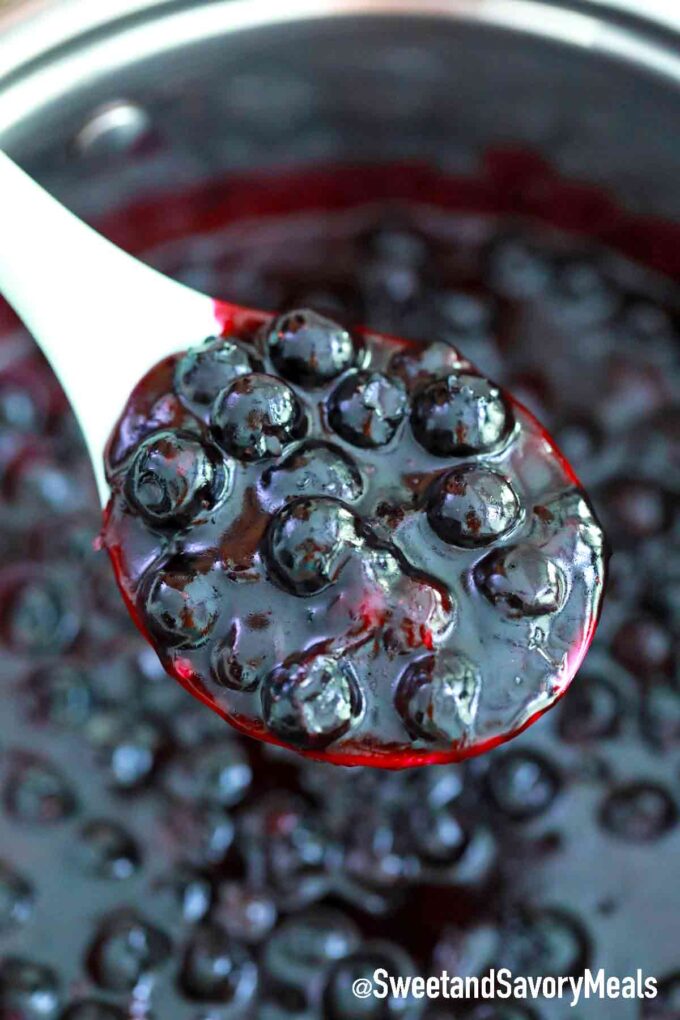 This mouthwatering pie filling is so simple and delicious that you will want to make it all the time. And your family and friends will love it if you do since they can help you eat it.
This seems like the perfect summer dessert especially when it is blueberry season and you can get your hands on fresh berries. However, you don't have to wait until summertime to make it. You can use frozen blueberries if they are not in season in your area.
Main Ingredients needed:
To get the exact measurements and directions, scroll down to our handy recipe card. But here are the basic ingredients you will be needing:
Sweet Blueberries: Preferably fresh but you can use frozen if you have to. Also, wild blueberries are delicious in this filling.
White sugar and Brown sugar: Both white and brown sugars are used in this recipe. The amount of sugar can be controlled based on your preference.
Cornstarch: This is important for thickening.
Salt: Just a pinch.
Butter: Unsalted butter is best.
Lemon juice: Fresh or store-bought.
Lemon zest: Store-bought or make your own. A little lemon zest adds a nice and refreshing citrus flavor.
Vanilla: Pure vanilla extract is the best.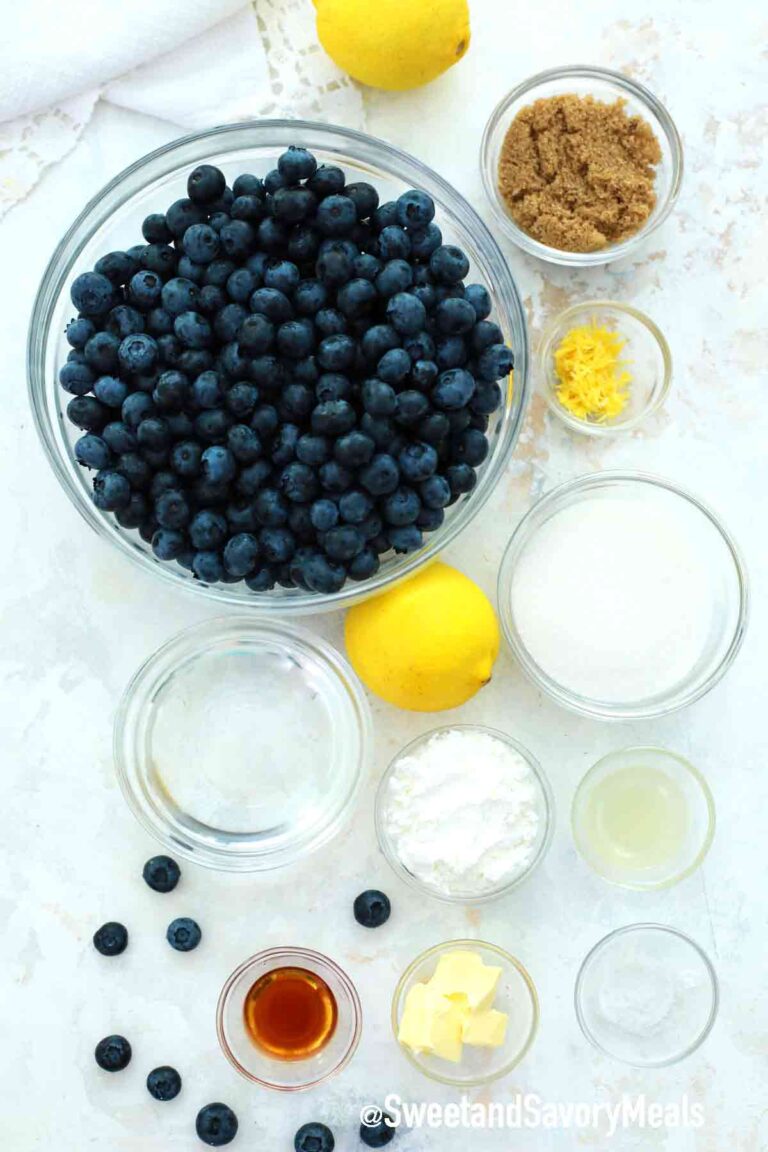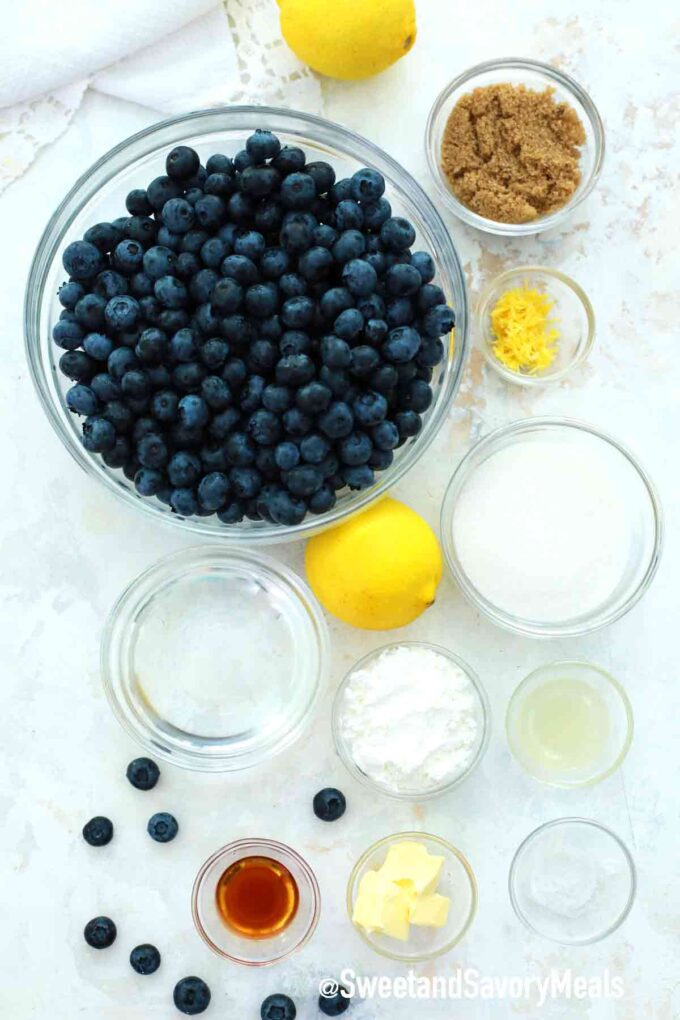 How to make blueberry pie filling from scratch?
Combine: First, combine sugar with the cornstarch, salt, and a ½ cup of water in a large pot to cook over medium heat until it is smooth.
Add: Then, reduce heat and add the lemon zest and the 6 cups of blueberries.
Boil: Meanwhile, let it boil for two minutes or until it is thick and bubbly. This takes about two minutes.
Remove: Finally, take the pot off the stove and add the vanilla, lemon juice, and butter. Stir it until the butter is melted and then let it cool.
Canning: Alternatively, if you decide on canning your own homemade blueberry pie filling, then add the hot filling to the prepared canning jars.
Store: Store the blueberry filling in an airtight container or jelly jar. It will stay good in the fridge for a week, or it will keep for several months frozen. Just thaw overnight in the fridge before use.
Canning instructions:
Make the mixture: First, follow the steps listed in the recipe card and prepare the berry mixture. After that, let it cool to room temperature.
Water bath: In the meantime, add water to a large pot, the amount of water should be enough to cover the jars by 1-inch.
Prepare the jar: Next, place the jars in another pot with boiling and boil for 10 minutes. Also, add the lids and rings to a large bowl and pour hot boiling water on top of them. Once sterilized, arrange everything on a clean kitchen towel to dry out.
Fill: Afterwards, fill the prepared jars with the berry mixture, and after that add the lids and rings.
Boil: Next, arrange the closed jars into the prepared pan for the water bath and boil for 5-6 minutes.
Cool: Finally, remove them from the water place them on a dry kitchen towel to rest undisturbed for 12 hours. In the jars pop in that time frame, it means the canning process was successful. In case they don't pop, the mixture can be stored in the fridge and needs to be consumed within 2 weeks.
Store: Store the canned stuff in the pantry for 3-4 months.
Recipe variations:
Add more fruit: Alternatively, add other fruits like blackberries or raspberries to the mix.
Thickening: In addition, you can use tapioca flour or clearjel instead of cornstarch.
Use a different extract: In contrast, try peach or orange extract for a slightly sour flavor.
Spices: Also, try using different spices like cinnamon, ginger, nutmeg, or other seasonings.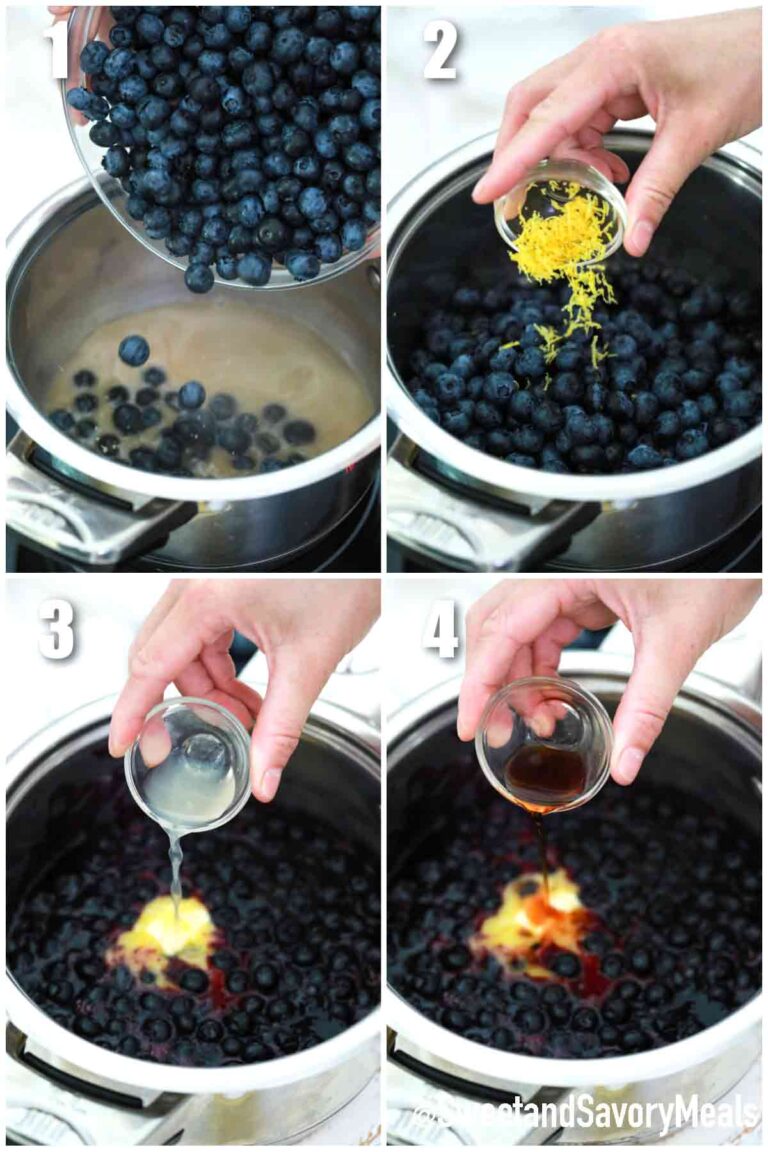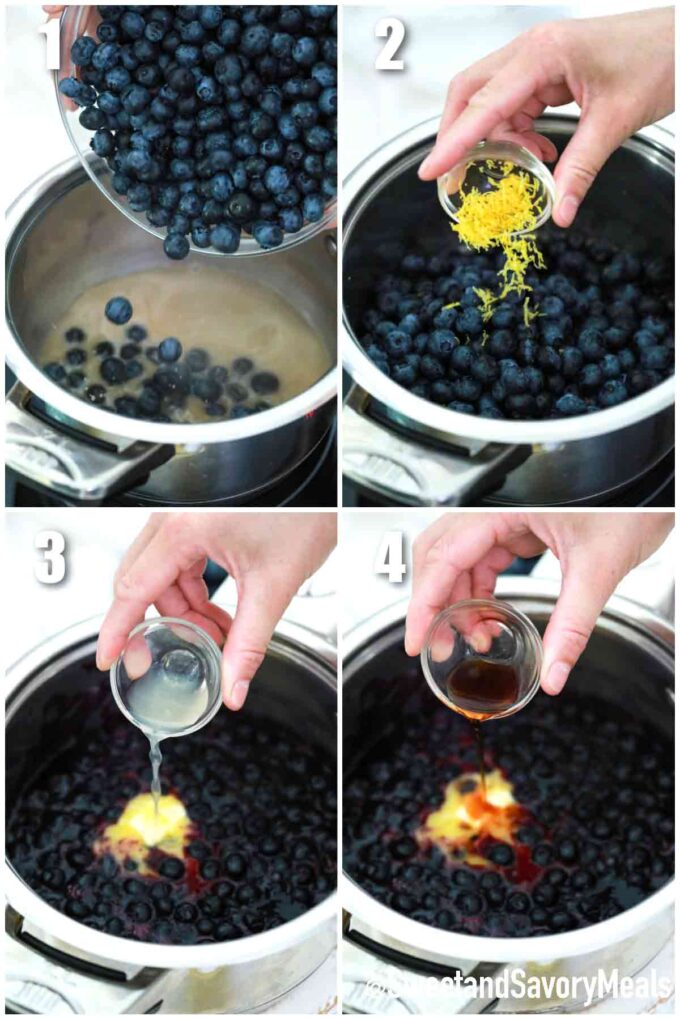 How to serve:
Serve this tasty treat in a pie or on top of anything, it has lots of uses, use it on pancakes, cake, cookies, or in turnovers. Here are some other serving ideas:
Add it to ice cream for blueberry ice cream. Or use it as a topping for vanilla ice cream.
Likewise, mix it with these grilled peaches and add some lemon rind on top for a nice summer dessert.
This is great on instant pot strawberry cheesecake or strawberry poke cake.
In contrast, pour it over the top of this awesome strawberry shortcake pie for a delicious fruit pie version.
As a different option, combine it with apple pie filling to make a fruit-filled dessert.
Make an easy blueberry pie using a store-bought pie shell like a graham cracker crust and fill it with the blueberry mixture.
Another option to save some time, use store-bought pie dough. I recommend filling the bottom crust, and for the top crust make it a lattice crust.
Also, use this recipe to fill pop tarts and individual tasty pies.
Blueberry Pie Recipe:
Use the best pie filling to make a delicious blueberry pie using this simple recipe. Actually, in this recipe, you will find our favorite pie crust recipe that is buttery and flaky.
Obviously, a flaky crust is a must, we like it so much that sometimes we use it to make a double-crust pie.
Also, when baking it make sure the top of the pie has a beautiful golden brown color. The berry mixture should be thickened and bubbling. After that, make sure to let it cool on a wire rack for 10-15 minutes so you can cut perfect slices.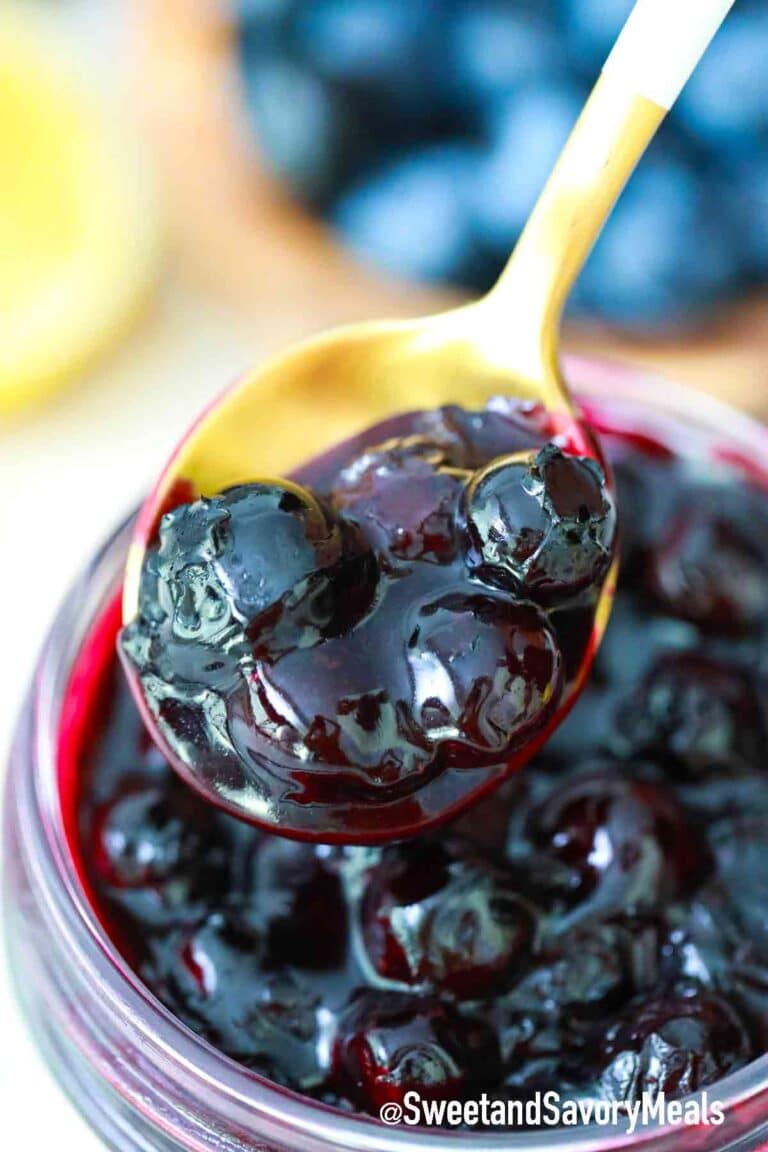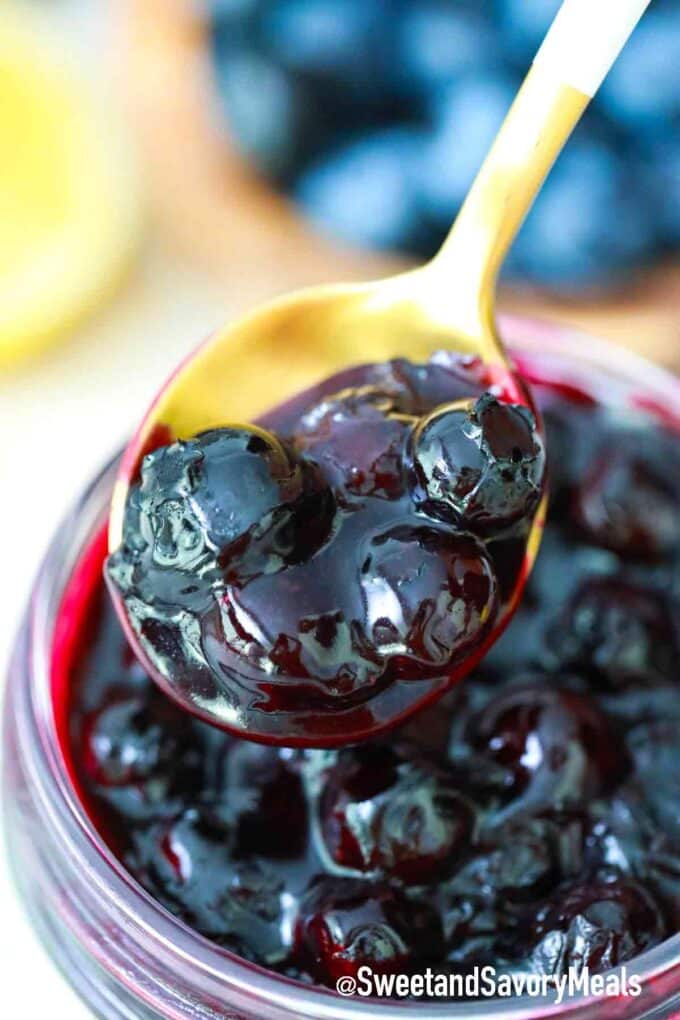 Frequently asked questions
How do you thicken blueberry pie filling?
The runny filling can ruin the whole pie so make sure you do all you can to prevent it from being runny in the first place. First, use smaller berries. The smaller the berry, the less moisture there is to come out of them when they cook.
Also, try not to use frozen berries. The frozen ones will add more moisture so if you do use them, wait for them to be completely thawed out and dry them with a paper towel first.
But if the filling is already runny, try adding tapioca flour. It works better than cornstarch or regular flour and it will not add any texture or color to the filling that you don't want. And use less sugar if your berries are really sweet because sugar contains moisture too.
Can I just use blueberry jelly for pie filling?
Although you can technically use blueberry jelly or jam for pie filling, it will not yield the same results since there are no real berries in them. If you must, use blueberry preserves because that has real berries in them and will be more like a blueberry pie filling.
How do I avoid a soggy pie crust?
Nobody likes a soggy crust but sometimes it happens, and you have no idea why. There are several reasons for this. First of all, try using less water. Only use a bit at a time until the dough comes together. Let it rest in the refrigerator before rolling and see how moist it is with less water.
You can also try using parchment paper on top when you bake your crust. Put the parchment paper on top of the crust and place something heavy like pie weights to keep the air bubbles down. Then remove the parchment paper after 15 minutes and cook for 10 more minutes.
Alternatively, using an egg wash on top of the crust to seal it before putting your filling inside. Let it bake for another five or 10 minutes with the egg wash and then fill as usual after it cools.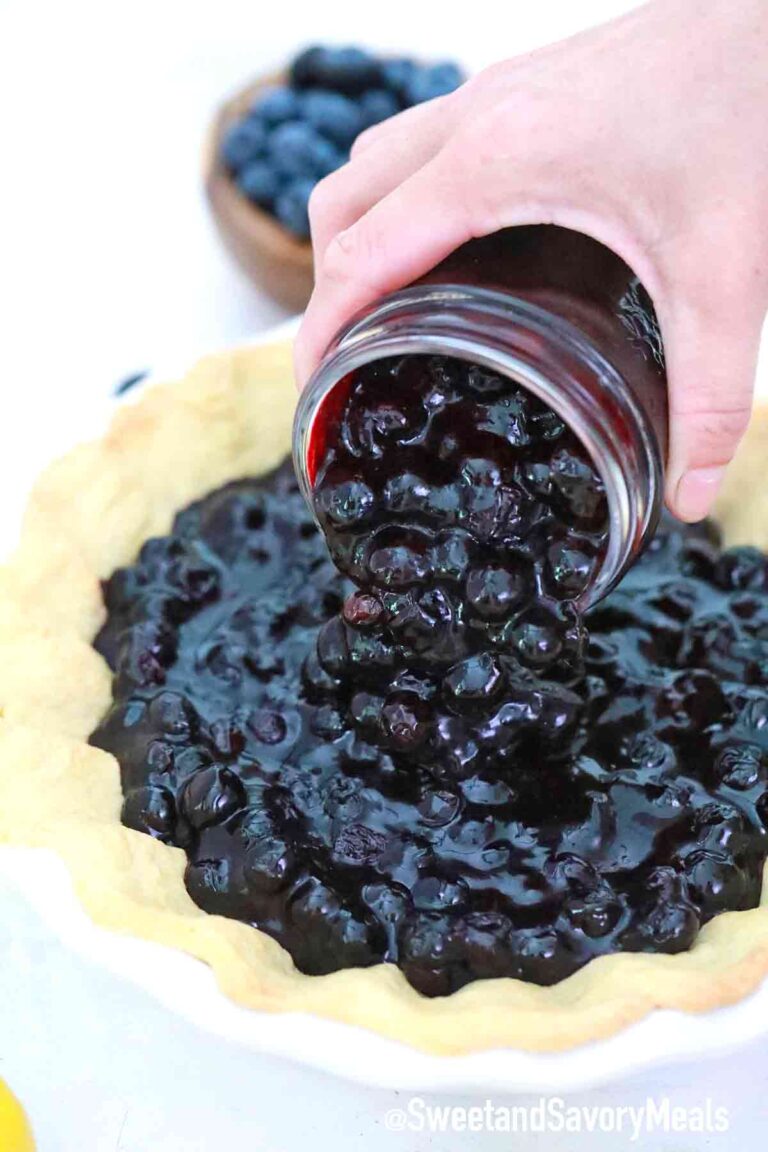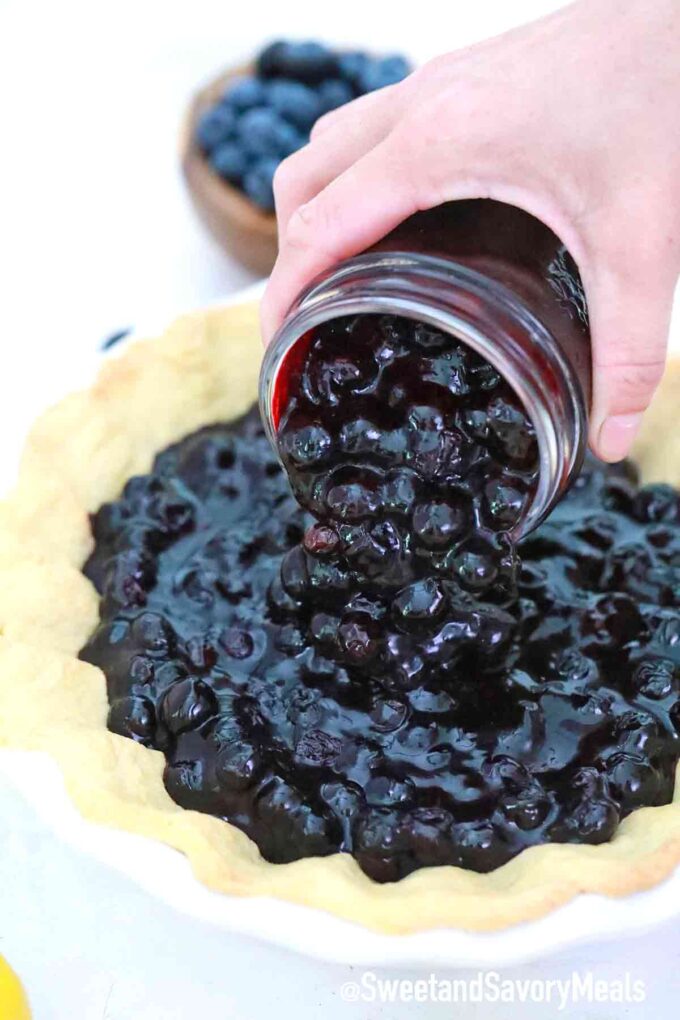 How to store:
Refrigerate: Add the mixture to airtight containers or pint jars and store in the fridge for 5-7 days.
Freeze: Another way to store it is by canning it or freezing it. In order to freeze it, first, let the mixture fully cool to room temperature and after that, add it to a freezer-safe container or freezer bag and freeze for up to 3 months.
Thaw: First, there are two options, either plan in advance and transfer the frozen filling from the freezer to the fridge and thaw overnight. Another option is to add it to a medium saucepan over medium-high heat. Also, make a cornstarch slurry to mix in, to thicken the excess juice from the berries.
More Pie Recipes:
Recipe tips:
Important, be sure to drain the blueberries well before using them to prevent the pie from being runny. This is especially important if you are using frozen blueberries.
Also, do not poke holes in the crust to stop it from puffing or it will get soggy. Use pie weights instead.
If you have a lot of fresh blueberries from your garden, go ahead and make a bunch of this filling and can them in sterilized mason jars to keep for months.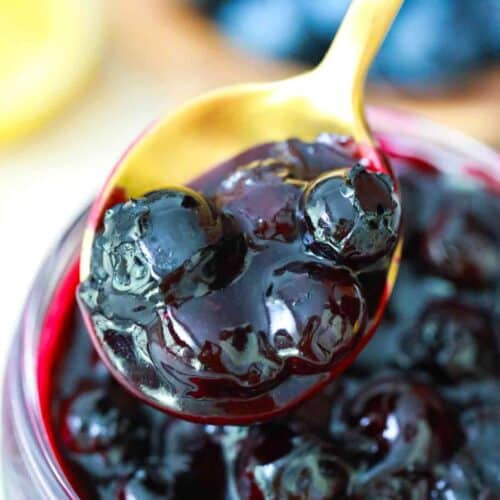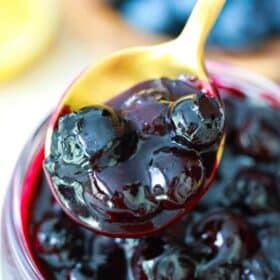 Blueberry Pie Filling
Blueberry Pie Filling made with juicy blueberries, is such a fast and easy recipe that is so much better than the store-bought version.
Save
Share
Print
Pin
Rate
Ingredients
1/2

cup

white sugar

1/4

brown sugar

1/4

cup

cornstarch

1/8

teaspoon

salt

1/2

cup

cold water

6

cups

fresh blueberries

(divided)

1

tablespoon

butter

1

tablespoon

lemon juice

1

teaspoon

lemon zest

1

teaspoon

vanilla extract
Instructions
Place a large saucepan over medium heat and add: sugars, cornstarch, salt, and water, stir until smooth.

Next, add the blueberries and lemon zest. Bring the mixture to a boil and cook stirring for 5 minutes or until thickened and bubbly.

Remove from the heat and stir in butter, lemon juice, and vanilla, stir until the butter is melted.
Nutrition
Calories:
566
kcal
|
Carbohydrates:
130
g
|
Protein:
3
g
|
Fat:
7
g
|
Saturated Fat:
1
g
|
Polyunsaturated Fat:
2
g
|
Monounsaturated Fat:
3
g
|
Sodium:
221
mg
|
Potassium:
359
mg
|
Fiber:
11
g
|
Sugar:
95
g
|
Vitamin A:
491
IU
|
Vitamin C:
47
mg
|
Calcium:
34
mg
|
Iron:
1
mg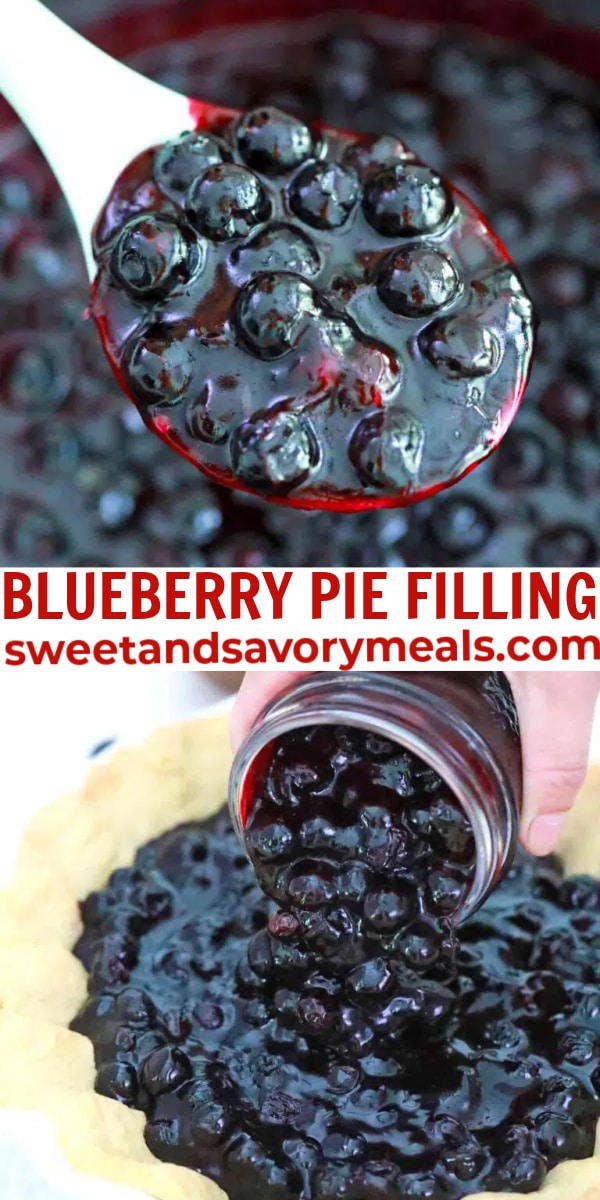 More recipes you might love