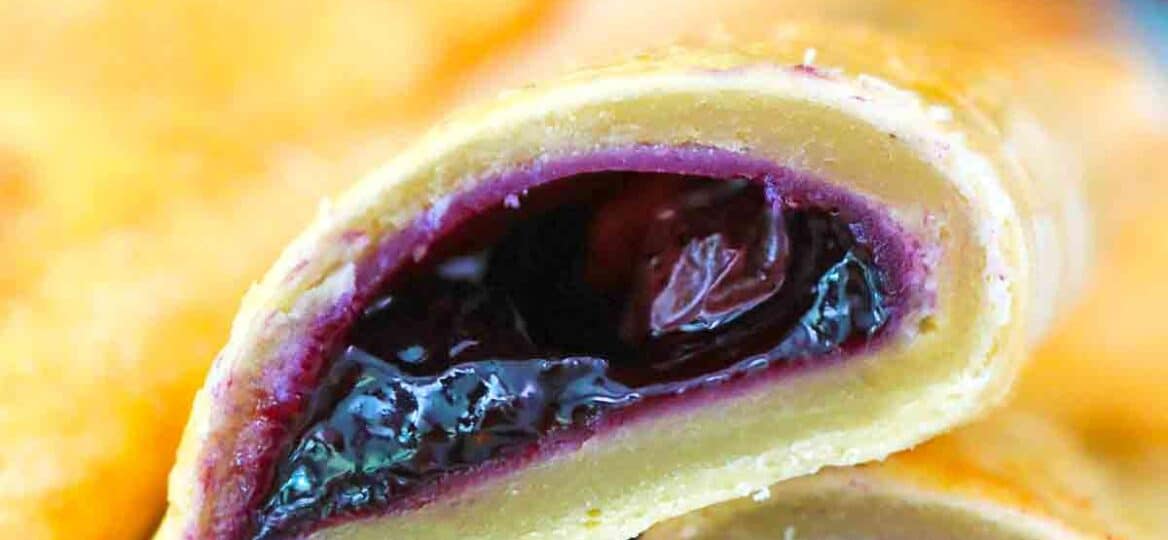 Air Fryer Blueberry Hand Pies Recipe [Video]
Air Fryer blueberry hand pies are made with just 4 ingredients and ready in 30 minutes. They are sweet, flaky, and juicy, filled with homemade blueberry filling. It only takes a few minutes to cook them to crispy perfection in the air fryer.
Another enjoyable treat to make in the air fryer are these amazing Apple Fritters for dessert or for a quick and easy breakfast on the go. If you are not in the mood for fruit, try this Peanut Butter Cookies recipe for a change. Or for a nice family breakfast, make French Toast fast and easy as well as yummy.
If you have never had homemade hand pies, you are missing out on something special. Or maybe you already had one and didn't know it. For example, McDonald's apple pies are considered hand pies, and bakeries also sell them often. Air fryer recipes
You literally only need a few ingredients, and it takes very little time, especially if you use store-bought or premade pie crusts. This easy recipe is the perfect summer dessert. Also, the small hand pies are so much more fun to eat instead of a whole pie. They are mess-free and they make a delicious sweet treat on the go.
This recipe is very versatile and adaptable, therefore, you can make these with fresh fruit or your favorite fillings.
Ingredients needed:
Check out our recipe below for precise measurements and instructions. But these are the basic ingredients you need:
Blueberry pie filling: Use our recipe to make juicy blueberry filling or you can use store-bought canned pie filling.
Pie crusts: Use our recipe for homemade crust or a store-bought flaky crust.
Large egg: Room temperature is best.

Sugar: White granulated sugar.

Olive oil: Spray is the easiest to use.
Water: Just a splash to mix with the egg.
How to make air fryer blueberry hand pies from scratch?
Preheat: To begin, preheat the air fryer to 360 degrees F.
Thaw: Then, if you are using frozen pie crusts from the store, remove them from the freezer and thaw them according to the instructions on the box.
Cut: After they are thawed, roll out the pie dough on a floured work surface and use a biscuit cutter or glass with a five-inch circle to make three circles from each pie crust. As a result, save or discard the scraps as you see fit.

Fill: Next, fill the bottom half of each circle with your favorite filling, leaving about a half-inch border.

Fold: Then, fold each one over into a half-moon shape. Use a wet fingertip to seal before you crimp the edges of the dough with a fork.
Egg wash: After, whisk the egg with a splash of water and brush it all over the pies.
Finish: Last, sprinkle sugar on the pies and cut three small slices on top of each pie to release the steam.
Cook: Finally, spray the air fryer basket with the olive oil spray and then arrange the air fryer hand pies in a single layer so they do not touch. Fry until they are golden brown, for seven to nine minutes.

Cook time depends on the AF model and crust thickness.
How to serve:
Serve this easy blueberry hand pies recipe slightly warm but not straight from the fryer because the insides will be hot. Here are some other serving ideas:
You can make a glaze of powdered sugar and vanilla to coat the pies after it cooks.

Similarly, add a scoop of vanilla ice cream or this easy whipped cream on top of these pies for a sweeter treat.
In addition, toss some sprinkles, chocolate chips, or nuts on top of the ice cream or whipped cream.

Also, add some blueberries to the top of the pies for an even fruitier taste.
Another great idea is to pack them for an afternoon school snack.
Frequently asked questions
How do you cook frozen pies in the air fryer?
Whether you are reheating these frozen hand pies or making a frozen chicken or beef pot pie, the air fryer is a perfect choice. Therefore, it is faster than the oven and makes the pie crispier than in the microwave.
First, preheat your fryer for about three minutes at 360 degrees F. Then, remove the pies from the aluminum tray and arrange them in the basket or on the grill of your fryer. Let them cook for 30 minutes. Check for doneness after 20 minutes depending on the size and number of pies you are making.
Can you put aluminum foil in the air fryer?
The easy answer to this is yes but there are some strings attached to this answer. Hence, you should not block the air from the food, or it will not be able to cook properly. The air circulation is how the air fryer cooks the food.
If you have a fryer with a basket, do not place the foil over the bottom of the basket, better use parchment paper. With an air fryer oven, you can put the foil in the bottom to catch the drippings or cover the top of what you are cooking so it does not burn.
What should you not cook in an air fryer?
Although we are still learning new things about air fryers, there are still some things you just should not cook in them. First of all, any kind of food that is coated in wet batter is not a good idea because it will make a mess and will not cook right.
Another thing that does not cook well in the air fryer is broccoli. It can become rubbery and hard to eat. Cheese sandwiches will melt and run all over so that is not a good idea either. And rice cooks by being submerged in water so cook it on the stove or in the microwave instead.
How to store leftovers:
Store: Once the pies are completely cooled, pop them in the fridge in an airtight container for up to three days.
Freeze: Also, you can freeze the leftovers for later. Just make sure they are cooled off first and then flash freeze them on a baking sheet for two hours. Afterward, wrap in plastic wrap and foil or use freezer bags to freeze them individually for easier serving.

Thaw: These pies can be thawed in the fridge overnight and eaten cold because they are delicious that way too.
Reheat: Alternatively, you can reheat them in the air fryer for five minutes or microwave them for five or 10 seconds.
More Air Fryer Recipes: