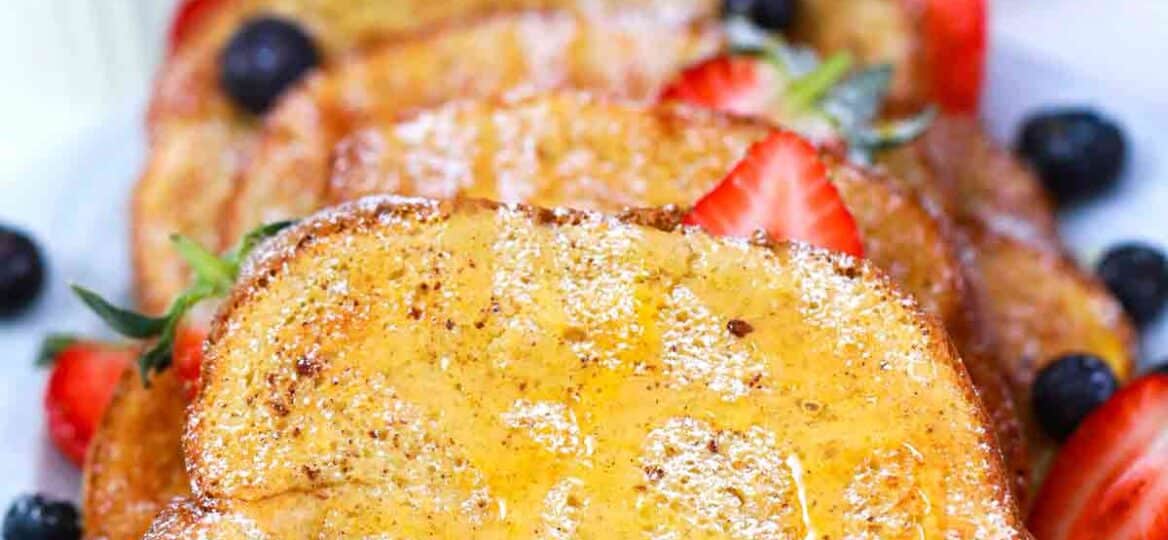 Air Fryer French Toast Recipe [Video]
Air Fryer French Toast is soaked in a spiced, sweet cream custard then air-fried until beautifully golden and crispy. No oil needed and ready in minutes!
Treat yourself to a full breakfast spread! Fry up some crispy, smoky Bacon, then whip up the creamiest Scrambled Eggs. For a healthy morning boost, top it off with the Best Spinach Smoothie!
Easy Air Fryer French Toast
Air Fryer French Toast is our "lighter" version of the classic since we're not frying it up in fat like butter. But it's every bit as rich, indulgent, and delicious as the original.
We're soaking thick pieces of buttery brioche in the most amazing custard made of cream and fresh eggs flavored with vanilla and spices. Then, we're air-frying them until the outside turns caramelized and slightly crispy.
Top it off with anything you like such as fruits, ice cream, chocolate, jams, and more!
Can you make French toast in an air fryer?
Yes! We love it because you don't need extra fat. Since the food is surrounded by hot, circulating air, it cooks up fast and doesn't stick to the basket.
What goes into Air Fryer French Toast
Bread: Use thickly-sliced types of dense bread like brioche.
Custard: A combo of heavy cream and fresh eggs make up our custard base, plus milk to loosen it up.
Sweeteners: A mix of brown and white sugars gives our toast the perfect level of sweetness and helps it brown beautifully.
Flavorings: We're using a dash of vanilla plus cinnamon and nutmeg for warm, spice flavors.
How to cook homemade Air Fryer French Toast from scratch
Pre-heat. Turn on your air-fryer and leave it to preheat up to 370F.
Mix the custard. Next, combine the custard components together with the flavorings and both sugars.
Soak the bread. Then, dunk the slices of bread into the spiced custard, and let it really soak into the bread.
Cook. Arrange the slices in your preheated air-fryer, and cook for 4 mins. Flip and continue cooking until golden, about 4 to 6 mins. more. Do this for the rest.
Serve. Enjoy hot with fruit jams, chocolate drizzle, and whatever your favorite toppings are!
Recipe variations:
Other types of bread: Challah, a crusty sourdough loaf, thick slices of whole wheat bread, and Baguette will make great substitutes for brioche.
Flavorings: There's so much room for flavor customizations here! Throw in some lemon or orange zest in there, use almond extract, try other spices like allspice and powdered ginger. You can also add fruit extracts to the custard.
Sweeteners: Instead of sugar, use honey, artificial sweeteners, maple syrup, or skip it altogether.
Milk and cream alternatives: You can sub the milk with skim, non-fat, or your favorite plant-based milk. As for the cream, you can also use half and half.
Eggless: Whisk in some cornstarch in place of the eggs.
Griddle/skillet: No air fryer? No problem. Fry it up in the skillet!
Baked: Try these Baked French Toast Sticks instead.
Frequently Asked Questions
What bread is your best option?
Brioche bread is definitely the best option here. It's soft and slightly sweet, but dense enough to soak up the custard without falling apart.
How can you make it healthier?
A few healthy substitutes will give you a lighter, guilt-free version. For instance, use plant-based or non-fat milk and skip the cream. You can also skip the sugar, and simply add sweetness through the toppings. As for the bread, we've tried using whole wheat bread to great success.
What makes Air Fryer French Toast turn out soggy?
The air-fryer is probably not hot enough yet when you placed the slices in there. Remember, this is basically bread soaked in milky custard, so you need to cook it properly so it firms up.
In addition, the slices you used are probably not thick enough. If the bread is too thin, it will fall apart and end up soggy.
Can you still fix a French toast that is soggy?
Sure! You can cook it for a few mins. more. Also, if it's really soggy, we suggest frying it up in a little butter on the stovetop to really crisp up the surface.
Is oil needed for Air Fryer French Toast?
For the classic stovetop version, yes. But in the air fryer, no. The hot, circulating air will cook both sides evenly, crisping them up so they don't stick onto the basket.
How to serve it:
Here comes the most fun part! You can serve these virtually any way you want. Prefer it simple? Dust with a little icing sugar, drizzle with syrup and enjoy with a side of fresh fruit.
Topping-wise, your options are endless:
How to store leftovers:
Cool the leftovers down first, then transfer to a well-sealed container. Keep in the refrigerator for up to three days. To reheat, air-fry for a few minutes at 400F.
How to freeze:
Sure! Flash-freeze on a sheet for a couple of hours first, then transfer to a Ziploc bag. To reheat, defrost on the counter or thaw out overnight inside the refrigerator. Then, air-fry for a few minutes at 400F.
More Recipes You Might Like:
Deliciousness to your inbox
Enjoy weekly hand picked recipes and recommendations