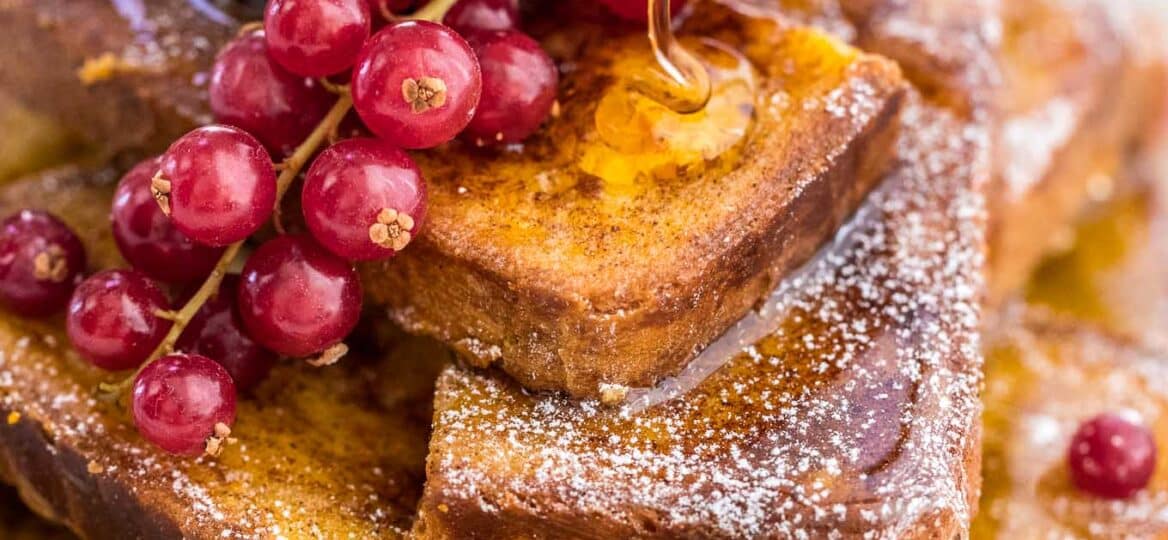 Baked French Toast Sticks [video]
Baked French Toast Sticks are the perfect comfort food to enjoy for breakfast. It is a super easy recipe to make and ready in about 40 minutes.
The sticks are crispy on the outside and creamy on the inside. Both kids and adults love them. You can enjoy them for breakfast with some Instant Pot Egg Bites, Monte Cristo Grilled Cheese Sandwiches, and Ham and Cheese Quiche.
Best Baked French Toast Sticks
Baked French Toast Sticks are easy to make with a few simple ingredients that you can find in your kitchen. They are soft and buttery, and simply impossible to resist. This is the type of dish that will satisfy the whole family.
We love to make them for the weekend breakfast or brunch and top them with some honey or maple syrup. Another reason why we love this recipe so much is because of its versatility. You can put whatever toppings you have on hand and it would transform your regular toast sticks into amazing treats!
We love to pair them with some eggs or a fruit salad for a complete breakfast. What we also love about this recipe is that you can bake it ahead and then freeze it for a later time. This way, you can enjoy your breakfast for days or weeks to come and not worry about being in the kitchen at all times.
What bread to use for Baked French Toast Sticks?
Usually, we use older or stale bread for this recipe. Any type will work nicely, just remember to use thicker cut slices. This way, the sticks won't get soggy when soaked into the custard.
We try to avoid using thinly sliced bread because it would absorb the custard too quickly and make them soggy. Therefore, whatever bread you choose, remember to start off with unsliced whole bread. This way, you have control over the thickness of it.
For some of our favorite bread types to use for toasts, check out this post. Here, we list some of the best bread to use for the perfect taste and texture.
How to make Baked French Toast Sticks?
These sticks are easy to make with ingredients that are available in your kitchen. You would need sugar with cinnamon powder for dusting, milk or whole cream, eggs, and vanilla extract for the custard, melted butter, bread.
Cut the bread into thicker slices, then divide the slice into 3 sticks, and dunk it into the custard. Make sure to soak the bread enough so it absorbs the custard well.
Let the excess custard drip off. Then, place on baking sheets, brush with melted butter, and bake until golden brown on both sides.
We like to top them with some confectioner's sugar, nuts, fruits, or melted butter and syrup. But feel free to use your favorite toppings.
Can you make them ahead?
These sticks can definitely be made ahead of time. You can do it in three easy steps. First, ensure the sticks are completely cooled prior to freezing. Then, lay them out onto an airtight container or a clean baking sheet. Cover the container with foil, and place in the freezer. They will last for up to 3 months.
When ready to serve, microwave them for a few minutes until warm, or heat them up in the oven for about 10 minutes at 350 degrees F.
Some great toppings for Baked French Toast Sticks
We like using the following toppings:
Dark or white chocolate chips
Nuts, such as hazelnuts, cashews, almonds, or walnuts
Fruits like: bananas, kiwi, and berries like strawberries, raspberries, and blueberries
Melted butter
Honey or jams
Maple syrup
more breakfast recipes:
Recipe tips and notes:
To reduce some calories, use fat-free or reduced-fat milk.
Also, you can make a larger batch ahead of time and then simply store in smaller ziplock bags. This way, you can just easily grab the bag when you need it.
When dunking the bread in the custard, turn on each side to ensure that the custard is soaked through the whole bread.
Best to use stale bread for this recipe.