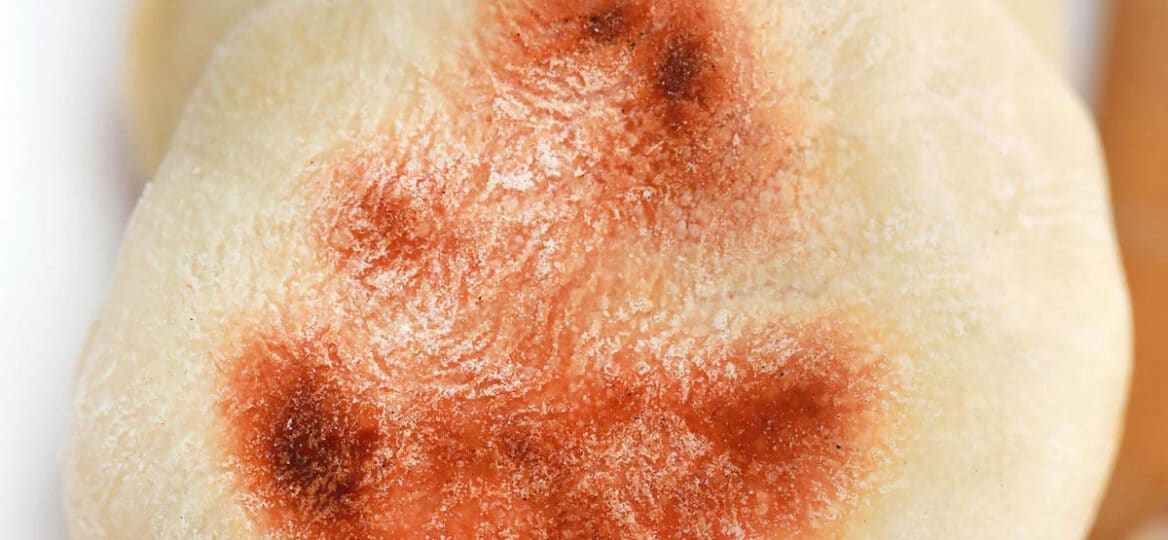 English Muffins are the perfect go-to breakfast food! Much like pancakes, these rounded delights can make anyone jump right out of bed quickly!
Tired of eating sugary cereals and plain oatmeal for breakfast? Check out these recipes to make your morning meals more delicious and energizing: Blueberry Oatmeal Pancakes, Sausage Egg and Cheese Breakfast Burrito, and Baked French Toast Sticks.
Homemade English Muffins Recipe
English Muffins are an underrated dish despite tasting absolutely amazing. They may look like pancakes, but they are smaller and have a more unique taste.
In addition, it has lower calories than bread and bagels. This recipe is great for people who are looking to cut some weight but cannot let go of pastries.
I love this recipe because it provides a new taste for most of my guests. During sleepovers, I like serving this for the morning after so that they would discover how great it is.
The muffin melts in your mouth and the softness just feels so good in your tongue. However, you could also choose to toast it if you want a crunchier feel.
How to make English Muffins
Combine dry ingredients. Mix flour, yeast, and salt in one bowl.
Heat the wet ingredients. Mix butter, water, and milk. Let it heat in a microwave for a maximum of 30 seconds. Make sure the butter is properly melted, however, avoid letting it get too hot.

Make the dough. Create a dough by mixing wet and dry ingredients. It tends to be sticky at first, but just knead it for a little until it comes together.

Let it sit. Once you are satisfied with the dough, cover the top of the bowl with a cling wrap and a kitchen towel. Leave it at room temperature for at least 18 hours.

Roll the dough. After letting it sit, place it in a floured surface, cover with towel and saran wrap, and rest for 10 minutes. Thereafter, roll it over with at least an inch in thickness.

Cut in circles. Prepare a baking tray with parchment paper. Using your desired cookie cutter, preferably circular ones, cut out the dough and place it into the tray. Cover again for another 45 minutes.

Cook. Using a nonstick frying pan, heat to medium level and transfer the dough cuts with at least 2 inches of space in between. Cover with a lid for at least 6 minutes before flipping to the other side. Cook the opposite side for only 4 minutes.

Serve. Cool the muffins first before serving. You can add jams, eggs, or also toast it. Serve.
What do English Muffins taste like?
They are definitely less sweet than pancakes. I find that they taste similar to bread, but its consistency, thickness, and softness are extremely superior to the former.
What to serve with?
Some people like to make this recipe with a slightly sour taste. I know some friends that compare it with sourdough but still prefer this one as it is easier to make.
However, if you have a sweet tooth, jams are actually a great pair. Check out my recipes for sweet and tangy addition:
For a fuller breakfast course, pair English Muffins with these simple egg recipes:
How to store:
I simply place them in an airtight container either at room temp, which lasts for 4 days. Otherwise, I put them in the fridge for a longer time of up to 8 weeks.
If you want a longer shelf life, I recommend wrapping them up in saran wrap and placed inside a zipper storage bag. Freeze them and they would last up to 3 months.
Recipe Tips:
For frozen muffins, make sure to thaw them overnight before toasting.

For a vegan option, I recommend using dairy-free milk and coconut oil in lieu of butter.
Deliciousness to your inbox
Enjoy weekly hand picked recipes and recommendations