How To Make Scrambled Eggs
This post may contain affiliate links. Please read my disclosure policy.
Scrambled Eggs are perfect when creamy, fluffy, and well-seasoned! Learn how to perfect it with this recipe and serve it in breakfast or anytime you want!
I love eating them with my other breakfast favorites like Toad in a Hole, Cheesy Hashbrown Casserole, and Chocolate Bread.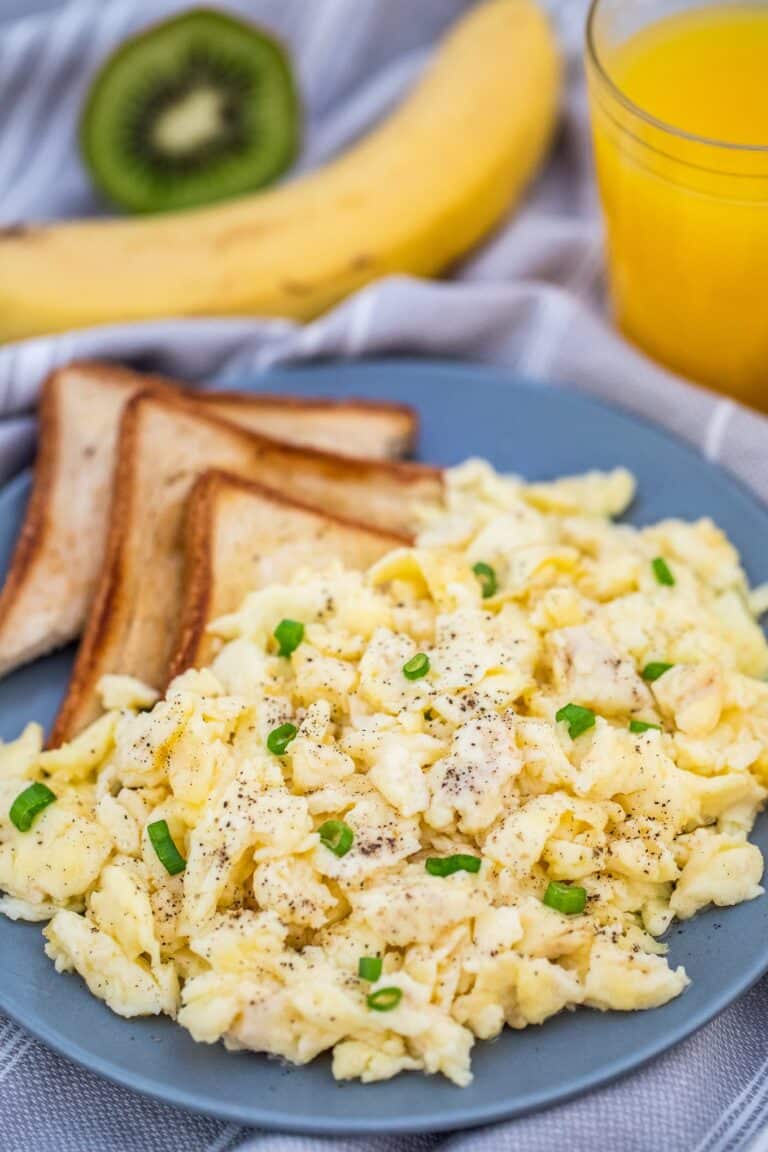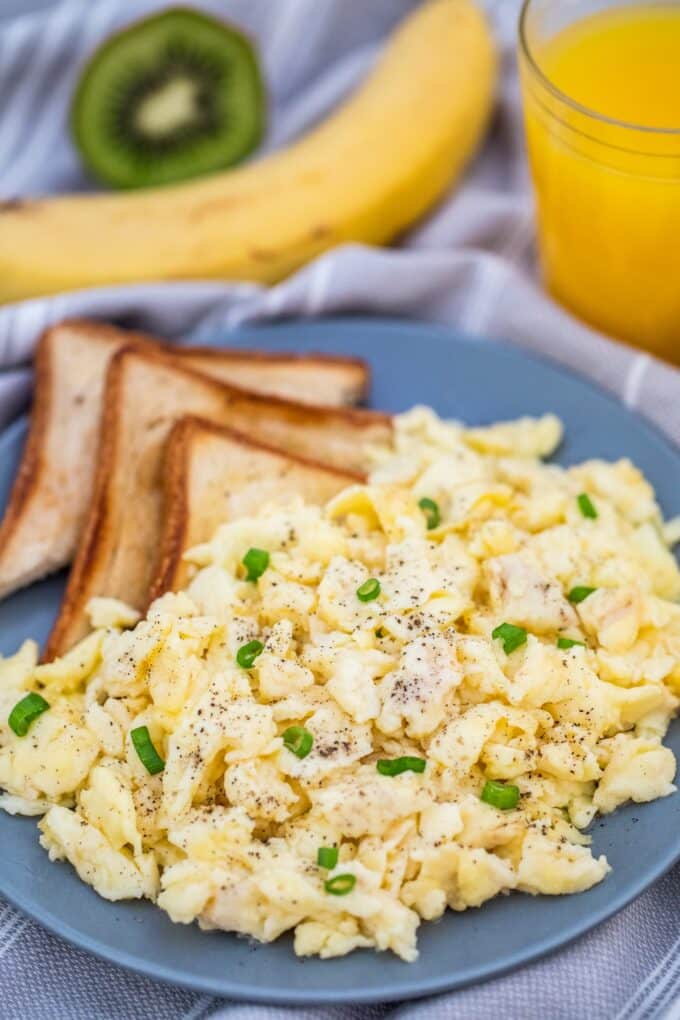 Scrambled Eggs Recipe
Scrambled Eggs may look so simple but there is science behind making the best version of this popular breakfast staple. Let us show you how to make perfect batches every time!
This breakfast staple has become popular for its ease in preparation, simplicity, abundance, and versatility.
Eggs remain to be one of the most affordable and accessible sources of protein. Per dollar spent, you get more protein than a beef round roast. You can poach, boil, fry, or even microwave them!
There are mixed connotations on this common breakfast item. Is eating eggs healthy? Some would say no because of the high level of cholesterol.
But the cholesterol does not raise the amount of blood cholesterol in many – only a few would experience an increase in their total cholesterol. Also, it has many essential nutrients and vitamins that outweigh the cons.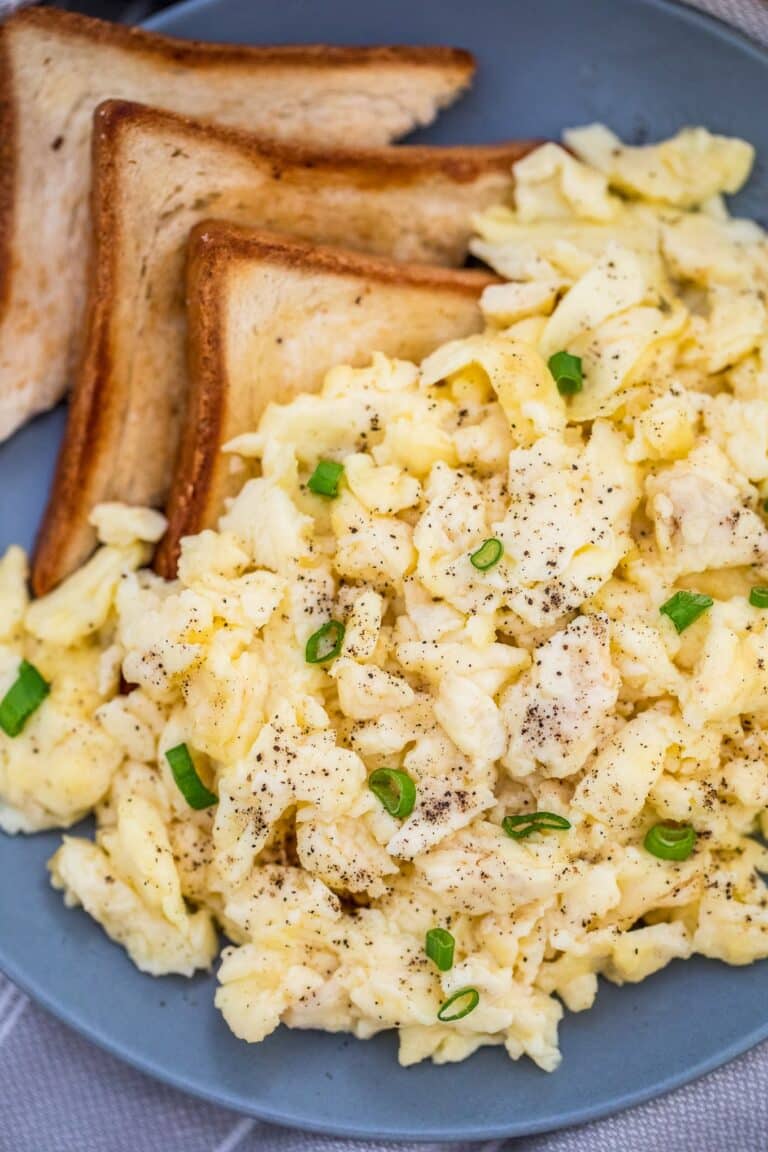 How to make scrambled eggs:
Preheat the pan. Use a non-stick pan and heat it over medium to medium-high heat.
Prepare the milk mixture. Dissolve cornstarch in the milk.
Combine. Crack the eggs into the milk mixture and add salt.
Beat. Whisk the mixture, incorporating air as much as possible.
Fry. Once the pan is hot, add some butter and pour in the mixture.
Stir. Use a spatula to pull the mixture towards the center and continuously stir.
Season. Remove from the heat, and season with fresh green onions and black pepper.
How to make scrambled eggs in the microwave:
Once you have the mixture ready, pop it in the microwave for 45 seconds on HIGH. Stir, and then, set again for another 30 to 45 seconds. That's it!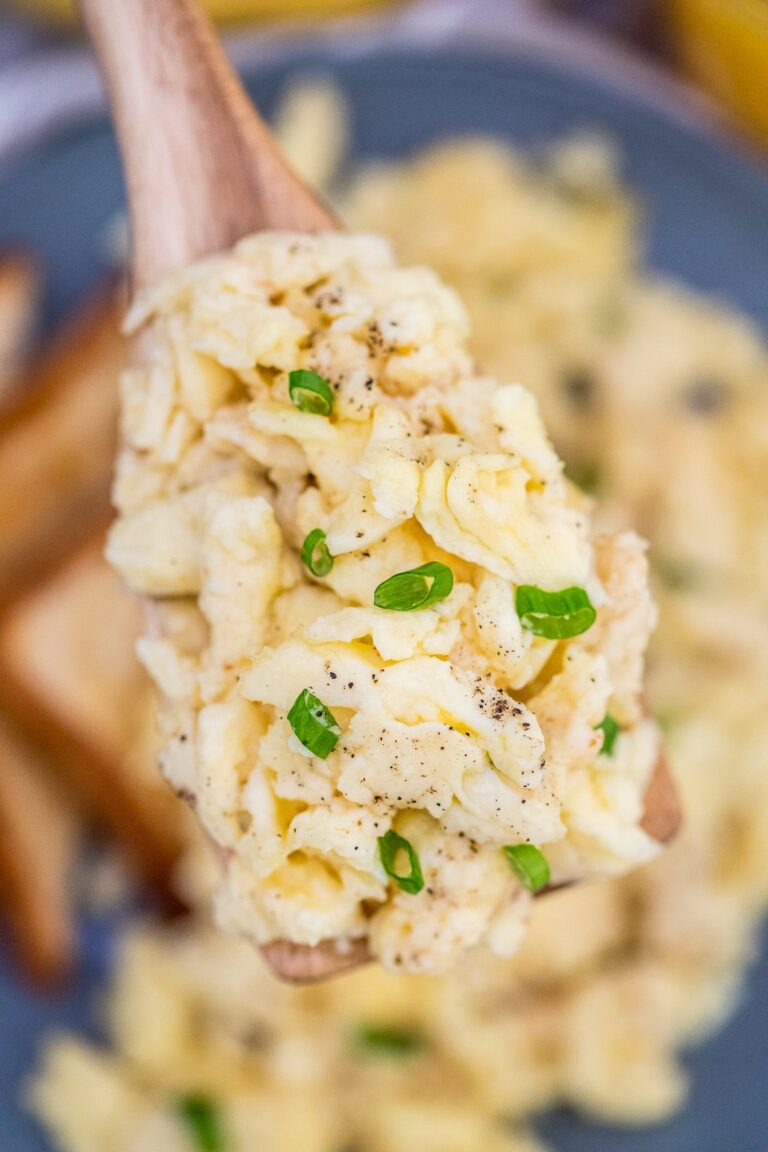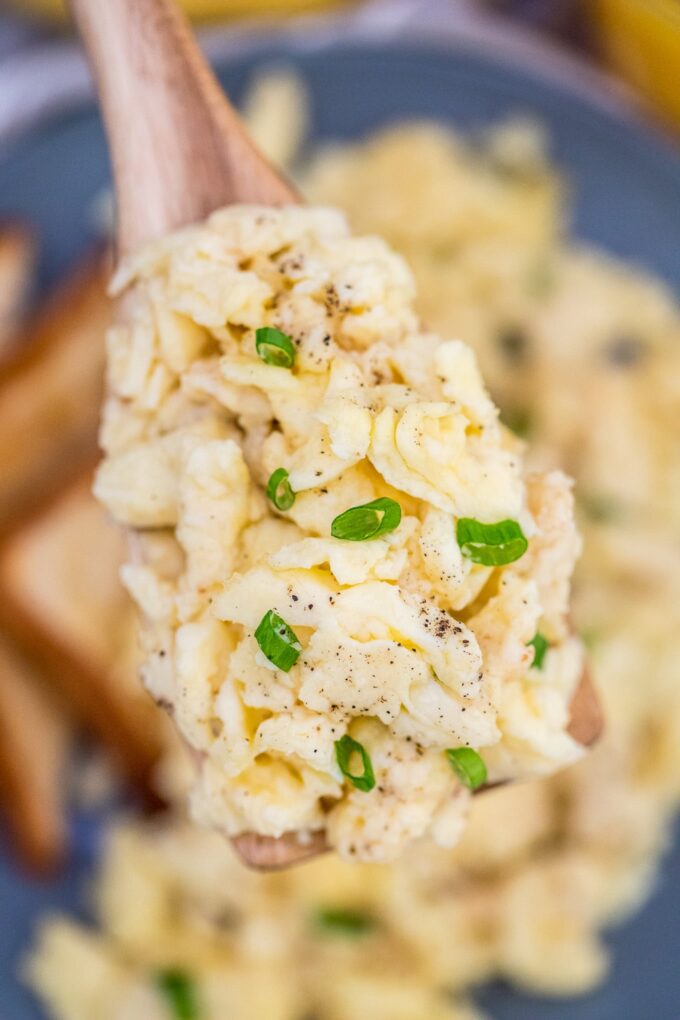 Scrambled Eggs Variations:
Fluffy: Key here is to aerate the mixture. The common practice is to whisk using the fork or beater, but the best way to aerate the mixture is to use a hand mixer.
Creamy: The key is to cook it slowly over low heat. When cooking, the proteins get tangled up with each other, and what you see is the curdling. This process dries out the mixture, but you can avoid this by going low and slow.
Hence, just get your spatula ready once the mixture hits the pan and be ready to sweep the mixture and stir as it curdles. Do not overcook! Remove it once it is about 90% done and let the residual heat cook it through.
With Cheese: Cheese can be added once the mixture hits the pan so it can melt as the cooking starts and be incorporated. So, be ready with the grated cheese ahead of time.
You can also add in the cheese once it is done and for residual heat to warm up the cheese. It highly depends on your preference.
Without Milk: Yes, you can add in milk or cream to make rich and creamy batches, but it is not necessary. You can simply add in water or none at all.
What to put in scrambled eggs:
You can add more excitement in this simple dish by adding the following:
more cheese
yogurt and cream cheese for more creaminess
salsa or refried beans for a Mexican twist
fresh herbs like dill and thyme
sausage, ham, and bacon for meat lovers
vegetables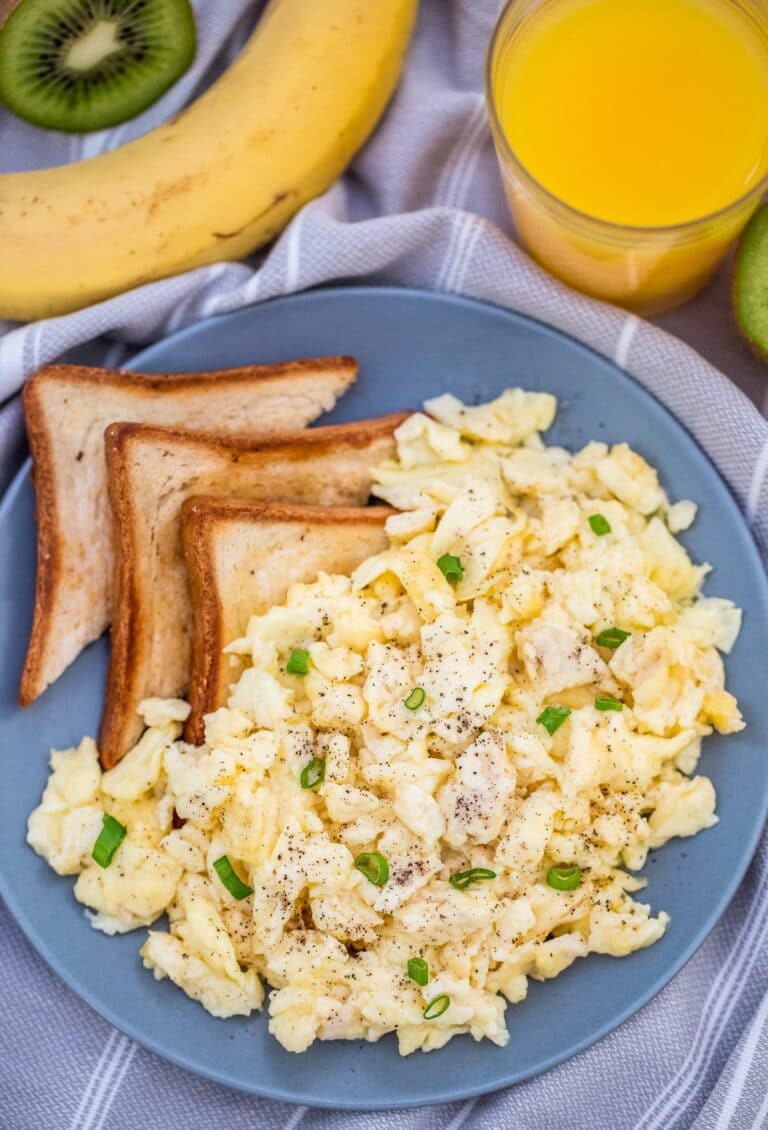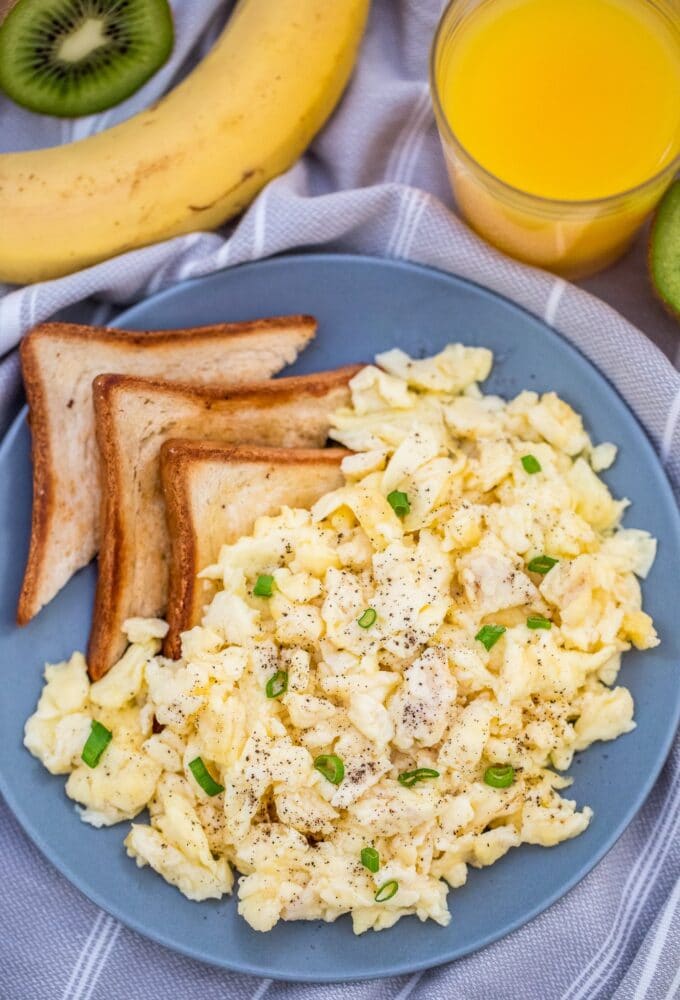 Recipe Tips:
Use eggs at room temperature. They aerate well, less viscous, and curdle less than cold ones.
Avoid cooking them in a cast-iron pan – the iron of the pan reacts with the sulfur in the eggs imparting a greenish tinge which is harmless.
Salting the mixture way before cooking, say 15 minutes prior, locks in moisture.
Storing Recommendations:
In the rare case that you get leftovers of this delicious dish, then, put them in an airtight container and refrigerate. This will keep for up to 4 days but the risk of reheating is overcooking them. Sometimes, the taste, too, changes. Since it is so easy to prepare, it is ideal that you serve them fresh every time.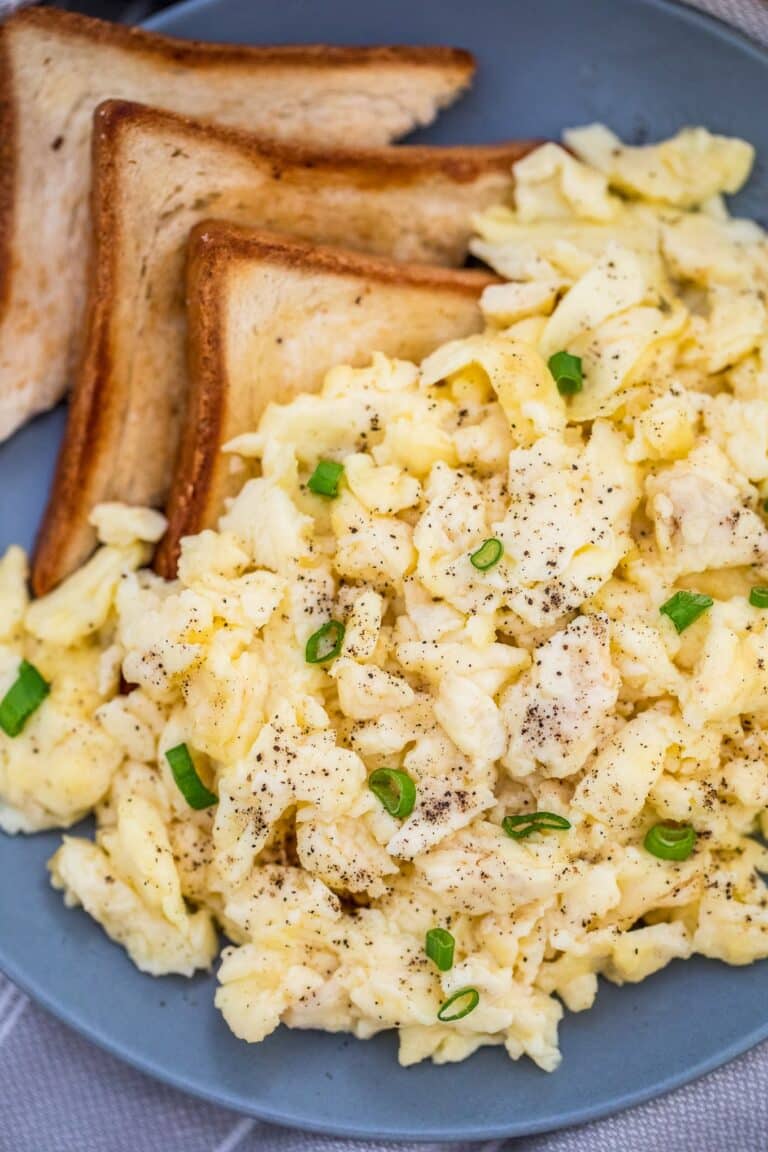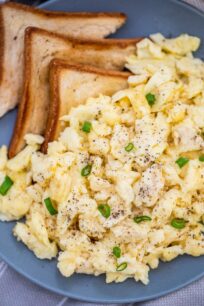 How to Make Scrambled Eggs
Scrambled Eggs are perfect when creamy, fluffy, and well-seasoned! Learn how to perfect it with this recipe and serve it in breakfast or anytime you want!
Ingredients
4

large eggs

room temperature

2

tablespoons

cream

1

teaspoon

cornstarch

1/4

teaspoon

kosher salt

1/4

teaspoon

black pepper

2

tablespoons

butter
Garnish:
Cracked black pepper

Chopped green onions
Instructions
Place a medium non-stick pan on the stove over medium to medium-high heat.

Add the cornstarch and cream to a small cup, whisk to dissolve the cornstarch.

Crack the eggs into the cream mixture and season with salt.

Using a hand blender, mini blender or hand whisk, blend the eggs for a few seconds. The eggs will be creamier and smoother when blended.

When the pan is hot, add the butter and swirl to coat the bottom. Add the egg mixture, as soon as the butter has melted.

Using a spatula, start stirring, slowly and continuously, the eggs from the outside in, to break the egg curds that are forming.

If the eggs are cooking too fast, remove the pan from the heat and continue to stir. The eggs should be done in about 1-2 minutes.

Remove the eggs from the pan while they are still a little wetter than the consistency you prefer. The residual heat will continue cooking the eggs.

Transfer to serving plates.

Sprinkle with black pepper and chopped green onions.

Serve immediately.
Calories: 282, Fat: 25g, Saturated Fat: 8g, Cholesterol: 347mg, Sodium: 553mg, Potassium: 121mg, Carbohydrates: 2g, Protein: 11g, Vitamin A: 23.9%, Calcium: 5.9%, Iron: 8.6%
Made this Recipe?
Show me what you made on Instagram and tag me at @sweetnsavorymeals or hashtag it #sweetandsavorymeals.
Peas and Peonies, LLC. owns the copyright on all images and text and does not allow for its original recipes and pictures to be reproduced anywhere other than at this site unless authorization is given. If you enjoyed the recipe and would like to publish it on your own site, please re-write it in your own words, and link back to my site and recipe page. Copying and/or pasting full recipes to social media or personal blogs is strictly prohibited. Sharing this recipe is very much appreciated and encouraged. Read my disclosure and privacy policy. This post may contain affiliate links.