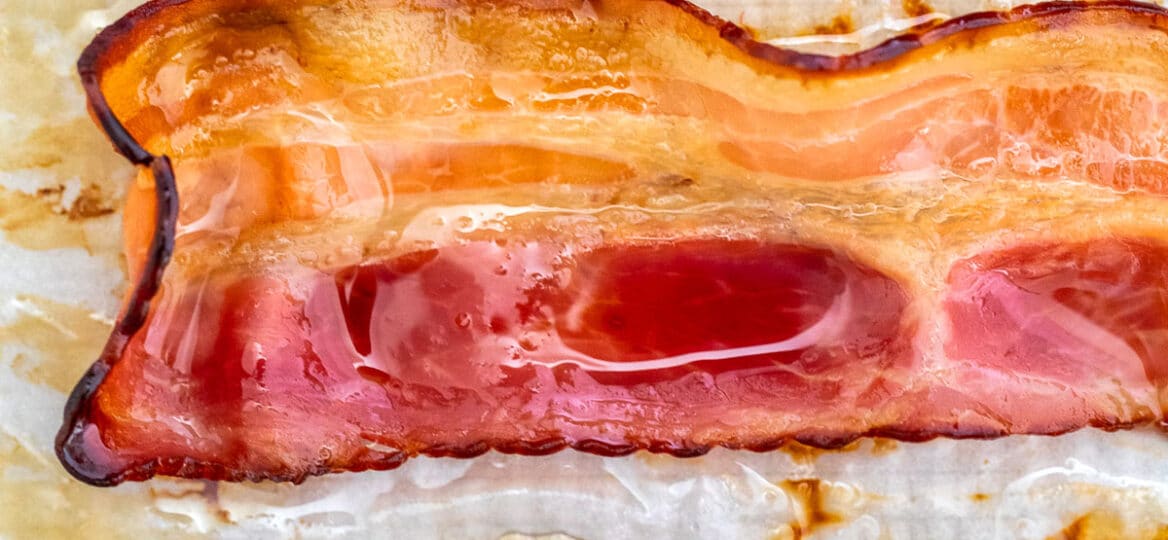 How to Cook Bacon in the Oven [Video]
How to cook bacon in the oven is the easiest and fool-proof technique for golden, crispy bacon all the time! Perfect for breakfast or to add to other dishes!
Aside from this recipe, I strongly recommend checking out my how-to guides for Perfect Rice, Buttermilk Substitute, and Scrambled Eggs. These are must-know basic techniques for any home cook!
Oven Baked Bacon
How to cook bacon in the oven is one of those recipes that seem so simple, but will seriously change your life. Crispy bacon is one of the greatest pleasures in life. However, sweating over a hot stove getting burnt with sizzling grease is not.
Trust me when I say I've cooked A TON of bacon. You'll find it in so many of my recipes! I've tried every possible method, but this is definitely the best of them all. Less mess, no sputtering grease, and no flipping. It's also a super easy way to cook big batches. Try this method once, and I promise you'll never look back!
Why oven baked bacon?
It's so simple and efficient. Unlike frying, it doesn't curl. It produces nice, uniformly flat pieces. Every piece is evenly cooked— no burnt parts and almost raw middle.
You also don't have to babysit this recipe. No need to flip it to keep it from burning. Cooking for a big weekend brunch, or need a lot for meal prep? You can make two large batches at once if you have a big oven.
Finally, baking is healthier than the fried version. You don't need any extra oil since the strips cook in their own fat.
What is the best way to cook bacon?
If you like it a bit chewy, use a baking sheet. For those who love it extra crispy, use a wire rack instead. It will also depend on the cut. Thick cuts are is excellent for that chewy texture, and thin slices are perfect for crisping up.
How to cook bacon in the oven?
Take a baking sheet and lay the raw strips flat on it.
Set to 400F.
Cook for around 30 minutes, or until the desired doneness.
Drain on paper towels.
Serve.
What temperature should bacon be cooked to?
I use 400F for my basic recipe, but I'm also providing a quick guide on how to cook at various temperatures.
How long to cook at 350?
Around 27 minutes.
How long to cook at 375?
Around 20-25 minutes.
How long to cook at 400?
Around 25-30 minutes.
How long to cook at 425?
Around 15-20 minutes.
How do you keep it from splattering in the oven?
I've discovered a totally genius way to protect your oven from grease. Follow the recipe, but use parchment paper to cover the strips. Golden strips and spotless oven every time!
Ways to serve bacon with?
Those golden, smoky, and crispy strips are already fantastic by itself. However, my Easy Candied Version is such a tasty twist to it! You can also use them in these bomb Bacon Egg and Cheese Breakfast Burrito for a grab-and-go breakfast or for meal prep. Finally, dice those trips and use them for my Bacon Ranch Cheese Ball, aka the perfect appetizer.
How to store it:
Cool leftovers. Place the container in the refrigerator and keep up to one week.
You may also freeze it:
Before storing, place cooked strips on a baking sheet.

Top with wax paper, and add another layer of strips on top. Repeat up to three layers.

Freeze for up to two hours.

Take out and transfer to a container.
Freeze up to three months.
More bacon centered recipes:
Recipe tips:
Save up the rendered grease and use it to fry eggs.
Also, splash a bit on popcorn, and anywhere else you want to infuse with a smoky flavor.
Use foil, parchment paper, or wire rack to line the baking sheet for easier clean-up.