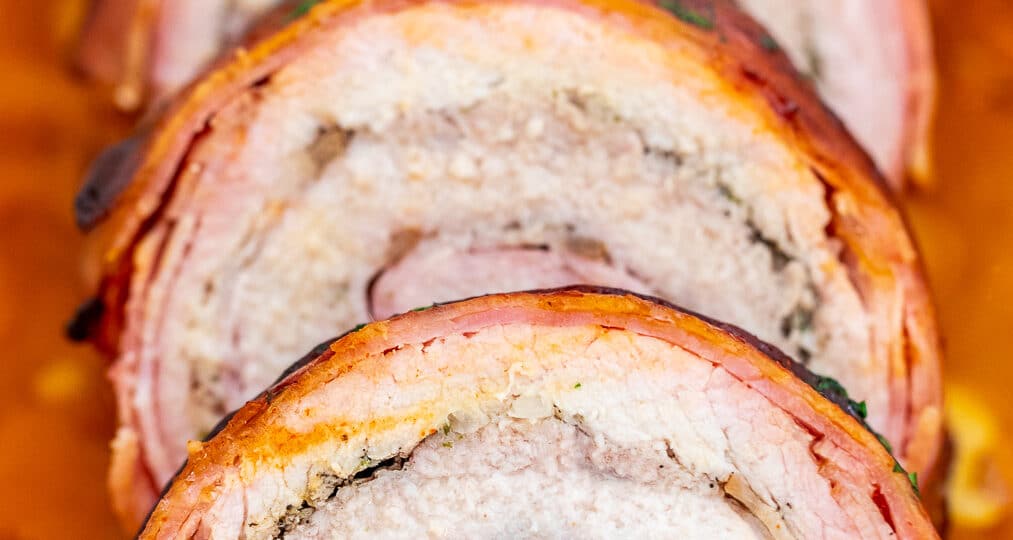 Bacon Wrapped Pork Loin [Video]
Bacon-Wrapped Pork Loin is a sumptuous main dish that is perfect for the holidays! It is festive and full of flavors that your guests will surely love! Watch the recipe video tutorial below and see how easy it is!
If you are looking for a great pork main dish, then, this is the one for you! You can serve this along with Creamy Sweet Potato Soup, Broccoli Cauliflower Salad, and Creamy Mashed Potatoes!
Keto Bacon-Wrapped and Stuffed Pork Loin
Bacon-Wrapped Pork Loin is meaty, full of umami, and makes for a great main dish! It is tender on the inside and nicely charred on the outside.
The bacon itself elevates the simple but perfectly seasoned lump of meat. It provides sweetness to this savory dish and the crunchy layer on the outside.
You only need a few ingredients in this recipe and you only need to pop it in the oven to cook. You can even make this part of your regular menu rotation at home because it is so easy to prepare.
But it does make for a great formal dinner entree. It presents well when cut. The swirl at the center made by rolling the meat into a log looks great on a plated dish.
Try it in this year's Thanksgiving and Christmas dinners!
What is the difference between Pork Loin and Tenderloin?
There is a difference between these two cuts since they are taken from two different parts of the pig. The size and shape themselves are different and so, are the cooking techniques applied.
Pork loin, the one we are using in this recipe, is a large lump of wide, boneless, and lean meat. It can be sliced into thinner portions for steaks and is a good candidate for a good roast.
On the other hand, the tenderloin is a smaller elongated portion and is the most tender part of the pig. Hence, this part cooks easily.
Is pork loin considered healthy?
Yes! It is lean with minimal fat and rich in protein and other nutrients and vitamins that could help build muscles. Pork, in general, has a lot of thiamine, selenium, zinc, and others.
Since this is rich in protein, it helps preserve muscles for aging people, build them up for athletes, and repair them for those who are recovering from injuries. Hence, it is great to include in a well-balanced diet.
But since this is considered a type of red meat, remember to consume it in moderation.
How do you make Bacon Wrapped Pork Loin?
Prepare the meat: Make sure that the slab of meat is at room temperature. Butterfly it by slicing the meat horizontally along the direction of the fibers but not cutting through it. Do this multiple times until it is thin enough to be rolled. Tenderize it some more using a mallet.
Season and roll: Sprinkle salt, pepper, spices, and minced garlic throughout the pork. Then, line up about 3 strips of bacon on one side. Roll the whole thing tightly into a log. Coat the outside with strips of bacon all throughout. Secure the whole thing by tying a string.
Roast: Lightly grease a baking dish and put the prepared meat in it. Then, put it in the preheated oven to cook until nicely browned on the outside.
Rest: Let it rest for about 10 to 20 minutes then, slice into portions and serve while hot.
What goes with Bacon-Wrapped Pork Loin:
This delicious main dish pairs well with a wide array of side dishes. For a complete and balanced meal, serve it with grains or carbs and a heap of vegetables.
Recipe Variations:
Aside from roasting it in the oven, you can also grill it. Just make sure to use a foil sheet in grilling to prevent the drippings from causing flares.
How to Store Bacon-Wrapped Pork Loin:
Refrigerate: You can keep this in the fridge for a few days placed it in an airtight container.
Freezer: Wrap tightly in foil and place in freezer bags and then, freeze for up to 3 months.
To reheat: Simply roast it in the oven again after thawing overnight.
More delicious pork recipes:
Pork Tenderloin in the Instant Pot
Recipe Tips:
To make it in advance, simply assemble it and refrigerate for up to one day and then, cook it.
This also makes for a great freezer meal. You can cut it into portions uncooked, freeze in individual bags, then, thaw and cook as given in the procedure.
You can make this into sandwiches or wraps if you have leftovers.