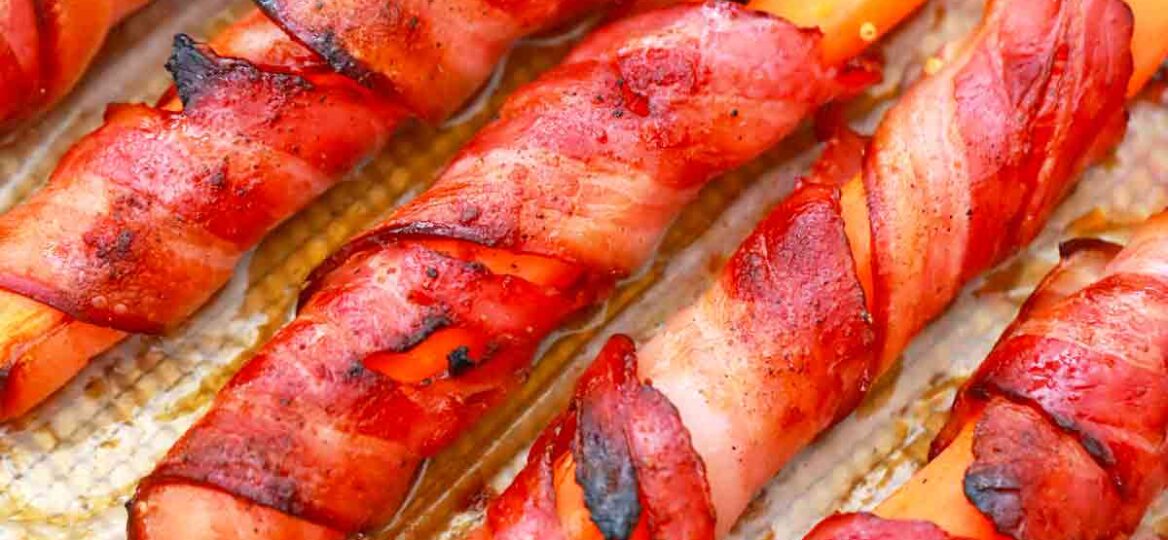 Maple Bacon Carrots [Video]
Maple Bacon carrots combine the saltiness of the bacon and sweet maple syrup to make this caramelized carrot recipe irresistible.
Bacon is a delicious wrap for any dish including our Easy Bacon Wrapped Meatloaf with ground beef and brown sugar or these amazing Bacon Wrapped Pork Medallions made with pork tenderloin.
Maple bacon carrots are one of those great recipes for a tasty side dish with a meal during the holiday season or any time of year you want.
You will want to make these carrots year after year once you realize it is one of the best side dishes as well as one of the easiest to make.
Another side dish that pairs well with this is our air fryer bacon-wrapped green beans or these crispy bacon-wrapped broccoli tots.
You could also add these to this One Pan Hunan Chicken for an even tastier dish.
Ingredients needed:
There are only a few ingredients for this carrot side dish. You can get the exact amounts and the step-by-step instructions below on our recipe card.
Medium carrots: Peeled, rinsed and patted dry with a paper towel.
Bacon: We used 12 strips of real hickory bacon.
Maple syrup: 100% pure maple syrup is best.
Paprika
Freshly ground black pepper
How to make maple bacon carrots recipe?
Preheat: The first step is to heat oven to 400 degrees F and line a large baking sheet with parchment paper.
Prepare: Meanwhile, wrap each of the carrots with a slice of salty bacon and brush each of the wrapped carrots with a bit of maple syrup, black pepper, and paprika. Place each one on the baking sheet.
Bake: Next, bake for 10 minutes and then remove to brush each one with another layer of maple syrup. Bake for 15 more minutes until the bacon is crispy and the carrots are tender. Make sure you do not cook them too long or you will have mushy carrots.
Serve: Finally, garnish with chopped parsley or whatever you like and serve.
Recipe variations:
Turkey: For a leaner dish, use turkey bacon.
Sweeter: Try brown sugar in the syrup. This added sugar will make your sweet carrots even sweeter.

Larger: You can use larger carrots, but you may want to cut them in half lengthwise, so they cook better.

More veggies: You can also mix in your other favorite vegetables like green beans, corn, or peas.
Add nuts: Make this a meal by adding walnuts or pecans as well as sliced chicken breast.
How to serve:
You can have these sweet tender carrots on the dinner table in minutes for the perfect side dish to any of your favorite main courses. Or try one of our serving suggestions:
Sprinkle with a kiss of sriracha sauce to make maple sriracha sauce carrots.

These bad boys go great with lemon garlic roast chicken.
Feel free to add some kosher salt before serving as well.
Whether you are serving as a holiday dinner or weeknight dinner, this tasty recipe is perfect with any entrée like our luscious lamb pot roast or slow cooker leg of lamb.
Make these delicious tidbits for the next game day or tailgating party.
Frequently asked questions
Can I cook these in the air fryer?
To cook in the air fryer, you may have to cut them into smaller pieces depending on the size of the basket and grill grates.
Follow the same directions as these but only cook them for five minutes before turning them with a slotted spoon and adding the rest of the syrup.
Then cook for another five to 10 minutes. Cooking time varies depending on your fryer.
Can I make these in a large skillet?
You can also make these tasty beauties in a large skillet. Just add them to a skillet prepared with nonstick cooking spray and cook on medium heat.
It will typically take about 15 minutes of grilling, depending on the size. Big carrots should be chopped in quarters for even grilling.
Is it true that you can make bacon from carrots?
Vegans who are missing their meat can make "fake bacon" using thinly sliced carrots.
Make a sauce of maple syrup, soy sauce, liquid smoke, and tahini, and let it marinate for an hour in the fridge.
Then, bake in your oven for 20 minutes at 400 degrees F. If they are not crispy enough, broil them.
How to store leftovers:
Store: You can store leftovers in a Ziploc bag or another airtight container in the fridge for three days.
Freeze: If you cannot finish them in a few days, they can freeze for up to 90 days.
Thaw: Thaw overnight in the fridge before serving.
Reheat: Reheat in the air fryer, microwave, or oven.
More side dishes:
Cooking tips:
Wrap each strip of bacon tightly around the carrots neatly and tuck them in on the ends so they do not fall off.

Use real maple syrup for the maple glaze. This will really make a difference in the flavor of these maple bacon carrots.
You could also use baby carrots and cut each piece of bacon into quarters to wrap around them.
To get extra crispy bacon, broil them before serving.
Peel carrots with a potato peeler for best results.
Use a thin slice of bacon for easier wrapping.
Maple Bacon Carrots
Ingredients
12

medium carrots

peeled

12

strips

bacon

thin sliced

1/4

cup

maple syrup

1

teaspoon

smoked paprika

Freshly ground black pepper
Instructions
Preheat oven to 400 degrees F.

Cover a large baking sheet with parchment paper.

Wrap each peeled carrot in one strip of bacon, and place with bacon ends down onto the prepared baking sheet.

Brush with maple syrup and season with black pepper and smoked paprika.

Bake for 10 minutes, brush again with remaining maple syrup.

Return to the oven and bake for 15 minutes more, or until carrots are tender and the bacon is crisp.
Deliciousness to your inbox
Enjoy weekly hand picked recipes and recommendations