Best Bacon Wrapped Meatloaf [VIDEO]
This post may contain affiliate links. Please read my disclosure policy.
Bacon Wrapped Meatloaf is moist and juicy on the inside, and crunchy on the outside. Easy to make, full of cheese and flavor, it is also budget friendly.
We love bacon, and every time we get the occasion, we try to incorporate it in our recipes. Our favorite ones are Bacon Wrapped Pork Tenderloin, Bacon Wrapped Shrimp with Brown Sugar and Brown Sugar Bacon Wrapped Drumsticks.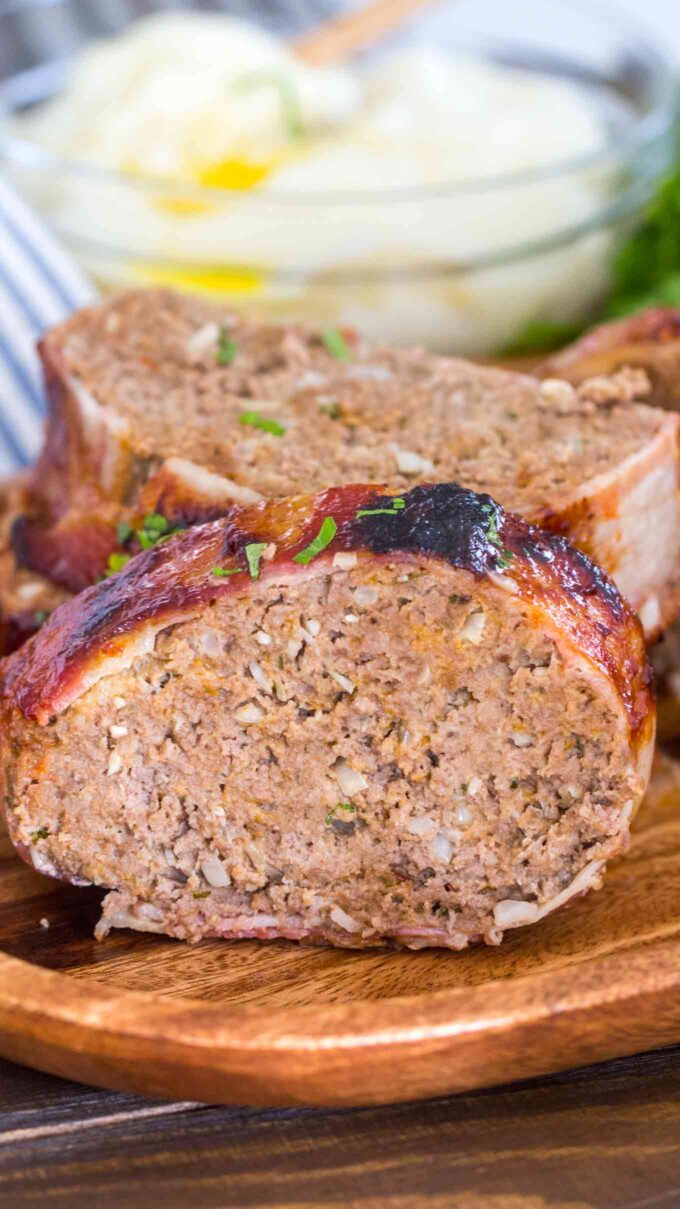 Bacon Wrapped Meatloaf
This Bacon Wrapped Meatloaf will quickly become your family's favorite meal. It is moist, flavorful, affordable, and can feed a larger crowd. While the bacon definitely gives this meatloaf recipe an extra bit of smokey flavor, it also adds to the tenderness of this meatloaf. Baked to crispy perfection on the outside, and is super tender and juicy on the inside.
The garlic adds so much flavor, and the cheddar cheese makes it perfectly moist. This delicious homemade recipe can be an easy dinner, as it requires few ingredients. Similarly, the leftovers are delicious, and can easily be reheated.
Follow Sweet and Savory Meals on Pinterest for more great recipes!
Pin This Best Bacon Wrapped Meatloaf Recipe to your Favorite Board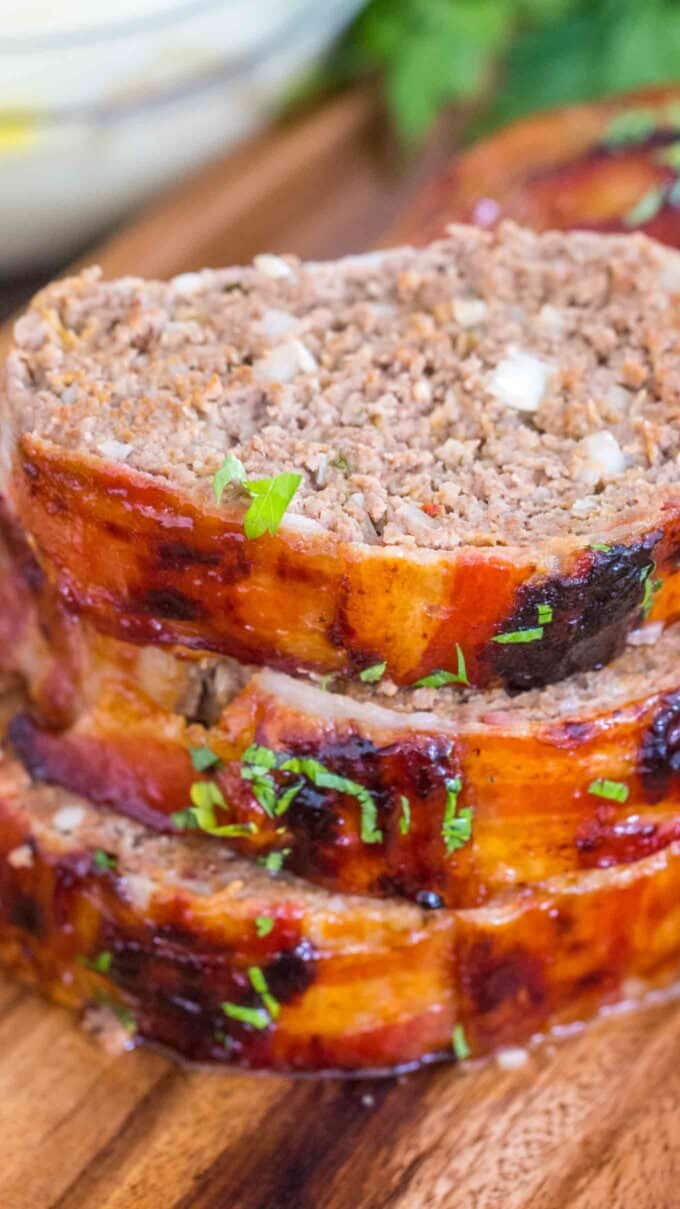 WHAT TYPE OF MEAT SHOULD I USE?
For this Bacon Wrapped Meatloaf, I used ground beef meat. However, any type of meat would work here. Ground pork would work just as well, or you could even mix the two. In addition, if you want a healthier meatloaf, then use ground chicken or ground turkey.
Why does my meatloaf always fall apart?
There are some factors that might cause a meatloaf to fall apart and crumble. One factor to make sure is that meatloaf is not very dry, or that it has too much liquid in it. So it's important to have a nice balance when cooking the meatloaf. Using eggs and bread crumbs are key ingredients in keeping a meatloaf together. Also, we use cheese in our recipe, which keeps the meatloaf nice and puffy.
How do I know when my meatloaf is done?
To make sure you have a perfectly cooked meatloaf, we recommend using an
instant-read thermometer
. The internal temperature of a meatloaf should be 160 degrees F. If the temperature is lower than 160 degrees F, put the meatloaf back into the oven and back for a few extra minutes.
WHAT TO SERVE WITH Bacon Wrapped Meatloaf:
Some great suggestions are listed below:
Recipe Tips and Notes:
Use room temperature bacon. This is an important one because when you try to roll cold bacon, it just doesn't mold that well as the fat is all cold.
Also, make sure you use longer and thinner bacon slices, that can be wrapped around easily.
Both the lean and regular ground beef would work well. Just know that using the leaner option will result in a slightly denser meatloaf as it has less fat content.
Additionally, you can form the meatloaf up to 8 hours ahead and refrigerate until ready to bake.
Similarly, if you want to use a store bought BBQ sauce to speed up the process, that will work as well.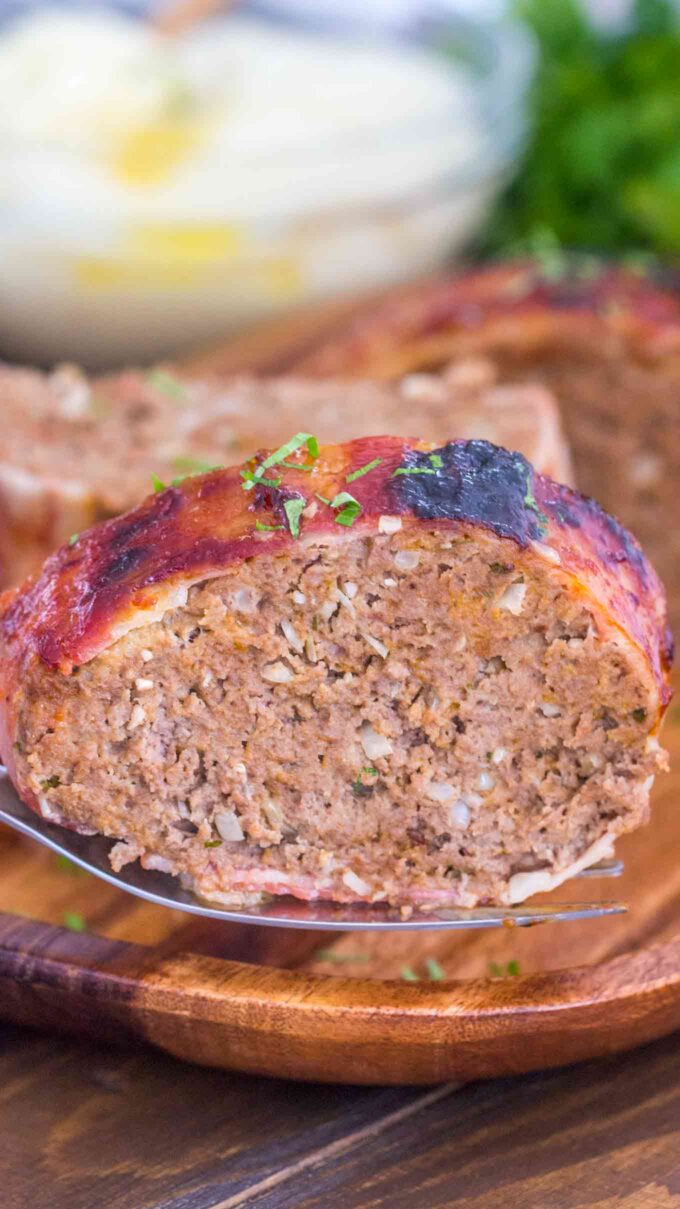 Can you Freeze leftover meatloaf?
Cooked leftover meatloaf properly stored will last for 3-4 days in the refrigerator. To freeze a cooked meatloaf, wrap tightly with heavy-duty aluminum foil, or place in airtight container or freezer wrap. It can be frozen for up to 3-4 months.
Tools I used to make this Recipe:
Non-Stick Pan Set – I have this set and I love it, I used the smaller pan for this recipe.
Watch Recipe Step-by-Step Video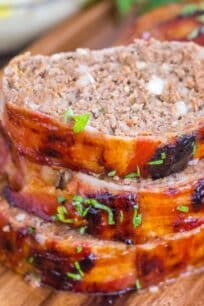 Easy Bacon Wrapped Meatloaf
Bacon Wrapped Meatloaf is moist and juicy on the inside, and crunchy on the outside. Easy to make, full of cheese and flavor, it is also budget friendly.
Ingredients
1

lb

bacon

room temperature

2

lbs

ground beef

1

cup

milk

1

egg

beaten

1

small onion

finely diced

1

tablespoon

garlic

minced

1

cup

bread crumbs

1

teaspoon

dried parsley

1/2

teaspoon

ground thyme

1/2

teaspoon

ground paprika

1

tablespoon

Worcestershire sauce

1

cup

cheddar cheese

shredded

1/8

teaspoon

ground black pepper

to taste

1/4

teaspoon

Kosher salt
Meatloaf Glaze:
1/3

cup

ketchup

3

tablespoons

brown sugar

1

teaspoon

apple cider vinegar
Instructions
Preheat oven to 350 degrees F.

Cover a rimmed baking sheet with aluminum foil and set it aside.
Make Meatloaf:
Combine ground beef, milk, egg, onion, garlic, bread crumbs, dried parsley, thyme, paprika, Worcestershire sauce, salt and pepper in a large bowl and mix well with your hands.

Add the cheddar cheese and again mix well.

Shape the beef mix into a loaf shape and set it aside.
Make a Bacon Weave:
Lay half of the bacon strips, one next to each other, vertically across the prepared rimmed baking sheet.

Lift up and fold back the ends of every other bacon strip on one side of the baking sheet. Place a bacon slice perpendicular to the horizontal rows of bacon, on top of the bacon strips that where not fold back. Straighten out the folded bacon strips to cover the strip that has just been placed.

Lift up and fold back the ends of the horizontal bacon strips that are under the vertical bacon strip to the side of the baking sheet. Place a bacon slice right next to the first vertical bacon strip, directly on top of the bacon strips that you did not fold back. Repeat the process of alternating the vertical and horizontal bacon strips until you reach the other end of the horizontal bacon strips.
Wrap in Bacon:
Check and make sure that the loaf shaped meat is the same length as the bacon weave. If needed reshape it.

Place the loaf shaped meat in the center of the weave. Wrap in bacon, and flip on the other side, meaning that the bacon ends should be tucked under the meat.
Meatloaf Glaze:
Combine all the Glaze ingredients in a bowl until smooth and set aside.
Bake:
Transfer meatloaf to the oven and bake for about 60 minutes, or until the bacon is crispy and the inside temperature is 160F degrees. Mid baking cover the meatloaf in the prepared glaze. Brush it all over the surface.

Once the meatloaf is done, let it cool for 10-15 minutes before slicing and serving.

Calories: 415, Fat: 27g, Saturated Fat: 10g, Cholesterol: 106mg, Sodium: 303mg, Potassium: 426mg, Carbohydrates: 13g, Sugar: 3g, Protein: 26g, Vitamin A: 2.2%, Vitamin C: 1.6%, Calcium: 14.7%, Iron: 17.5%
Made this Recipe?
Show me what you made on Instagram and tag me at @sweetnsavorymeals or hashtag it #sweetandsavorymeals.
Peas and Peonies, LLC. owns the copyright on all images and text and does not allow for its original recipes and pictures to be reproduced anywhere other than at this site unless authorization is given. If you enjoyed the recipe and would like to publish it on your own site, please re-write it in your own words, and link back to my site and recipe page. Copying and/or pasting full recipes to social media or personal blogs is strictly prohibited. Sharing this recipe is very much appreciated and encouraged. Read my disclosure and privacy policy. This post may contain affiliate links.