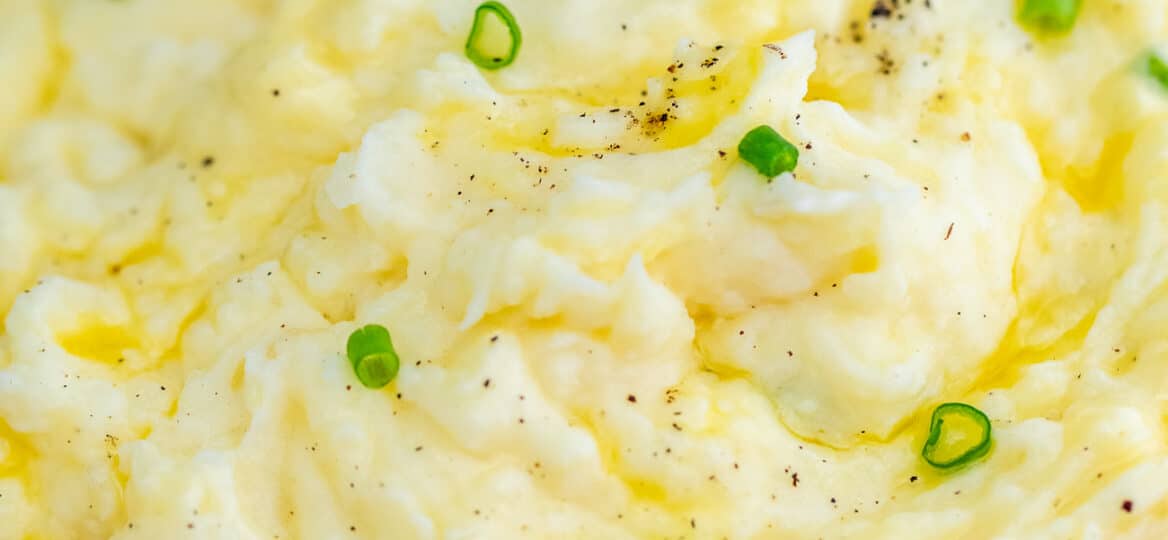 Perfectly Creamy Mashed Potatoes [Video]
Mashed Potatoes have the right blend of fluffy, creamy, and slightly buttery flavor. Smooth with no lumps and simply delicious when perfectly seasoned. Watch the short video tutorial below to better guide you through the cooking steps!
Make sure to pair this dish with Roast Chicken, Grilled Salmon, or Asian Steak Marinade.
Mashed Potatoes Recipe
Mashed potatoes are the ultimate side dish on every family occasion, and there's a good reason why. It tastes amazing when paired with almost every dish.
Whether you are serving meat, fish, or poultry, it will surely balance and complement the meal.
Whenever I prepare this, I always make sure that it is lump-free. I love it when the potatoes are so smooth that each bite actually melts in my mouth.
To achieve this, you should use starchy potatoes. Wait until they are perfectly cooked before mashing them with a ricer. Finally, just season with garlic, salt, and pepper.
Follow our tips and suggestions in this recipe guide to recreate the dish perfectly. Enjoy!
What are mashed potatoes?
It is a simple dish that involves mashing boiled potatoes. Most people like using peeled potatoes, but some prefer them to be unpeeled because it gives a slightly different texture to the dish.
Other main ingredients when preparing this are butter, milk, and cream. To add flavor, just put salt, pepper, and garlic.
Are mashed potatoes healthy?
Potatoes are classified as starchy vegetables and a good source of potassium. Thus, consuming them may help reduce blood pressure and regulate fluid in the body.
In order to get health benefits, eat this dish in moderation. If you are watching your diet, use olive oil instead of butter. You may also substitute cream with yogurt.
What do you need to make mashed potatoes?
Aside from potatoes, you need to prepare butter, salt, milk, and cream. Garlic, onion powder, and pepper are the usual seasonings.
You also need a ricer or an electric mixer to mash them.
What potatoes are best to use in mashed potatoes?
It is best to use high-starch potato varieties like Russets. The higher the starch content, the softer it is to beat and mash. Since it is easier to whip or mash, less starch will be produced in the process making the potatoes lighter as a result.
If you want the dish to be dense and creamy, you may use medium-starch potato varieties like Yukon Golds.
How do you make creamy mashed potatoes?
We suggest peeling the potatoes and cutting them in the same chunk size before bringing to a boil in salted water.
Simmer and wait for around 20 minutes until they are perfectly tender. Drain well.
Add hot milk, hot cream, sour cream, and unsalted butter (softened only, not melted). You may also put onion powder in the pan for added flavor.
Begin mashing and whipping them until it is smooth and lump-free.
Add salt, garlic, and pepper.
Make sure to serve it hot with butter, gravy, or other herbs that you like.
How do you make fluffy mashed potatoes?
To make the dish light and fluffy, make sure to use starchy potatoes that are easier to whip and mash. Cook and simmer until you achieve the right tenderness.
Remember that overcooking them will make them gluey and sticky, so watch over them carefully.
What to serve with homemade mashed potatoes?
This is the perfect comfort food that goes well with pretty much anything. Some great pairs are:
Instant Pot Balsamic Pork Loin
Can you make the dish in advance?
It is possible to make this in advance but it is recommended to prepare the dish for only up to 2 days earlier. Make sure to place the dish in an airtight container before putting it in the fridge. Reheat and add some butter before serving.
Freezing and Storage
If you are busy and you want to freeze the mashed potatoes, make sure that they are cooked with plenty of butter and cream. Once cooled, place the dish in freezer bags.
Before reheating, thaw them overnight in the fridge. Add a bit of butter and cream before placing it in a microwave oven. Stir once or twice to make sure that it doesn't get dry.
What to do with leftover mashed potatoes?
It is super easy to turn leftovers into other yummy meals! Use it to make cheesy pancakes for breakfast or add the leftovers in your potato-based soup.
You can also turn it into an appetizer by making fried potato balls. Just make sure to add bacon and cheese to the dish.
Serving Suggestions:
For the most amazing results, top them with butter or gravy. It also tastes excellent when served with cheese sauce and bacon bits.
However, feel free to add any herbs or veggies that you like. Sometimes, we even put steamed broccoli or cauliflower as toppings.
More comfort side dishes:
Recipe Tips:
Make sure to mash the potatoes while they are still hot. This is the easiest way to ensure that there will be no lumps in the dish.
Also, use unsalted butter so that you can control the saltiness level of your dish. While stirring, taste it from time to time to adjust the flavor to your liking.
Make sure to only add hot milk and hot cream when mashing for the potatoes to properly absorb them.