Instant Pot Balsamic Pork Loin [Video]
Last updated on June 18th, 2021 at 10:31 pm
Instant Pot Balsamic Pork Loin is a dish made of spice-crusted pork coated in a tangy, smoky balsamic glaze infused with garlic. The pressure cooker infuses the meat with so much flavor while keeping it moist and succulent!
Looking for more meal ideas? Make this week's dinners more special with my Turkey Meatloaf with Pepper Jack Cheese, Crispy Baked Chicken Legs, and Slow Cooker Corned Beef with Cabbage!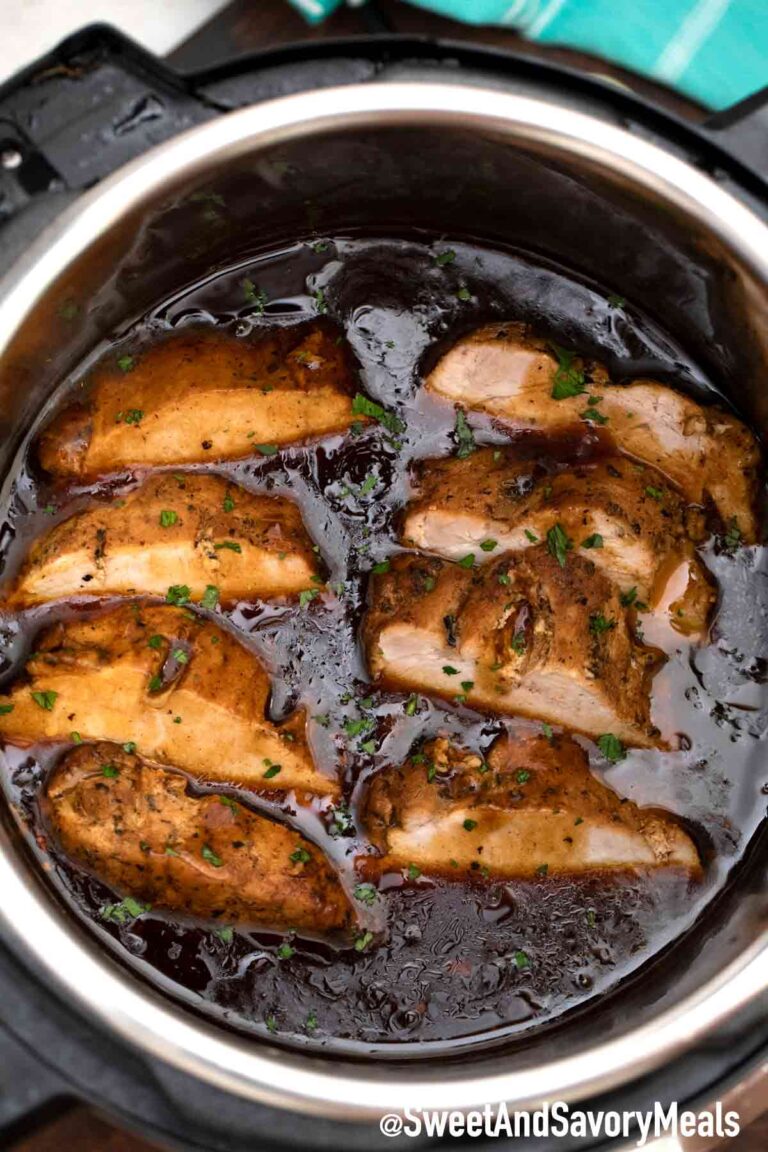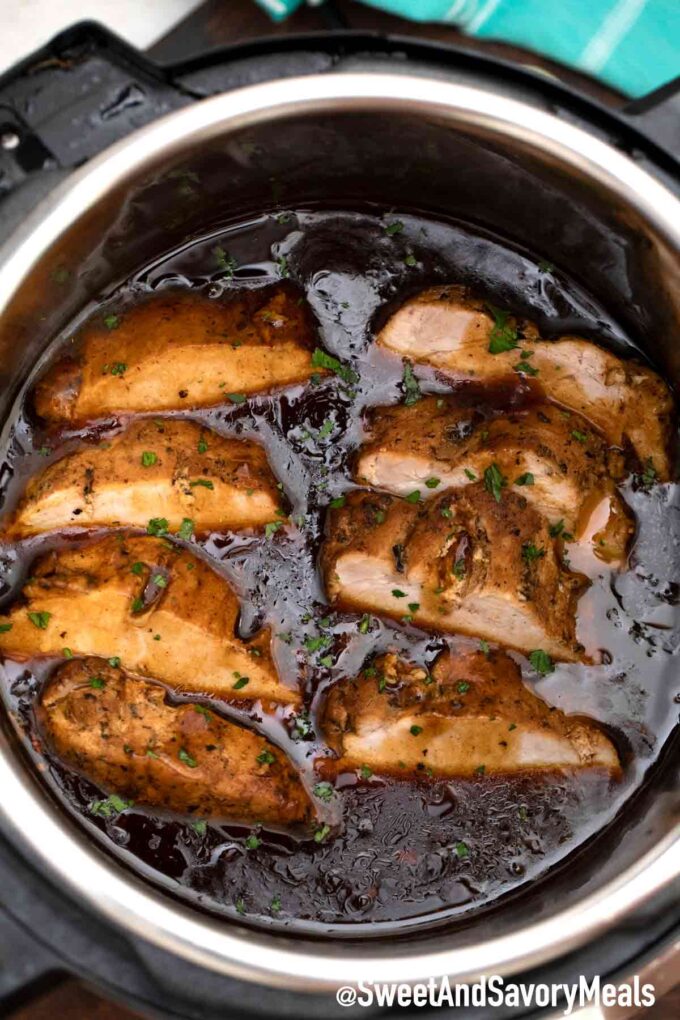 Pressure Cooker Balsamic Glazed Pork Loin
Instant Pot Balsamic Pork Loin proves that balsamic vinegar is not good just for salad dressing. Some people find it hard to like that concentrated balsamic taste, but trust me, this recipe will convert them into fans.
The intense tanginess of balsamic vinegar is balanced out with stock, soy sauce, brown sugar, and garlic. All those flavors from the spice rub get infused into the glaze as well. The result? Umami-loaded pork that's zesty, savory, and with a hint of sweetness all at once.
Also, the meat is tender and bursting with delicious flavor. It's super easy to make and the whole meal is ready in about 25 minutes. Give it a try, and it will quickly become an instant classic on your table!
What is pork loin?
Also known as pork center rib roast or center loin roast, this is a thick and wide cut. The average weight for this cut usually begins at two pounds. It has a distinctive fat cap that protects the meat from drying out. You can buy it with or without the bone. Also, you can use any cut for this recipe, but it's easier to slice the boneless kind.
Now, don't confuse loin with tenderloin. They sound the same but are very different in composition and ideal cooking methods.
Tenderloin is also known as pork tender or fillet. You can only get it boneless. On average, it weighs a pound. This cut is long and narrow, with a tough silver skin you should remove before cooking.
Since they're such different cuts, remember not to use them interchangeably in recipes. If you only have tenderloin, use my IP Balsamic Pork Tenderloin recipe instead.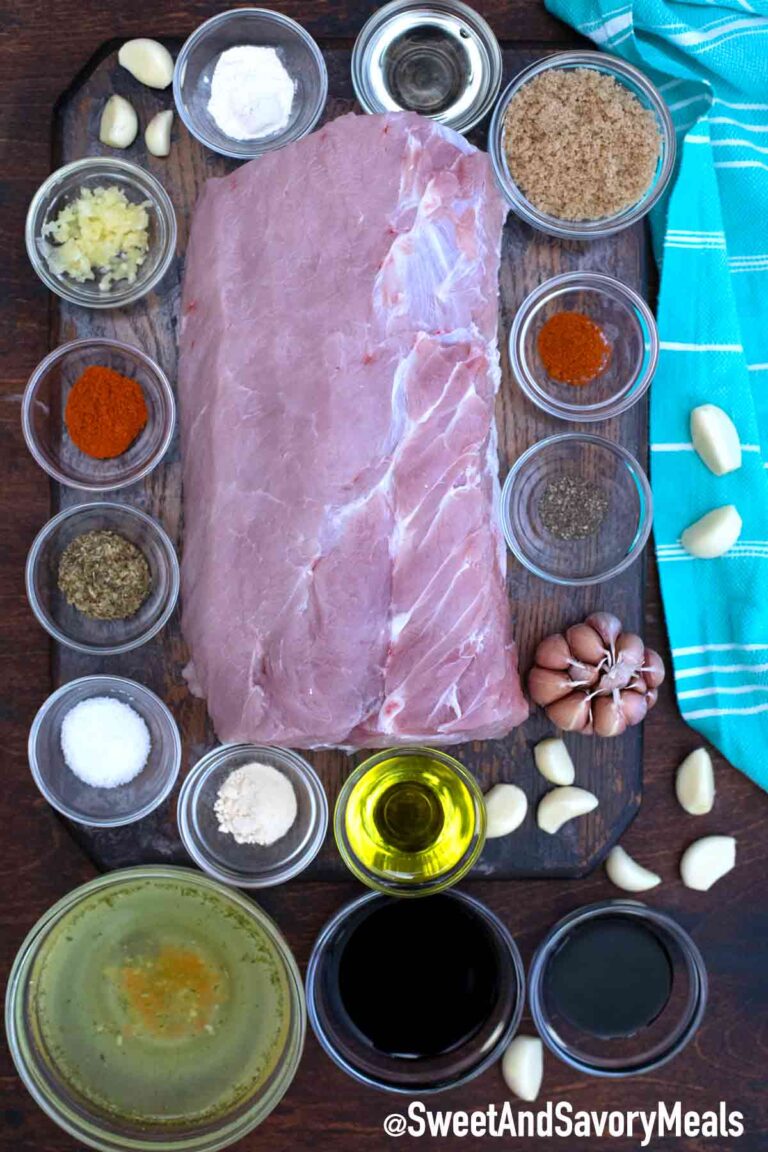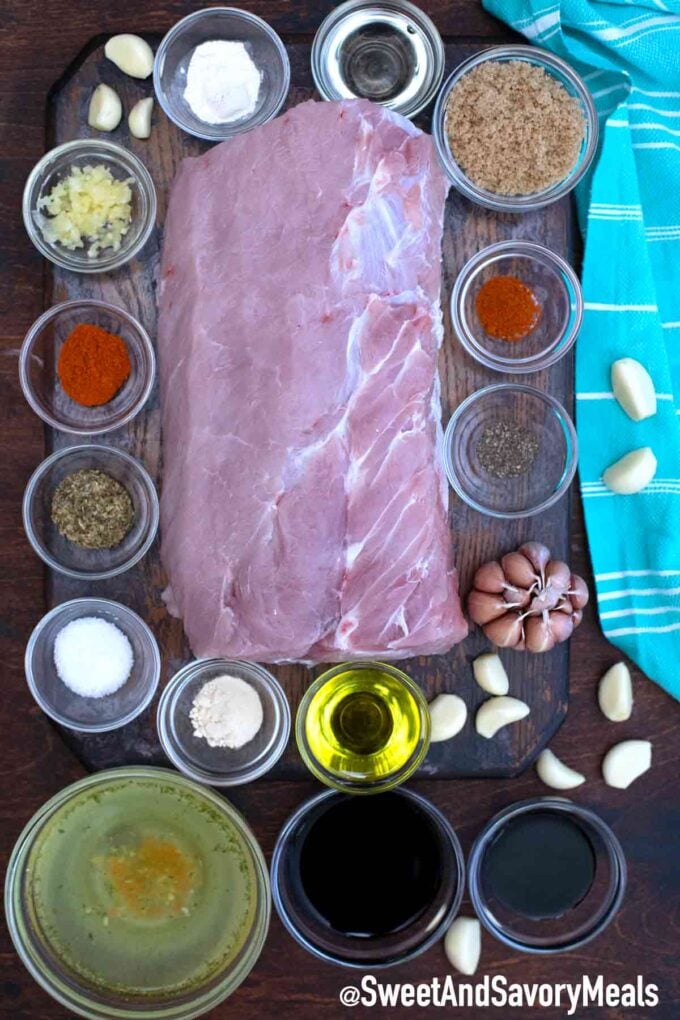 Instant Pot Balsamic Pork Loin Ingredients:
Don't be intimidated by this long ingredient list! I guarantee you have most of this in your kitchen already:
You'll need pork loin weighing around 2 to 2 ½ pounds. Prepare olive oil and six garlic cloves. I like the flavors of fresh rosemary in this recipe, but it's totally optional.
For the rub:
Measure out some smoked paprika, ground pepper, and onion powder. We're using both fresh minced garlic and garlic powder. Then, measure out some Italian seasoning, along with cayenne pepper for a bit of heat. Brown sugar rounds out the rub with a slight sweetness. Two TBSPs of canola oil helps the rub stick to the meat.
Sauce ingredients:
Prep six smashed garlic cloves, balsamic vinegar, and balsamic reduction. We'll use soy sauce and brown sugar for balance. You'll also need olive oil and broth (try making your own chicken stock!), and liquid smoke.
For the slurry:
We'll thicken the sauce with a little water/cornstarch mixture.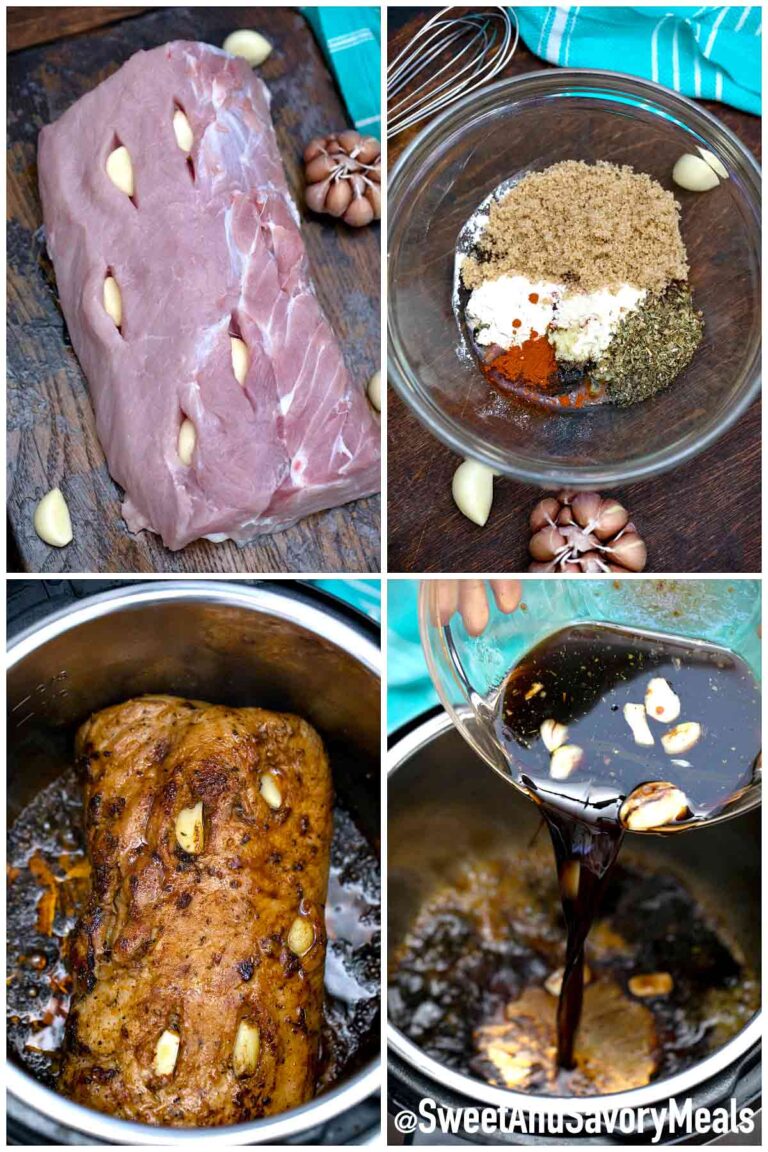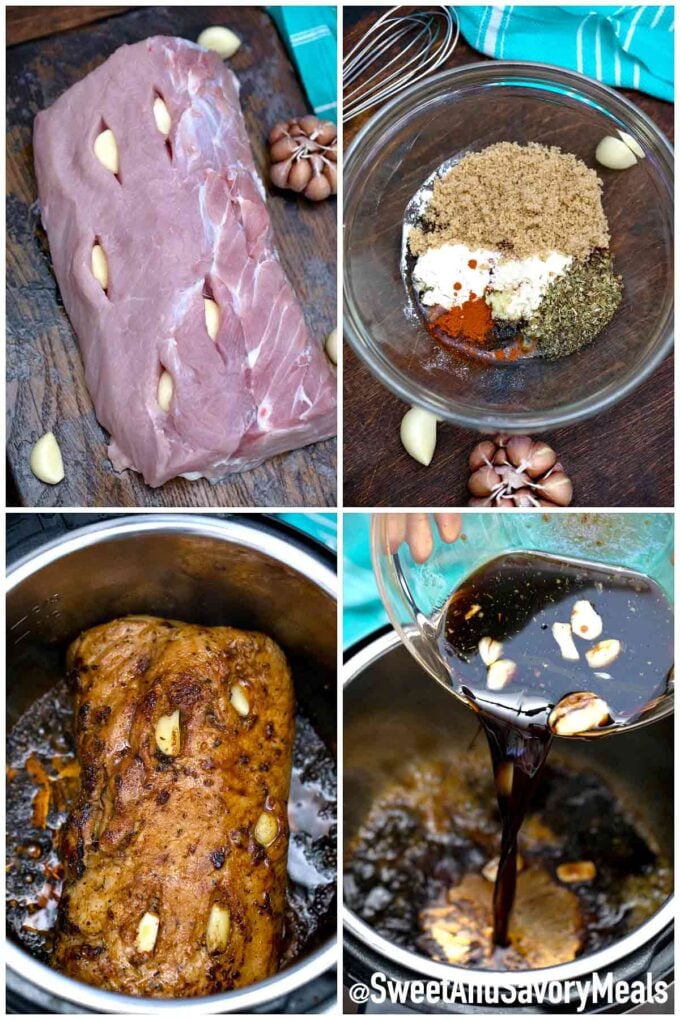 How to make Instant Pot Pork Loin?
Get your pork ready. Pat it as dry as you can using paper towels. Then, pierce in six places, and push garlic cloves into each hole.
Sear the spices into the pork. Combine spices and oil, then massage into the meat. Next, sear it in the IP until a golden, caramelized crust forms.
Start pressure cooking. Make the sauce, then use it to deglaze the brown bits left from searing. Place meat in the IP for 15 minutes and pressure cook it, following by natural release. Pork is done when internal temp is 145F at the thickest part.
Rest the meat. Cover the meat on a cutting board then rest for around 15 mins.
Thicken the sauce. Pour slurry slowly into the balsamic sauce, and simmer until desired consistency is achieved.
Rest and serve. Slice rested meat and arrange on serving platter. Pour remaining sauce over and sprinkle chopped parsley on top. Serve.
Can I cook frozen pork loin in the Instant Pot?
Yes. Just skip searing and follow the recipe as directed. Also, increase the cooking time by 3 minutes.
How to cook pork loin in the oven?
If you don't have a pressure cooker, you can bake this in the oven! My Balsamic Pork Loin recipe has all those fantastic flavors and is roasted to perfection.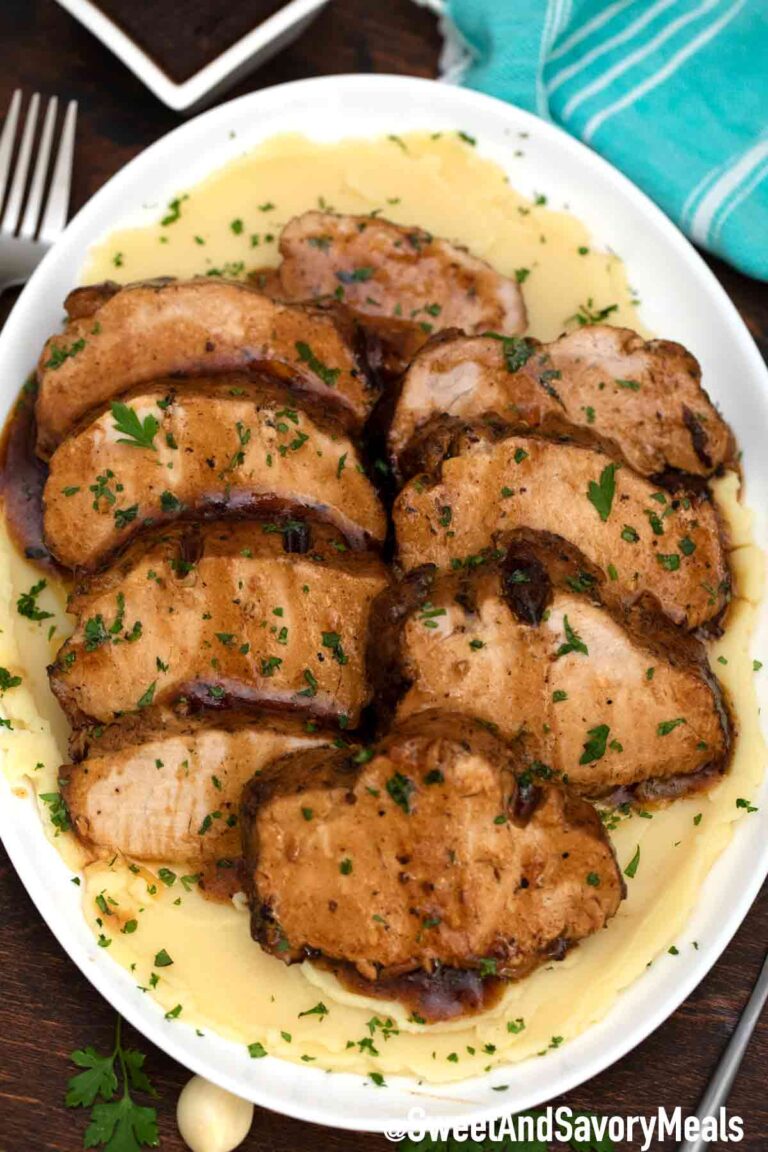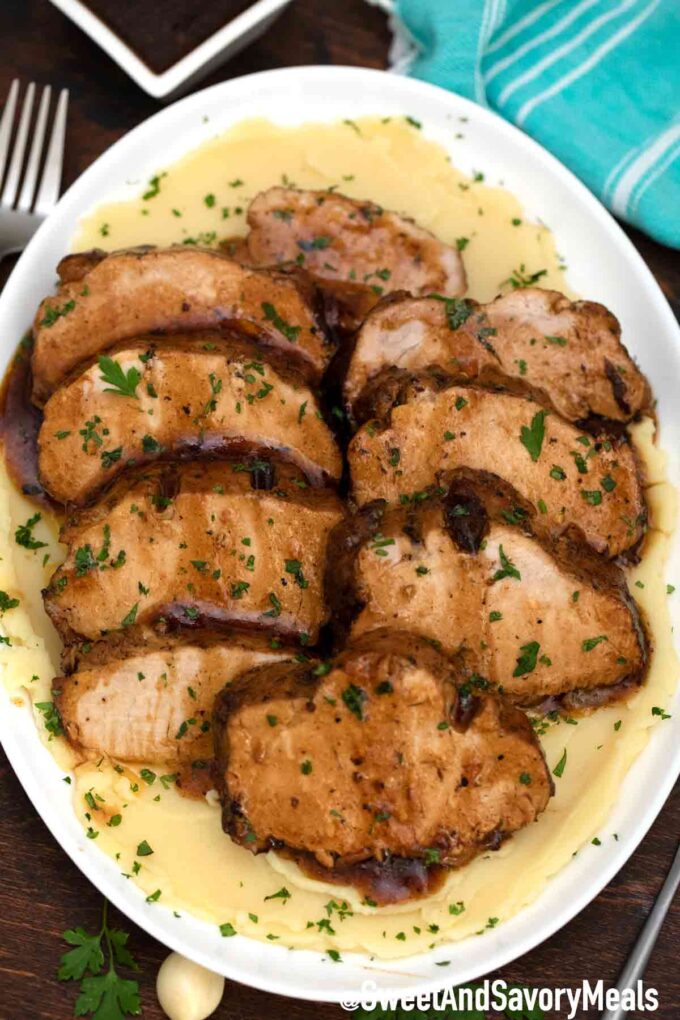 What to Serve with Instant Pot Pork Loin?
I recommend serving this with:
Crockpot pork loin:
If you want to make it in the slow cooker, it is equally easy. My Crockpot Balsamic Pork Loin recipe uses the slow-cooking method and is perfect for even the busiest weekdays.
More delicious Instant Pot Recipes: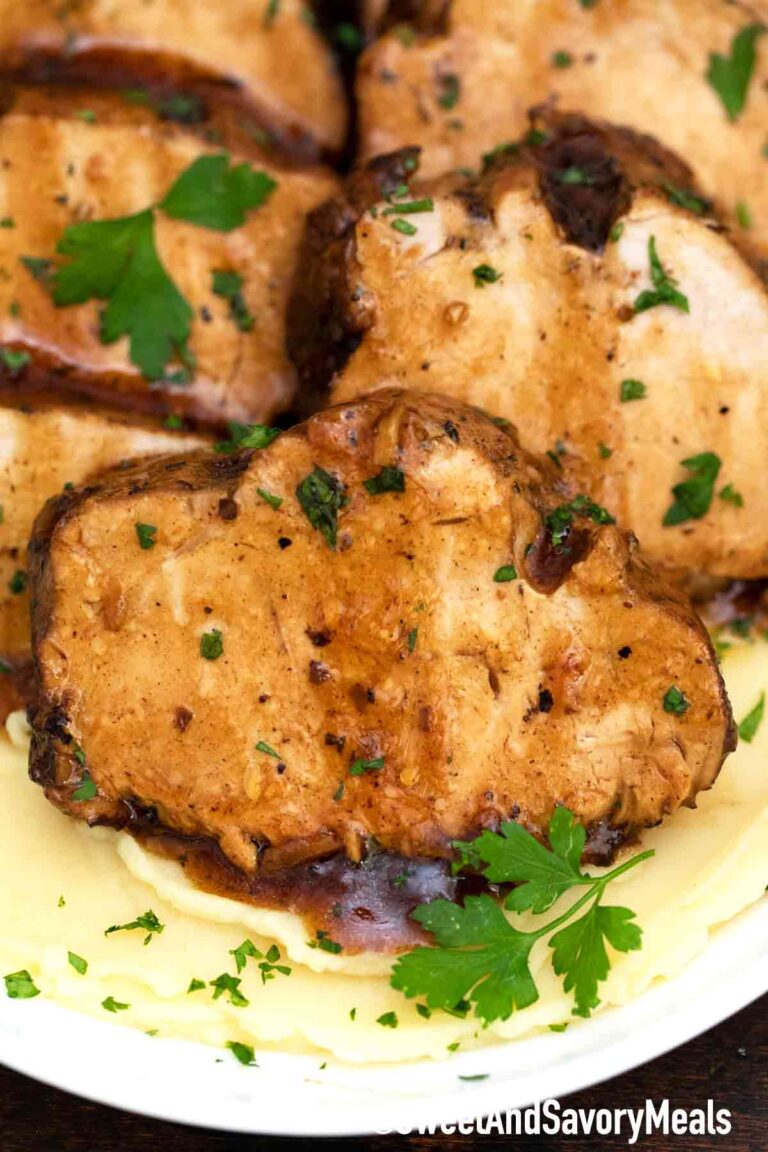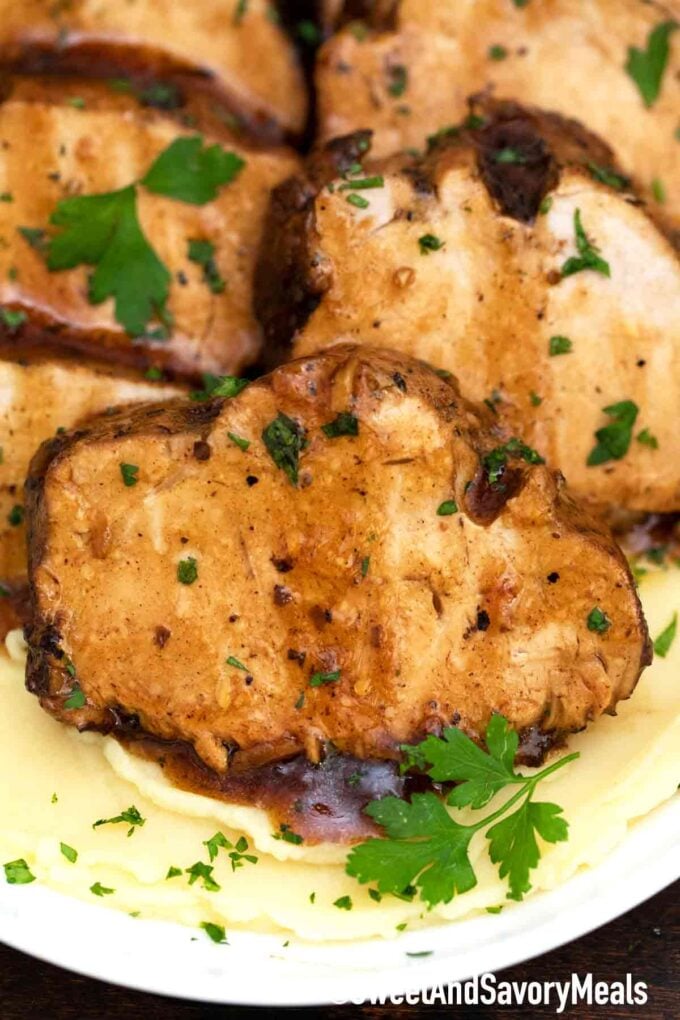 Storing instructions:
First, let the dish cool completely. Then, transfer it to an airtight container, and refrigerate it for up to three days.
To freeze, user a freezer-safe dish, and freeze it for up to three months.
Recipe Tips:
Try using my homemade Balsamic Glaze for extra sauce.
Double-check that you're using the right cut.
Also, ensure the IP Sauté mode is very hot so you get a nice sear.
Follow the cooking time precisely to avoid overcooking your meat.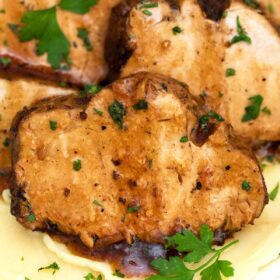 Instant Pot Balsamic Pork Loin
Instant Pot Balsamic Pork Loin is a dish made of spice-crusted pork coated in a tangy, smoky balsamic glaze infused with garlic. The pressure cooker infuses the meat with so much flavor while keeping it moist and succulent!
Save
Share
Print
Pin
Rate
Ingredients
2 - 2 1/2

pounds

pork loin

2

tablespoons

olive oil

6

cloves

garlic

(whole)

Fresh rosemary

(optional)
RUB:
2

tablespoons

canola oil

4

cloves

garlic

(minced)

1

teaspoon

salt

1

tablespoon

smoked paprika

1/2

teaspoon

onion powder

1

tablespoon

garlic powder

3

tablespoons

brown sugar

1/4

teaspoon

fresh ground pepper

1

teaspoon

Italian seasoning

1/4

teaspoon

cayenne pepper
SAUCE:
3/4

cup

chicken broth

1/4

cup

balsamic vinegar

1

tablespoon

balsamic reduction

1/4

cup

soy sauce

1

tablespoon

liquid smoke

2

tablespoons

olive oil

6

cloves

garlic

(smashed)

2

tablespoons

brown sugar
SLURRY:
2

tablespoons

corn starch

4

tablespoons

cold water
Instructions
Pat dry pork loin with paper towels.

Pierce the pork in 6 places over the surface, and stuff 6 garlic cloves into the 6 holes.

Combine in a small bowl the RUB ingredients; whisk to combine.

Take the rub and using your hands rub in into the pork well.

Turn IP to SAUTE and once HOT, add 2 tablespoons olive oil to the IP, and once the oil is shimmering, add pork and sear for a couple of minutes on each side, or until golden brown. Set aside.

Combine the sauce ingredients and add the IP, using a spoon scrape the bits that stuck to the bottom.

Turn off Saute mode.

Place pork loin back in the IP.

Cover with the lid and lock it, turn the valve to seal.

Pressure Cook for 15 mins followed by a 15 minutes Natural Pressure Release.

Check for doneness by inserting an instant-read thermometer into the thickest part of the meat; pork is done when internal temperature reaches 145˚F.

Remove pork from IP and transfer to a cutting board; cover pork with foil and let rest for 10-15 minutes before slicing.

In the meantime mix the slurry ingredients in a bowl until cornstarch is fully dissolved.

Turn on Saute mode, and once the mixture is simmering add the slurry. Stir to combine and cook for a few more minutes, until thickened.

Drizzle the mixture on top of the pork when serving.

Slice and serve. Garnish with chopped parsley.
Nutrition
Calories:
673
kcal
|
Carbohydrates:
17
g
|
Protein:
78
g
|
Fat:
31
g
|
Saturated Fat:
6
g
|
Cholesterol:
214
mg
|
Sodium:
1216
mg
|
Potassium:
1379
mg
|
Fiber:
1
g
|
Sugar:
12
g
|
Vitamin A:
609
IU
|
Vitamin C:
2
mg
|
Calcium:
40
mg
|
Iron:
3
mg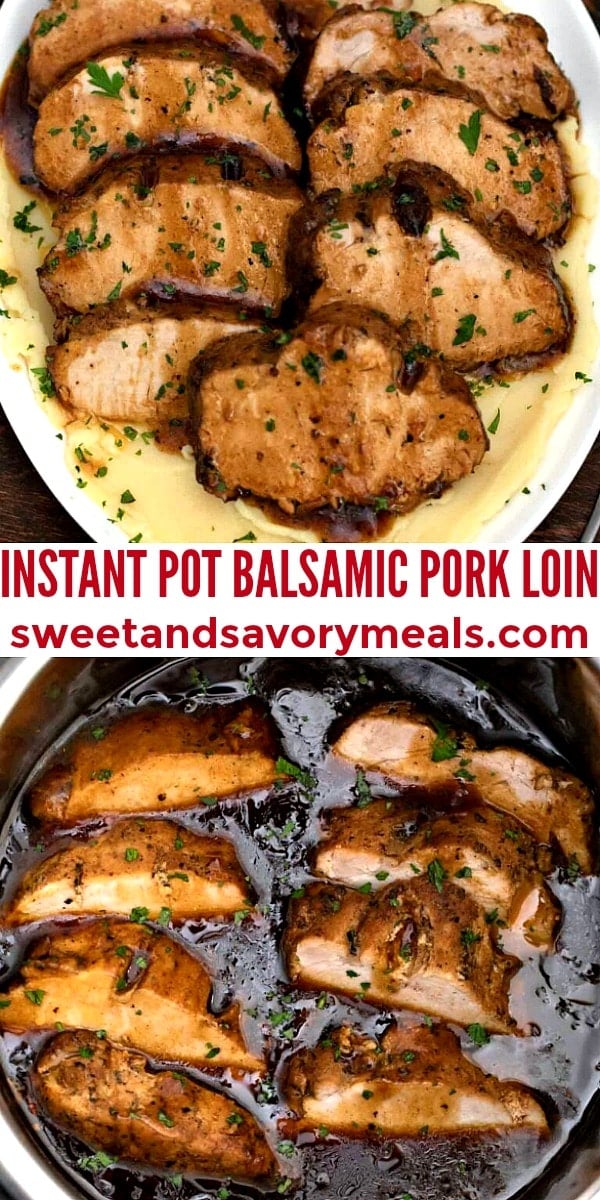 More recipes you might love