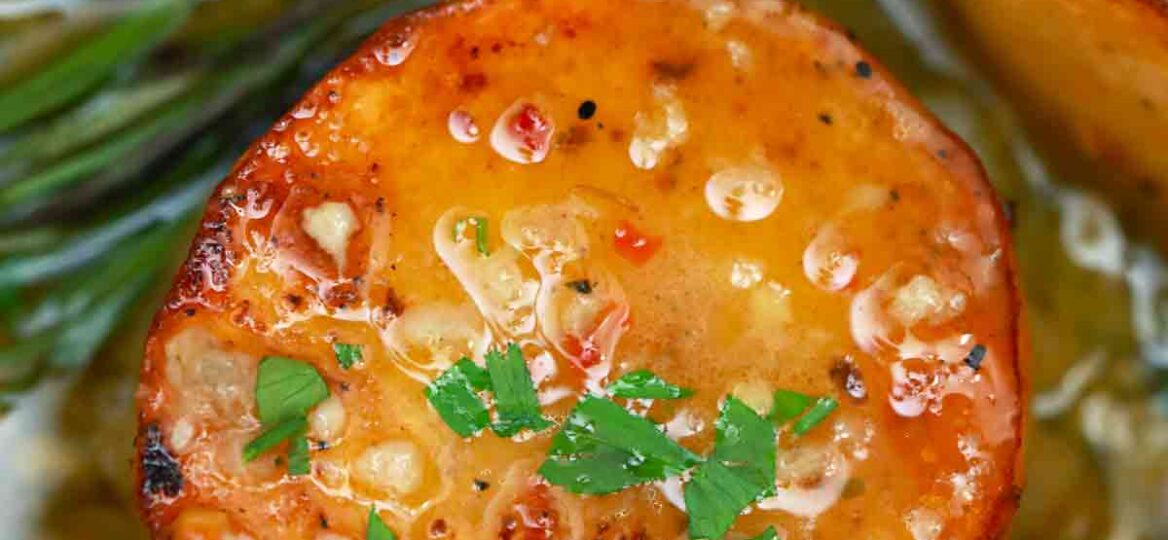 Fondant Potatoes are buttery and melt-in-your-mouth tender with a golden, crispy crust. Elegant enough for a dinner party and easy enough for a weeknight dinner!
Having company over? My go-to dishes taste fancy without having to spend a whole day in the kitchen. This Balsamic Pork Loin, Pan Seared Steak, and Garlic Herb Butter Roasted Chicken take so little work but score five stars in taste and presentation!
Oven-Baked Fondant Potatoes
Fondant Potatoes sound like something you get served at a high-end restaurant, but it's actually such a homey dish. It's so simple to make with only spuds, butter, stock, garlic, and herbs. What makes this classic French dish so special is the technique that makes the potatoes crisp on the outside and meltingly tender on the inside.
The shape allows it to develop a lovely crust that hides fluffy and soft insides. Also, the butter and stock create a rich, herby pan sauce. It's a one-pan recipe, so there's very little clean-up. Once you get the basic steps down, most of the work happens in the oven!
It's hands-down one of my favorite ways to enjoy spuds. Finally, it looks phenomenal. Everyone will think you spent hours cooking this, but in reality, it takes less than an hour to come together.
What are Fondant Potatoes?
It's a traditional French preparation technique. Chefs fondly refer to these as "melting medallions" because they end up so tender. They are cut into cylinders, seared until golden, and then roasted with herbs, stock, and butter. Lastly, the pan sauce is spooned over the roasted chunks for a seriously stunning side dish.
The recipe steps may sound complicated, but don't get intimidated. Just cut, sear, and bake. That's basically it! And once you taste this, I guarantee you'll be making it over and over.
What are the ingredients for Fondant Potatoes?
This recipe calls for really basic ingredients you probably have in your pantry right now:
Potatoes: I like using russets, and then cut them into medallions.
Herbs: such as fresh sprigs of rosemary and thyme.
Unsalted butter: It what makes this dish so flavorful and special. The butter is really a secret ingredient here!
Garlic powder: It adds a nice flavor and aroma.
Onion powder
Pepper and kosher salt: Adjust to taste.
Canola oil: You can also use your preferred cooking oil.
Broth
How to make Fondant Potatoes?
Heat oven to 400F.
Prepare your ingredients. Then, trim the ends of your peeled russets. Cut each crosswise.
Soak in cold water for 20 minutes.
Season, then sear in an oven-safe pan until a crispy, brown crust develops.
Add your herbs, garlic, and butter until the butter starts to foam and brown.
Then, add the broth.
Next, pop them in the oven and bake until tender and golden.
Spoon pan juices on top, garnish with more herbs and serve hot.
What are the best potatoes to use?
You can use any type you like. As for me, I prefer russets. They have the perfect shape and cook up beautifully. The baking kind and Idaho work really well too! Also, if you love sweet potatoes, you can totally prepare them using this recipe.
What to serve with Fondant Potatoes?
Serve them with any main you like! But they go particularly well with dishes with a similar flavor profile. Try it with my Garlic Butter Swai Fish, Rosemary Chicken, and Grilled Steak, or Pot Roast!
For a lighter meal, I like having it with this Pear Salad, Grilled Salmon, and some Grilled Chicken.
What to do with leftovers?
I love mixing leftovers to make other side dishes. Their texture is ideal for hash browns, or just fry them and sprinkle with fajita seasoning or taco seasoning. I also love using them in chicken pot pies!
Storage tips:
They can last in the fridge for up to four days. Just store leftovers in an airtight container. To heat up, I recommend a splash of broth and some butter when you warm them up to keep them nice and moist.
More delicious Potato recipes:
Recipe Tips:
Feel free to use chicken, beef, or lamb broth.
Make it vegan by using vegetable broth and vegan butter substitute.
Also, for a creamier sauce, add some shredded parmesan cheese.
Sprinkle some red pepper flakes for heat.
Watching your salt intake? Use low-sodium broth.
Get rid of extra sodium by soaking the spuds in water.
Always use fresh herbs for the best flavor.
Use the trimmings to make crispy tater skins!
You can leave them unpeeled if desired.
Experiment with flavors. Try saffron, bay leaves, and lemon.
You can make them in advance the day before. Pop in the oven before serving.