Best Grilled Potatoes Recipe [video]
Grilled Potatoes are perfect for all your meaty entrees this summer. Done in less than thirty minutes, you will have perfectly seasoned spuds in no time! Watch the video tutorial below and you'll see how easy this is.
This recipe makes a great side dish to Wine Roasted Beef Tenderloin, Blackened Chicken, and Grilled Pork Chops!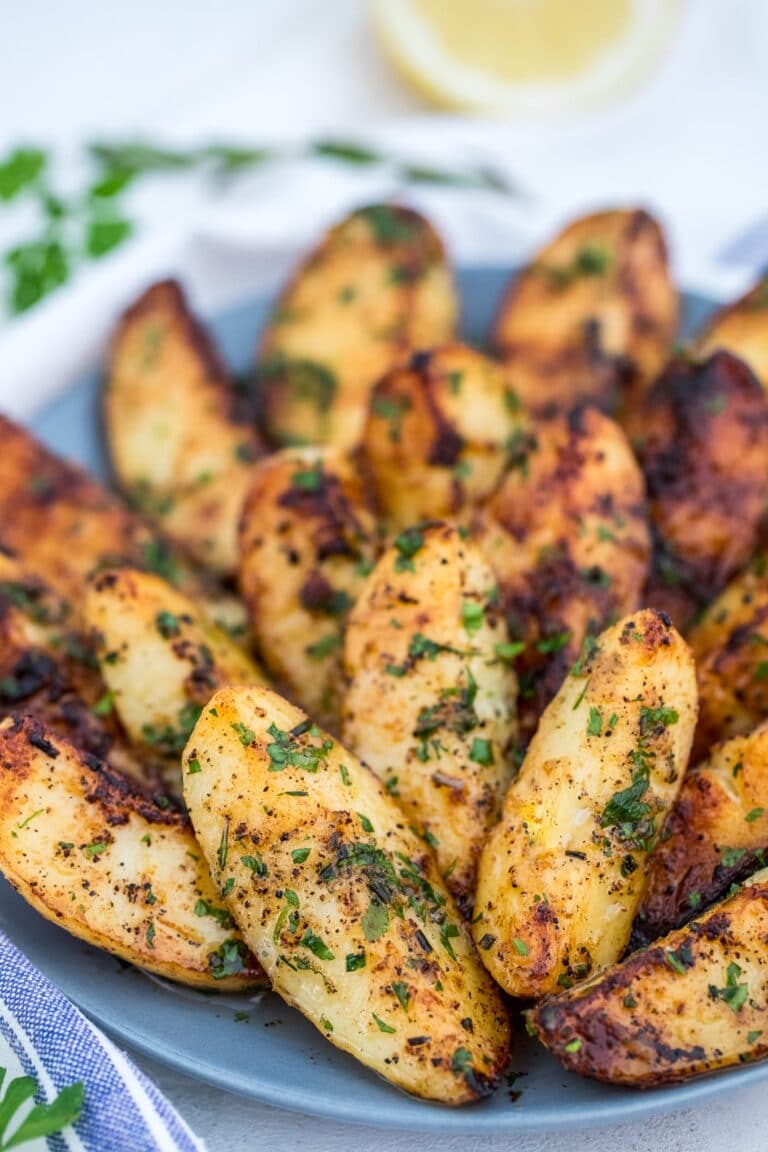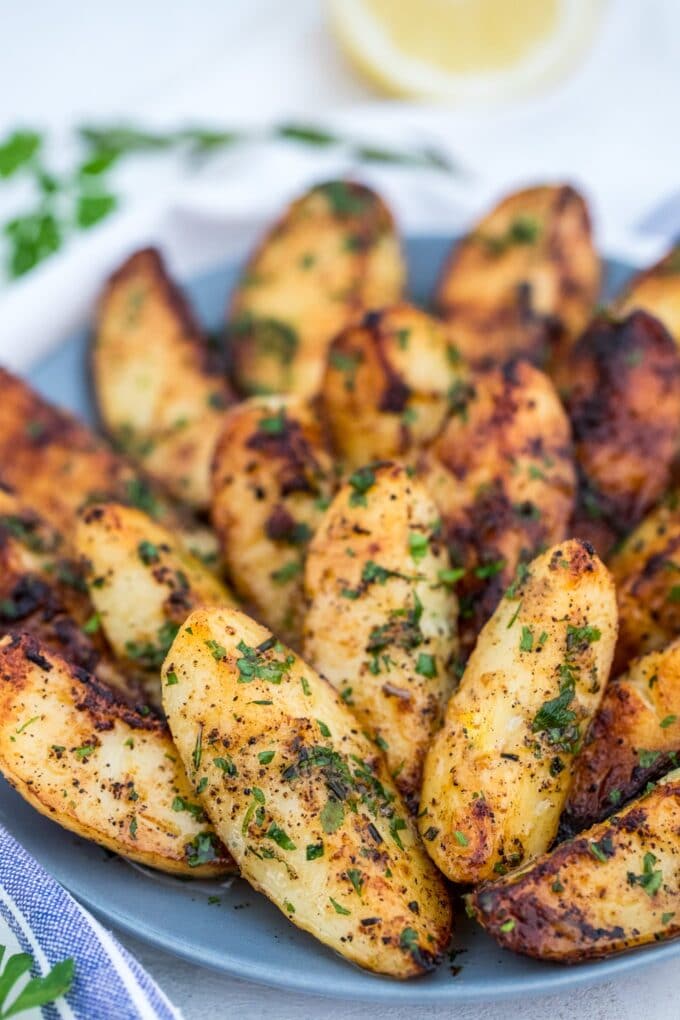 Garlic Herb Grilled Potatoes
Grilled Potatoes provide a healthy take on the world's most-consumed vegetable. With minimal use of oil, this recipe ensures that they are not drenched in fat which will ruin what potatoes naturally are. We cook them in extra-virgin olive oil which gives them a nice coat, and perfectly golden brown color.
According to USDA, one medium potato has 164 kcal of energy, negligible fat, and zero cholesterol. Its potassium content is also remarkable. It is hearty, too, which makes it popular for those trying to lose weight.
With all these health benefits, this recipe already proves to be worth a try. Also, it is very tasty! With the different seasonings and herbs, this dish is so flavorful and can also be eaten as is. Give this recipe a try and you will be making them over and over again!
What potatoes are best for grilling?
Typically, the best varieties for this are ones that are also good for baking such as Yukon gold or Russet varieties. Purple ones and the red-skinned ones are also good to use in this recipe.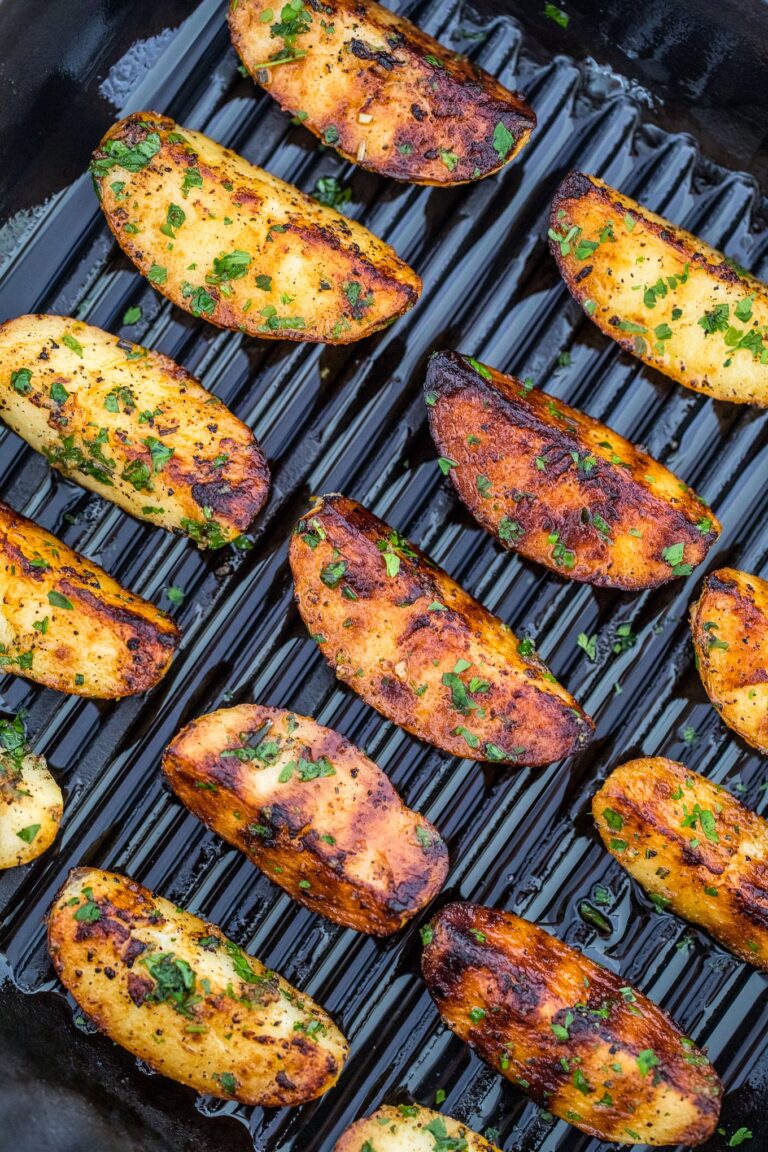 Ingredients needed:
Yukon or Russet potatoes
Kosher salt
Freshly ground black pepper
Garlic powder
Onion powder
Zest of one lemon
Juice of one lemon
Extra-virgin olive oil
Freshly chopped rosemary
How do you make grilled potatoes?
Boil – Start off by boiling the spuds in salted water for about 10 minutes until they are tender but not mushy. Then, drain and let them cool.
Season – The next step is to season them by dredging each wedge into a bowl of mixture. Simply, combine the above ingredients in a bowl, and then coat them evenly with the herbed seasoning.
Grill – Ensure the grill is ready and heated to medium-high. Then, oil a little the grates with some olive oil. Place the seasoned spuds on it, and grill until golden brown. This will take roughly five to seven minutes.
Garnish – In your bowl of the oil mixture, add in some chopped parsley. Next, return the grilled veggies into the oil mixture to toss and coat them again. Then, serve! It is that easy!
How do you make grilled potatoes in the oven?
If you intend to roast them in the oven, just follow the recipe steps until you season them.
Then, heat the oven at a high temperature of 425 degrees and cook them for about 15 to 20 minutes until tender. The high temperature ensures that the outside will be crispy. Yum!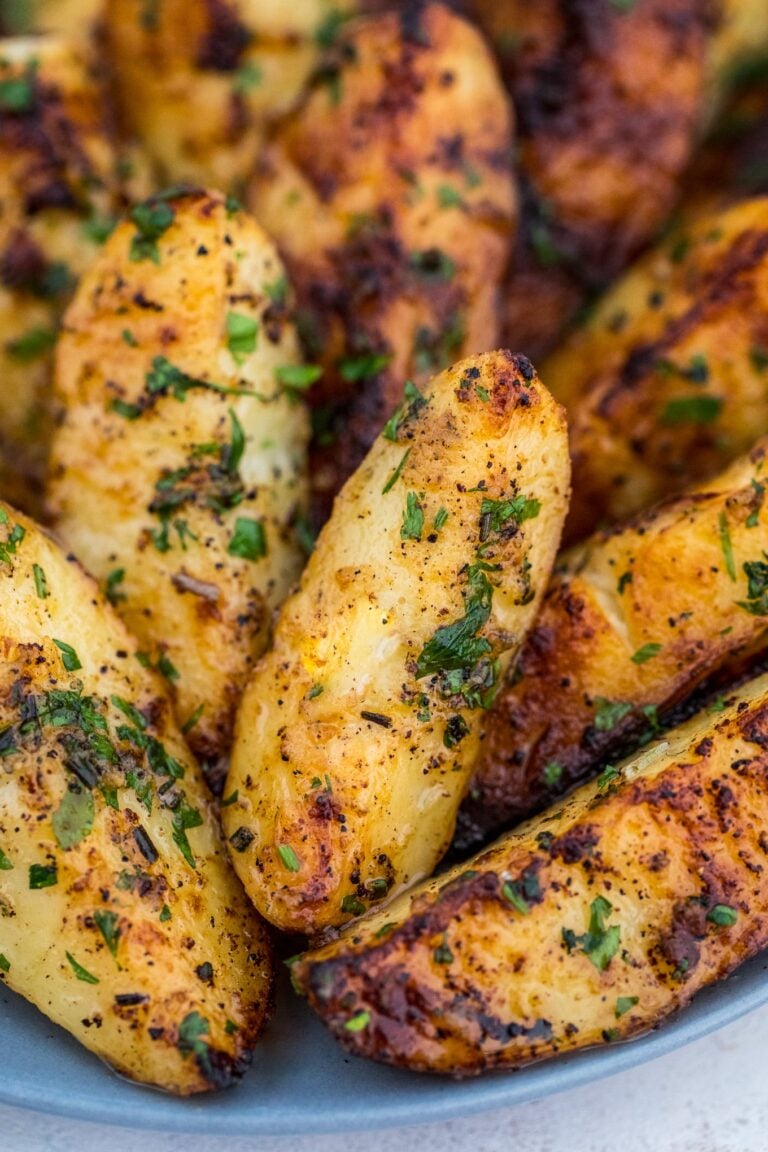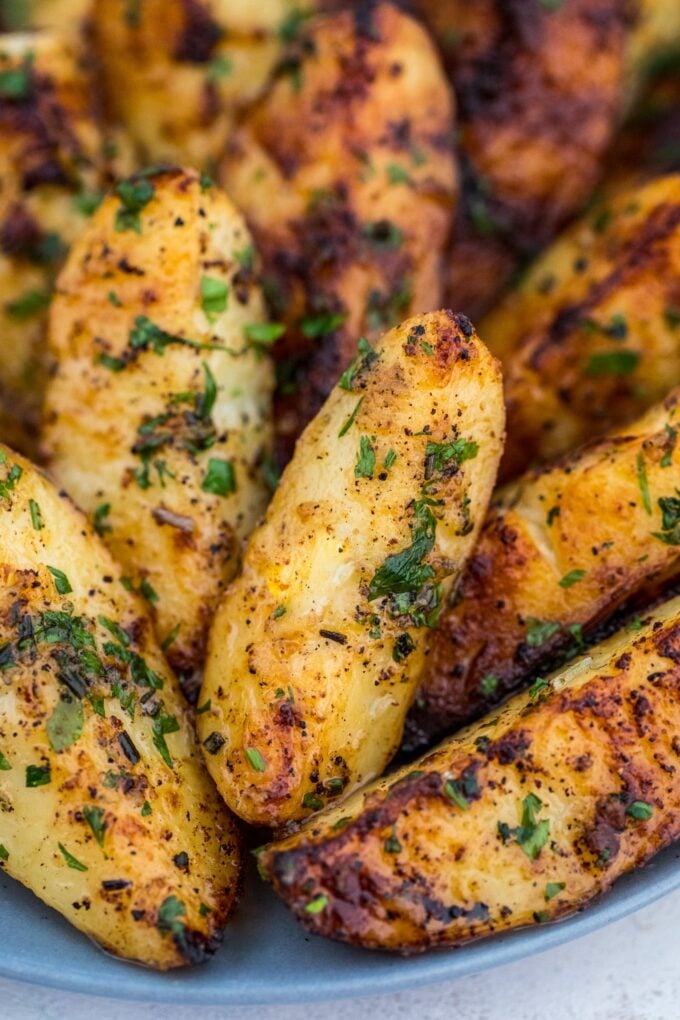 How do you make grilled potatoes in tin foil?
We usually prepare them in tin foil if they are on a smaller size. Again, just follow the exact recipe described above. The only difference is to ensure to place them with the cut side standing up. You can also follow the recommended baking settings described above.
How to make the potatoes crispy?
Aside from cooking them at a high temperature to ensure crispy output, soak the potatoes first in water to remove as much starch as possible.
Also, once boiled, drain and ensure that the spuds are dry. The reason for this is that water remaining on the surface of the vegetable can steam, not grill, thereby making it less crispy.
How many calories are in grilled potatoes?
A serving of about two potatoes has 350 calories.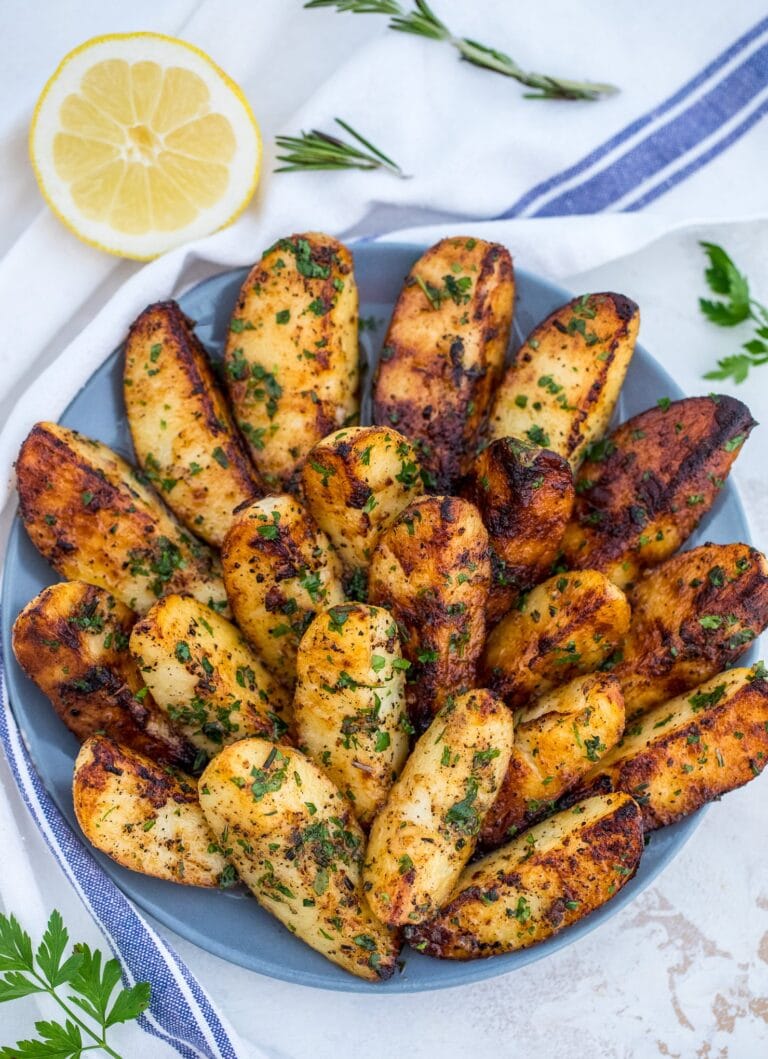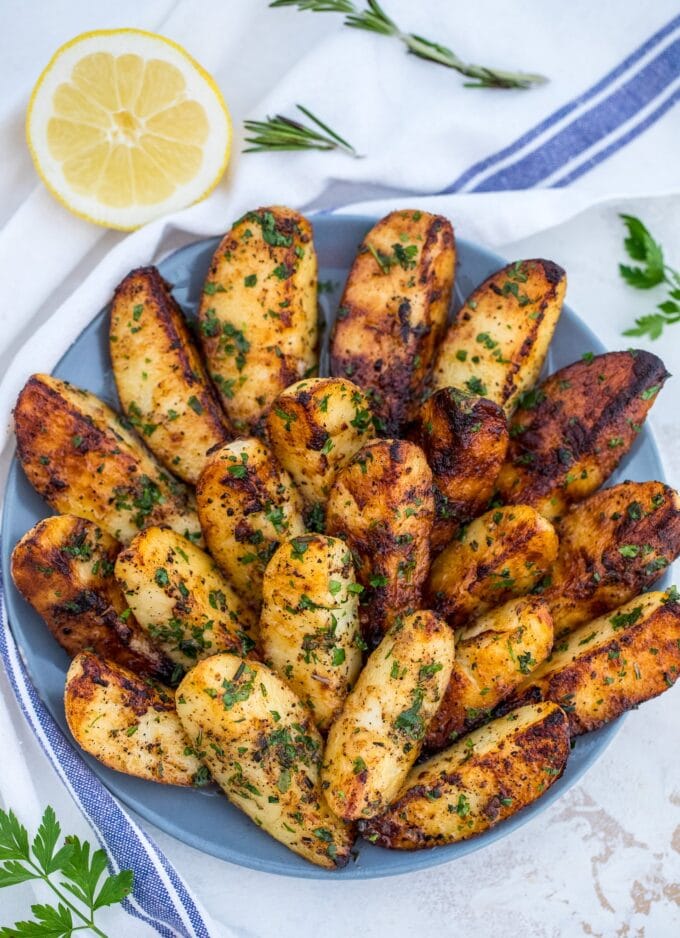 How to store them?
It may come as a surprise, but cooked spuds make good freezer meals! Just put them in an airtight container or freezer bags and then, freeze for up to 3 months. To reheat, thaw one portion and heat up in the oven or in a frying pan on the stove.
Recipe Tips
Instead of the oil dressing, you can top the grilled spuds with a ranch dressing. You can also top them with crispy bacon and some cheese.
The high temperature of cooking this recipe entails that the garlic onion is a must. Also, do not use fresh ones as they may just burn in the process.
In addition, feel free to change up the mixture of herbs and seasonings according to your liking.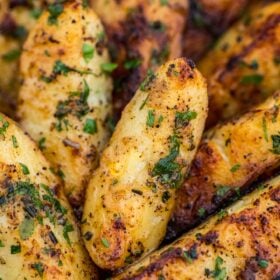 Grilled Potatoes Recipe
Grilled Potatoes are perfect for all your meaty entrees this summer. Done in less than thirty minutes, you will have perfectly seasoned spuds in no time!
Save
Share
Print
Pin
Rate
Servings:
4
servings as a side dish
Ingredients
5-6

large Idaho or russet potatoes

(cut into wedges)
Marinade:
1

teaspoon

kosher salt

1

teaspoon

freshly ground black pepper

2

tablespoons

garlic powder

1

tablespoon

onion powder

Zest of 1 lemon

Juice of 1 lemon

1/2

cup

extra-virgin olive oil

2

tablespoons

fresh rosemary

(chopped)

2

tablespoons

fresh parsley

(chopped)
Instructions
Bring a large pot with water over high heat, bring to a boil and add about 1 teaspoon of salt, stir to dissolve.

Add the potatoes and cook until al dente, about 10 minutes, don't overcook. Drain and let cool slightly.

Heat grill to medium-high and oil grates. Or just place a grill pan over medium-high heat and lightly oil the pan.

In a large bowl, mix together all the marinade ingredients except parsley.

Add potatoes and toss gently to coat.

Grill potatoes, flipping once, until golden brown, about 5 minutes per side.

Add parsley to the remaining oil mixture, then return grilled potatoes to the mixture and toss again to combine.

Serve immediately.
Nutrition
Calories:
415
kcal
|
Carbohydrates:
38
g
|
Protein:
7
g
|
Fat:
27
g
|
Saturated Fat:
3
g
|
Cholesterol:
0
mg
|
Sodium:
613
mg
|
Potassium:
1175
mg
|
Fiber:
7
g
|
Sugar:
0
g
|
Vitamin A:
200
IU
|
Vitamin C:
33.7
mg
|
Calcium:
96
mg
|
Iron:
9.3
mg
More recipes you might love