Grilled Chicken Wings Recipe [video]
Grilled Chicken Wings are tastier than breasts and coated with a perfect rub and sauce. This dish will surely be a hit for your summer backyard barbecue party!
This recipe is super easy to make and goes well with salads such as Mediterranean Couscous Salad, Chickpea Salad, and Mexican Black Bean Salad.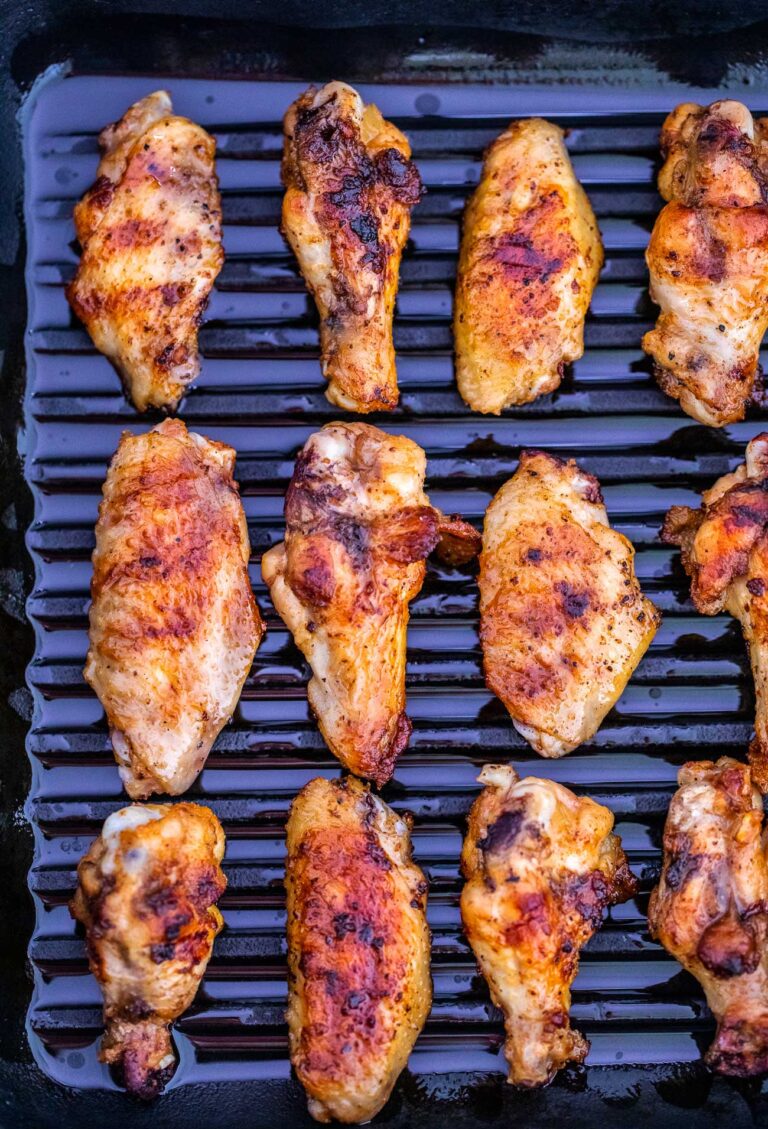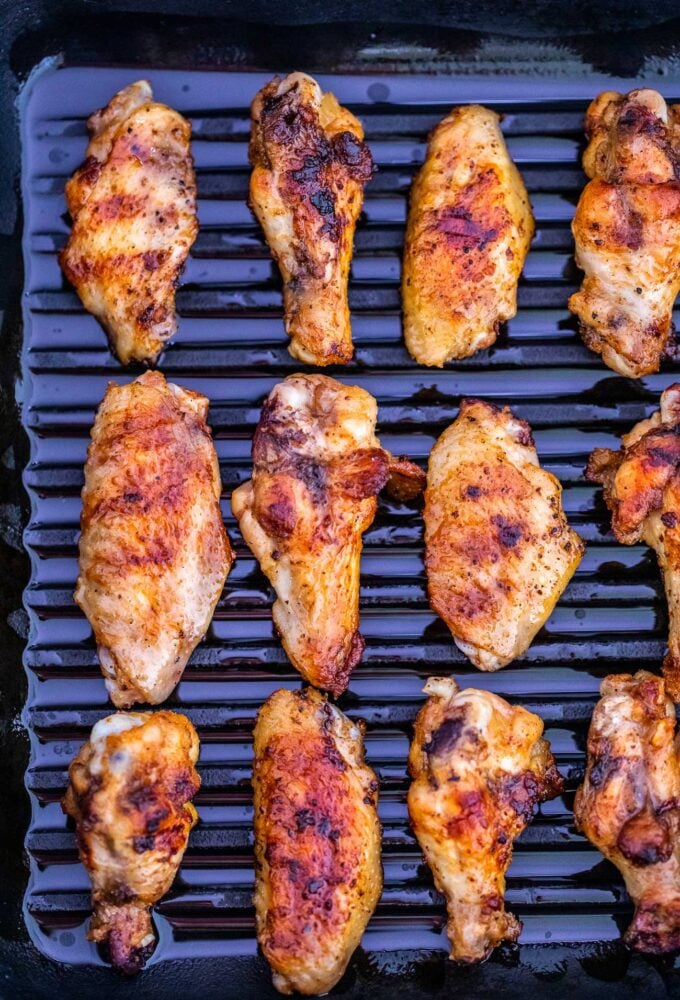 Buffalo Sauce Grilled Chicken Wings
Grilled Chicken Wings give out that smokey flavor that fried or baked ones do not have. Compared to breasts, this part is tastier and dries out a lot slower. It makes this a hearty finger food and the juiciness is amplified by the sauce.
In this recipe, we will share with you how to make the buffalo sauce that pairs nicely with them. Also, we will share how to make the perfect rub to add flavor. You do not even have to buy fancy ingredients, just the ones that you can most probably find in your pantry.
All you need is a functional grill to end up with the most delicious and flavorful wings. This is a perfect summer bbq dish, that can feed a large crown in no time!
How to cut chicken wings?
Each piece is divided into three parts, each separated by a joint. You have to feel a break in each joint, and slice through that in between the bones.
Typically we cut in between the drumette and the wingette and use these pieces for this recipe. Also, you can cut between the wingette and the tip. However, remember to feel a break in between the bones.
The tip has little meat in it, so if you will be detaching it from the wingette, you might as well keep it for later.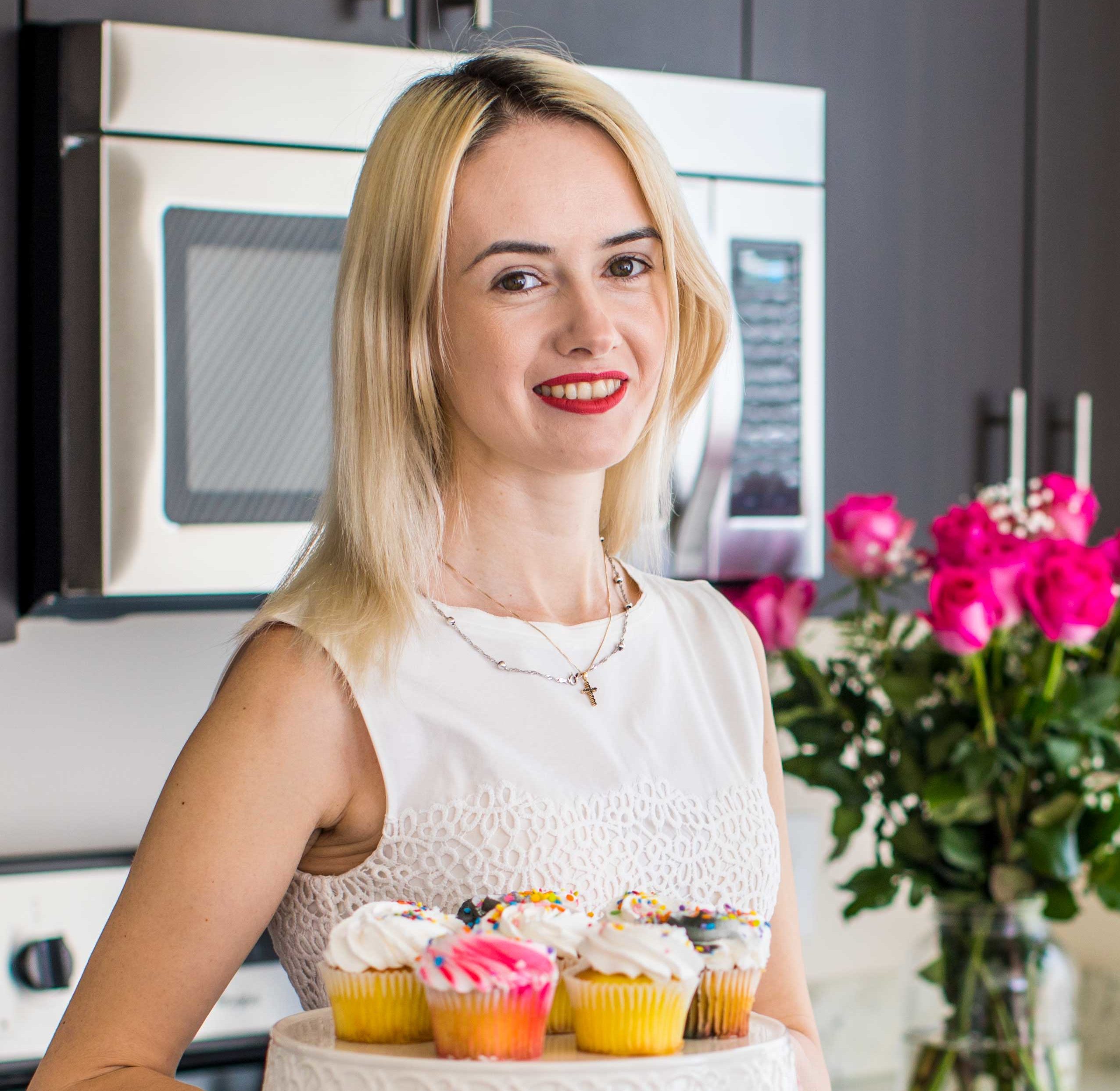 Follow us on Pinterest for more delicious recipes!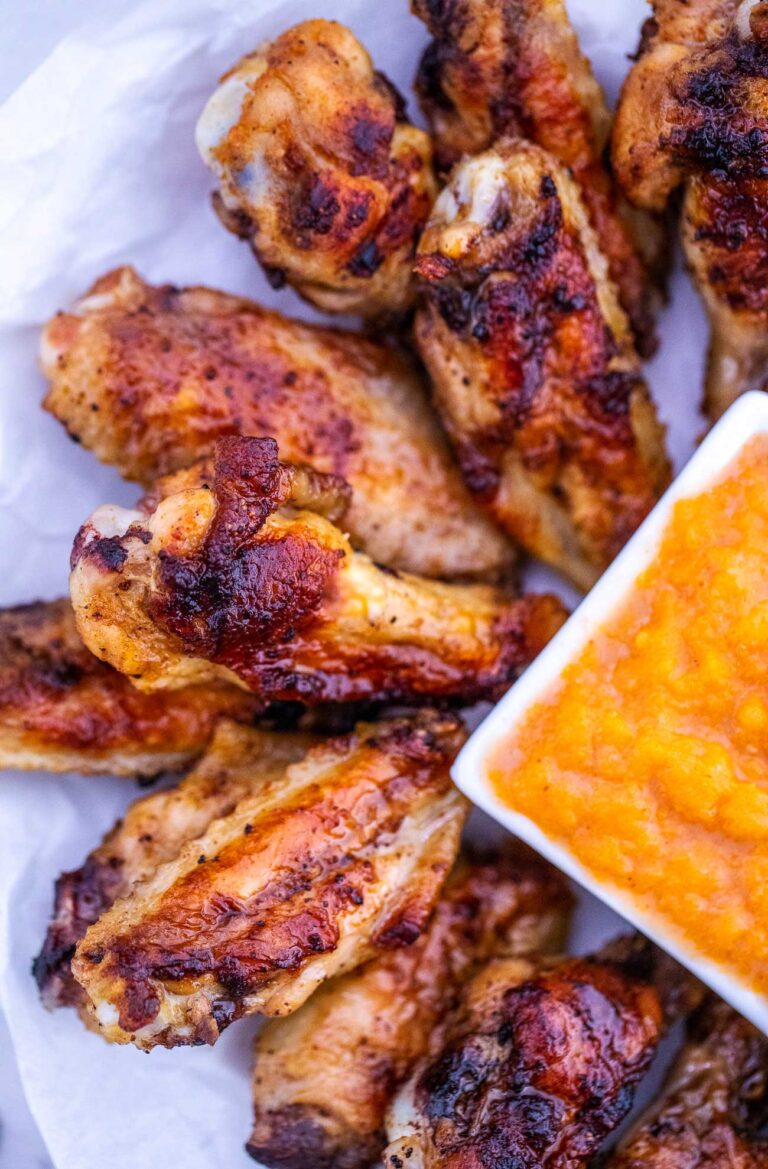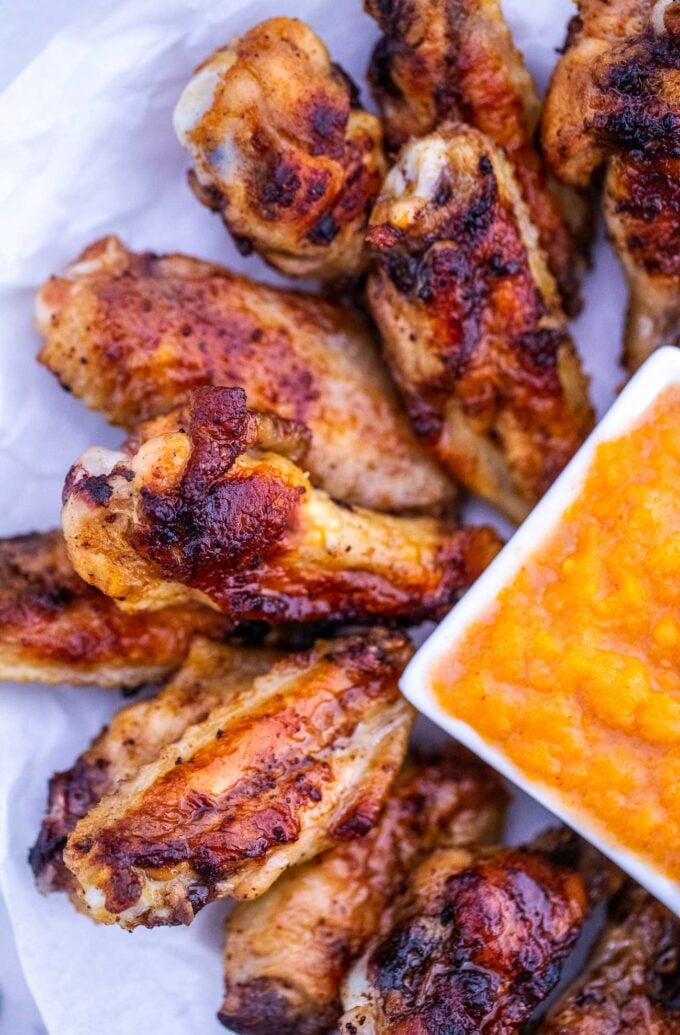 How to make chicken wings dry rub?
The dry rub is essential for perfectly cooked wings as it gives them the much-needed flavor. Luckily, making a rub at home is super easy, and requires just a few easy to find ingredient.
In a bowl, simply mix, and combine the following ingredients:
Kosher salt
Garlic powder
Onion powder
Smoked paprika
Black pepper
Chili powder (optional)
How to make the buffalo sauce?
In a bowl, just whisk together the following ingredients:
Melted unsalted butter
Frank's Red Hot Original Cayenne Pepper Sauce
Kosher salt
Garlic powder
Onion powder
Chili powder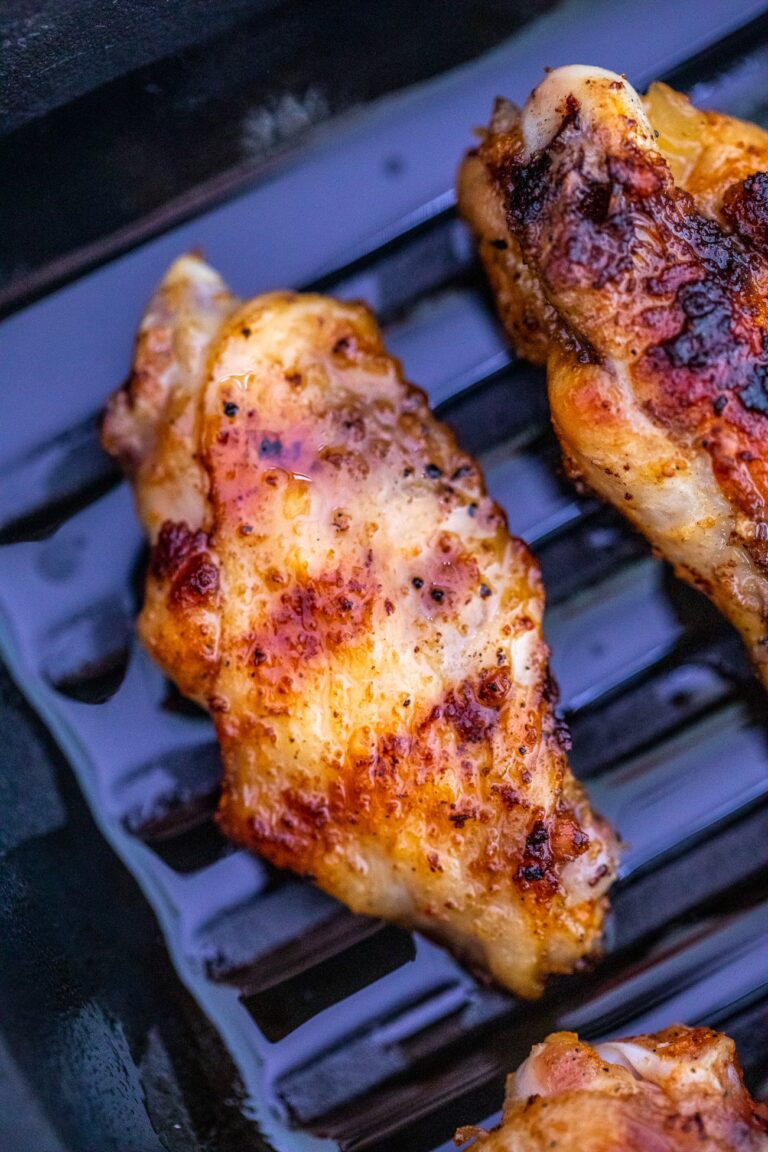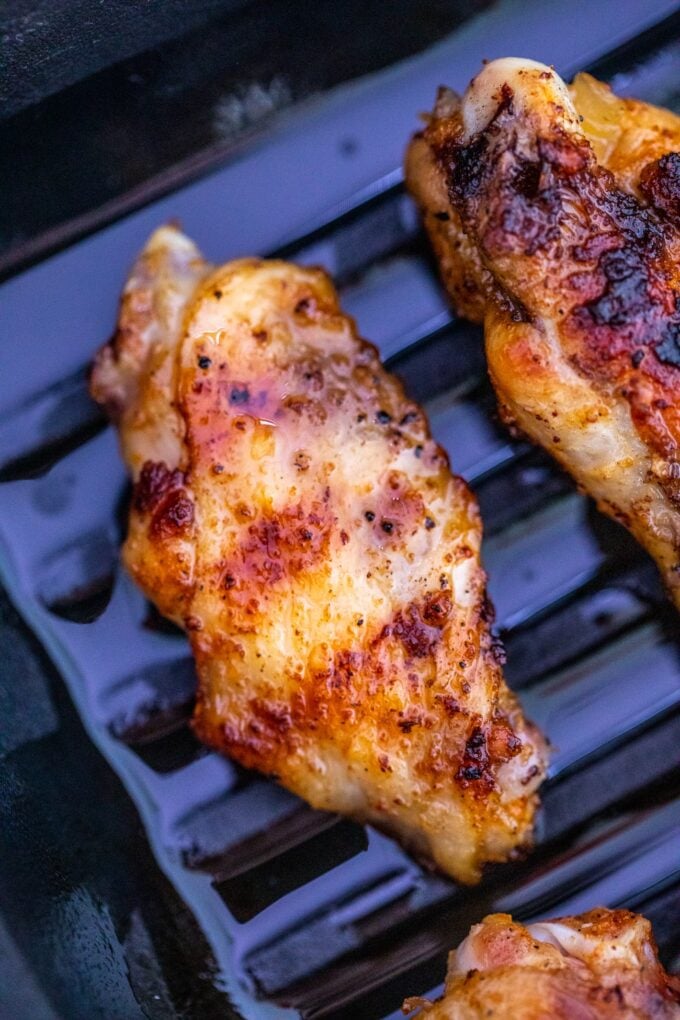 How to make grilled chicken wings on the grill pan?
This recipe works great on both regular or pan grill. Follow these easy steps:
Dry-rub: Prepare the dry rub by mixing the above ingredients together. Then, coat the meat thoroughly with it.
Grill: Heat the grill pan to medium heat. Oil the grates. Then, put the seasoned wings on top and cook the meat for about 15 to 20 minutes. Make sure that they are cooked through.
Serve: Serve the crispy wings with the buffalo sauce.
How to make chicken wings crispy on the grill?
First, it starts off with the dry rub. Since we do not marinate it, it will not have excessive sauce on it that will prevent it from getting crispy.
Also, you must have the grill set on medium heat. Turn on the rest of the grill aside from the center in which you will put the meat. The indirect heat will cook the meat slowly, thus, preventing it from burning too soon before it even cooks.
How many calories in grilled chicken wings? How many carbs?
There are 65 calories in a piece with the skin on with zero carbohydrates! So, this dish is compatible with the keto diet.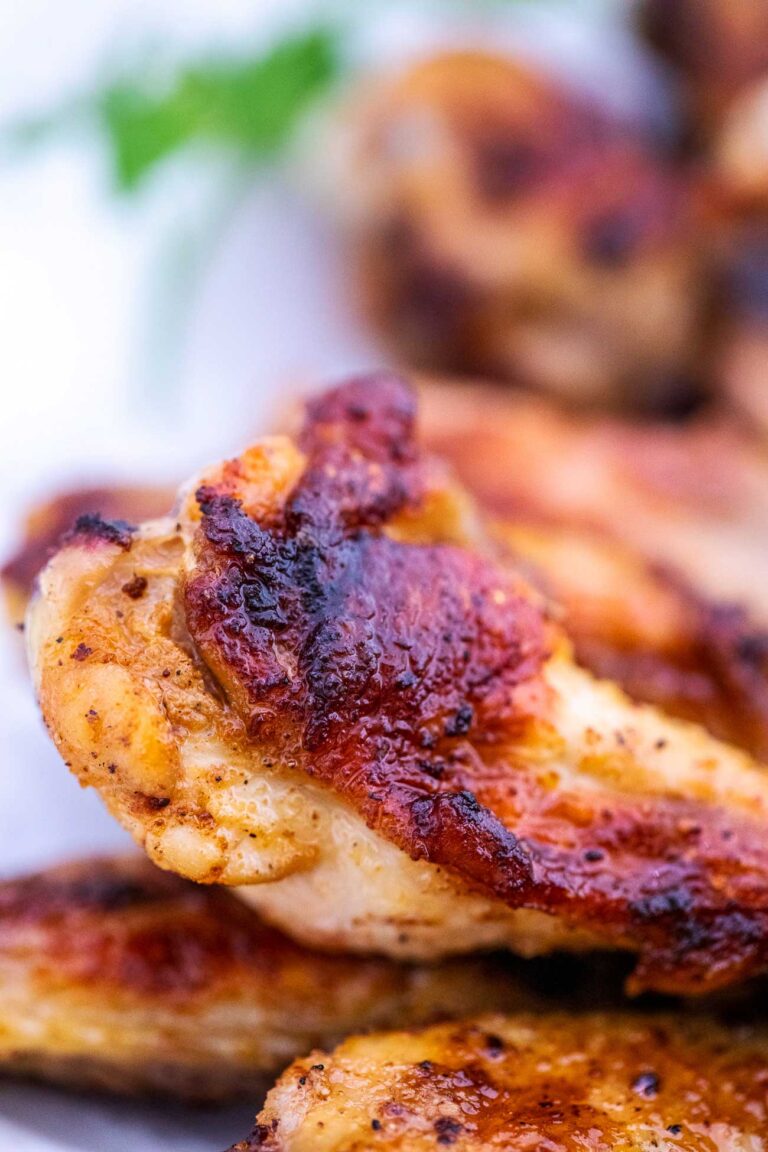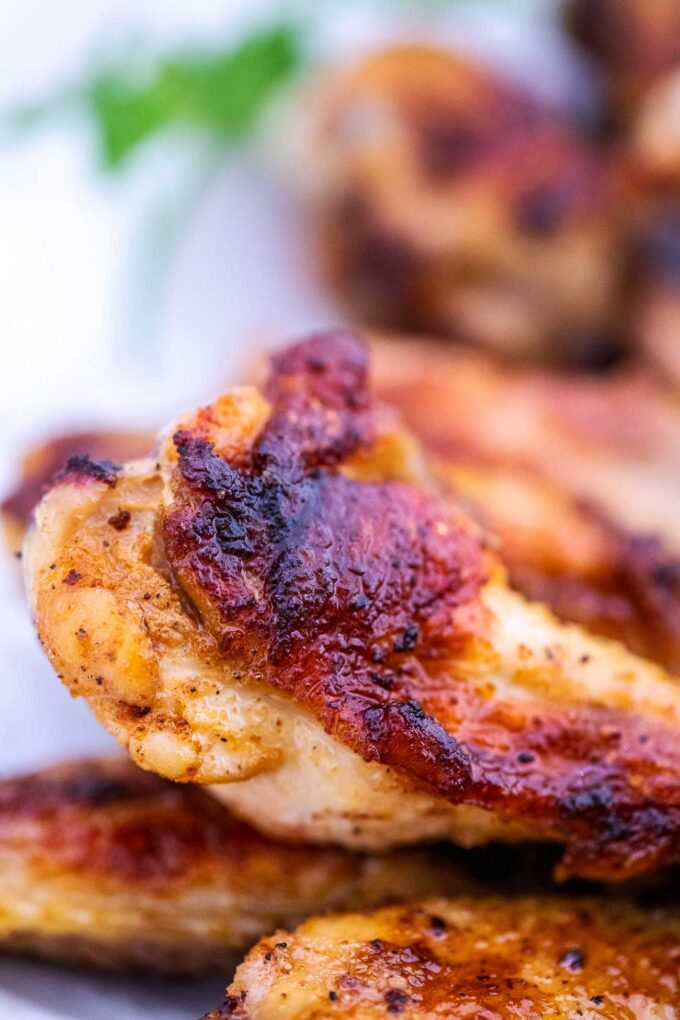 What to serve chicken wings with?
It goes well with our other recipes like the following:
Recipe Tips
Before oiling the grates, check if the grill pan is hot enough by dropping water. It should sizzle upon contact.
Also, you can double the rub and keep a portion in a sealed container for your next grilling session.
The wings can also be served without the buffalo sauce but with lemon juice and zest. The tangy lemon adds more a nice refreshing and citrusy flavor!
The best way to reheat them is to put them in the oven at 350 degrees. Just put them on a foil-lined baking tray and pop it in the oven for about 15 minutes.
watch recipe video:
Save Recipe
Author: Catalina Castravet
Serves: 6 servings
Prep time:

15

minutes
Cook time:

15

minutes
Total time:

30

mins
Ingredients
Dry Rub:
Buffalo Sauce:
Calories: 481 Carbohydrates: 2 Protein: 28 Fat: 39 Saturated Fat: 16 Cholesterol: 156 Sodium: 1122 Potassium: 276 Fiber: 0 Sugar: 0 Vitamin A: 925 Vitamin C: 1.3 Calcium: 27 Iron: 1.6
Save Recipe
More recipes you might love