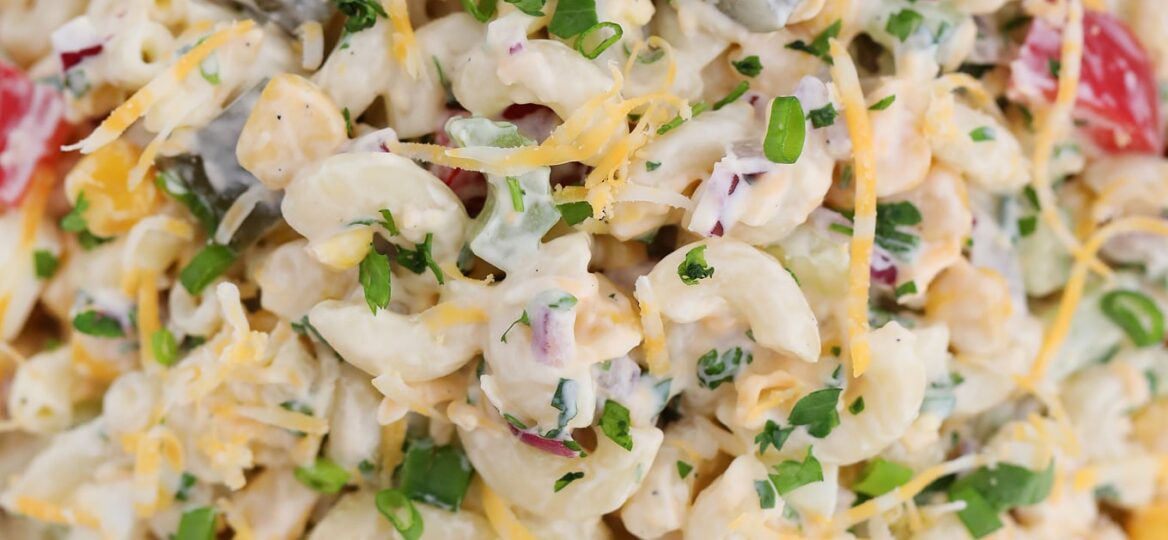 Easy Macaroni Salad [video]
Macaroni Salad is a refreshing take on pasta that you can bring to parties and getaways this summer! It is simple to prepare with easy-to-find ingredients.
It is a great side to our other favorites like slow cooker glazed smoked ham, instant pot barbecue chicken, and spinach dip stuffed pork chops. You can make this dish in advance, or while cooking your entrees. This recipe is that easy!
The Best Macaroni Salad
The Classic Macaroni Salad is cooked macaroni pasta with a creamy dressing and made savory by adding vegetables. It is a rich source of carbohydrates because of the pasta. And, since this is a salad, very little cooking is needed and most of the ingredients are just tossed in!
The ingredients of this salad are simple, and you could probably have them already in your pantry and fridge. You can make this recipe well under an hour, and with that said, you can have all the time to prepare for your upcoming summer picnic!
What is macaroni salad?
It is a classic American dish made with cooked macaroni pasta with a dressing that is mayonnaise-based. Various vegetables and fruits are also added for more flavors and sometimes, meat is also incorporated. As this is a salad, the recipe is versatile, and you are free to substitute, add or omit ingredients.
How do you make classic macaroni salad?
First, cook the pasta and set it aside. Next, cook the eggs. Place them in a saucepan and cover them with water, by 1 inch. Let the water boil and cook for a minute. Let the eggs cool then, peel and dice them.
Once you have cooked the pasta and the eggs, the rest will be breezy. Mix the dressing ingredients in a bowl, then, combine it with pasta and toss in the rest of the ingredients. Easy, right?
Do you serve macaroni salad cold?
Yes! Once you have mixed everything, cover it and place it in the refrigerator for a minimum of two hours before serving. Garnish with chopped parsley or green onion.
How to cook the pasta for macaroni salad?
The key to a good classic macaroni salad is the macaroni itself. It must not be overcooked, or else, the salad will be mushy.
Simply follow the instructions on the packaging for the perfectly cooked pasta. At the last minute of cooking it, throw in the peas. Also, remember to rinse the pasta in cold water and then, drain well. This last step is to halt the cooking due to residual heat and to remove any excess starch that will make the pasta stick with each other.
What salad dressing to use?
For this, we use a mayonnaise-based dressing. Just add plain yogurt, sugar, pickle juice, fresh parsley leaves, apple cider vinegar, Dijon mustard, garlic powder, kosher salt, and some freshly ground pepper. With this line-up, you will surely have a balance of taste and flavors!
How long does macaroni salad last?
It can sit out for a couple of hours only. You need to discard it if it is left out beyond that. But, in the refrigerator, if properly stored, it can last for up to five days.
How to store macaroni salad?
Simply put it in an airtight container and refrigerate. Do not put it in this dish in the freezer as it loses its creaminess when you thaw it out.
Macaroni salad flavor combos:
This recipe is highly versatile, and it can be enhanced with some other ingredients to create the flavor you are aiming for. Here are some twists to the classic recipe:
Turn this salad Hawaiian by substituting the pickles and pickle juice with pineapples and pineapple juice. Add some ham pieces in, too.
You can make this salad child-friendly by making it sweet. Just combine cooked macaroni with green pepper, shredded carrots, and red onion. Dress it with a mixture of mayonnaise, sweetened condensed milk, cider vinegar, sugar, salt, and pepper.
This is a perfect meal for beach parties! Just add deveined, cooked shrimps with the macaroni pasta, peas, parsley, and green onions. Also, for the dressing, combine mayonnaise, plain yogurt, lemon juice, fresh dill, salt, and pepper.
There are countless ways to enjoy the macaroni-mayonnaise combo and there are just a few that you can try. Go ahead and experiment!
More salad recipes:
Recipe Tips
Add protein to this classic macaroni salad by adding in shredded poached chicken strips or tuna.
Also, if you don't have elbow pasta, you can use penne, farfalle, fusilli, or even broken ziti or spaghetti.
When cooking the pasta, put some salt in the boiling water for it to taste better.